Are you looking for the best lead generation WordPress plugins to maximize your online presence and capture more leads? If yes, keep reading; you're at the right place.
When it comes to online businesses, lead generation is the cornerstone of success. Gaining your audience's interest and converting them into possible customers can set you miles ahead in the digital marketplace. As a majority of websites run on WordPress, it's necessary to leverage its power with the best lead generation WordPress plugins.
In this article, we will explore the top 10 plugins and delve into their features. Additionally, we'll also see how they compare with Analytify, a popular analytics plugin, to ensure you're getting the most out of your tools.
Table of Contents
10 Best Lead Generation WordPress Plugins
There are so many we lead generation plugins but we will explore the top 10 best lead generation WordPress plugins that have been thoroughly tested and proven effective in 2023. These plugins are designed to help website owners generate high-quality leads and boost their conversion rates. Whether you are a small business owner or a marketer, these plugins offer a range of features and functionalities to enhance your lead generation efforts.
1. OptinMonster
OptinMonster is perhaps one of the most well-known lead generation tools for WordPress. It's a versatile plugin that allows you to create beautiful and high-converting opt-in forms. With its drag-and-drop builder, you can easily design pop-ups, full-screen welcomes, floating bars, and more.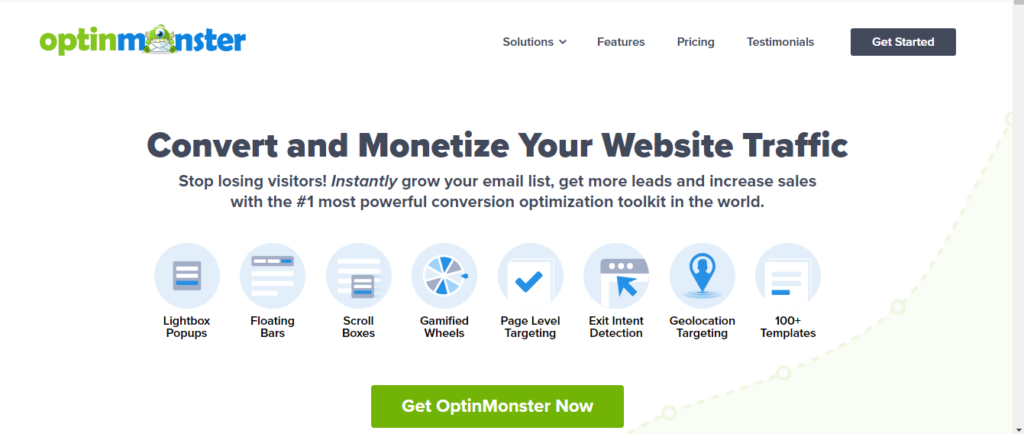 Features:
Exit-Intent Technology: Detects user behavior to show campaigns right before they leave.
A/B Testing: Test different content and campaigns to see what works best.
Drag & Drop Builder: Easily create custom forms.
Targeted Campaigns: Segment and target users based on specific criteria.
Pricing:
Basic: Around $9/month
Plus: Around $19/month
Pro: Around $29/month
Growth: Around $49/month
2. Thrive Leads
Thrive Leads is another powerhouse in the world of lead generation. Thrive Leads promises rapid growth for your email list. Its advanced targeting feature ensures your offers are presented to the right audience. While Thrive Leads is great for capturing leads, integrating your website with Analytify can help you understand your audience better.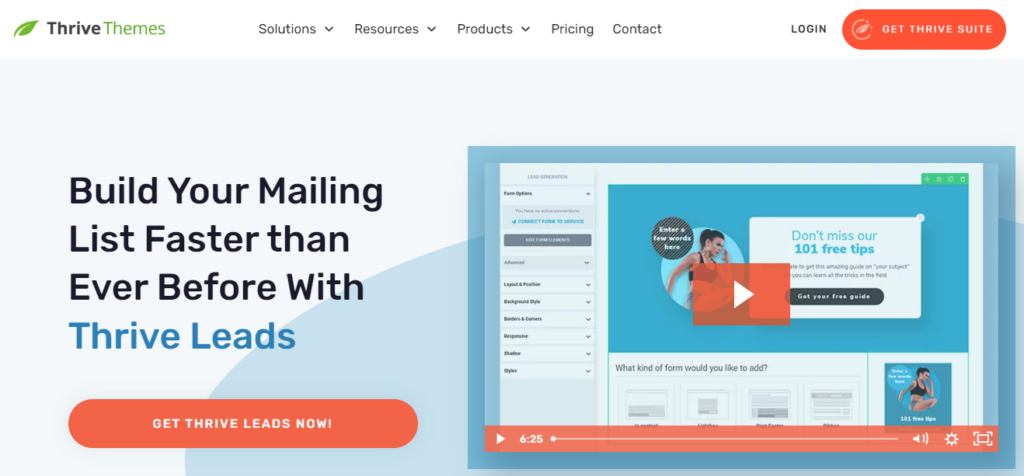 Features:
SmartLinks: Differentiate between new visitors and returning subscribers.
Advanced Targeting: Display specific forms for different content categories.
A/B Testing: Test different forms to enhance conversion rates.
Detailed Reports: View insights on form performances.
Pricing:
Around $19/month annually, or $30/month billed quarterly.
3. Sumo
Sumo provides a suite of tools to enhance conversions, including list-building pop-ups and welcome notes.

Features:
List Builder: Convert one-off visitors into lifelong readers.
Share: Increase your website traffic with its social share buttons.
Heat Maps: Understand where your visitors are clicking.
Welcome Mat: Display a full-screen call-to-action when visitors land on your site.
Pricing:
Free: Limited features
Pro: Starting at around $39/month
4. Leadpages
Beyond just a WordPress plugin, Leadpages helps you design high-converting landing pages. For detailed traffic insights to those landing pages, pairing Leadpages with Analytify could be your game-changer.

Features:
Landing Page Builder: Easily drag-and-drop to design pages.
LeadBoxes: Popup forms to capture leads.
A/B Testing: Test pages to optimize for conversions.
SMS Opt-in Codes & 1-Click Signup Links: Expand your list with unique methods.
Pricing:
Standard: Around $25/month
Pro: Around $48/month
Advanced: Around $199/month
5. WPForms
While WPForms is primarily a contact form plugin, its advanced features enable lead generation, especially with its form abandonment feature.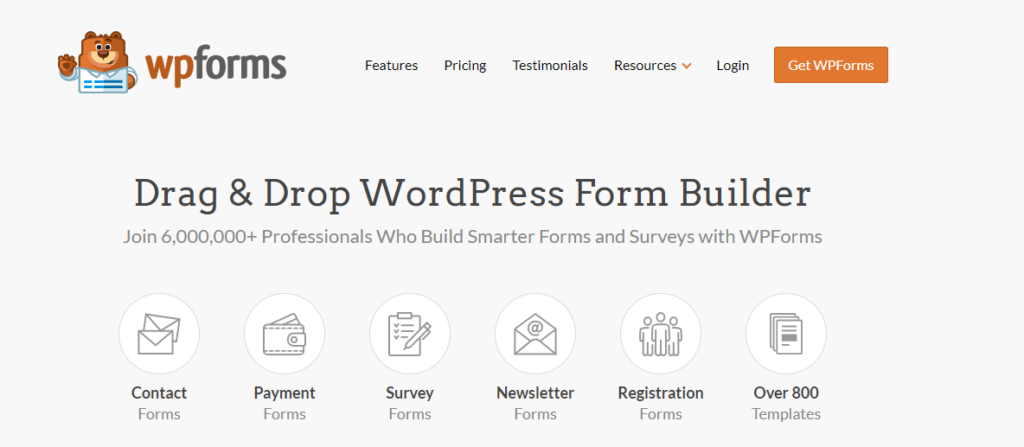 Features:
Drag & Drop Form Builder: Create any type of form easily.
Form Abandonment: Capture partial entries.
Conditional Logic: Show or hide fields based on user actions.
Instant Notifications: Immediate email alerts for new leads.
Pricing:
Basic: Around $39/year
Plus: Around $99/year
Pro: Around $199/year
Elite: Around $299/year
6. Bloom by Elegant Themes
Bloom offers multiple opt-in form types and lets you target content specifically for different posts and pages.
Features:
Multiple Opt-In Types: Pop-ups, fly-ins, and more.
Targeted Display Settings: Specific content triggering.
A/B Testing: Find out which forms or content perform best.
Email Marketing Integrations: Connects with popular email platforms.
Pricing:
Yearly Access: Around $89/year
Lifetime Access: Around $249
7. Hello Bar
A unique tool, Hello Bar focuses on driving conversions through non-intrusive alert bars at the top of your site.

Features:
Top Bar Notifications: Non-intrusive alerts for offers or messages.
A/B Testing: Optimize for conversion.
Targeting & Segmentation: Display messages based on user behavior.
Exit-Intent: Capture attention before users exit.
Pricing:
Free: Limited features
Growth: Around $29/month
Premium: 49$/month
Elite: 99$/month
8. Icegram
Beyond pop-ups, Icegram offers toast notifications, action bars, and messengers.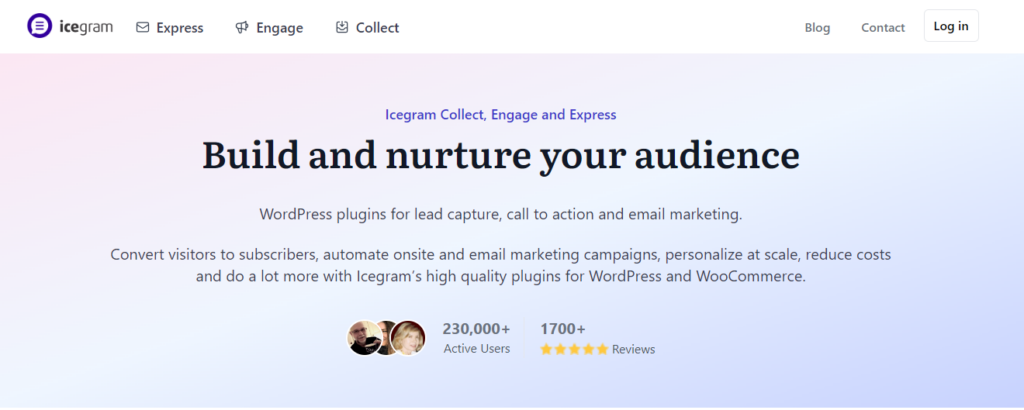 Features:
Multiple Message Styles: Toasts, pop-ups, action bars, and more.
Behavior Triggers: Decide when and how messages appear.
Geo-Targeting: Target messages based on user location.
Responsive Design: Works seamlessly on any device.
Pricing:
Free: Limited features
Pro: Around $97/year
Max: Around $147/year
Agency: Around $247/year
9. Hustle
From social sharing to pop-ups and slide-ins, Hustle covers a wide range of lead generation aspects.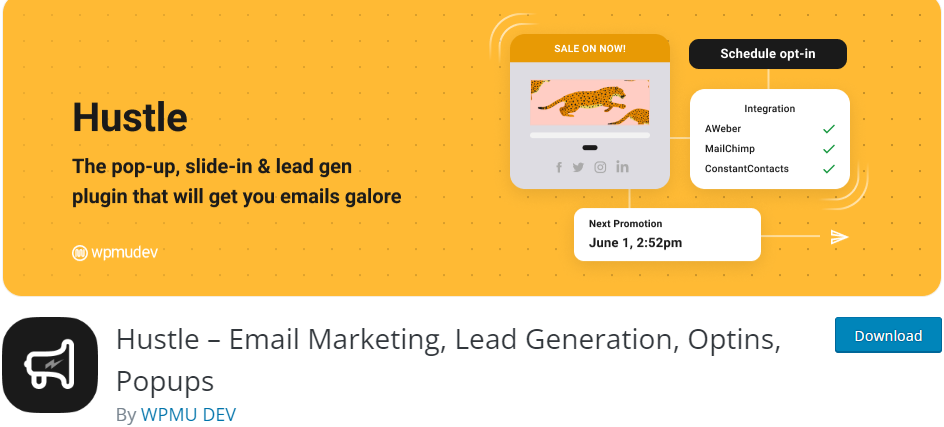 Features:
Pop-ups, Slide-ins, Widgets: Multiple methods to engage visitors.
Easy Design Settings: Customize designs without coding.
Social Sharing: Integrated tools to share content.
Behavioral Triggers: Control how and when content appears.
Pricing:
Monthly: Around $49/month
Annual: Around $49/year
10. Convert Pro
With a drag-and-drop editor, Convert Pro claims to be the most advanced lead generation plugin.

Features:
Drag & Drop Editor: Build without any code.
Advanced Triggers: Display pop-ups based on user behavior.
Multi-Step Call-to-Actions: Engage users step by step.
Responsive: Designs look great on all devices.
Pricing:
Annual: Around $79/year
Lifetime: Around $399
Final Thoughts
We won't hesitate to say that incorporating the best lead generation WordPress plugins into your business strategy can profoundly impact your growth and success. By carefully selecting and utilizing these powerful tools, you can unlock new opportunities and reach a wider audience, ultimately propelling your business to new heights.
However, it is important to remember that the combination of lead generation and the powerful analytics tool Analytify can greatly benefit your business. By utilizing these tools, you will be able to capture potential customers and gain a deeper understanding of their needs, allowing you to cater to them more effectively.
Selecting the Best Lead Generation WordPress Plugins can greatly impact your digital marketing efforts. It's not just about collecting email addresses; it's about engaging visitors and driving conversions. Remember, understanding your leads is just as important as capturing them.
While these plugins focus on capturing leads, it's also crucial to understand your audience's behavior. This is where tools like Analytify come into play, bridging the gap between lead generation and actionable insights. Read more, How to Install And Activate Analytify Pro Plugin.
Remember: Combining lead generation with powerful analytics will help you capture potential customers and understand and cater to their needs more effectively.
Frequently Asked Questions
What is lead generation in WordPress?
Lead generation in WordPress refers to the process of capturing interest or information (like email addresses) from visitors on your website, usually for the purpose of building an email list or facilitating future sales.
Why do I need a lead generation plugin for my WordPress site?
These plugins help automate the process of capturing leads, allow for attractive form designs, and integrate with other marketing tools, enhancing the overall effectiveness of your marketing strategies.
Are lead generation plugins mobile-friendly?
Most modern lead generation plugins are mobile-responsive. It's always a good idea to check this feature when selecting a plugin, given the increasing number of mobile users.
Do lead generation plugins slow down my website?
While any plugin has the potential to impact site speed, many of the plugins listed above are optimized for performance. Regularly monitoring site speed after installation can help ensure there's no significant impact.
Is it possible to A/B test lead generation forms?
Yes, many of the Best Lead Generation WordPress Plugins like OptinMonster and ConvertPro offer built-in A/B testing features to determine which form or pop-up design works best.
Do I need coding skills to use lead generation plugins?
Not necessarily. Most of the plugins listed are user-friendly and come with drag-and-drop builders, making it easy for non-techies to design and deploy forms.
Are these plugins GDPR compliant?
Many plugins now offer features to make GDPR compliance easier, such as checkboxes for consent. However, website owners should always ensure their usage aligns with GDPR and other privacy regulations.
Can I customize the design of these lead generation forms?
Absolutely. Most plugins offer a range of customizable templates and design options to ensure the forms fit seamlessly with your site's design.
What if I face issues with my lead generation plugin?
Popular lead generation plugins generally come with support, either via forums, email, or live chat. Always check the level of support offered by the plugin provider before purchasing.