Are you looking for the best WordPress eCommerce plugin for your site?
eCommerce, an emerging online business platform, gives rise to new opportunities to make money over the internet, i.e., buying and selling physical goods, services, and digital products. It helps your business to get more orders, accept payments, manage to ship, and much more.
This article will show you the best WordPress eCommerce plugins for your site. So, make sure you read this article till the end.
Let's get started.
Table of Contents
What is an eCommerce Plugin?
A WordPress eCommerce plugin is a software that helps you add eCommerce functionality to a WordPress site without writing a single line of code in no time.
It is far easier to create a successful online eCommerce store than ever. All you need is to have eCommerce plugins help you create a. You can easily a create a cost-effective and user-friendly online store within a limited budget and time.
There are numerous WordPress eCommerce plugins in the WordPress plugin's directory for free. But not all of them have the right features to suit your needs. Such as some of them are created for selling digital items like eBooks, photos, music, etc., and others are best fit for selling physical products, including books, shoes, clothes, food, and much more.
What to Look for in an eCommerce Plugin?
Now that you know what an eCommerce plugin is, why not see what you need to consider when choosing an eCommerce plugin?
Plugin's Payment Gateway: Make sure your eCommerce plugin supports your preferred payment gateways, i.e., PayPal, Stripe, Google Pay, and Square, to name a few examples.
Plugin Integrations: Supported apps and integrations are essential in running and managing your eCommerce business more efficiently. So, better look for apps and integration offered by the eCommerce plugin; you are about to opt for third-party apps like CRM software, email marketing, etc.
WordPress Supported Version (i.e., current): Generally, the best WordPress plugins are frequently updated. Check if the plugin is up-to-date with the latest WordPress version.
List of the Best WordPress eCommerce Plugins
Many WooCommerce plugins are available in the WordPress repository to help you extend the functionality of your online store. With so many options, how do you pick the best WordPress eCommerce plugin for your specific needs?
Let's walk through the best WordPress eCommerce plugins to find out what they offer.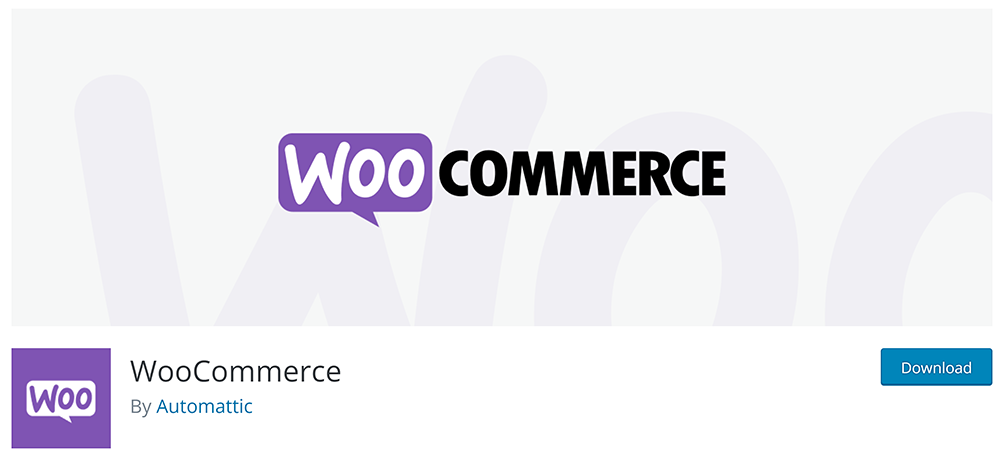 WooCommerce is one of the most popular open-source eCommerce plugins for WordPress sites. It's a lightweight plugin that ensures secure payments. It helps you to pay while buying products, services, subscriptions, and much better.
And WooCommerce becomes even more powerful when you integrate your site with free plugins like Google Ads, HubSpot, Mailchimp, and Facebook. It helps you expand your audience across these marketing and social channels.
Features:
This plugin supports over 100 payment gateways, including Stripe, PayPal, and Square.
WooCommerce comes with WooCommerce mobile app that lets you manage your store from anywhere.
It has WooCommerce, a customizable dashboard for your store.
It has a widget to showcase a specific category or tag, featured products or recently viewed products, and more.
Pricing:
Free. The premium version is available at $199 per year.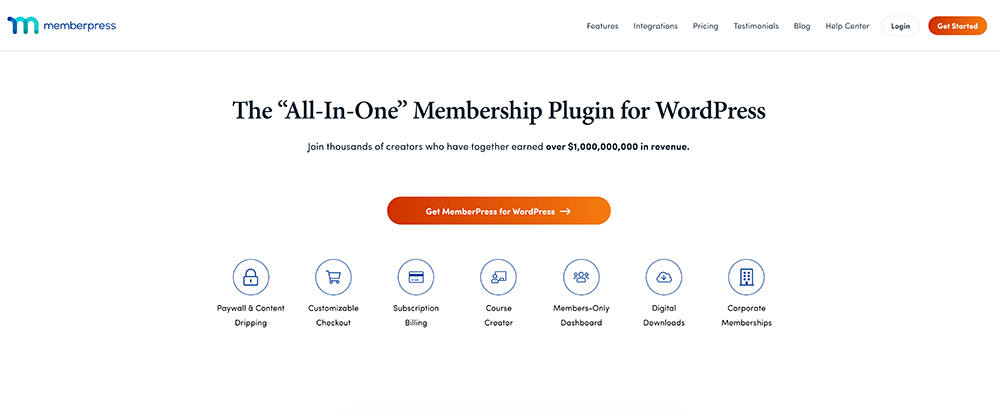 MemeberPress is one of the best membership plugins for WordPress that lets you create a paid membership program. It enables you to sell subscription-based digital products and services. Once the user gets the membership, your content, including posts, pages, videos, and more, become accessible.
MemberPress sets membership levels to control who can access your content. Moreover, it allows you to create your own password-protected community easily. Simply install the plugin, enter your payment gateway details, set up some products, and you're all set.
Features:
It helps you improve your online business through coupons, i.e., via running promotions and giveaways.
MemberPress is integrated with popular payment gateways, such as credit cards and Google Pay.
It can create paid content subscriptions.
It has fully customizable access rules for all types of content, pricing pages, and coupons.
Pricing:
Premium. The basic package starts at $179 per year.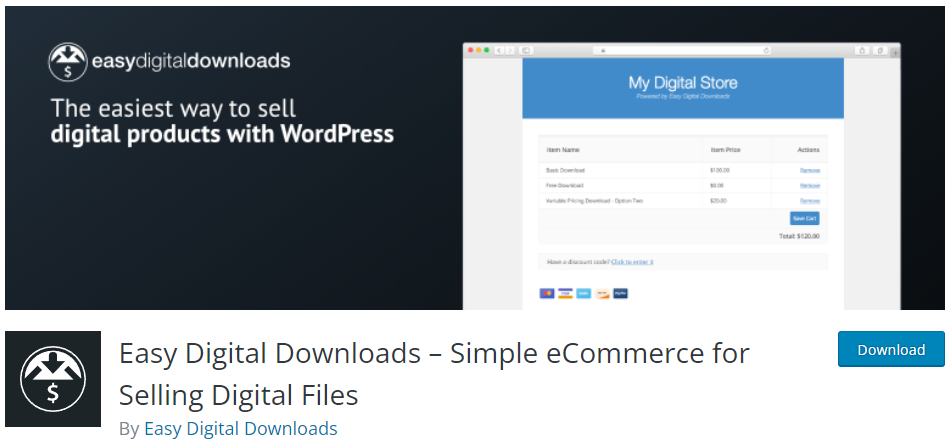 Easy Digital Downloads is another eCommerce solution for your site. It allows you to create a catalog of digital products consisting of its page that lets you sell any of your digital goods, like an eBook and digital art. You can even generate sales reports and keep track of customer histories.
This plugin lets you efficiently process payments and track orders. Furthermore, it accepts other payment solutions like PayPal, Apple Pay, Stripe, and Google Pay. You can quickly sell subscriptions, add discount codes, and set up a full shopping cart in just a few minutes.
Features:
It provides a complete eCommerce report to track your earnings, refunds, sales, and more.
This plugin lets you fully record customers' views and purchase history.
Easy Digital Downloads also supports a discount codes feature to help you uplift your sales by offering coupons or discount codes.
It provides detailed reporting on all aspects of your store, including filter reports, getting control of churn, and much more.
Pricing:
Free. You can buy the premium version at $299.50 per year.
Ecwid eCommerce Shopping Cart is an excellent software as a service (SaaS) eCommerce platform. You can use it to integrate your online store with WordPress and use various social media platforms as sales channels to boost your online store.
The free version of this plugin offers basic features to build a small online business. You can upgrade to its premium version depending on what other features you require for smoothly running your eCommerce site. It lets you integrate your business with social media stores, including Facebook Marketplace and Instagram Shopping.
Features:
It automatically calculates shipping and taxes.
This plugin has a built-in Google Ads configuration panel.
It is mobile-responsive and automatically adapts to your customer's screen size.
It supports 40 international payment options, real-time shipping integration, and 45 languages.
Pricing:
Free. You can buy the premium version at $14.08 per month.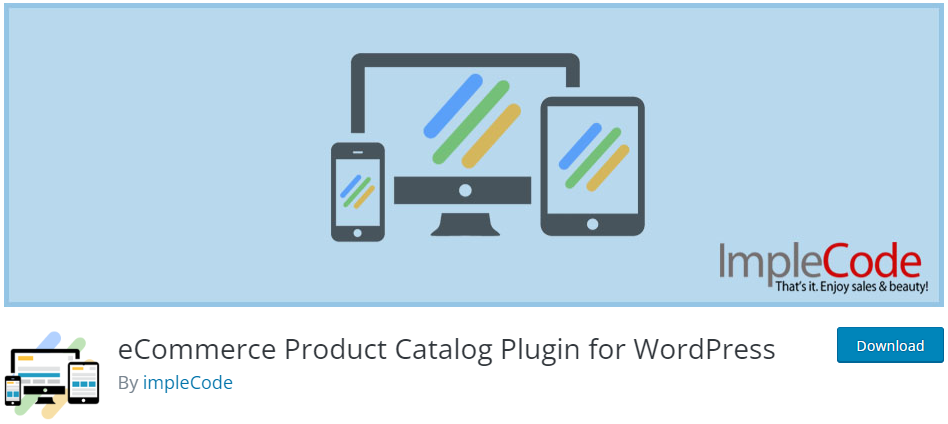 eCommerce Product Catalog is a powerful and simple WordPress solution for product listing. This plugin works wonderfully for managing your eCommerce products.
You can easily add and display as many products to the catalog as you want without affecting your site's performance. The product showcase will be divided into different pages.
eCommerce Product Catalog offers multiple display options that support a wide range of products available. All product page templates are also responsive, ensuring an excellent customer experience across different devices.
Features:
eCommerce Product Catalog Plugin for WordPress enables you to display products anywhere on your WordPress site.
It lets you organize products into categories, including tags and multiple catalogs.
This plugin lets you add a product search to ease users' difficulty finding the product quickly.
You can easily import and export your products with a CSV spreadsheet.
Pricing:
Free.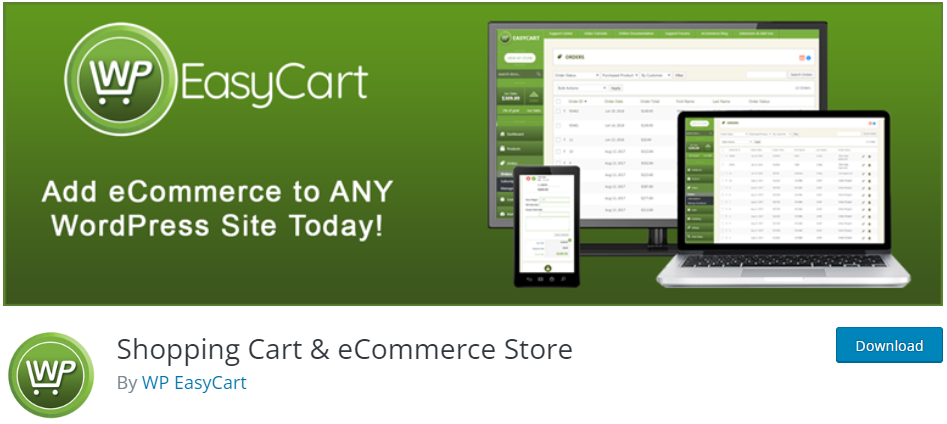 Shopping Cart & eCommerce Store is an open-source eCommerce store and WordPress shopping cart plugin that helps you to build a WordPress eCommerce shopping cart store. It allows you to sell retail products, subscriptions, downloadable digital goods, gift cards, donations, services, and more.
It supports popular payment gateways, including Stripe cart, Square cart, and PayPal. Moreover, it offers Apple Pay, Google Pay, and Microsoft Pay options. The striking feature of this plugin is that it offers an international eCommerce cart. You can upgrade to the premium version anytime to enjoy many other excellent features.
Features:
This plugin has multi-currency and multi-language features.
It comes with built-in diagnostic tools.
You can easily manage your store via mobile phone.
The premium version offers an inventory management feature that automatically prevents product overselling and notifies customers when stock is available for purchase.
Pricing:
Free. You can buy the premium version at $69 per year.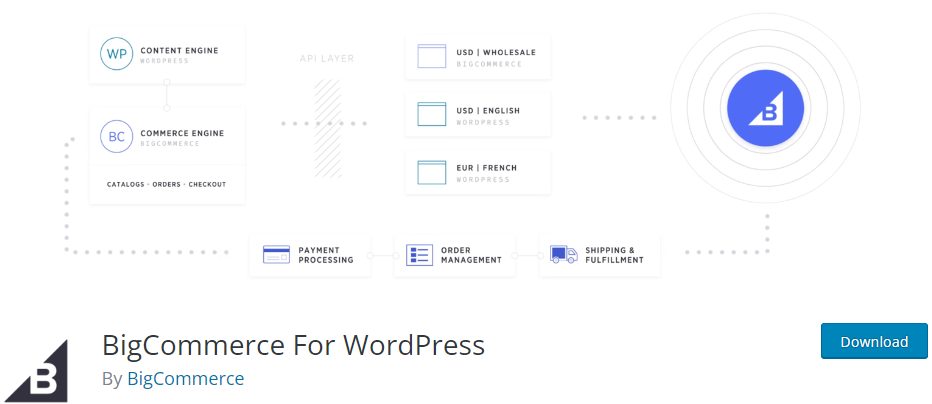 BigCommerce for WordPress is another good option for a WordPress eCommerce plugin that allows you to scale eCommerce. You can easily scale your business with WordPress on the front end and free up server resources from things like catalog management, processing payments, managing fulfillment logistics, and more with BigCommerce on the back end.
BigCommerce, premium, allows you to enjoy more built-in features designed to grow your revenue. For example, a theme marketplace feature with hundreds of built-in themes. Once you pick up a theme, customize your store with Page Builder. This powerful drag-and-drop page builder lets you customize your store without writing a single line of code in no time.
Features:
BigCommerce supports major global couriers.
It is integrated with above 65 payment gateways, including Apple Pay, Venmo, Bolt, PayPal, Stripe, and Google Pay, to name a few examples.
It is integrated with popular social media platforms, including Facebook, Instagram, and TikTok.
Pricing:
Free. You can buy the most popular premium package at $79.95 per month.
Conclusion: Which WordPress eCommerce Plugin is best for You?
We hope you now understand that building an online store with an eCommerce plugin is easier than ever. There are thousands of WordPress e-commerce plugins available for free and paid; all are designed to boost your online store.
Since every WordPress eCommerce plugin offers varying features, choosing the right one for your site is crucial. However, you need to choose wisely; it will help you run and manage your online store.
That's all we have discussed the best WordPress eCommerce plugins. You can also check out Best WordPress Testimonial Plugins and Best Social Media Plugins for WordPress Sites.
Frequently Asked Questions
What is a shopping cart for an eCommerce site?
A shopping cart on an eCommerce site is a piece of software that helps to purchase an online product.
How does an eCommerce shopping cart work?
An eCommerce shopping cart helps the eCommerce site owners to accept the customer's payment.