Do you want to know the best WordPress GDPR Plugins to ensure your site is compliant?
In this digital era, securing users' data is more than just a priority; it's a responsibility. The General Data Protection Regulation (GDPR) is a regulation set forth by the European Union, which mandates how organizations should handle the data of EU citizens.
WordPress, a major website platform, has taken the initiative with various plugins to ensure GDPR compliance. In this article, we will review and compare the Best WordPress GDPR Plugins available, detailing their features and pricing.
Table of Contents
Why are GDPR Plugins for WordPress Essential?
GDPR Plugins for WordPress are essential for the following reasons.
Enhanced Trust: It assures visitors of their data security.
Avoiding Heavy Fines: Non-compliance risks hefty fines, making it wiser to invest in a plugin.
Ease of Use: The user-friendly interfaces of these plugins make GDPR compliance simpler.
4 Best WordPress GDPR Plugins for WordPress
There are many GDPR plugins for WordPress but we'll enlist 4 plugins only. These plugins can be a part of your GDPR plan, but you need to look at your whole WordPress setup and how these plugins work to make sure you are fully compliant. You can consider the following GDPR plugins and can also explore more.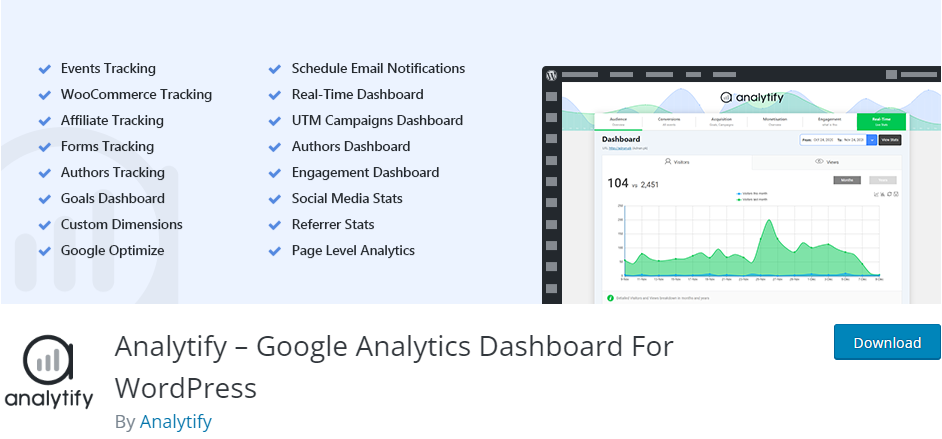 Analytify is primarily focused on presenting Google Analytics data inside your WordPress dashboard in a user-friendly manner. However, it does take GDPR into consideration, allowing users to set up Google Analytics in a way that respects GDPR guidelines, like anonymizing IP addresses.
Features of Analytify
Dashboard Widget: Analytify presents a clear overview of Google Analytics data right on the WordPress dashboard.
Real-Time Stats: Users can view real-time statistics of their website's performance.
Detailed Analytics: Breakdown of page views, keywords, top referrers, social media statistics, and more.
Enhanced E-commerce Tracking: For websites using WooCommerce or Easy Digital Downloads, Analytify can provide detailed insights into sales, transactions, and revenue.
Shortcodes: Users can embed analytics data anywhere on their site using shortcodes.
Custom Post Type Tracking: Track custom post types beyond just pages and posts.
Campaigns Tracking: Monitor how different campaigns are performing directly from the dashboard.
Performance Overviews: View metrics like bounce rate, session duration, and other valuable data.
Social Media Statistics: See which platforms are driving traffic to your site.
Mobile Device Statistics: Break down which devices your visitors are using.
Pricing
Pricing for Analytify varies based on the features you need and the number of your sites.
Analytify offers a free version and also premium plans with expanded capabilities.
Depending on your wants, the Pro version of Analytify can be bought at a few different price points.
Personal Pro Plan: $59/year (1 site)
Conversion Plan: $99/year (10 sites)
Developer Plan: $199/year (50 sites)
Compliance with GDPR
As a plugin that brings Google Analytics data to your WordPress panel, Analytify is closely tied to how Google Analytics handles data. Here's how Analytify can help you stay in line with GDPR:
No Additional Data Collection: By itself, Analytify doesn't collect or store personal data from site visitors. It simply presents data from Google Analytics.
IP Anonymization: Analytify supports IP anonymization, ensuring personal data remains private.
Consent: While Analytify doesn't handle user consent for data collection directly, since it integrates with Google Analytics, you should ensure that appropriate consent mechanisms are in place for your users, especially if you're tracking any personally identifiable information.
Remember that making sure you're compliant with GDPR is an ongoing process that takes more than just one app or tool. Analytify can be a part of your GDPR plan, especially when it comes to Google Analytics, but you need to look at your whole WordPress setup and how it works to make sure you are fully compliant.
You can read more about Analytify and GDPR Compatibility.
Complianz – GDPR/CCPA Cookie Consent is a WordPress plugin that helps in generating GDPR/CCPA compliant cookie consent banners. It can also help generate privacy policy pages based on your website's specific needs and characteristics. The plugin is designed to dynamically adjust to the specific privacy laws applicable in the visitor's region, making it useful for websites with international traffic.
Features of Complianz – GDPR/CCPA Cookie Consent
Cookie Consent Management: The plugin detects and categorizes cookies on your site and helps you manage consent banners tailored to your audience's location.
Geolocation: Complianz serves different cookie notices based on the visitor's region, ensuring you comply with local laws (e.g., GDPR for EU visitors and CCPA for Californian visitors).
Privacy Statement & Cookie Policy: The plugin can generate these necessary documents based on a questionnaire you fill out about your website's practices.
Data Processing Agreements: Complianz provides templates for these agreements, which are necessary when working with third-party processors under GDPR.
Integrations: Complianz integrates with popular plugins and themes, ensuring that your site's tools are also in compliance.
Regular Updates: The plugin is often updated to reflect changes in laws and best practices.
A/B Testing: This allows you to test various consent banner styles and placements to find the most effective one for your audience.
Pricing
Complianz offers both a free version and a premium version.
Compliance with GDPR and CCPA
Complianz is explicitly designed to assist websites in achieving compliance with GDPR and CCPA. Its features, from geolocation-based consent banners to the generation of required legal documents, focus on meeting the specific stipulations of these regulations. However, here are a few points to consider:
Customization: While Complianz provides templates and automated tools, it's essential to ensure that any generated content accurately matches your website's practices.
Legal Review: Templates and automated documents are excellent starting points, but it's always a good idea to consult with a legal professional to ensure comprehensive compliance.
Continuous Oversight: GDPR and CCPA compliance is ongoing. Regularly review and update your practices, and ensure that any third-party tools or services you use are also compliant.
Complianz is the best tool designed specifically for GDPR and CCPA compliance, especially concerning cookie consent and related privacy policies. Using it as part of a broader compliance strategy can help ensure that your WordPress site meets key regulatory requirements.

Cookie Notice & Compliance for GDPR / CCPA helps with the cookie consent notification requirement.
It is a WordPress plugin designed to comply with the European Union's General Data Protection Regulation (GDPR) and the California Consumer Privacy Act (CCPA) requirements related to cookies and user data.
Features of Cookie Notice & Compliance for GDPR / CCPA
Customizable Cookie Notice: This allows you to craft a cookie notice that matches the look and feel of your website.
Consent Logging: Keeps track of user consents, which is a crucial requirement for GDPR.
Animated Notice Box: The notice box can be animated to ensure it captures the attention of the visitor.
Accept/Reject Cookies: Users have the option to accept or reject cookies.
Cookie Expiry: You can set the duration for which the cookie should be stored on the user's device.
Link to Privacy Policy: You can provide a link to your site's privacy policy page directly from the notice.
Revokable Cookie Consent: Users can change their mind and revoke their cookie consent at any time.
Shortcode Integration: The plugin provides shortcodes to allow users to display and revoke cookie notices anywhere on the website.
Integration with WPML: For multilingual websites, this feature ensures the plugin's compatibility with popular translation tools.
SEO Friendly: The plugin is designed to be SEO friendly, ensuring that search engine performance isn't negatively impacted.
Blocking Third-party Cookies: The plugin can block third-party cookies until the user provides consent.
GDPR and CCPA Compliance Tools: Beyond just cookie notices, the plugin provides tools and settings specifically designed to help with GDPR and CCPA compliance.
Pricing
Cookie Notice & Compliance for GDPR / CCPA offers both free and premium versions.
Compliance with GDPR and CCPA
The plugin is designed to help you in your compliance journey with GDPR and CCPA. It provides tools and features that address cookie-related requirements of these regulations.
By allowing for explicit user consent, clear communication regarding cookie usage, and the option for users to revoke their consent, the plugin offers necessary functionalities to align with these regulations.
However, it's essential to remember that GDPR and CCPA compliance is multifaceted, and while this plugin addresses cookie-related aspects, full compliance might require a more comprehensive approach and possibly other plugins or practices, especially if your website collects processes or stores personal data in ways not related to cookies.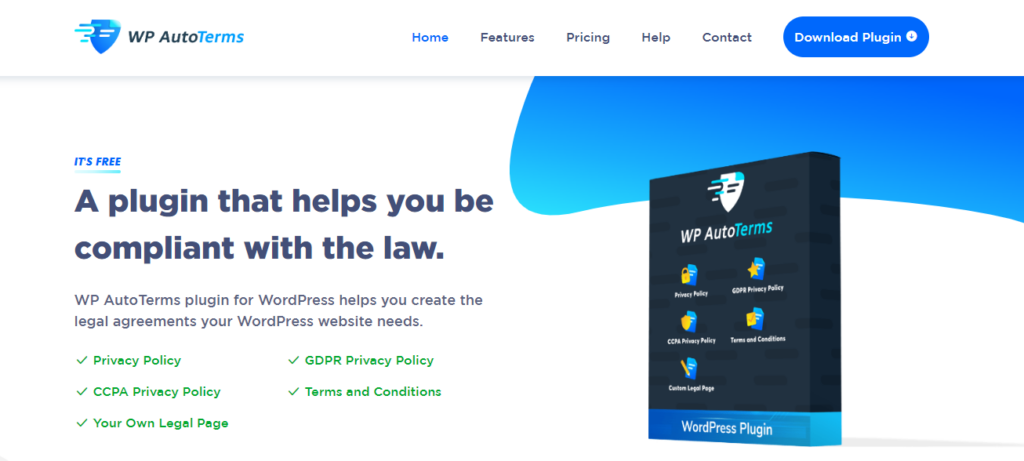 WP AutoTerms is a WordPress plugin designed to help you with legal compliance requirements, such as privacy policies, terms and conditions, and cookie consent banners. These are essential for websites that collect, process, or store user data, especially given the stringent requirements of regulations like the General Data Protection Regulation (GDPR).
Features
Easy creation of legal pages like Privacy Policy, Terms and Conditions.
Cookie consent banners.
Legal page updates in response to significant law changes.
Pricing
Free, with premium options available.
Compliance with GDPR
WP AutoTerms helps you in GDPR compliance, especially regarding being clear with users about how you collect and use their data. This plugin directly meets GDPR standards.
WP AutoTerms helps create a Cookies Policy and display cookie consent notices.
It also lets you incorporate terms in your privacy policy for third-party services like analytics and advertising networks. Clearly, disclosing these services in your privacy policy gives users transparency, a GDPR principle.
However, while the plugin provides tools and templates to aid in compliance, it's essential to approach these with careful consideration:
Personalization: It's important to make sure that any templates or automatically generated material match the way your website works. If you use a template without making sure it fits your practices, you might not be in compliance.
Review by Legal Professionals: While WP AutoTerms provides a valuable starting point, it's a good idea to have any legal documents or policies reviewed by legal professionals to ensure they meet specific requirements for your situation and jurisdiction.
Holistic Approach to GDPR: While WP AutoTerms can assist with several aspects of GDPR compliance, GDPR is a comprehensive regulation. You might need other tools, practices, or plugins, especially if you handle user data in more complex ways.
WP AutoTerms is a valuable tool for addressing several legal compliance requirements for websites, but its use should be paired with a comprehensive understanding of GDPR and potentially other relevant regulations.
Comparison Among WordPress GDPR Plugins
Analytify is best for those focused on integrating Google Analytics with WordPress and ensuring that this integration is GDPR compliant.
Complianz offers a comprehensive solution for websites needing broad GDPR and CCPA compliance tools, particularly with geolocation-based consent banners.
Cookie Notice & Compliance for GDPR / CCPA is a straightforward solution for those who mainly need cookie consent tools for GDPR and CCPA.
WP AutoTerms aids websites in generating essential legal pages and provides a foundation for GDPR compliance, especially for those just starting out.
Final Thoughts
While each plugin has its strengths, they serve slightly different needs. It's not uncommon for website administrators to use a combination of plugins to achieve comprehensive GDPR compliance.
So, choosing the Best WordPress GDPR Plugins relies on what your WordPress site needs. It's important to look into the details of each plugin to make sure it meets your needs for GDPR Plugins WordPress compliance.
Frequently Added Questions
 What is GDPR, and why is it essential for my WordPress website?
GDPR, or the General Data Protection Regulation, is a regulation set by the European Union to protect the privacy and data of its citizens. If your WordPress website collects or processes the data of EU citizens, even if you're based outside the EU, you need to be GDPR compliant to avoid potential legal complications and hefty fines.
Are free GDPR plugins enough for compliance?
While many free GDPR Plugins WordPress offers can help you achieve a significant level of compliance, the requirements vary based on your website's nature. It's essential to thoroughly review the features of a free plugin and see if it covers all areas your site needs for compliance.
 Can I use multiple GDPR plugins on my site?
Yes, you can use multiple plugins, especially if one plugin covers specific areas better than another. However, ensure they don't conflict with each other or duplicate functionalities, leading to a confusing user experience.
Do I still need to consult a legal expert if I use a GDPR plugin?
While the Best WordPress GDPR Plugins can significantly assist in achieving compliance, they're tools and not legal consultancies. It's always a good idea to consult with a data protection or legal expert to ensure complete GDPR compliance.
What happens if I'm not GDPR compliant?
Non-compliance can result in severe penalties, including hefty fines. The severity of the fine depends on the nature of the violation but can be up to 4% of a company's annual global turnover or €20 million, whichever is greater.
How often do I need to update my GDPR plugin?
Regularly. As laws change and evolve, so do the technology and threats surrounding data privacy. Ensure your plugins are updated often to receive the most recent features and security enhancements.
How do GDPR plugins help with cookie management?
GDPR plugins assist in cookie management by detecting and categorizing cookies, displaying cookie consent banners to users, allowing users to accept or reject specific cookies, and keeping a record of user consent.
Are GDPR plugins compatible with all WordPress themes and other plugins?
Most GDPR Plugins WordPress offers are designed to be compatible with popular WordPress themes and plugins. However, it's advisable to test any GDPR plugin with your specific theme and plugins set to ensure full compatibility.