WordPress comes up with a typical menu, which sometimes doesn't meet all requirements. The menu is crucial for helping visitors navigate the website. If the menu is misleading or lacks information, you could potentially lose customers. That's where the Best WordPress Mega Menu Plugin comes in, offering advanced features to enhance your website's menu and user experience.
If your website is content-rich and your menu is not able to show all the essential information. Then you may need a Mega Menu on your website.
If you are a WordPress website owner you can easily convert your typical WordPress menu into Mega Menu. You can customize your menu to a mega menu using code, but if you are not tech-savvy you can use some plugins to achieve that. In this article, I will share some Best WordPress Mega Menu Plugins for 2020. You can use them and can make changes in colors and layouts by using simple setting options.
Table of Contents
Things Need To Consider While Choosing Best WordPress Mega Menu Plugin
While choosing a plugin for Mega Menu you should look for a lightweight and fast loading plugin. The speed of your website really matters. Furthermore, you should check the menu on all devices and make sure the plugin is providing a responsive menu.
WP Mega Menu
If you are interested to convert your exciting menu into a mega menu, then WP Mega Menu is a perfect choice for you. It has a drag and drop interface to make stunning menus. By using the columns and rows you can make any kind of layout for your menu.
There are plenty of options for colors, fonts, and spacing customization options. you can make a perfect theme-matching menu in minutes. WP Mega Menu is a free plugin.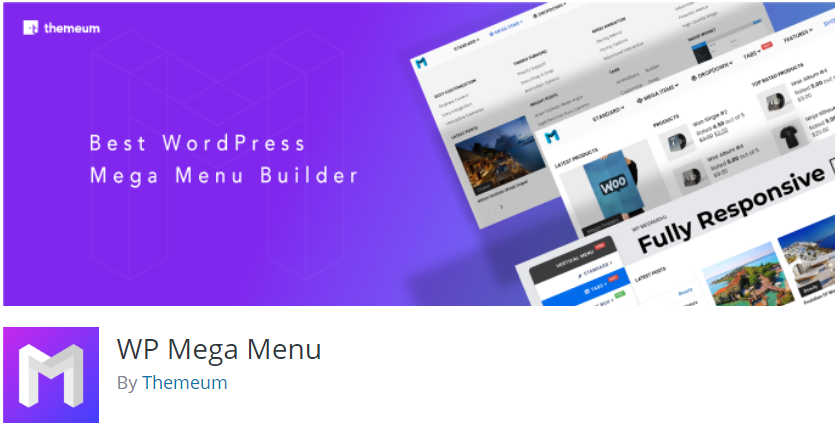 Key Features
Multiples Skins
Drag and Drop Builder
Custom Fonts and Custom Colors option
Option to Import and Export Settings and Styles
Allows To Add Widgets Inside Menu Items
Option To Add Logo and Search Bar In Menu
Pricing : Its free to use
Max Mega Menu
Max Mega Menu is another free plugin that can help you to power your WordPress menu, Its an easy to customize plugin that can help you build an interactive mega menu in no time. Same like other mega menu plugins it also has rows and columns to make a layout.
you can simply drag and drop elements inside the columns. It allows you to add the custom widgets and shortcodes inside the columns.

Key Features
Drag and Drop Builder
Multiple Themes and Effects
Option To Add To Icons
Allows to Add Custom Widget
Easy To Import and Export Settings
Super Fast and Clean Code
Developer Friendly
Pricing : Its free to use
AP Mega Menu
If you want to add a mega menu to your e-commerce website then AP Mega Menu is the perfect choice for you. You can display the WooCommerce products and WooCommerce categories inside the menu layout.
Conclusion
Every WordPress Developer or WordPress website owner wants their website menu looks good and easy to navigate for the users or visitors of the website. So, these are the mega menu plugins that we can use during the development of our WordPress website to make our website menu looks good and easy to navigate, and understandable for our visitors.
Frequently Asked Questions
What is the purpose of the mega menu?
Mega menus have popup windows that display a range of choices not usually available through other means. These menus allow users to select their destination without navigating through separate layers of a menu hierarchy.
Are mega menus good for SEO?
By default, mega menus are okay for SEO. But, based on experience, it's better to stick to a lean header menu when possible.
What is the super menu?
SuperMenu is a drop-down menu with incredible power, style, and functionality. It works independently of a theme navigation system.