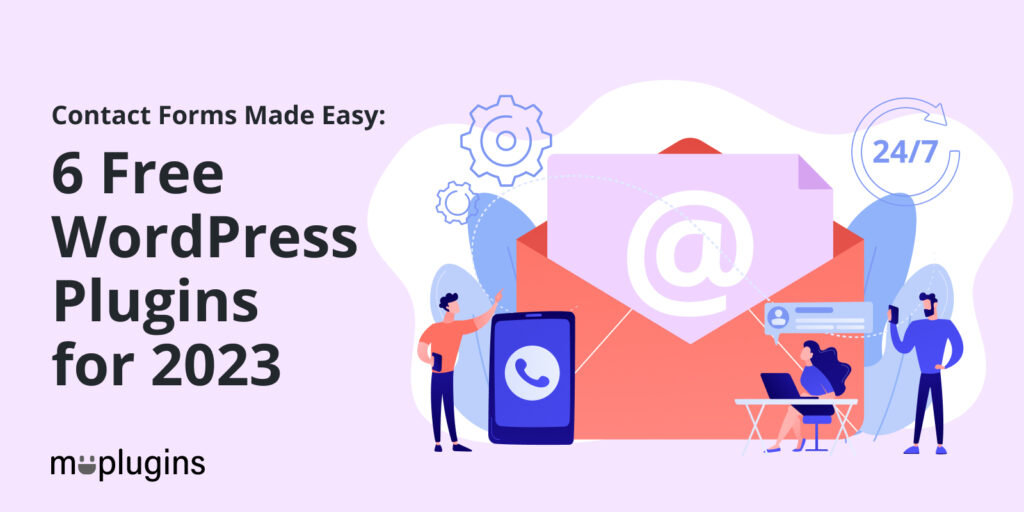 You must have noticed that every website contains a contact us page where you can fill in a simple form. So, what if you have your own website built with WordPress, and you want to add the contact form to get queries from visitors? Yes, definitely you will use a contact form but coding a form is not an easy task. You can use WordPress contact forms Plugins to achieve that goal.
There are too many free and paid plugins available to build forms. Every plugin has some pros and cons. In this article, we'll discuss the 6 best WordPress contact Forms plugins used to build forms.
Table of Contents
6 Best Free WordPress contact forms Plugins
1) Contact Form 7
Contact form 7 is the most popular and powerful tool to build forms. It is totally free with almost 5 million-plus active installs. It sends the queries directly to your mailbox which you have attached in settings. The interface is pretty easy, you can make a working form in less than one minute by just drag and drop. There are almost 15+ options such as name, email, radio buttons, captcha, and much more.
It can be integrated easily with powerful CRMs such as Zoho and Zapier and you can automate the flow. The popularity of this plugin is so high. You can easily find the external addons to make the process easy.

Pros
Open source 
Totally free 
Ability to add recaptcha
Works with Askmit to stop spam
Cons
Functionalists are limited
Problems with latest PHP versions
2) WPForms

WPforms is another top form builder. It provides an easy interface to build forms in no time. There are too many reasons to love this plugin as it is user-friendly, lightweight, and stylish. There are some pre-made templates that you can use instead of making a form from scratch. Wpform has more than two million active installations. WPforms come as a built-in form in many themes. You can only imagine its trust level.
There are a lot of add-ons available that you can use to make it a more powerful form builder. It also supports the top email marketing software such as MailChimp, AWeber, and get response.
Pros
Open source 
Totally free 
Supports mailchim, aweber
Premade templates 
Cons
Functionalists are limited in free version
3) Contact Form by WD

If you want to make complex forms without using any coding techniques then the Contact form by WD comes in handy. It is a little tricky, unlike the other WordPress contact forms. There are around 37 ready to use themes and unlimited form fields. You can use the conditional logic too without playing with the code. The free version of WD is so powerful you don't need to use any addons to use Captcha options. Furthermore, it provides the submission database right into your WordPress dashboard.
4) Form Maker by 10Web

Form maker by 10Web is also an amazing form builder that comes with amazing themes and templates. It is 100% mobile responsive and user-friendly. It helps to make multi-level or multi-step forms. It provides the captcha and IP block features to prevent any kind of spam. It is such a powerful plugin that can help to create any kind of form whether it's a contact form, order form, or survey form.
Don't forget to check our detailed review on Elementor pro
Pros
Drag and Drop
Conditional Logic 
Customizable  thems
Manage Submission 
Cons
Confliction with some theme's styles 
takes too much time to load
5) Ninja Forms

Ninja Forms is another contact form with 1 million+ active installations. It comes with too many fields. You can make any kind of form by just dragging these fields to the form area. It provides the form validations and forms submissions with the help of ajax without leaving or refreshing the page.
It provides the submissions right into the WordPress dashboard, you can import the CVC wherever you want. Furthermore, you can export or import full form settings easily.
Pros
Drag and Drop
Conditional Logic 
Easy to import and export
Manage Submission import cvc 
Cons
Features are limited for free users
Author's Thoughts
Well, you can see that there are plenty of options to use on your website for form building. You can use any of them blindly and trust me you won't regret it. These WordPress contact forms Plugins will help you easily create contact, login, or any type of forms on your WordPress websites.
Frequently Asked Questions
Is there a free version of WPForms?
WPForms Lite, is a 100% free form builder plugin for your WordPress site. It has a beautiful drag-and-drop feature that lets you build different WordPress forms in no time.
What are the best free form builder plugins for WordPress?
There is numerous form builder available for WordPress, including Formidable Forms, WPForms, Contact Form 7, HubSpot Form Builder, Ninja Forms, and Everest Forms. WP Forms is the best among the rest.
Which is a better plugin, Contact Form 7 or WPForms?
WPForms and Contact Form 7 are among the best form builder plugins. Based on features, the Contact Form plugin is better. Moreover, it's a free WordPress form builder plugin, making it a preferred choice for many.