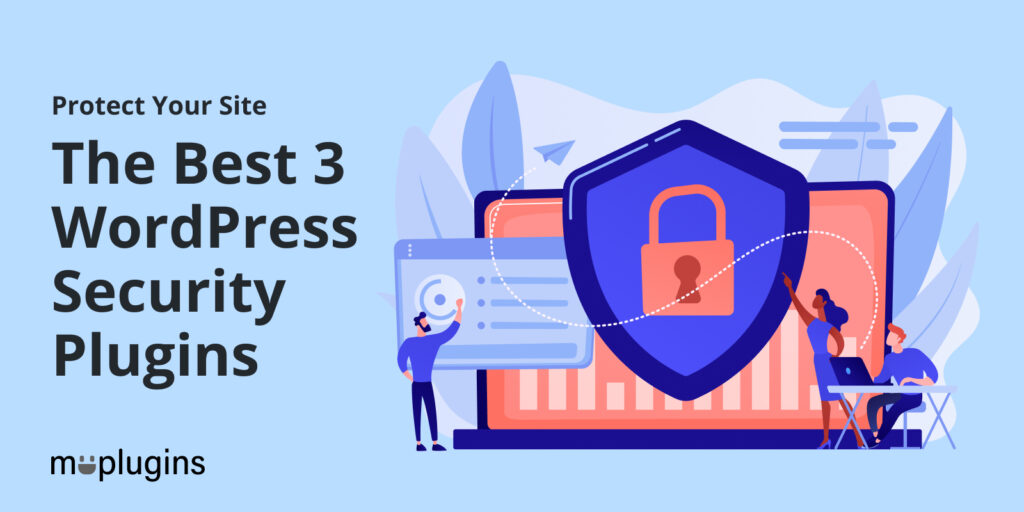 Did you ever imagine you put all of your efforts into making a successful website, and that website is generating sales for you, and suddenly someone gets into it and hack it? I bet it won't be less than a heart attack. So before someone really hacks your website you should take some serious steps to make it extra level secure. Good news for WordPress folks that there are some top WordPress Security Plugins that can help to make your website secure from hackers.
Table of Contents
WordPress is one of the most popular CMS, so attackers are really interested to find new vulnerabilities in your websites. There might be different reasons that leave your website vulnerable to attackers. The outdated PHP version, Outdated Plugins, and Themes, bad coded themes and plugins, using nulled themes and plugins (the most dangerous thing).
Things You Need To Do To Make Your Website Secure
Well if you are not that much tech-savvy, you still can do many things from your end to make your website secure.
Don't use the default username or password, set a difficult password, and keep it in a safe place.
Don't use Nulled plugins, they are the enemies of your website.
Keep your Plugins and Themes Up to Date
Always download plugins and themes from trusted sources such as wordpress.org
Most importantly install a WordPress Security Plugin
What Are The Top WordPress Security Plugins?
there are many plugins available to make your website secure but in this article, I will share only tested and top WordPress security plugins with you. By installing them and configuring the basic settings can make you safe from DDoS attacks and other malware injections.
Wordfence Security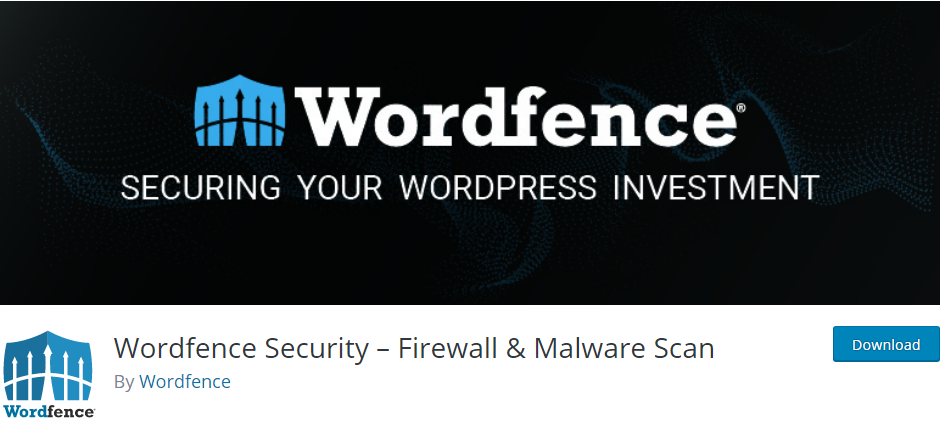 Wordfence security is one of the most popular WordPress security plugin, they have a dedicated team who keeps this plugin updated. they don't just keep their plugin updated but also they are involved in finding the new vulnerabilities in WordPress core and WordPress plugins.
Once you will install the plugin it will ask you to take a tour of how this plugin works. Once you have finished the tour it will take you to the dashboard where you can see the detailed stats about your website security.
Key Features
Scan: In the scan option, it simply scans your website and finds the injected malware. In the free version, it does not highlight the affected area instantly.
Firewall: Wordfence allows to add the firewall setting in your website, it helps to block all the attacks on your website, the free version updates the rules every 30 days while in the premium version the rules are updated in real-time. It also helps you to keep your site safe from all brute force attacks.
Blocking: The blocking feature helps to block all the IPs that try to login into your website.
Cons:
Wordfence affects your website performance, it adds the 24 extra tables in the WordPress website upon its activation. If you don't want to compromise on your website speed, then Wordfence won't be the best deal for you.
Sucuri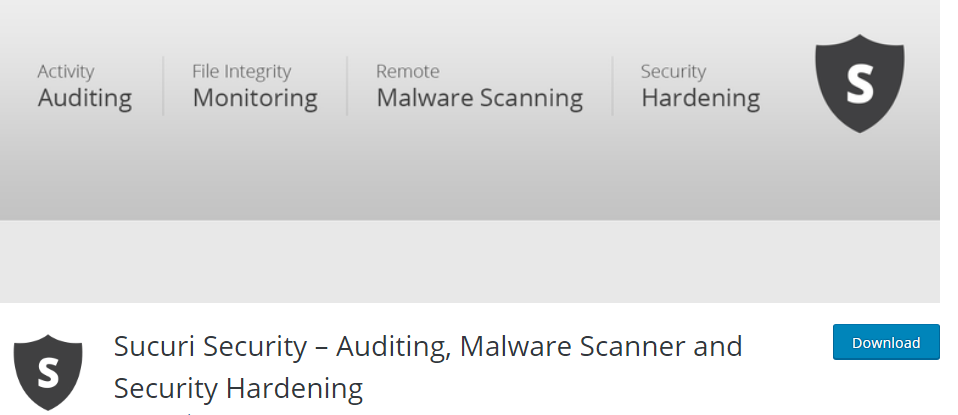 Sucuri plugin is another amazing tool when it comes to secure your WordPress website. it is the best solution for beginners who are interested to keep their website secure from any kind of Brute Force attack. Sucuri has a user-friendly interface that displays information about the website's security, The dashboard really makes sense for non-tech users.
When you will install the plugin, by default it will enable some settings that will make your site secure, but those options are not enough to keep it in a safe zone, you have to figure it out yourself and need to enable other options that you think are necessary for your website.
Key Features
Block all Attacks(Firewall): Sucuri helps to block all the incoming attacks to your websites and keep them safe from getting hacked. Sucuri has a cloud firewall that does not disturb your website speed while making your site secure.
Last Logins: This feature keeps the administrator aware of the last logins. it shows the date, time, and the username of the last login right inside the WordPress dashboard
Website Integrity Monitoring: Sucuri monitors your website and finds all the spam redirection and link injection. some hackers try to get on your website and they replace their affiliate links with your affiliate link to steal the commission. Sucuri helps to find such. it keeps your site safe from all kinds of spam attacks.
Email Reporting and Audit Logs: It sends the email to the administrator's email every time when something gets changed on the website such as Plugin activation, theme change, a post published, etc.
Malware Removal Service: Other than regular scanning and updating, if your site has already malware inside your website you can take the Sucuri services. it will clean up your website from every kind of malware and will suggest some steps to keep it safe in the future.
Cons.
The Scan feature sometimes fails to scan the website properly, it keeps scanning the entire website but finds nothing serious. The firewall feature is not available in the free version, you have to pay in order to get the firewall.
All in One WP Securit

y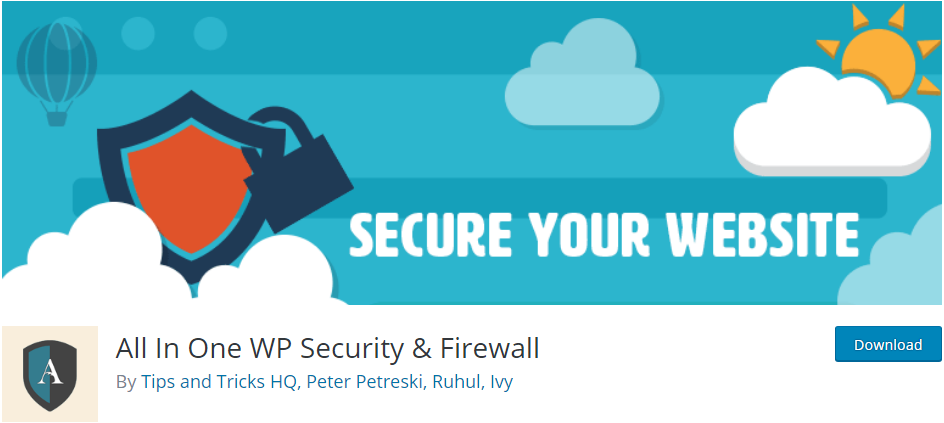 All In One WP Security is a powerful plugin that helps to improve your WordPress security and keep it safe from any kind of brute force or DDoS attack. If you want to have your website secured without spending a penny, then All in One WP Security is a perfect choice for you.
Key Features
Blacklist Tool: This tool will help you to block specific users for specific reasons. it will help your site from any harmful attempt.
Visual Graphs: It shows a visual graph right inside the WordPress dashboard that shows the stats about your website security.
Backup: This plugin creates the backup of the .htaccess and wp-config.php file before making any change.
Frequently Asked Questions
Do I need a security plugin for WordPress?
Yes, you need a security plugin for your WordPress site to save your site from any security breach. These plugins harden your site's security while blocking brute-force attacks on your website.
Can WordPress be easily hacked?
Since no CMS (content management system) is 100% secure. WordPress comes with quality security for the core software, but it is common to hear about security incidents targeting WordPress websites.
How do I make sure my WordPress site is secure?
You can ensure that your WordPress site is secure by keeping it up to date, using secure login credentials, setting up a safelist/blocklist for the admin page, and enabling two-factor authentication.