Nobody hates free traffic, the options are not only limited to search engine traffic. You can't ignore the importance of social traffic, Social media traffic plays a vital role in generating sales and leads. In order to get traffic from social networks, you must need to have options on your site for social sharing. You can use different WordPress social sharing plugins to enable your visitors to share your valuable content.
Table of Contents
List of Top WordPress Social Sharing Plugins
There are different plugins that can be used for social sharing. different plugins have different features, by keeping all the factors in my I've compiled a list of the 5 best WordPress social sharing plugins.

SSB is a simple light-weight and feature-rich plugin. It definitely helps to grow your social media appearance and increases traffic. It supports all the popular social networks such as Facebook, Twitter, Pinterest, Whatsapp, and Viber. This plugin is quite handy for small bloggers and for the agency, both can take benefits from social juice.
It provides the options to display buttons on different positions such as under the single post, before the single post, sidebar, pop-ups, and flyers, and even you can show the social sharing buttons on custom post types.
It supports almost 13 languages and more translations are coming soon in the latest version. SSB has two versions free and pro, popups, and flyers are available in the pro version. The pricing starts at $27.
Features
Different Positions
Allows to show buttons on specific posts and custom post types
Social Counts as social proof
Allows to customize the buttons, colors and shapes
lightweight and fast
Supports all popular social networks
Follow Us Widget

Kiwi social sharing plugin was developed by WpKube to use on their own blog, but later they decided to add it to WordPress repository for public use. It is a simple and elegant plugin with a lot of features enabled. It supports Facebook, Twitter, Linkedin, and Pinterest.
You will fall in love with button styles and button designs, they are fully customizable. It displays the total share count to build more trust. The floating bar is one of the great features of this plugin, you can simply enable or disable this feature with Toggle.
If you are still not satisfied with its front end look, you can play with available filters to customize it to the next level.
Features
Simple and easy to configure
Social Counts as social proof
Lightweight and fast
Supports all popular social networks
3.
Easy Social Share Buttons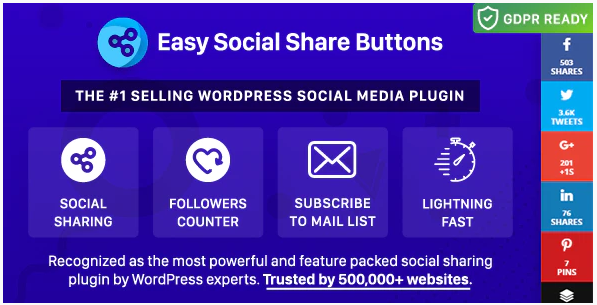 ESSB does not have any free version, However, their premium version costs $20 which is totally affordable. It offers 50 plus different social network sites to play with. ESSB is super fast and works with all the plugins without any conflict. The customization options are not limited at all there are around 28 plus positions 52 plus premade templates and 25 different animation styles.
Easy Social Share Buttons are expanding their features by adding the options i.e, Email and Live chat options.
Features
50+ Positons, 25+ premade templates 52+ different animation styles
Email Optin and Live Chat
Full power to custmize
Supports all popular social networks
Social metrics
20+ addons both free and paid
4.
Social Warfare

Social Warfare is the top free social sharing plugin, It's simple and easy to configure. In the free version all the basic and important social networks are available, however, if you are interested to unlock more features you can go with the premium version. In the premium version, there are a lot of customization options and different styles.
It allows you to add the social buttons to different positions. The admin interface is simple and clean you can easily configure them by just drag and drop. You may have noticed that other social sharing buttons do not share the full height images on Pinterest. But this plugin takes care of this thing and allows us to share the full-height images on Pinterest. Moreover, you can edit the description of your post while sharing on Twitter and Facebook.
Features
Full Power to customize the buttons
Allows to share full height image on pinterest .
Allows to edit the post description while sharing
Supports all popular social networks
5.
Social Snap

Social Snap is a new plugin in the market but it is taking the charge so fast, it does not have enough active installs on wp.org but I'm going to list it here because of its features. In the free version, there are all the basic social networks available, and they have a nice and clean design, Furthermore, it provides you with three reads to use Gutenberg blocks.
Social Snap Gutenberg Blocks
socialsnap/click-to-tweet
socialsnap/social-follow
socialsnap/social-share

You can unlock its premium features by buying the premium version. There are all options available to customize the buttons to change their order and to show them in different positions.
Features
Full Power to customize the buttons
Allows to share full height images on pinterest
Allows to edit the post description while sharing
Supports all popular social networks
Allows to re-share old posts
Final Thoughts
I've tried to make a compact list of all WordPress Social Sharing Plugins, They are all unique from each other in features. You can choose them according to your needs and choice. If you are just starting your website or blog you can go with a free version and later on you can upgrade to the premium version.
Frequently Asked Questions
What is a social share in WordPress?
Social sharing means sharing your WordPress content across social media platforms, i.e., Facebook, LinkedIn, and Twitter, to name a few examples. It helps you generate brand awareness and grow your business.
Are social share buttons worth adding to WordPress?
Social share buttons are worth adding to your WordPress site as they help you get more traffic, increase your social media following, generate more leads and sales, and build social proof and brand recognition.
Do people use share buttons on websites?
Yes! People love sharing web content via share buttons. However, Moovweb researched 61 million mobile sessions and found that 99.8% of mobile users have yet to use social share buttons.
What are the most used share buttons?
Search Engine Journal received a survey report that shows Twitter is the most widely used share button across the internet.