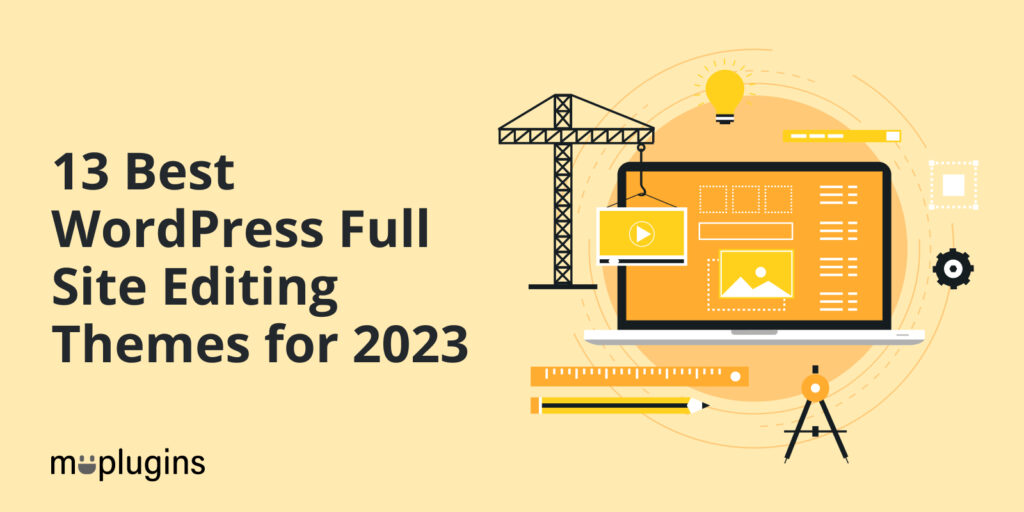 Are you looking for the best WordPress full site editing themes for your site? If yes, we have got you covered!
With the rise of Full Site Editing (FSE), WordPress has undergone a revolutionary transformation, putting the power of comprehensive design control in your hands. The majority of them won't cost you a dime!
Gone are the days of being confined by templates and limited customization options for WordPress Themes.
In this article, we'll walk you through the 13 best WordPress full site editing (FSE) themes.
Without much ado, let's get started!
Table of Contents
What is WordPress Full Site Editing Themes?
WordPress full site editing (FSE) themes are powerful templates that enable you to customize every aspect of your website's design and layout, including headers, footers, templates, and page layouts, using a consistent block-based approach.
Such theme primarily focuses on styling and layout for individual pages or posts, Full Site Editing themes offer an integrated and comprehensive solution for designing the entire website.
See the GIF below for more understanding: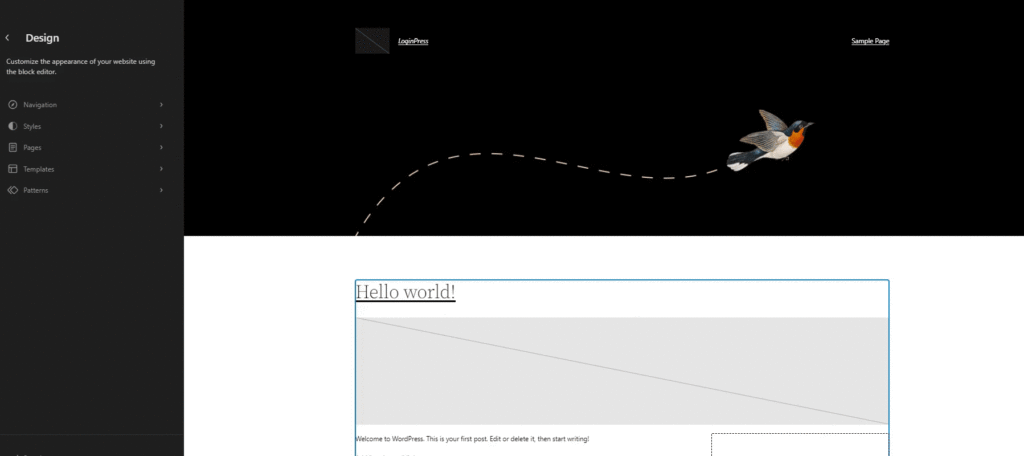 Why Do You Need a WordPress Full Site Editing Theme?
Now that you know what are WordPress full site editing themes, let's learn about why you might want to add them to your site:
Block-based Templates: FSE themes enable users to create custom templates for various website sections, such as headers, footers, and content layouts. This provides a higher level of flexibility in designing unique page structures.
Customizable Blocks: Users can modify and arrange blocks within templates to create dynamic layouts. These blocks might include text, images, videos, galleries, testimonials, and more.
Live Preview: The visual editor lets users see their changes in real-time, making the design process more intuitive and efficient.
Less Reliance on Code: While some coding skills might still be advantageous, Full Site Editing themes reduce the need for extensive coding knowledge to achieve complex designs.
Responsive Design: FSE themes are designed with responsiveness, ensuring your website looks great on various devices and screen sizes.
Ease of Use: The block-based approach makes it easier for beginners to get started with website design and speeds up the development process for more experienced users.
13 Best WordPress Full Site Editing Themes (FSE)
There are numerous full site editing themes available in the WordPress themes repository. So, how is this the one you need for creating a site that matches your goal?
Don't worry! We have 15 best full site editing themes for your WordPress site based on a comprehensive analysis of theme features, design flexibility, user reviews, performance, and innovation.
These themes have demonstrated excellence in empowering users to create unique, fully customized websites. It will help you make an informed decision.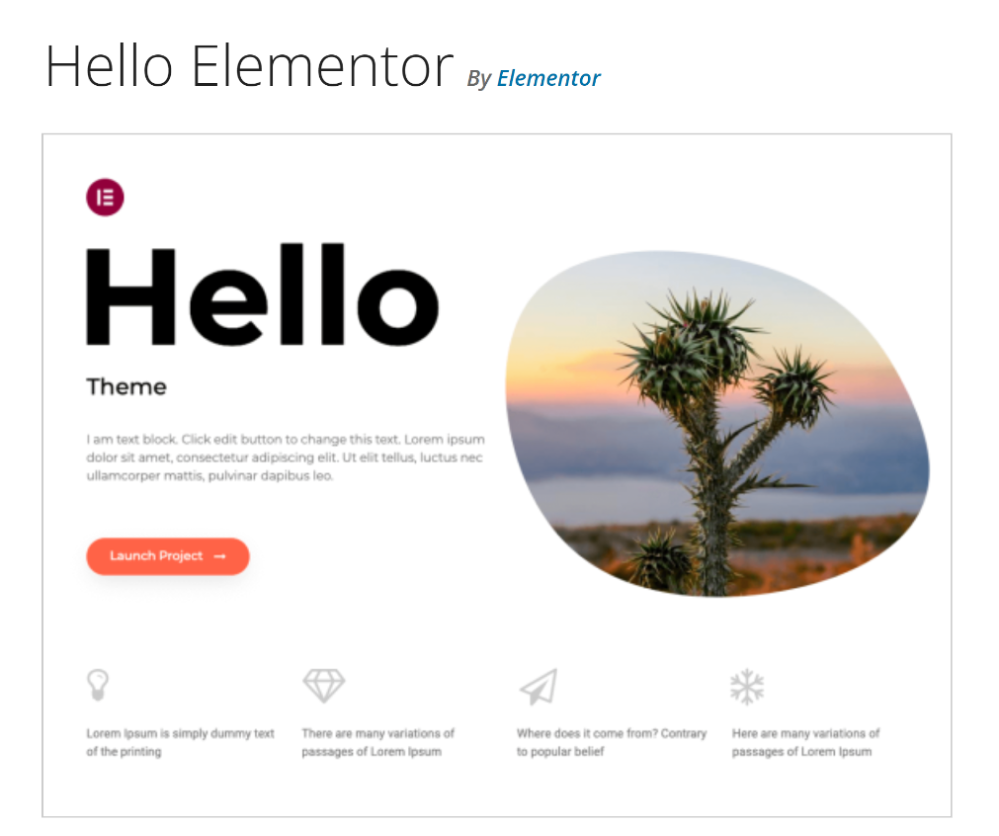 The Hello Elementor – a WordPress theme, is designed to uplift the functionality of the Elementor page builder plugin for WordPress. It has over 1 million active installations, and a thriving community of website creators trusts it.
The Elementor Hello theme is carefully crafted to cater to everyone, i,e., from beginners to advanced users.
The main purpose of the "Hello Elementor" theme is to provide a clean and minimal foundation for building websites using the Elementor page builder. It helps you create highly customizable designs without the limitations imposed by a pre-designed theme.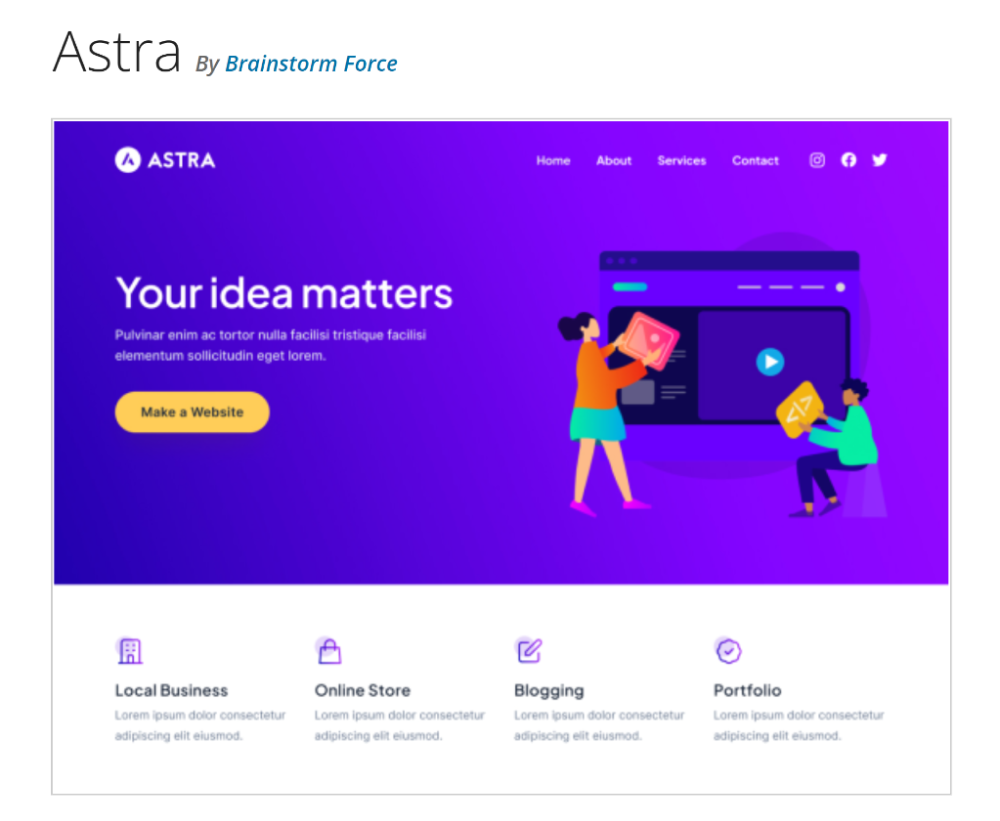 Astra is a popular WordPress theme designed to work with this Full Site Editing feature. It is compatible with various page builders, including the WordPress block editor, Elementor, Beaver Builder, and more.
The theme offers a free version with basic features and a premium (Pro) version that unlocks more advanced customization options.
The free version of the theme has all the essential customization options. For example, you can provide multiple site layouts, header and footer options, and more.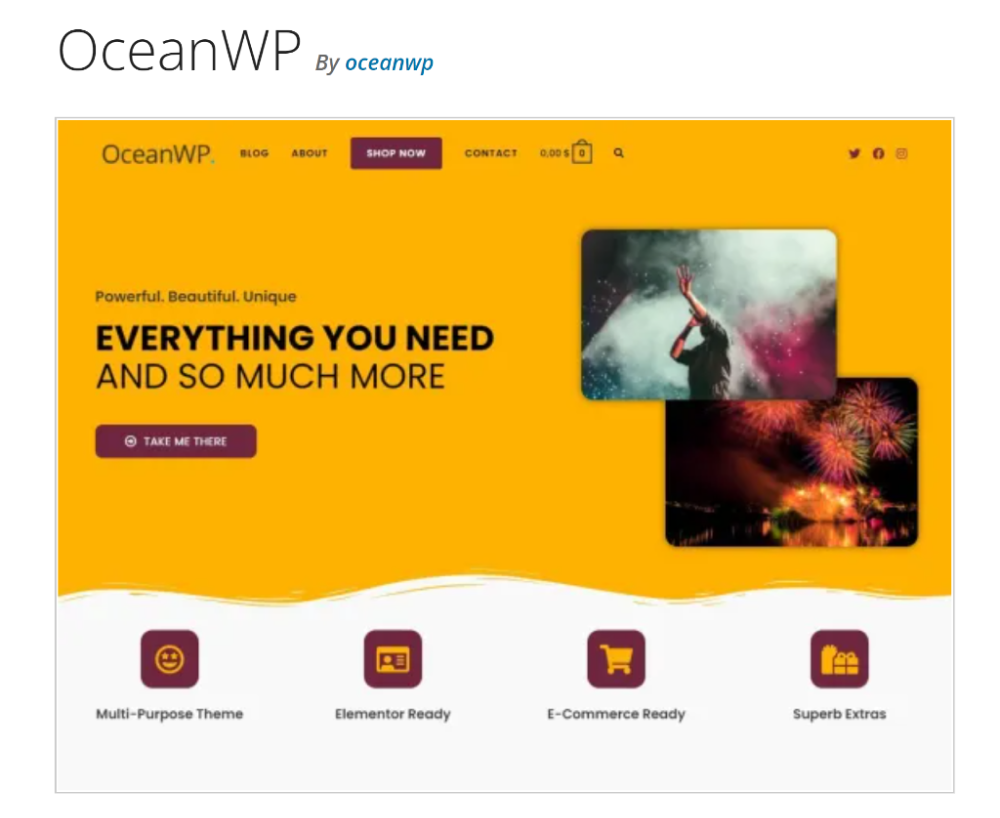 OceanWP is another popular WordPress theme. It provides compatibility with page builders and extensive customization options.
You can easily and quickly customize and design various parts of your WordPress site using the block editor, including headers, footers, sidebars, and more.
This theme lets you create a site that fits well on various screens, including desktops, smartphones, and more.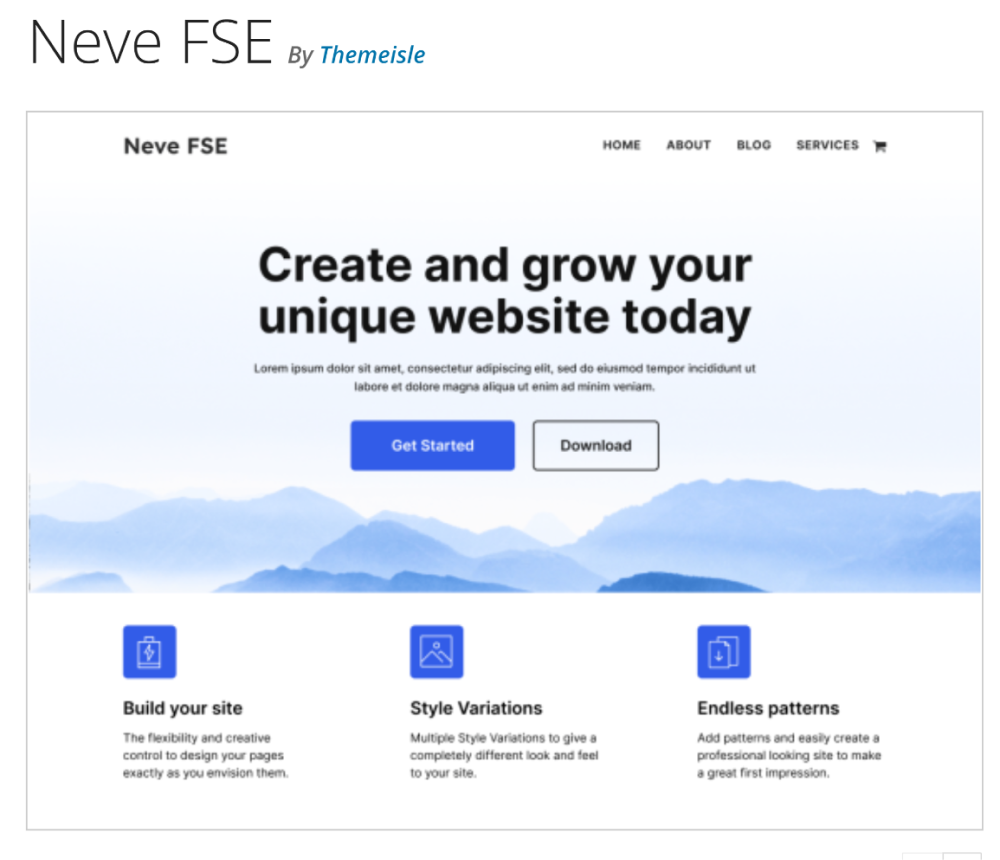 Neve FSE is one of the best WordPress full site editing themes. This theme perfectly suits you if you have a blog site, small businesses, e-commerce shops, personal portfolio sites, and more.
It also comes with several style variations to suit your unique aesthetic. In addition, it has a comprehensive and block-based approach to building and designing websites.
Neve FSE is one of the most flexible themes regarding layout, design, and structure. Users could create unique and personalized designs without being constrained by predefined templates.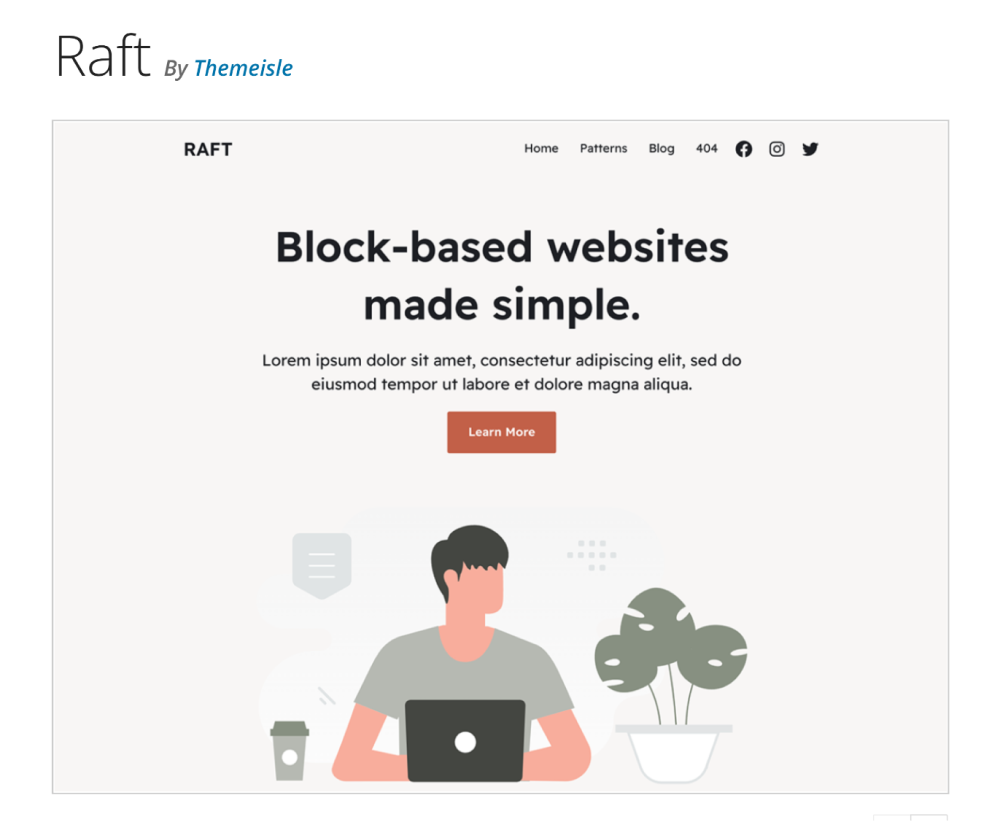 Rafts is another WordPress Full Site Editing (FSE) theme. Using the block editor, this theme allows users to create and customize almost every site element, such as headers, footers, and template designs.
This theme is the best choice for creating blogs, small businesses, firms, e-commerce shops, personal portfolio sites, and more.
As soon as you activate the Rfat theme on your site, you unlock the creative freedom to design and customize your site in a way that aligns with your vision.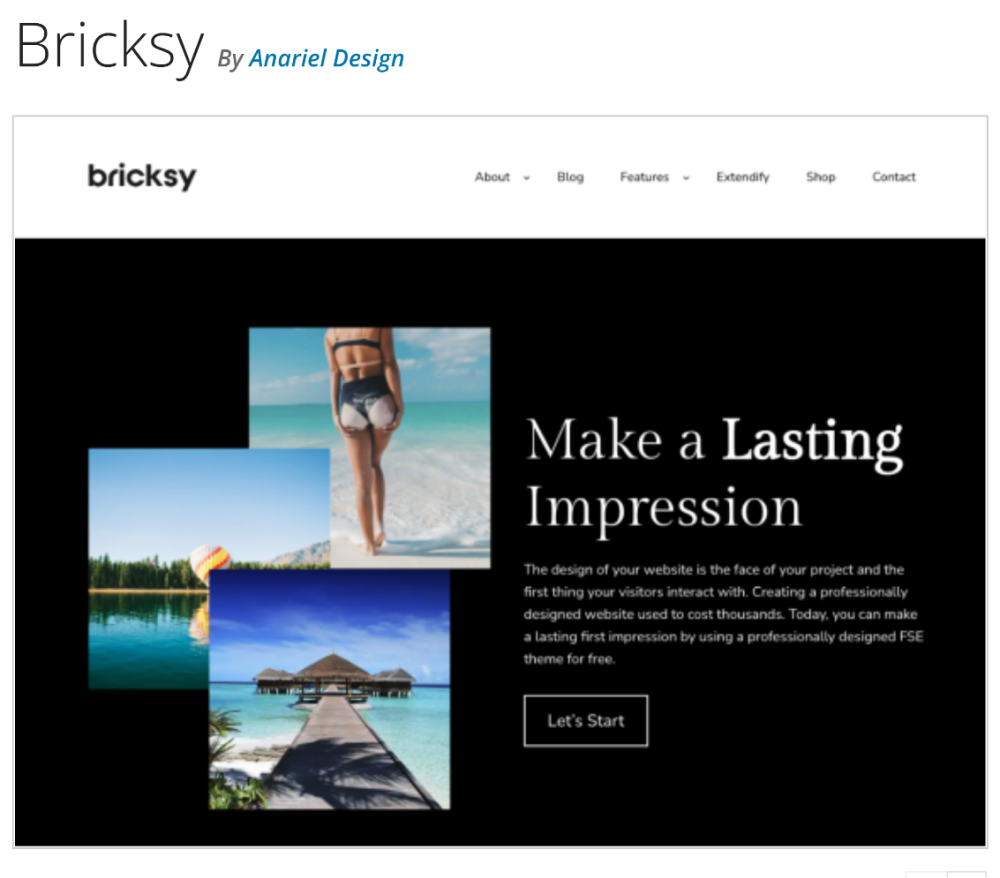 Bricksy is indeed a Full Site Editing theme. It leverages the block editor to provide extensive customization options. You can create and modify templates using blocks, giving you greater control over the design and layout of your entire site.
With the Bricksy theme, you can design and customize your site's layout and design exactly how you want it to be visible to the audience.
Since the theme is designed for Full Site Editing, it works without any compatibility issues with the block editor's features and future updates related to Full Site Editing.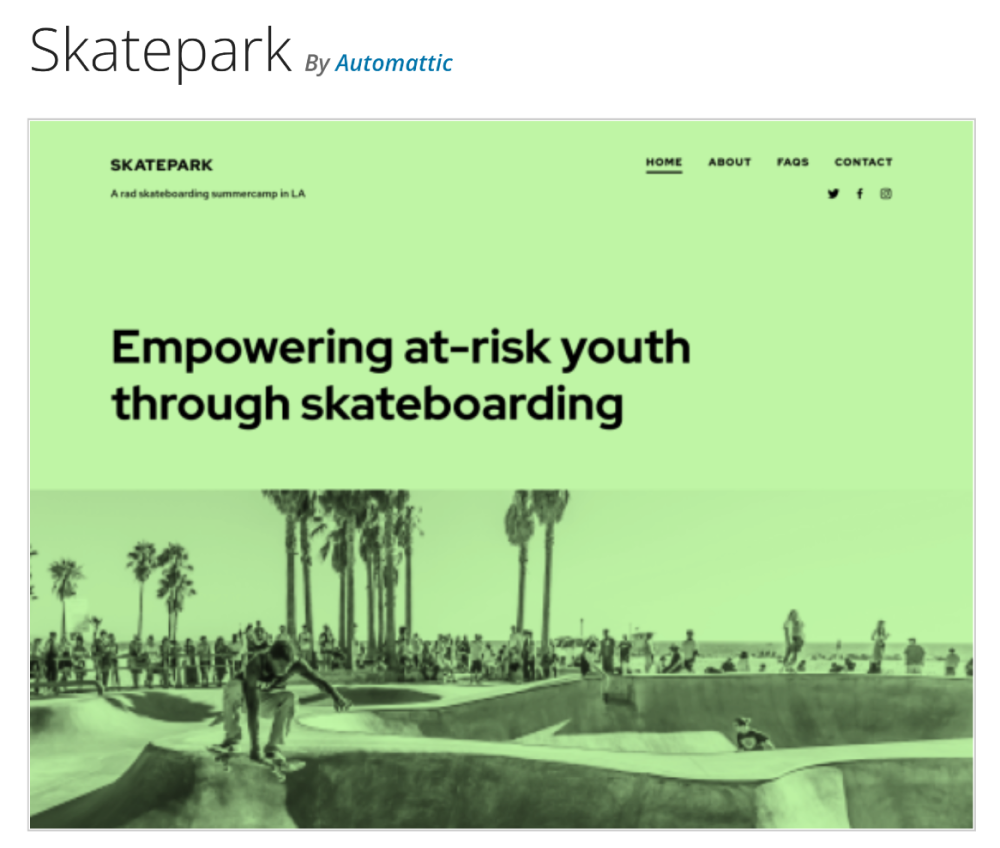 Next, we have Skatepark in our full site editing theme. Automattic has created this theme the company behind WordPress.com.
Skatepark uses a bold, modern design that helps your site stand out from the competition. Furthermore, you can easily edit your site's headers, footers, sidebars, and other template parts.
The theme is ideal if you want to customize the styles of various elements, i.e., colors, fonts, spacing, and other design-related settings.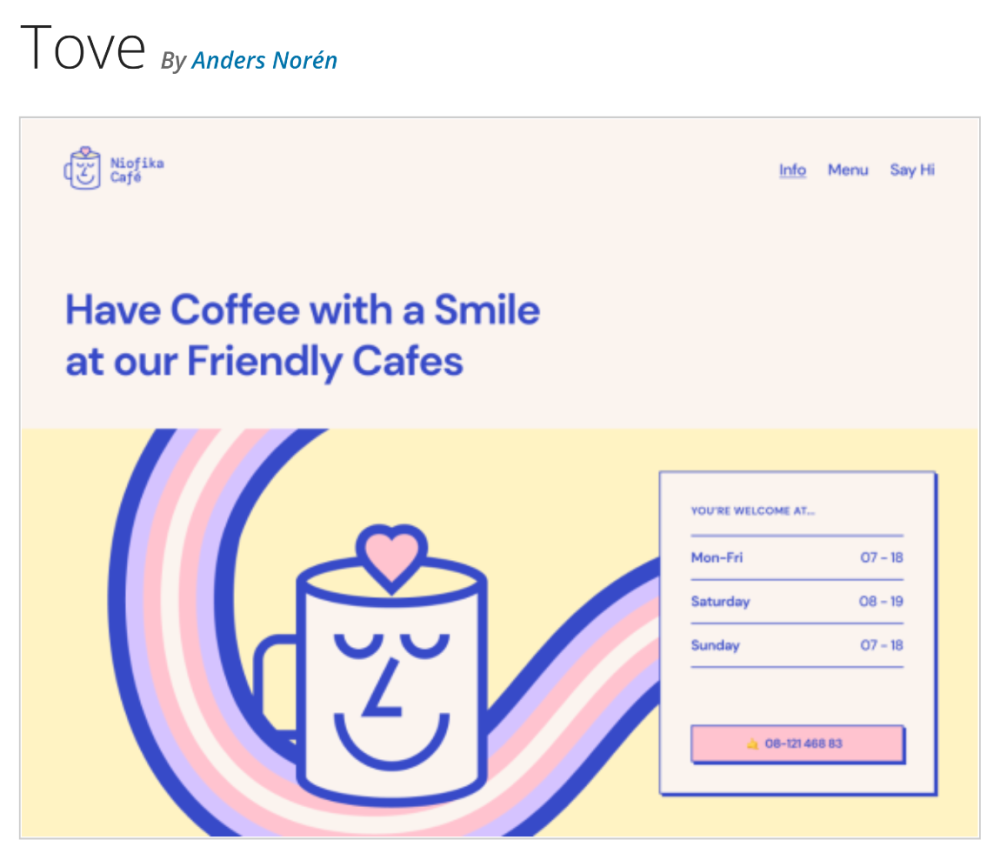 Tove is a modern and elegant WordPress theme introduced by Anders Norén. It provides a seamless and immersive reading experience for your website visitors.
Tove provides a minimalist design and thoughtful typography, Tove ensures that your content takes center stage.
This theme is perfect for you if you want to use block patterns for blog posts, testimonials, and more. In addition, the theme provides RTL language support, making your site understandable across the globe.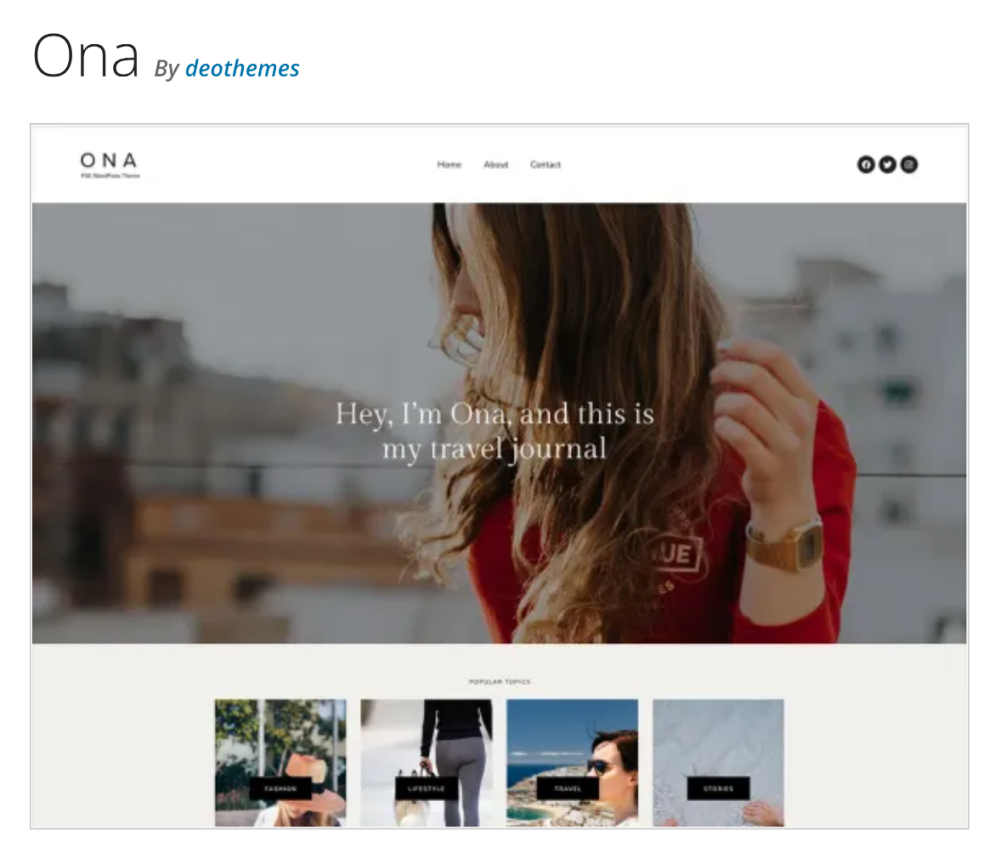 Ona is a WordPress full-site editing theme. It offers based on a minimal design style. It offers block patterns for page titles, featured posts and categories, the latest updates, and more.
Ona theme allows you to design and save custom templates that can be applied to different pages or sections of your website.
This theme is perfect for you if you are looking for blog designs. It has the best representation for your site's homepage giving you a way to introduce your brand.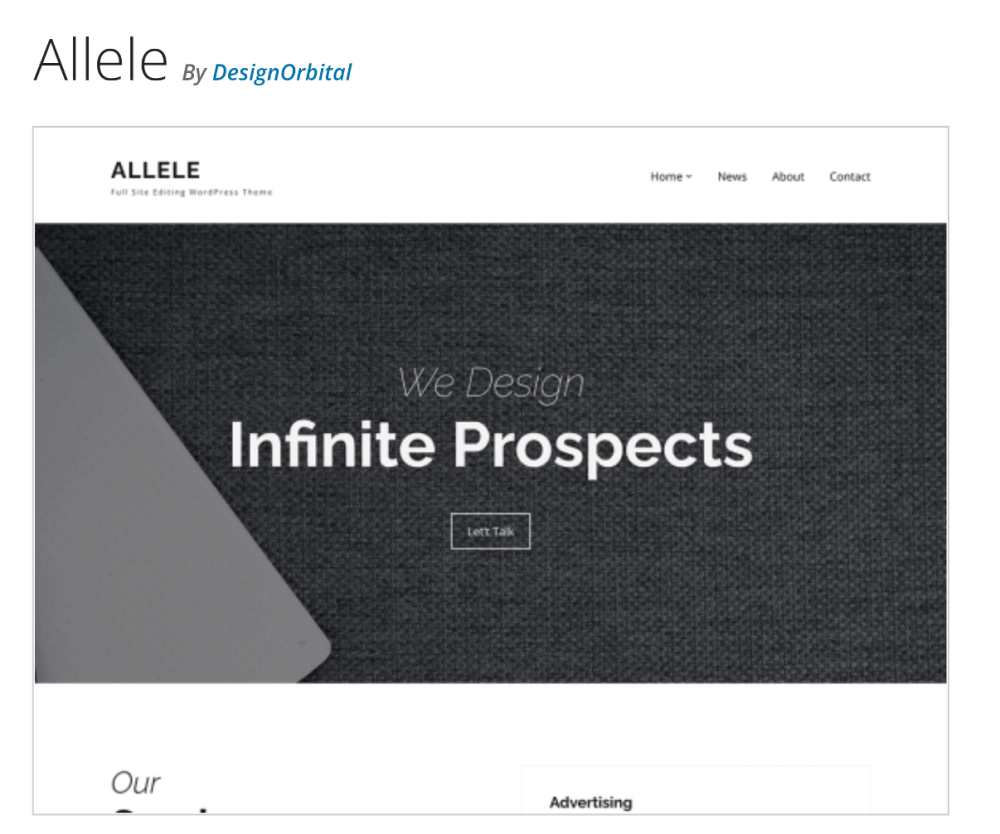 Allele is another useful full site editor theme by DesignOrbital. It provides custom page templates, featured content, featured Images, and more.
This is a freemium theme. You can switch to the premium version anytime to enjoy plenty of other useful features, i.e., Block Patterns, Block Styles, Content Focused, Custom Colors/Footer/Header/ Menus, and more.
This best suits the individual looking for a responsive layout of your site. In addition, Allele makes your site translation ready.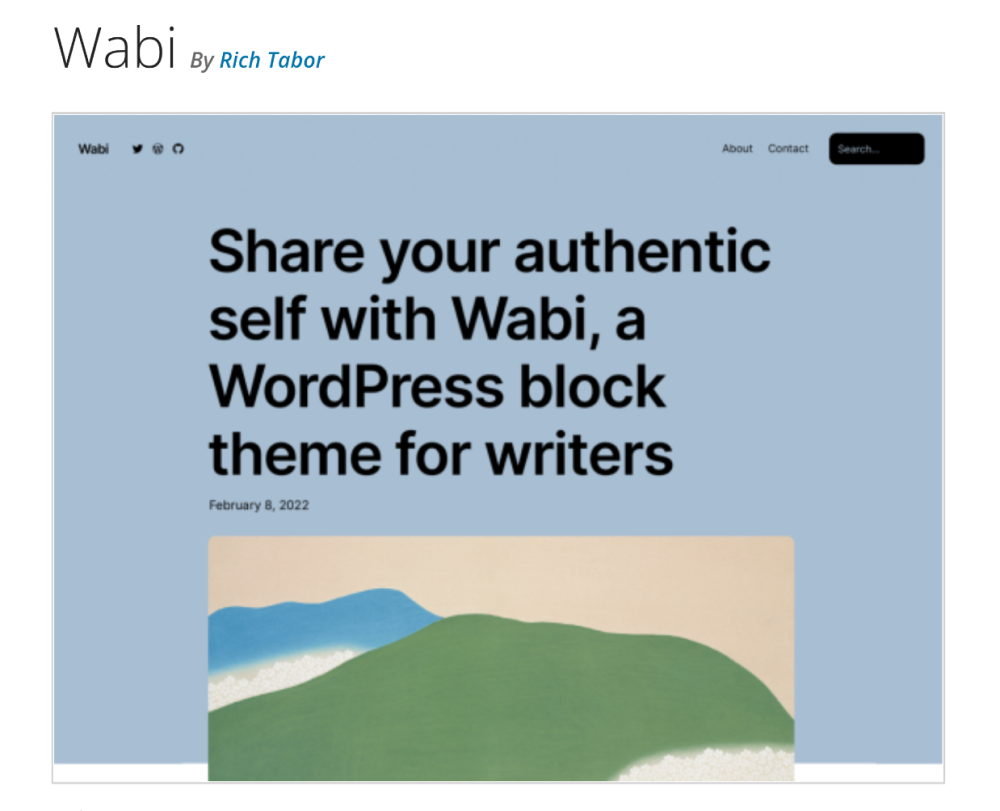 Wabi By Rich Tabor is a WordPress theme with Full Site Editing (FSE) capabilities. It allows users to design entire websites using the Gutenberg block editor.
Wabi allows you to choose between different style variants, including light, dark, and more, to express yourself exactly how you imagine.
You can access more visual and flexible ways to create and customize websites, like adding colors, typography, buttons, tables, and more.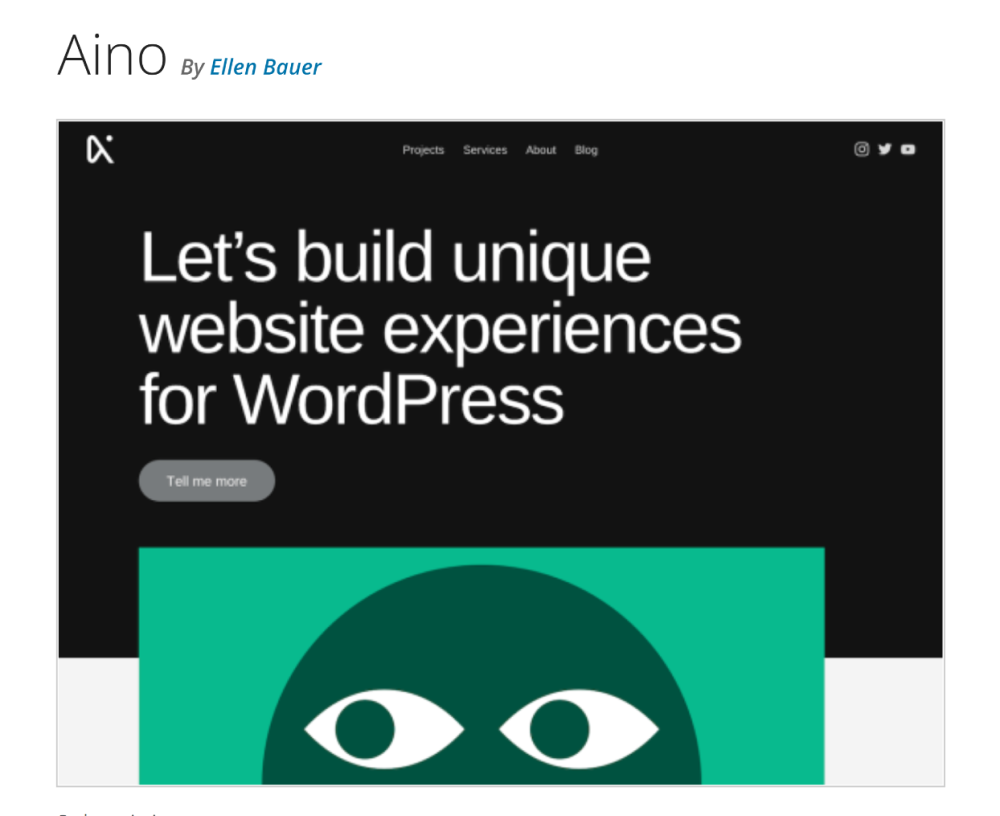 Aino provides you with various block templates and styles that can be used to create beautiful page layouts without the need for custom code.
It offers pre-designed block patterns, layouts, and settings that make it easier for users to build desired page structure.
Using the block editor, Aino enables users to create custom templates for different parts of their site, such as blog posts, pages, and more.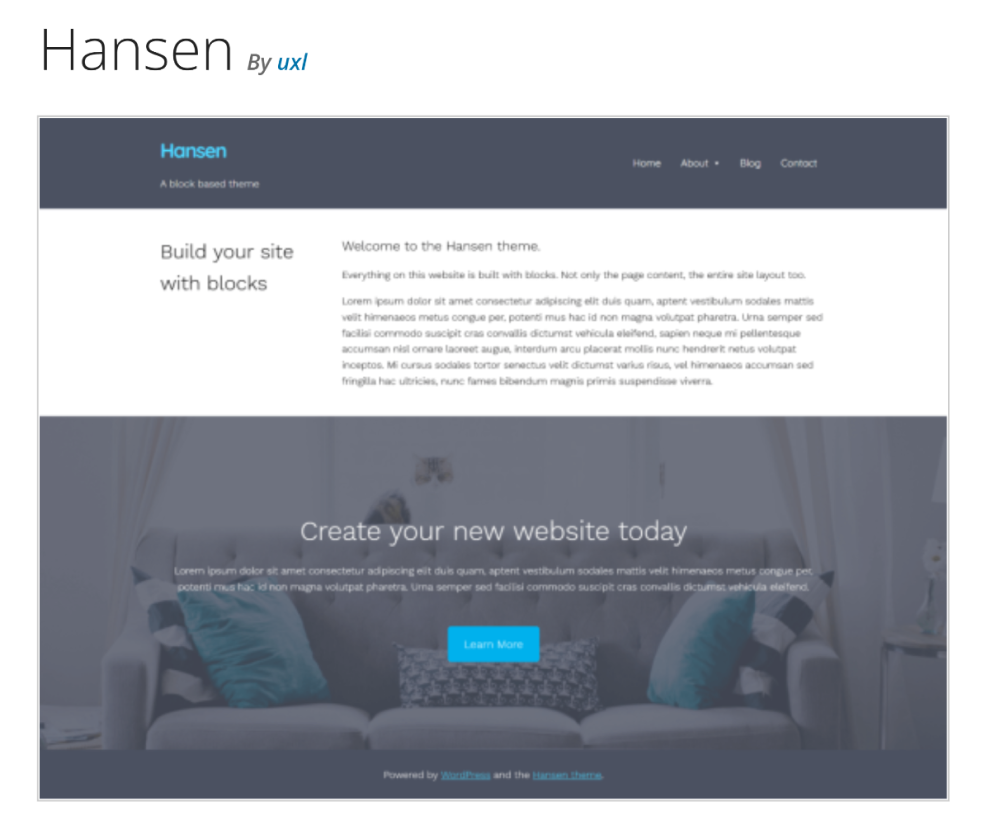 Hansen is another useful block template theme for full site editing, with various block styles and patterns. It allows users to define consistent styles for various elements across the entire website.
The theme allows you to add a shadow to each post. You can easily change your site's color and typography.
The theme lets you design a website with blocks, from page content to layout. Moreover, Hansen is fully responsive to every screen size, including smartphones.
Final Thoughts: The Best WordPress Full Site Editing Themes
In conclusion, WordPress full-site editing is the best way to create an appealing website without having any design constraints. It empowers developers and enthusiastic beginners to craft digital experiences that are truly impactful.
As we conclude our journey through the 15 Best WordPress Full Site Editing Themes, it's evident that innovation and user-centric design have paved the way for a new era of web creation. These themes are the best way to create better user experiences, faster loading times, and responsive layouts for your site.
So, install Full Site Editing (FSE) theme on your site to unlock the possibility of bringing a masterpiece you'll bring to life.
Hope you like this article! Check our other detailed articles on 7 Best WordPress Survey Plugins (Free & Paid) and 7 Best WordPress Job Board Plugins (Free and Paid).
Frequently Asked Questions (FAQs)
Can I use these themes even if I'm not a developer?
Yes! You can easily use WordPress themes without the need for coding skills to utilize the full site editing capabilities. The visual editors provided make it easy for anyone to create stunning websites.
Can I switch themes after building my website with one of these?
Yes, you can switch themes after building a WordPress site, but some aspects of your design may need adjustment to fit the new theme's structure. Creating a site backup before changing themes is better to avoid data loss.
Are WordPress Full Site Editing (FSE) themes compatible with third-party plugins?
Generally, yes! WordPress Full Site Editing (FSE) themes are compatible with various plugins. However, it's a good practice to check the theme's documentation or support to confirm compatibility with specific plugins you want to use.
How do I get support if I encounter issues with one of the Full Site Editing (FSE) themes?
Most theme developers offer customer support through various channels, such as forums, email, or tickets. You can check the theme's official website or documentation for information on accessing support.