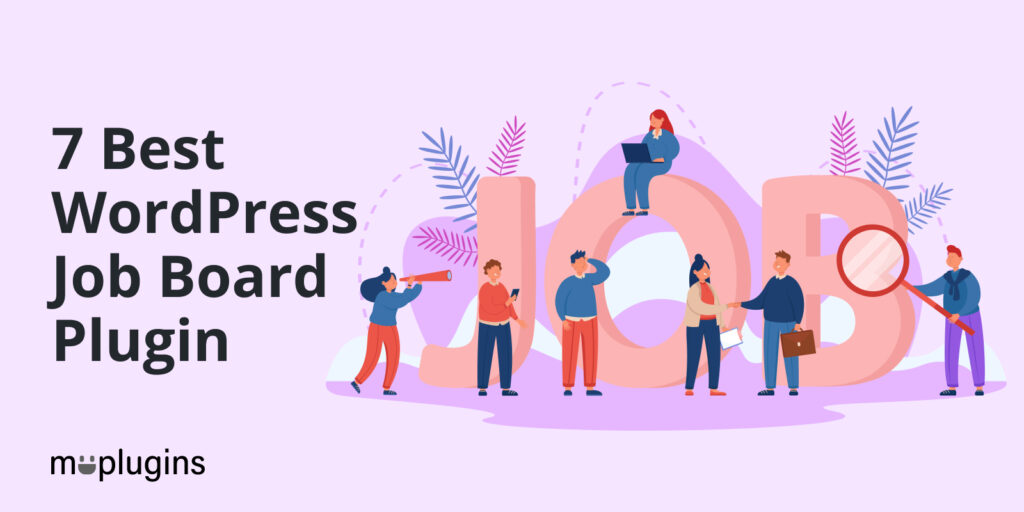 Are you looking for the best job board Plugins for your WordPress site?
A WordPress job board plugin is used for advertising job vacancies at your own company's website. If you add it to your WordPress site, it can help you to attract candidates, drive more traffic to your site, and more.
This article will show you the best job board plugins for your WordPress site.
So, without much ado, let's get started.
Table of Contents
What is a Job Board WordPress Plugin?
A job board WordPress plugin is there to help employers to advertise their vacant positions to those looking for a job on their WordPress website. This plugin is convenient for recruitment agencies or employers, as they don't need to rely on external platforms for job listings.
Recruitment agencies or employers can post job vacancies straight from their WordPress admin dashboard. This listing has all the necessary information regarding the posted job, including the title, job category, place, expiry time, and much more. It helps your WordPress site to get more traffic and even revenue if you list positions from other employers.
See what the job board looks like on your WordPress site:

List of Best WordPress Job Board Plugins
Now that you know what a job board plugin is and how beneficial it is to add it to your WordPress site, let's look at some of the best plugins available.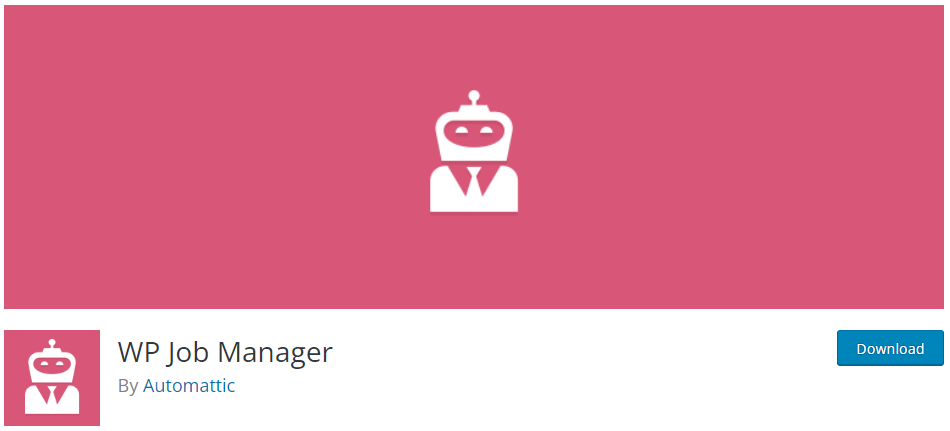 WP Job Manager is one of the best job board plugins for your WordPress site that helps you create a simple job board. You can post and manage job listings here directly from your admin dashboard.
WP Job Manager has options for allowing you to manually add all jobs yourself and allow your registered users to post job listings. It also allows you to purchase premium add-ons that increase its functionality, allowing paid listings, alerts, and several other options.
Features:
This plugin easily lets you add, manage, or categorize job listings with the help of the familiar WordPress UI.
You can easily tie each listing to a website address or email. It is pretty helpful for job seekers to apply directly for a job.
It lets your searches display RSS links. These links alert job seekers for new jobs matching their search.
The logged-in employee can view, edit, mark filled, or delete their active job listings.
Pricing:
Free.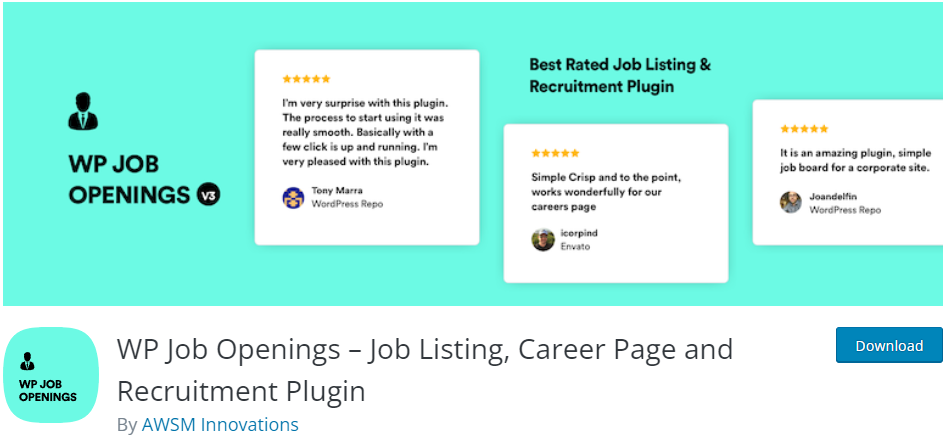 Next, we have WP Job Openings, another stellar freemium WordPress job board plugin. It offers customizable features for developers to change the feel and look of the job board. Like filter choices, two layouts for displaying job listings, and two filtering options.
WP Job Openings is the best to build and add job boards to your business's career page. It can automatically format applications to improve readability, and you can see PDF copies of resumes and CVs without downloading them.
Features:
This plugin offers unlimited job specifications and filtering options.
It has a search option to find jobs.
WP Job Openings has a default form to submit applications.
It has a recent job widget.
Pricing:
Freemium. You can upgrade to the premium version at just $49 per year.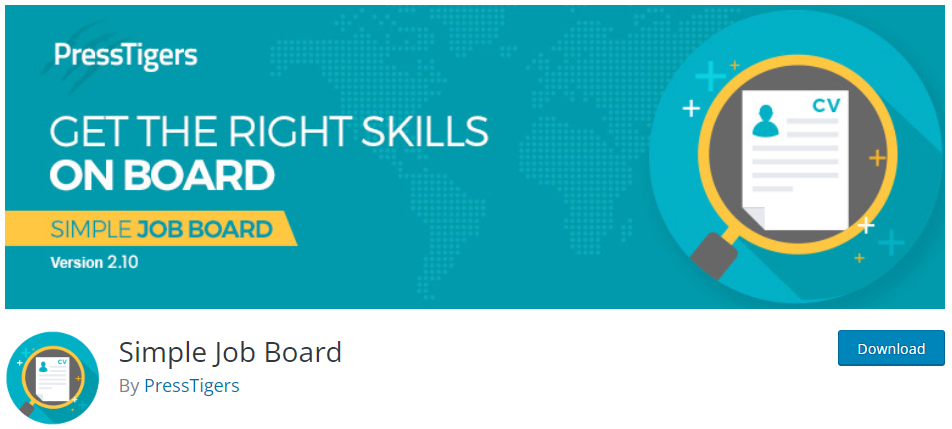 Simple Job Board is a WordPress job board plugin that involves shortcodes. It lets you create a highly adaptable online job board. All you need to do is to add the [jobpost] shortcode exactly where you would like to start using the plugin.
This plugin lets you create customized job boards. You can easily design application forms for every job opening, create multiple-choice options, and much more. It is available in 14 different languages. It will be a great pick if you are running a multilingual site.
Features:
It lets you add, categorize and manage all jobs using the granular WordPress User Interface. Moreover, job listers can add job types in job listings.
This plugin helps you add job location to an individual job created, category shortcode to any post to enlist job listing, job Location, and more.
You can easily add a job type to any post via a specified shortcode.
Simple Job Board allows you to view applicants' lists who applied for a particular job.
Pricing:
Free.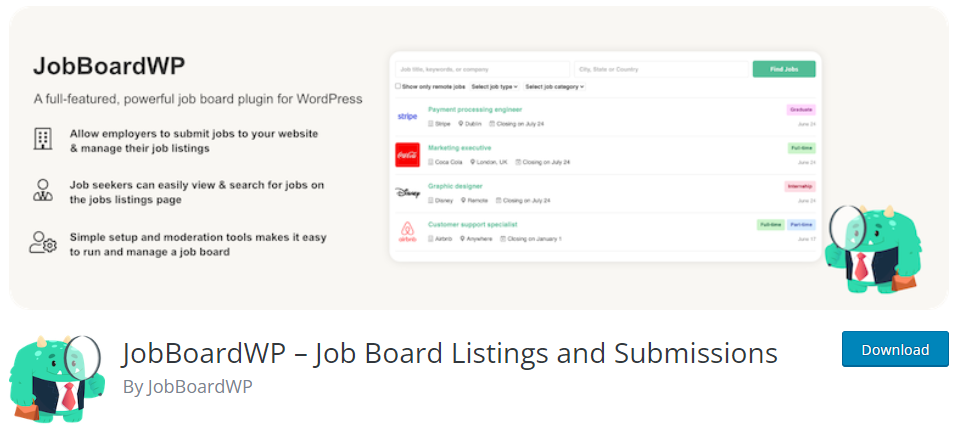 JobBoardWP is the next free-to-use WordPress job board plugin in our list. It has a clean, modern UI, and job seekers can view and search for jobs. At the same time, employers can submit jobs to your job board and manage their jobs from the jobs dashboard.
You can use it as an extension for the Ultimate Member plugin, which means it can quickly add a job board to your membership site. It makes it easy for the members to display posted jobs on users' profiles, activity feeds, and much more.
Features:
This plugin helps the admin to filter jobs by status, such as published, pending, expired, and more.
JobBoardWP has 7 built-in job types: Freelance, Full-time, Graduate, Internship, Part-time, Temporary, and Voulnteer.
It lets you create your new jobs directly from the wp-admin.
It allows you to create custom categories for jobs in the wp-admin and allow users to select a category for their job submission when submitting a job.
Pricing:
Free.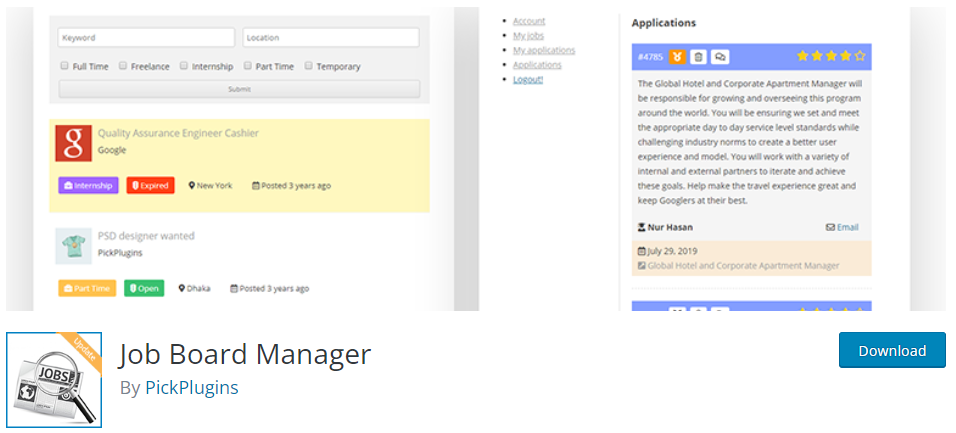 Job Board Manager is another WordPress plugin for a job listing. It lets you list jobs, submission forms, and an account dashboard anywhere on your site via shortcodes. It has job posters that can view applications, provide a star rating, and email applicants directly from the dashboard.
The striking feature of this plugin is that it comes with 11 email notification templates for every action, i.e., submitting a job/resume. You can also add custom email notification templates using filter hooks.
Features:
It lets you add a custom application using filters and action hooks.
You can easily display job categories in a grid view with thumbnails, titles, and job counts.
The plugin allows you to display popular job categories in this grid view.
Pricing:
Free.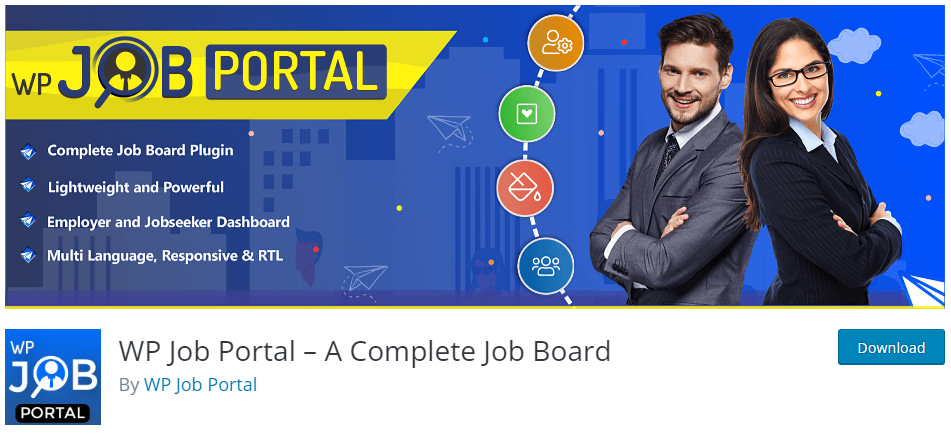 WP Job Portal, the WordPress job board plugin, is designed to make it quick and easy for job seekers to find the best position. Moreover, it's best for companies, as well, to help them identify the most qualified applicants.
This plugin uses a simple auto-fill option that helps you filter job posing results by application title, country, category, and more. The user can save jobs they are interested in and go back to apply.
Features:
It lets the job seeker distinguish the specific jobs they are searching for.
This plugin lets you display different application techniques for each work.
You can easily add custom fields on the registration page and approved information and save them under the client meta field.
It lets the admin add multiple custom fields, i.e., text field, checkbox, and more.
Pricing:
Free.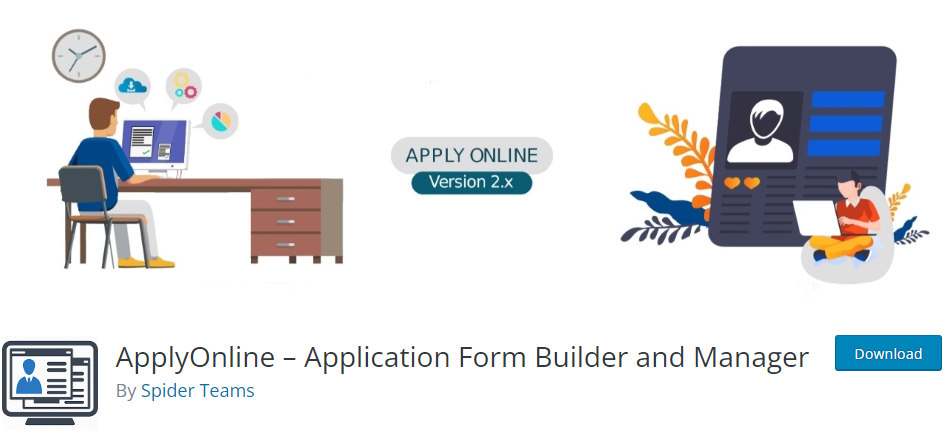 Apply Online is among the widely recommended WordPress job board plugins. You can easily set it up and get started. It has a drag-and-drop form builder. It lets you create a jobs page that might be helpful for the users to register and apply directly.
The ApplyOnline plugin is the best choice if you want a quick response from the applicants. It can be understood as a classified ads management plugin. All you need to do is add a job board to your website and accept applications.
features:
It lets you create many ad types, including careers, registrations, admissions, and more.
You can easily add a listing with a title, thumbnail image, and more.
You can add a filtration option above the ads listing to narrow down desired ads.
Ad detail page with description, features, and application form.
Pricing:
Free. Since it offers premium add-ons, the price varies from Add-on to Add-on.
Conclusion: Which WordPress Job Board Plugin is best for You?
You can quickly and easily post open opportunities using a WordPress job posting plugin. You can do so with the intention of internal hiring or use your website as a hub for job seekers and finders. This is a very useful and easy method to uplift the number of visitors on your site, broaden your applicant pool, and much more.
Hopefully, one of the plugins listed above must have the features you are looking for in the WordPress job board plugins.
That's all we have discussed the best WordPress job board plugins! You can also check out the Best WordPress Glossary Plugins in 2023 and  Best Drop-Down Menu Plugins for WordPress websites.
Frequently Asked Questions
Do job boards still work?
Yes, job boards still work for you to upload a job and hire the most talented candidate.
Do recruiters use job boards?
Yes, job boards are common among recruitment agencies/employers as they help them find the best candidates for their roles.
What are job board examples?
Some of the renowned job board sites are Indeed, Glassdoor, and Careerjet, to name a few.