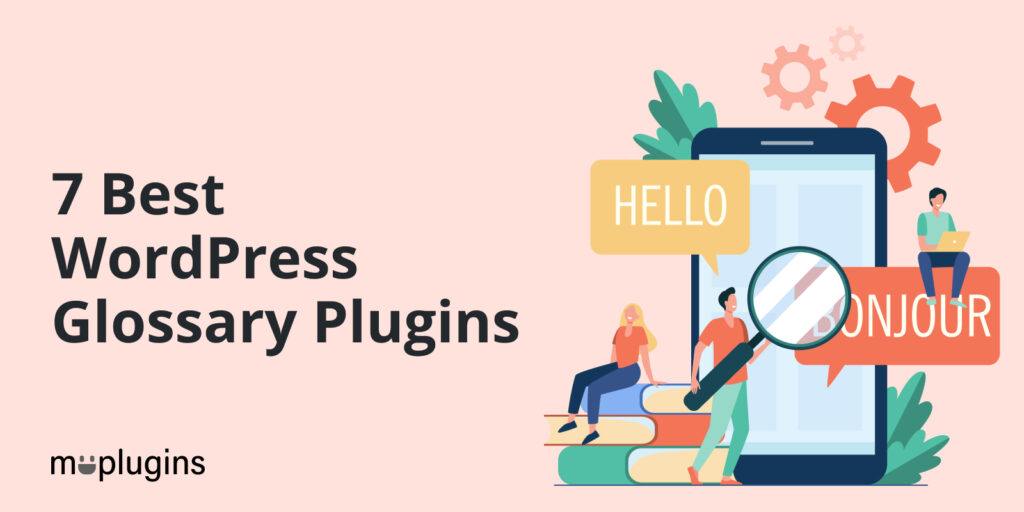 Are you looking for the best WordPress glossary plugins for your website? Or is it hard to decide which plugin will suit your dictionary and glossary needs?
No matter which niche your website belongs to, integrating glossary plugins is the best decision to enhance your user experience. To assist you, we have penned down the 7 best Glossary plugins to use in 2022. Each plugin mentioned is user-friendly, good for SEO, offers support, and is lightweight.
This article will guide you further to choose the best WordPress Glossary plugins in 2023 from the 7 listed.
Table of Content
What is a Glossary Plugin?
A glossary plugin displays the glossary terms making them interactive when a user hovers over them. Integrating a glossary plugin on your WordPress site greatly improves your site's SEO and user experience.
Why do you need Glossary Plugin for WordPress?
With the help of a glossary plugin, you can include videos, photos, custom links, audio files, and other media to define any key term further. Creating a glossary can assist your site's visitors in comprehending the content on your site.
Glossaries are useful because a word's meaning can vary depending on context. The glossary is essential for your users to understand the unique content on your site.
7 Best WordPress Glossary Plugins (Free and Paid)
The most downloaded best WordPress glossary plugin is the CM Tooltip Glossary. It uses hyperlinks to add glossary terms to any post or page. CM Tooltip Glossary allows inserting tooltips into a website providing definitions of terms mentioned within your pages/posts.
It offers AMP support, alphabetical order indexing, and several SEO features, and is a mobile-friendly plugin. This plugin automatically creates indexing pages that can be easily customized.
Using the CM tooltip glossary plugin, you can include glossaries from dictionaries, thesauruses, and Wikipedia on your site. Furthermore, with the help of this powerful plugin, you can also include unlimited tooltips on your website.
You can also create reference books, word references, and a glossary including incredible highlights that's why it is the best WordPress glossary plugin. An audio or video tooltip could also be integrated when the mouse hovers over any particular term.
It offers over 18 index page design templates to customize the online dictionary styling on your site. Overall, the CM tooltip glossary plugin offers to build a custom vocabulary of words and terms, providing definitions of all words used throughout your website.
Features
CM Tooltip Glossary generates a Glossary index of terms.
It offers a tooltip window to appear when the cursor hovers over the term.
It allows adding Wikipedia content to your website.
You can also link term pages from posts/pages.
Pricing
The Essential plan starts at $36 per website offered by the CM Tooltip Glossary plugin.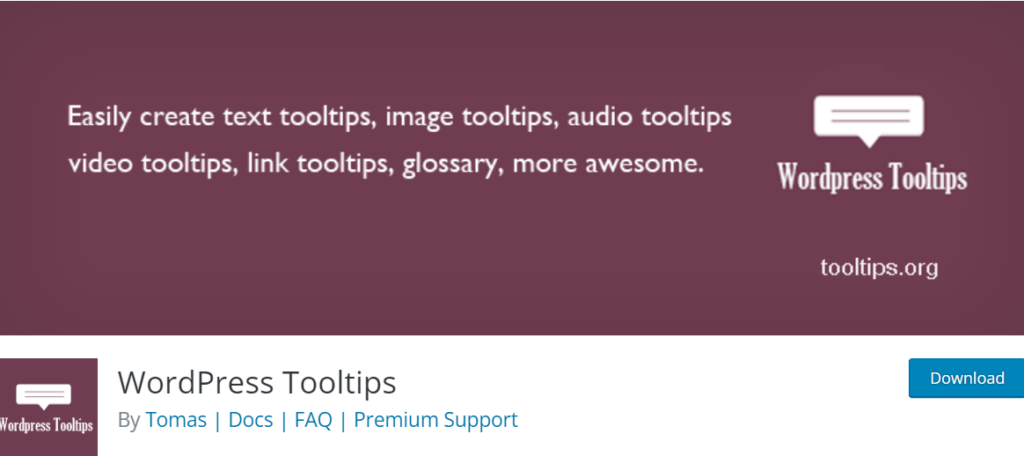 WordPress Tooltips is one of the best glossary plugins for WordPress that allows creating glossaries and tooltips a piece of cake. Being a user-friendly and lightweight plugin, it displays a box when the mouse hovers over any term.
WordPress Tooltips offers to insert HTML content within your site via WordPress standard editor. It also links charts, images, videos, and audio files with tooltips and social media accounts.
It's also compatible with other gallery slideshow plugins and detects gallery images used in terms of tooltips. Furthermore, the dedicated admin panel could manage all tooltip keywords or content.
Features
4 different tooltip color schemes are offered by this plugin Yellow, Light, Dark, and Green.
It offers a responsive tooltip that's compatible with mobile devices.
It allows multiple tooltips on a single page and displays tooltip animation effects
This plugin offers to enable/disable Tooltip for images, excerpts, post tags, and Tooltip Close Button.
Pricing
The WordPress Tooltips plugin is available in a premium version for just $10 per website.
Heroic Glossary, a Gutenberg block, lets you conveniently create and manage your terms glossary. The Gutenberg Editor could create complex glossaries in a few minutes.
Heroic Glossary offers to add several acronyms and abbreviations in glossary terms. Furthermore, it lets instant search for all glossary terms and definitions by filtering the glossary by alphabetic letters.
You can create numerous glossaries and reuse glossaries on any page of your site using Gutenberg's reusable blocks. Heroic Glossary is an excellent and simple-to-use best WordPress glossary plugin offering no fancy features.
Features
It's a user-friendly, lightweight, and simple-to-use plugin.
It offers an instant search of the glossary.
It provides an Alphabetical Navigation option for searching within the glossary.
Heroic Glossary allows unlimited glossary creation.
Pricing
Heroic Glossary is a free-to-use plugin offered by Heroic Themes and doesn't offer a premium version yet.
Name Directory is a dictionary plugin that effortlessly adds glossaries to your WordPress site. This plugin offers a traditional glossary where all the terms are arranged alphabetically.
This plugin lets you create multiple directories and lets you integrate each index anywhere on your site via shortcodes. Furthermore, it also allows you to customize them by grouping terms into different categories.
For a more customized experience, Name Directory offers numerous configuration options. It is surely one of the best plugins to use if you need to create multiple glossaries on a budget while also offering regular support.
Features
It offers to Show/Hide the title, description, suggestion form, and submitter name.
This plugin also offers multilingual support.
It displays a "Read more" link for further details on terms.
The plugin allows entering different directory subjects.
Pricing
Name Directory, just like the Heroic Glossary, doesn't cost you a penny and is a free-of-cost plugin.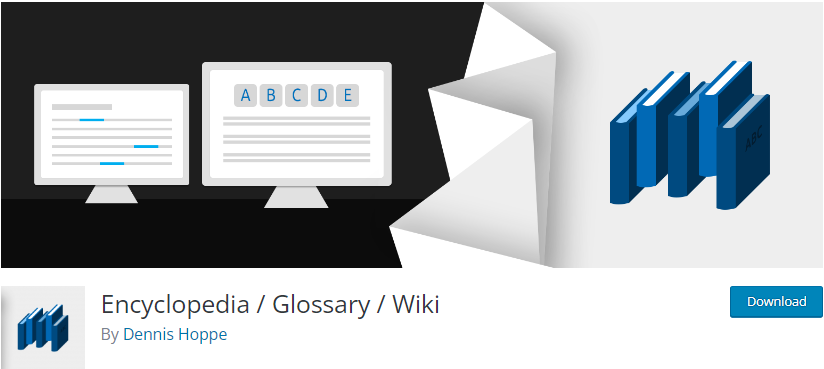 The Encyclopedia is a powerful WordPress glossary plugin that manages and organizes your terms as an encyclopedia, lexicon, glossary, Wiki, dictionary, or knowledge base.
It generates and provides you with an index page for all alphabetically ordered terms while having prefixes at the top of the list. This plugin offers complete customization of your glossary, and each item will have a separate page with a different URL.
Furthermore, using the encyclopedia plugin, you can access a wide range of additional intelligent features, like automatically linking articles on your website while editing them.
Features
The plugin displays all items in the sidebar via a widget.
It includes separate pages for each item having unique URLs.
It generates index pages automatically for all terms.
This plugin is entirely translatable and supports WPML and user-defined HTML templates.
Pricing
The Encyclopedia Pro WordPress Plugin is available for a lifetime usage license, updates, and support for 365 days by the developer for just $55.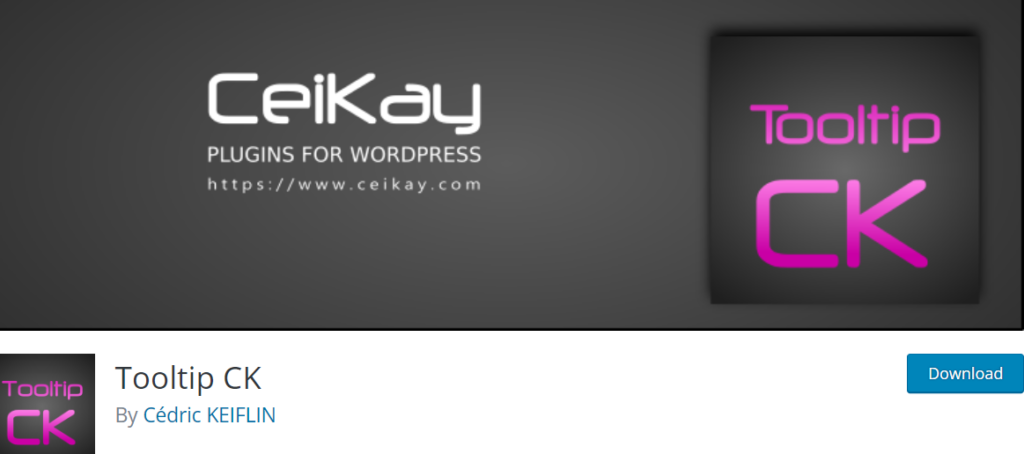 Tooltip CK is yet another excellent tooltip plugin that allows adding tooltips to any WordPress site while offering the to open in animation.
This plugin is quite flexible and compatible with all mobile screen sizes. It also lets you display text, photos, videos, and other media and allows you to customize the duration and position of the tooltip animation.
This plugin also has a screen overflow detection capability that allows you to customize the content, length, width, animation delay, and multilanguage compatibility for each tooltip.
In this way, each tooltip can have its own customization preferences. As a result, we can state that the plugin is completely responsive and very adaptable.
Features
Styling from the plugin settings interface with color pickers and other fields.
Customization options for tooltip animation and positioning
Offers to style the shutter text
Compatible with all mobile devices
Screen overflow detection
Pricing
The pro version of the Encyclopedia plugin is available for just 19€ with 1 year of updates.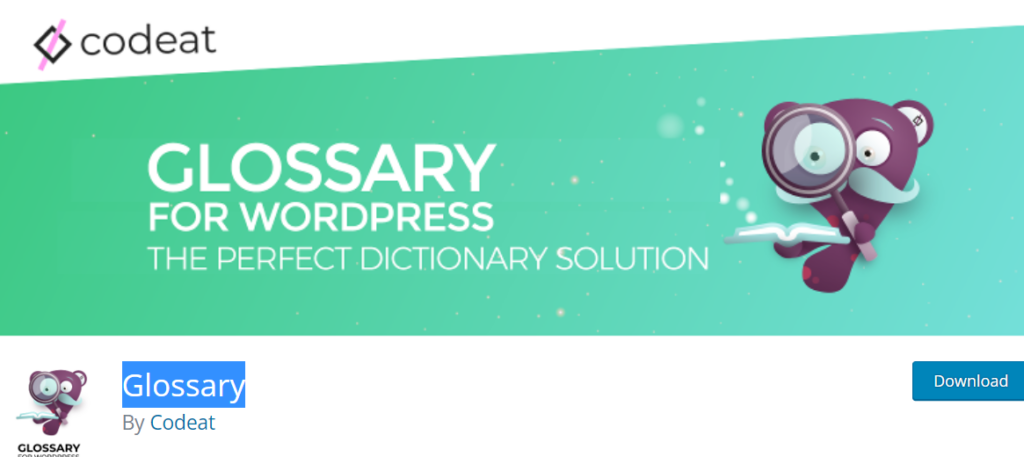 Glossary plugin for WordPress is a robust and fast option if you need to build a dictionary or glossary for your website. Using this plugin, you can create a glossary or dictionary section to group and organize all definitions.
The tools offered by this plugin help create and manage your WordPress glossary most simply. The Glossary plugin automatically links each term into the definitions list and displays a customizable box when the mouse hovers over any term.
Using this best WordPress glossary plugin, you can generate styled tooltips and turn the popup tooltip area into a revenue-generating machine. It also offers including your affiliated URLs and key terms within the glossary.
Features
It supports the tooltip template.
The plugin allows page activation, archives, and categories.
It offers linking terms to an internal or external location.
It has a dedicated icon to highlight external links.
Pricing
The Glossary plugin offers 2 premium plans, one for $29.99 a year and the other the lifetime one for $99 only.
Conclusion
After going through this article and learning about the different features offered by these Best Glossary plugins, we hope you have found the one that suits your needs. All of the mentioned plugins are competent enough to fulfill your site's dictionary or glossary requirements, and none lacks significant options. However, you can still test free versions before buying their premium versions to have the safe side.
Frequently Asked Questions
How do I add a glossary in WordPress?
You can use any WordPress glossary plugin if you need to integrate glossaries within your WordPress site. A Glossary plugin lets you integrate a dictionary, Glossary, Wikipedia, and even audio/video on any term. This helps the user to understand the meaning of a term efficiently.
What is the best way to create a glossary?
You can find the best way to create a glossary of terms on your site by installing a Glossary plugin. A best WordPress glossary plugin for WordPress sites assists you in creating a vivid glossary and dictionary of all the major terms used within your content.
That's all! We hope you will now get the list of the Best WordPress Glossary Plugins, You can also check out the Best WordPress Migration Plugins and Best Social Media Plugins for WordPress