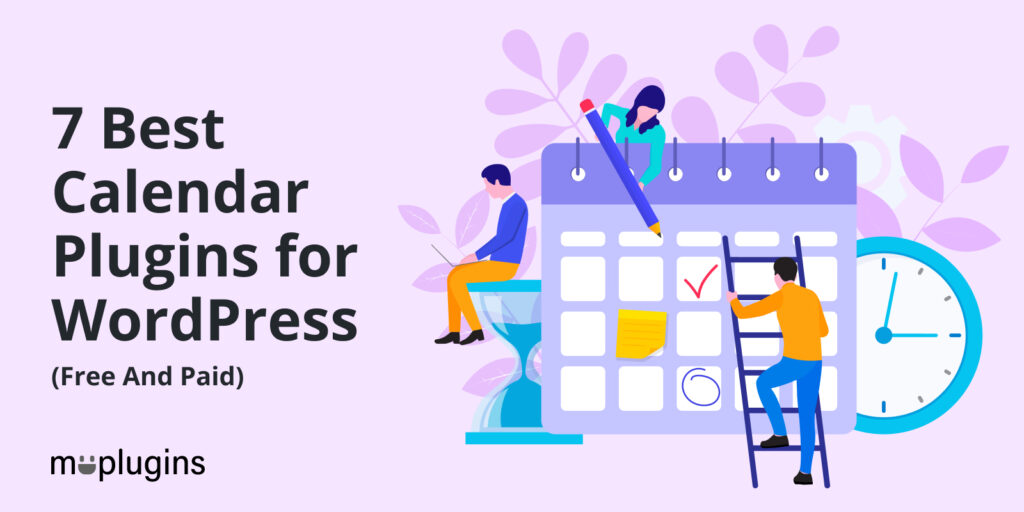 Are you looking for the best calendar plugin for your WordPress site?
The calendar plugins for WordPress have a great number of useful features. Some of the plugins aim at arranging and managing simple events, whereas having more complex features, including ticketing, booking, and scheduling events.
This article will show you the best calendar plugins for your WordPress site. So, make sure you read this article till the end.
Let's get started.
Table of Contents
What is Calendar Plugin?
The WordPress calendar plugin helps site owners create a stylish calendar of events for their sites. It's a great way to handle their business events, monthly announcements, appointments, and more from your admin dashboard.
These plugins let you add event images and location maps. You can fully control single-day or multiple days events and add to Google Calendar feature, to name a few features.
The calendar plugins can manage event venues and organizers. Moreover, they can create repeating events, sell tickets, manage attendance, and many more. Such plugins involve different online payment methods, i.e., WooCommerce, to make online booking easy.
See, this is what the event calendar looks like: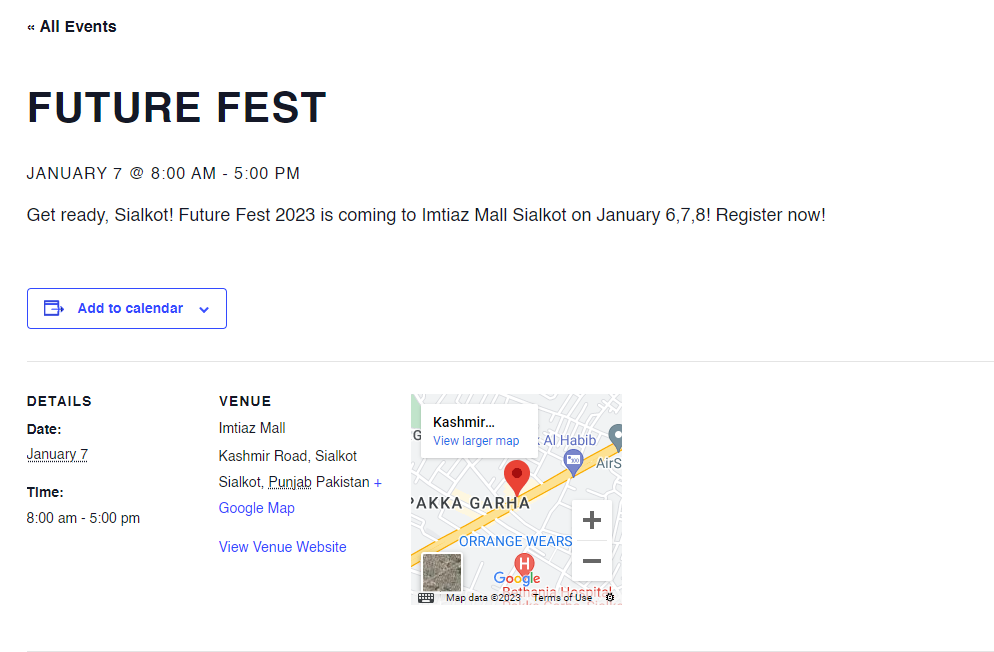 The List of Best Calendar Plugins for WordPress
Now that you know what calendar plugins are and why you need them for your WordPress site, let's look at some of the best plugins available.
Modern Events Calendar is an amazing WordPress calendar plugin. It has a wide variety of display features, including Font Awesome icons, multiple color skins, custom colors, dates for certain skins, event cost search options, and much more. It has an event countdown feature.
Modern Event Calendar lets you repeat events on weekdays and weekends, on custom days, and even set custom event intervals. You can also go for setting multiple occurrences in one day. This is not it! It enables you to create never end events, set a certain date for an event to finish, and finish an event after certain repeats.
Features:
This plugin lets you create events advanced event speaker system, displays reasons for cancellation, and more.
It offers advanced event locations and an event organizer system.
It automatically sends notifications to the admin/booker, including booking and booking verification notifications for the booker/attendee, booking confirmation and cancellation notifications for the admin, booking rejections, event sold-out, and much more.
You can easily create daily, weekly, monthly, and yearly events.
Pricing:
Premium. You can buy this for $39 per year.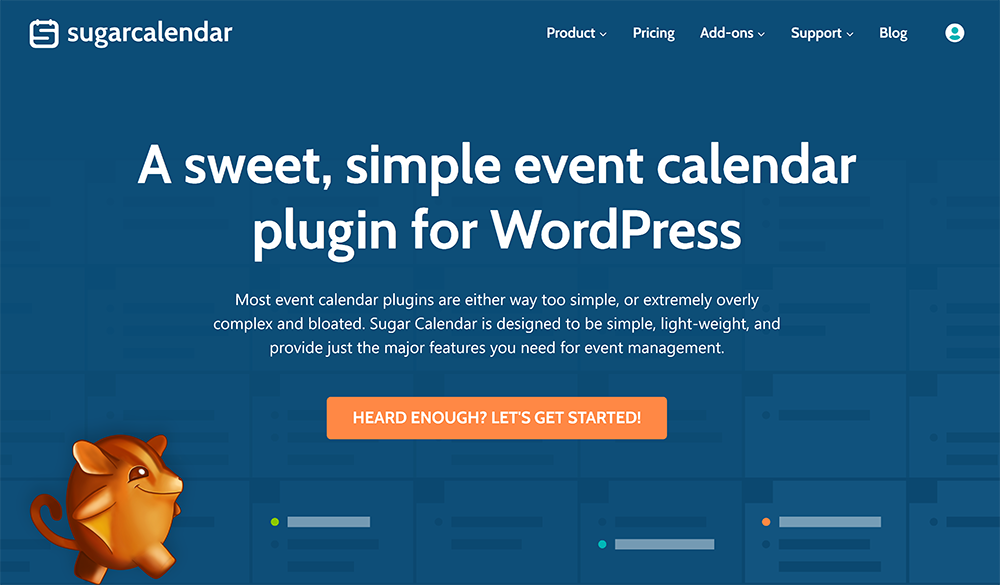 Sugar Calendar is another great premium pick for WordPress calendar plugins. It is simple, lightweight, and has all the features you need for event management. You can easily create specific categories for events, and it lets you display either calendar for just categories or a master calendar with all categories.
Sugar Calendar allows you to create events that automatically repeat on a daily, weekly, monthly, and yearly basis. You can also set the end date of the event. It is available in 8 languages to provide a fully localized experience.
Features:
You can easily set the event's occurrence on a specific day or multiple days.
This plugin has calendar application integration, such as Google Calendar.
It provides event ticketing functionality via Stripe or WooCommerce with an event ticketing Add-on.
It displays event dates and times in viewers' local time zones.
Pricing:
Premium. You can buy this for $199 (most popular) per year.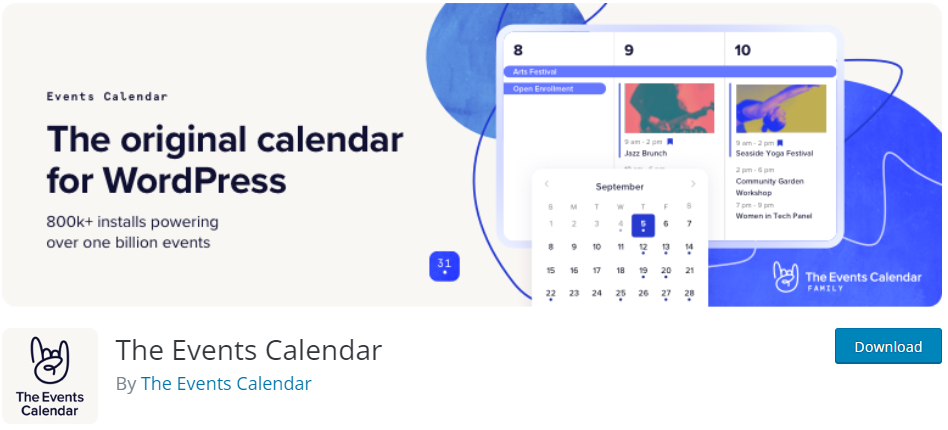 The Events Calendar can display multiple events simultaneously, even from various sources. This way, visitors can view all of the upcoming events altogether. You can also customize how you want to display your events, i.e., either as the list view or grid view.
The Events Calendar lets you add and sell tickets while making them available to the public. However, you have to subscribe to its Pro version to access more features and options, including powerful shortcodes, sermon sidebars, and social sharing.
Features
You can create several events rapidly using this plugin.
You can save venues and organizers for future events.
It offers the Event List view option.
It allows blocking Editor support.
Pricing:
Free. It offers several premium bundles starting from $99 (for 1 site only).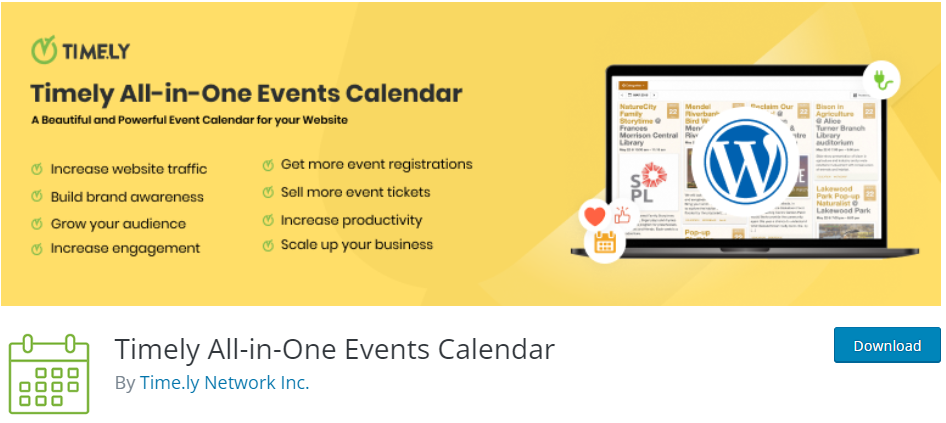 All in One Event Calendar in a free WordPress calendar plugin with over 80,000 active installations. It's a beginner-friendly plugin that lets you easily grow your audience, promote your events, sell more tickets, and get more bookings.
This plugin makes it easy to add events and sort them into categories and tags. You can select any of the three built-in themes for the calendar display. It can even display the locations of your events using Google Maps.
Features:
This plugin has a multilingual dashboard.
It comes with a customizable calendar and event themes.
It lets you look at the week, month, and agenda.
It has color-coded events based on category.
Pricing:
Free.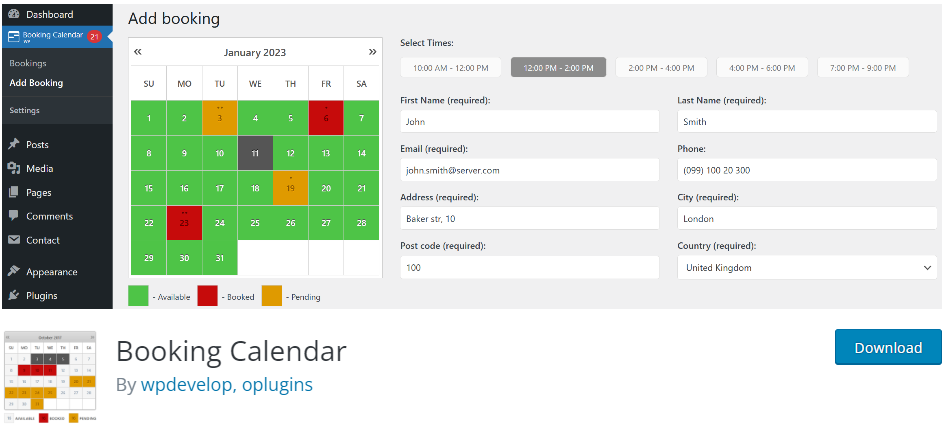 Booking Calendar is our next pick for the WordPress calendar plugin. It can add a calendar to the front end of your WordPress site. The users need to fill in these forms to submit their booking requests. The admin has the authority to accept or reject their booking request.
This plugin has CAPTCHA support to avoid spam submissions. You have full control over who can add a booking in the admin area. Moreover, you can easily manage your bookings in Admin Panel, including email notifications for booking actions, pagination of the booking listing, Approve or Decline bookings, and much more.
Features:
This plugin stores all bookings and settings in your Database.
It has a customizable design of calendars to make your calendar best fit your site design.
It offers a time picker for time slot bookings.
You can add booking forms to your WordPress pages.
Pricing:
Free.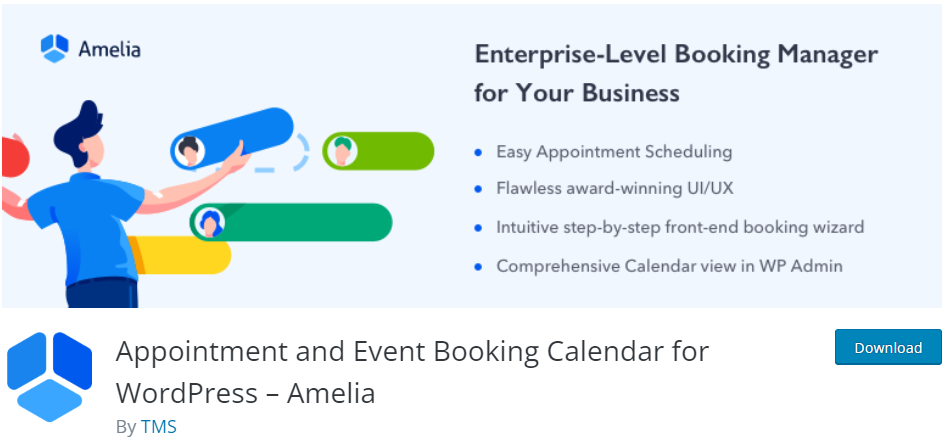 Amelia is a free WordPress calendar plugin that allows you to set free appointments and event schedules for your business. Amelia's appointment and event booking system is used by many personal and professional services, including salons, consultants, healthcare, education, and more.
This plugin lets you embed the event-booking form with the [ameliaevents] shortcode. It helps you to display your events in the form of a list with the necessary information, including event date and time, location, capacity, status, price, etc.
Features:
It offers a weekly calendar where you can view your events/appointments.
It has email and SMS reminders and follow-up features.
It comes with 20 language translations for your plugin, including Spanish, German, Dutch, Russian, Romanian, and more.
You can have a Calendar view on the back end of your WordPress site to keep track of all scheduled appointments end events.
Pricing:
Free. You can buy the premium version at $56 per year.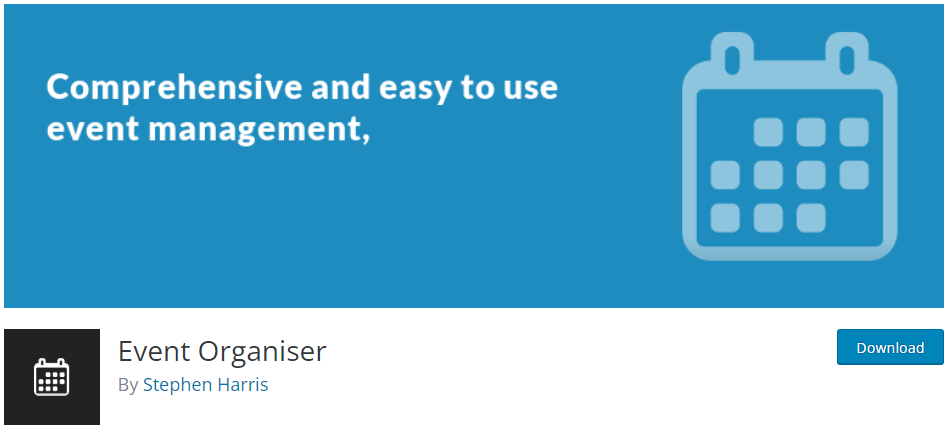 Event Organiser is the last WordPress calendar plugin on our list that lets you create one-time and recurring events, including detailed rules for how often events repeat. It provides venue support, such as a Google Maps integration to display the exact location of your venues.
You can upgrade to the Pro version anytime to enjoy more features like selling tickets for specific dates or all dates for an event and booking places on a course. You can manage your bookings from the familiar WordPress admin pages, i.e., you can filter by event/ an event's date and send Emails to bookies from your site's admin.
Features:
It lets you create one-time events or recurring events.
You can add or remove specific dates to an event.
It has a color-coded event category.
It offers widgets, including a calendar widget to display a calendar, an Event List widget to display a list of events, and an Event Agenda widget.
Pricing:
Free. You can buy the premium version at $50 per year.
Conclusion: Which WordPress Calendar Plugin is best for You?
We have shared a list of the 7 best calendar plugins for your WordPress site to help you select what you are looking for in a WordPress calendar plugin. All of the plugins mentioned above are special in terms of features. We are sure you'll find a plugin with the features you want for the WordPress calendar plugin for your site. However, you need to choose wisely. So, why not give these plugins a test drive?
That's all we have discussed the best WordPress calendar plugins! You can also check out the Best WordPress Coming Soon Plugins and Best Social Media Plugins for WordPress
Frequently Asked Questions
Does WordPress have a calendar feature?
No, by default, WordPress doesn't have a calendar feature. You can fill this gap nicely (for free) using a WordPress event calendar plugin.
How to select a WordPress Calendar plugin?
It's better to see if the plugin is compatible with the most recent WordPress, has many active installations, and has above 4-star ratings. It should have been updated within the last three months and offered customer support.