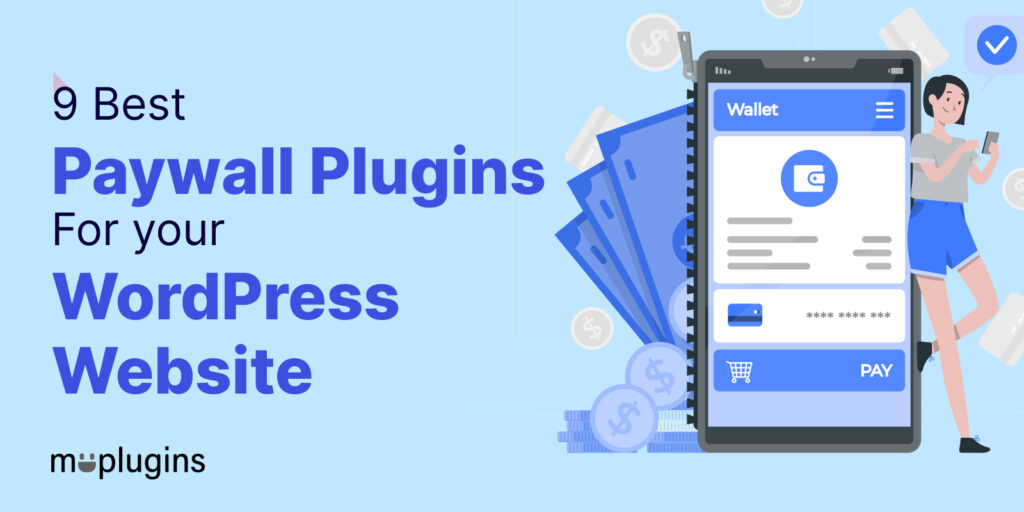 Are you looking for the best Paywall Plugins for your WordPress site?
Paywall plugins help you monetize your WordPress site. It enables you to generate more revenue and create unique, high-quality content. It lets you offer exclusive content in exchange for ongoing subscriptions or one-time payments. 
This article will show you the best WordPress Paywall Plugins for your site. So, without much ado, let's get started.
Table of Content
What Are WordPress Paywall Plugins?
The WordPress paywall plugins sets up memberships, paywalls, restricted content, and more for your WordPress site.
Furthermore, a paywall plugin has integrated payment processors. These platforms enable you to accept payments directly from your website. Therefore, you can offer convenient and secure transactions to your subscribers.
WordPress paywall plugins are easy to start with and do not require hiring an expert to set it up on your website.
Best Paywall Plugins for Your WordPress Site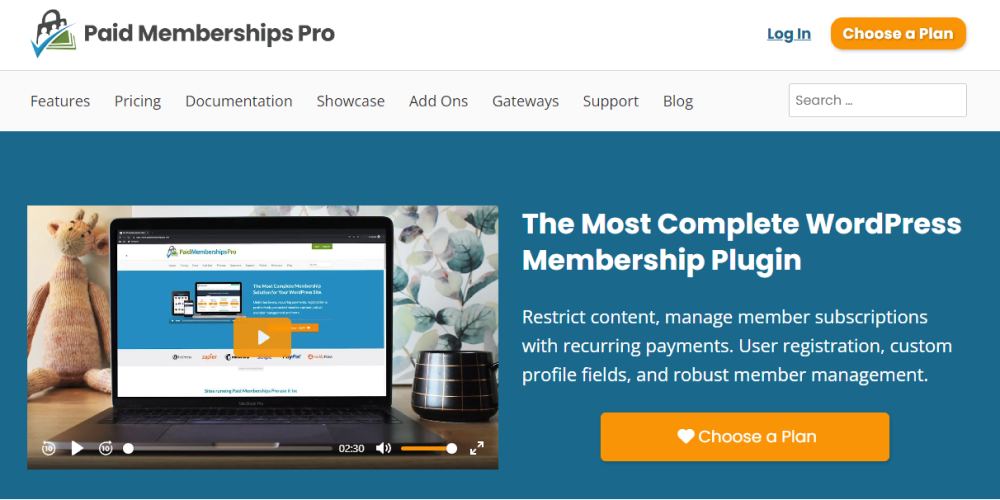 Paid Memberships Pro is one of the best WordPress Paywall plugins that can be customized to fit your business needs. The plugin is designed for premium WordPress sites, including online courses, subscription box products, paid newsletters, and more.
Paid Membership Pro restricts user access to premium content, sign-up members, and collects recurring subscription payments.
You can easily select what content your members can access. This plugin allows members to log in, view payments, update billing info, or cancel their accounts directly on your WordPress site.
Feature:
This plugin has popular payment gateways, including tripe, PayPal, Authorize.net, Braintree, and 2Checkout.
Paid Membership Pro lets you track your membership site's performance with sales and revenue reports.
It restricts custom post types, including events, courses, posts, categories, and pages.
You can access reports on signups, cancellations, expirations, and more.
Pricing:
The core plugin and 30 free Add-Ons are free forever. Paid Membership Pro pricing plans start at $247 per year.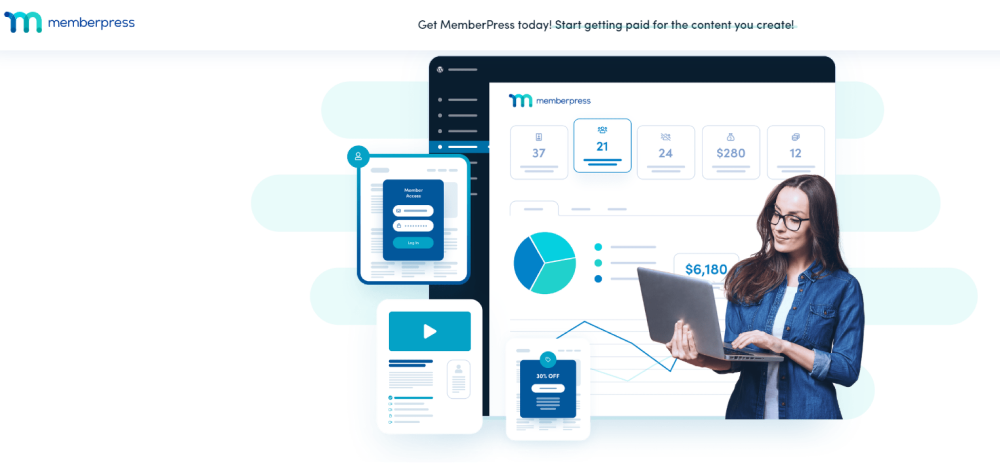 MemeberPress is one of the best membership plugins for WordPress that lets you create a paid membership program. It lets you sell courses or offer digital downloads. After membership, it grants access to posts, pages, videos, and other content.
This plugin has a drag-and-drop course builder. You can set membership levels to control who can access your content thoroughly. It has an easy and user-friendly interface that runs smoothly as part of the WordPress admin panel. You can quickly work with even the most advanced features.
You don't need to add a PayPal payment to your membership website manually. MemeberPress has a built-in integration with PayPal that lets you accept payments using PayPal Standard and Digital Goods.
Features:
This plugin integrates top payment gateways, including credit cards, Google Pay, and other payment methods, and with top email and other automated marketing tools.
It lets you enjoy unlimited membership levels.
It can create paid content subscriptions.
It has fully customizable access rules for all types of content, pricing pages, and coupons.
Pricing:
The basic package starts at $179.50 per year.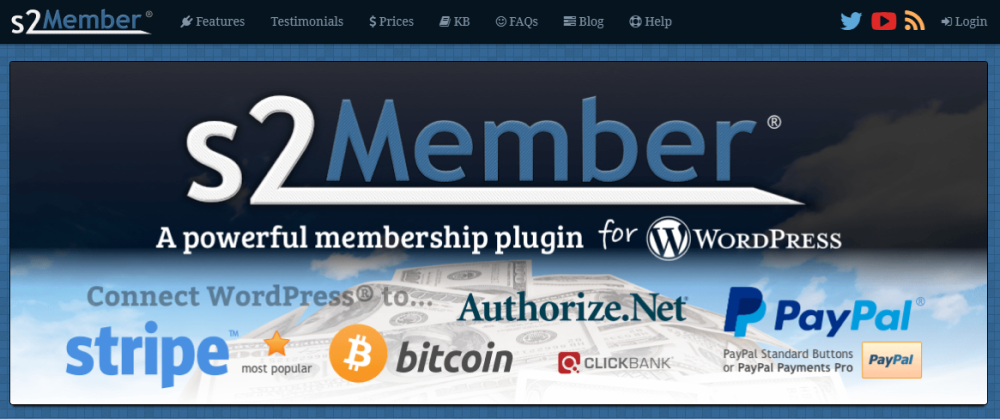 Next, we have the s2Member WordPress paywall plugin. This plugin has easy customization options and gives website owners maximum content control.
The s2Member plugin helps you protect your WordPress Posts, Pages, Tags, BuddyPress/bbPress, and more.
You can lock your entire website for specific users or restrict them to specific parts of your website. For example, you can grant complete access to your site to paying members only.
Feature:
This plugin has an exciting content-dripping feature that allows you to gradually release premium content to paying site members one at a time. It minimizes membership cancellation rates.
s2Member has a shortcodes library from where you can get shortcodes for different scenarios. It provides complete access to content in various ways.
It has an unlimited membership tier feature. You can add as many membership tiers as you want.
This plugin isn't beginner-friendly.
Pricing:
This plugin starts at $89 per year for a single-site license.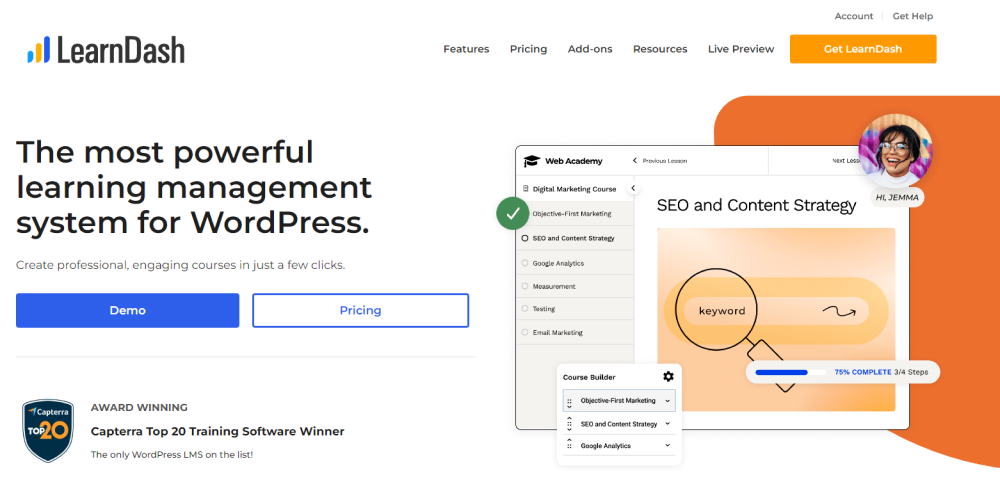 LearnDash is a popular online learning management system (LMS) plugin. It helps you create and sell online courses on your WordPress site.
LearnDash plugin creates an engaging and user-friendly learning experience for members. Furthermore, this plugin automatically emails students notifications based on their activities.
This plugin helps you create and sell online courses. It offers advanced features that make managing the learning material more convenient than any other WordPress membership plugin.
Feature:
This plugin integrates the popular marketing platform Mailchimp. It also lets you integrate with popular apps like Slack, PayPal, and Zapier.
It has an advanced drag-and-drop course builder. You can easily create multi-layer courses with categories, lessons, topics, and more.
LearnDash plugin provides learning certificates and badges when members complete learning objectives.
It has a flexible prerequisite feature that sets access to courses, lessons, and quizzes based on prerequisites.
Pricing:
LearnDash starts at $199 per year for a single site.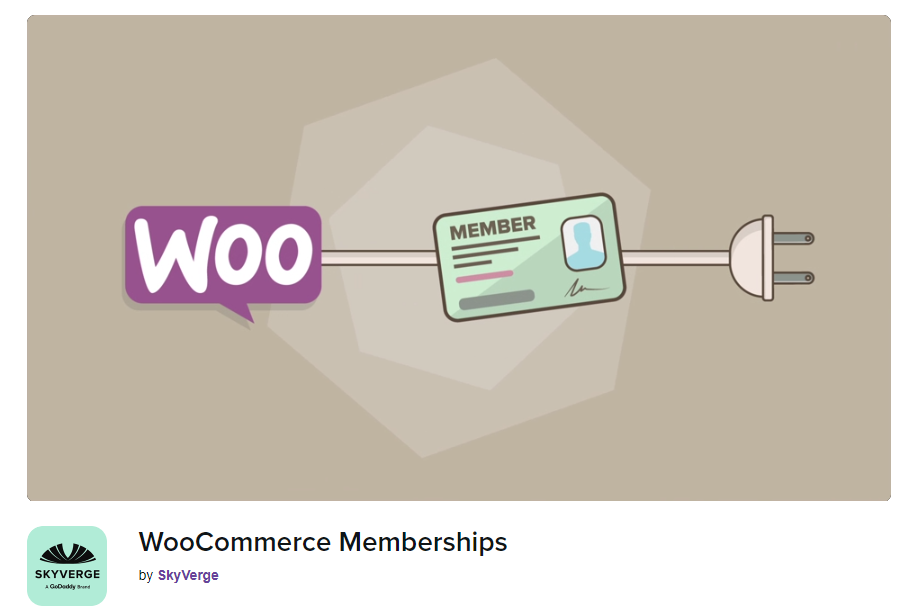 WooCommerce Membership is another WordPress Paywall plugin that restricts your site's content. This plugin is very easy to use.
This plugin allows you to create an entire membership system tied to your store. Moreover, you can lock content and products on your site.
The WooCommerce Memberships plugin can limit the sale of products and services to registered users on your eCommerce site.
Features:
This plugin is membership flexible. You can create different memberships, including products, part of a product purchase, or monthly/yearly subscription membership.
WooCommerce has a content dripping feature. It releases content gradually in a typical drip fashion to boost engagement.
It allows you to reward members with extended free shipping and special discounts.
Pricing:
This plugin starts at $199 per year for a single-site license.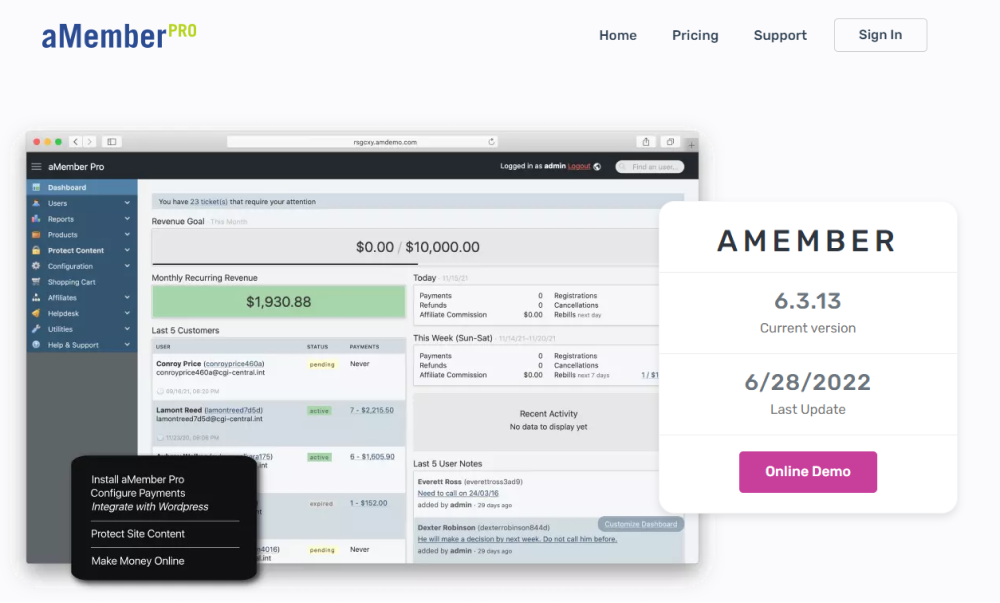 The aMember Pro is software installed to protect content in your WordPress blog and make content available for subscribers only.
This plugin has features like access to payment gateways, content dripping, coupon codes, and more.
aMember Pro plugin has flexible features that help you create any membership WordPress site exactly how you want.
Feature:
This plugin has an easy-to-access admin panel. It allows you to add, edit, or delete members from their subscriptions.
aMember Pro has 22 language translations for both the admin and frontend interface.
aMember Pro has automated the entire membership site-building process.
This plugin is integrated with popular mailing list services, including MailChimp, AWeber, GetResponse, and 10+ more.
Pricing:
This plugin starts at $149 per year for a single-site license.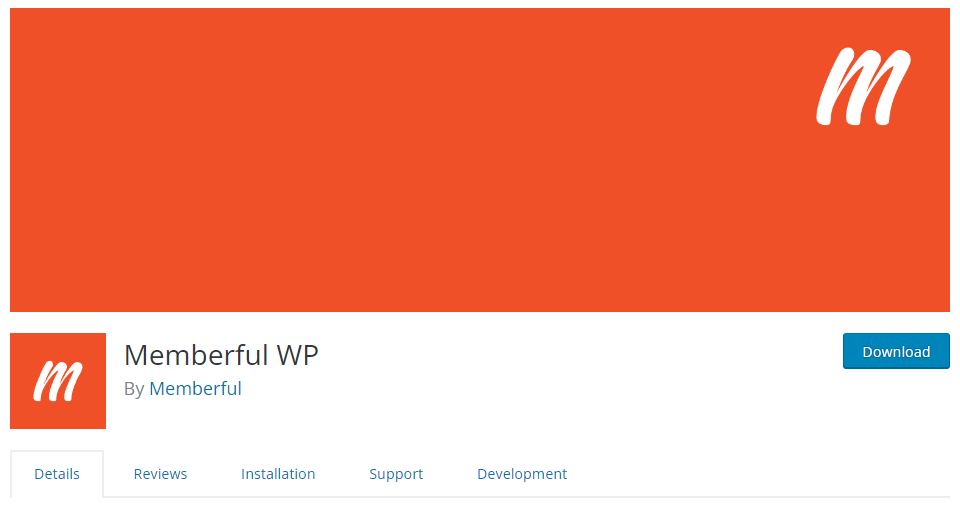 Memberful WP is one of the best WordPress membership plugins that might have a sleek interface. You can integrate the Memberful subscription tool to sell articles and post subscriptions using Stripe with the help of this plugin.
Memberful WP creates a paywall and restricts content based on membership levels.
This plugin works directly with WordPress, which means the users automatically log into your WordPress site and sign in to this WP plugin.
Feature:
It can easily manage members and memberships.
It lets you send users newsletters via email.
This plugin allows you to track conversions in real-time.
It allows you to restrict access to the content available to members only to some or all of it.
Pricing:
It is a free plugin.
The Restrict Content Pro is a premium membership and paywall plugin. It helps you restrict users' access to your content based on membership status, content category, or tags.
This plugin has a customer dashboard and detailed revenue reports. Furthermore, It lets you create custom subscription levels, content restriction rules, and discount codes to offer users free trials of your paywalled articles.
Restrict Content Pro enables you to receive payments directly through the plugin. Moreover, you can wand monitor subscriptions in your WordPress dashboard.
Feature:
This plugin has native payment integrations with popular payment gateways, including PayPal, Stripe, Braintree, 2Checkout, and Authorize.net.
It offers flexible subscription levels that let you add unlimited subscription levels.
Restrict Content Pro is beginner friendly.
This plugin has a customer dashboard that allows your customers to access their account details.
Pricing:
Restrict Content Pro starts at $99 per year for a single site.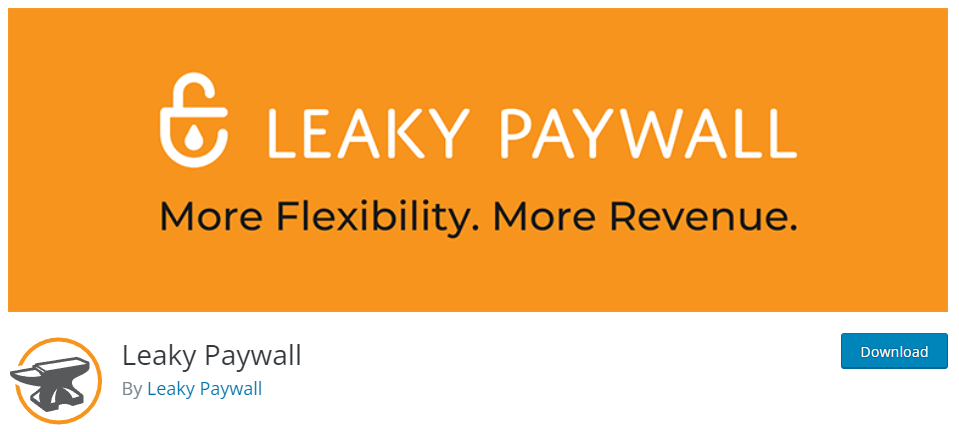 Finally, Leaky Paywall is a freemium WordPress paywall plugin. This plugin is a good option for news and magazine publishers to build email lists, grow subscription revenues, and create new content products.
It allows readers to read all content free before subscribing to access additional features.
This plugin supports various paywall types, such as traditional, hybrid, and metered paywalls.
Feature:
Leaky Paywall offers extra content for free to new email subscribers.
It uses targeted messages to upsell subscriptions.
It lets you create hybrid subscription models.
This plugin is integrated with popular payment gateways, email marketing, and circulation software.
Pricing:
It is a freemium plugin. The premium version starts at $249 per month.
Final Thoughts
A WordPress paywall plugin enables you to restrict your content and monetize your website. You can ask readers for one-time payments, subscriptions, or full memberships to access the member portal.
The WordPress plugins mentioned above offer various ways to set up a paywall for your website. You should select the plugin that aligns with the content you are offering.
For example, if you only need a simple paywall to cover up the content on your WordPress website, then you can use Leaky Paywall or Memberful WP.
It is better to list your business goals and choose which plugin best resonates with your vision.
Frequently Asked Questions
Can you add a paywall to WordPress?
Yes, you can add a paywall to your WordPress site using plugins. It's a great way to provide premium content to your paid users.
That's all! We hope you will now get the list of the best paywall plugins for WordPress websites You can also check out Best WordPress Testimonial Plugins for WordPress and Top 5 Social Media Plugins for WordPress.