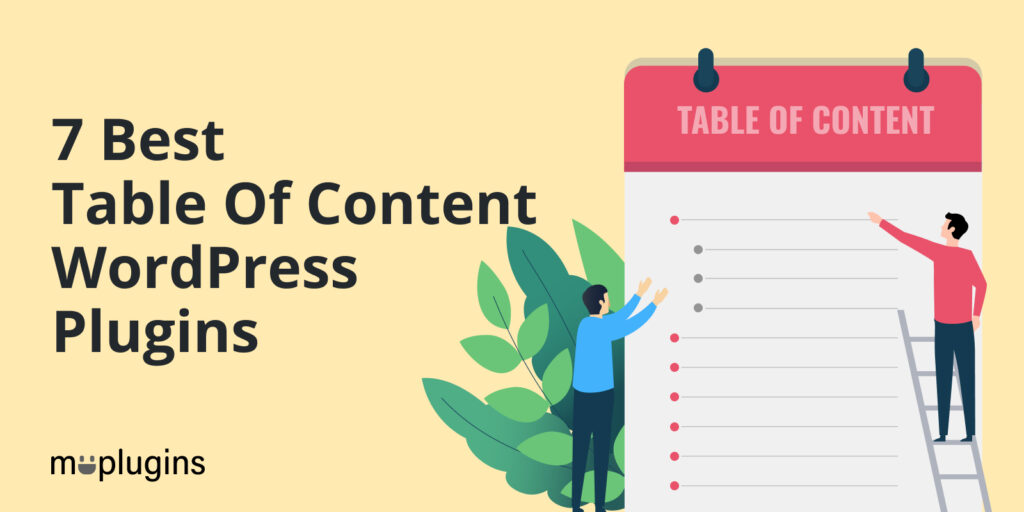 Are you looking for the best WordPress Table Of Contents plugins to create a quick TOC on your WordPress website?
By creating a TOC for your WordPress posts and pages, you can make it easy for users to find and navigate your content. You can increase the readability of your website's content, page traffic, and, ultimately, your site's SEO ranking with the help of the TOC plugin.
You have arrived at the right spot as this article will guide you regarding the 7 Best Table Of Contents WordPress plugins.
Let's get started.
Table of Content
Why should you use Table of Content Plugins for WordPress?
Being a website owner, you want to organize the content available on your site seamless, straightforward, and user-friendly manner. Using a TOC for posts and pages on your website is a straightforward approach for readers to find and navigate content while enhancing your SEO ranking.
Benefits of using the WordPress Table of Contents Plugin for Website
A table of contents is beneficial for long-form content since it represents a set of anchor links that, when clicked on, quickly lead readers to specified content on a page. It is highly created in long articles, on a FAQ page, and in any content type that would be further divided into parts, such as a list of products, services, etc.
A table of contents may improve your website's SEO by showing specific headers/sections in search results, helping users discover what they need quickly and effectively, and boosting the general readability of your content. All of these are compelling reasons to add a table of contents to your pages or articles.
7 Best Table of Contents WordPress Plugins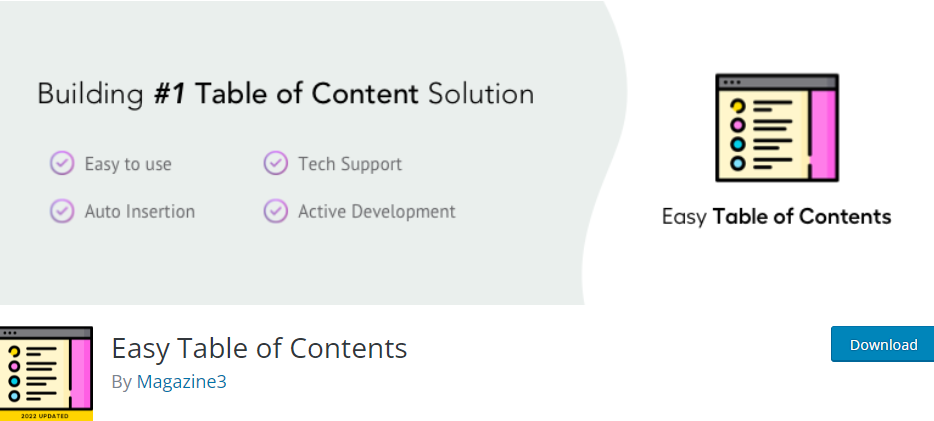 Easy Table of Contents is 4.5 stars rated plugin on WordPress.org, having 300,000+ active installations. This user-friendly plugin integrates well with Classic, Gutenberg, Divi, Elementor, WPBakery Page Builder, and Visual Composer.
It offers impressive customization options to users, like setting an appropriate theme from available themes for TOC or creating a customized one with a custom border, background, and link colors.
Other formatting customizations include using bullets or decimal/numeric/roman numbering. With this plugin, you can add TOC on your posts and pages, thus anywhere on the WordPress site.
Features
This plugin creates TOC for your posts and pages after analyzing the contents for headers.
It automatically generates TOC for the page whose post is selected.
It supports Rank Math and the tag.
The plugin offers compatibility with Classic Editor, Gutenberg, Divi Builder, Elementor, WPBakery Page Builder, Visual Composer, and Gutenberg.
Pricing
Free.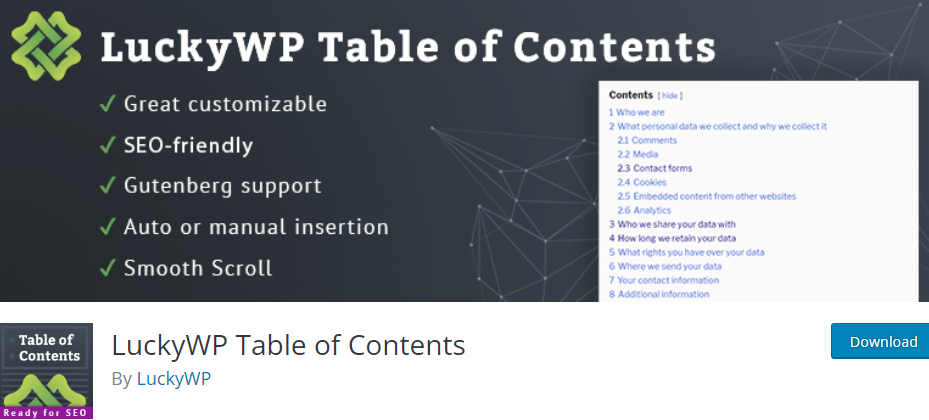 LuckyWP Table of Contents plugin helps to create SEO-friendly TOCs on your website while having incredible 5-star ratings. It integrates with Classical and Gutenberg editors and automatically generates TOCs on relative posts.
This best table of contents WordPress plugin can be integrated via a shortcode, with Gutenberg block, or through a widget. The Auto Insert Table of Contents option allows the plugin automatically inserts TOC to your post when enabled.
The plugin offers customization options to select linear or hierarchical display views for TOC. Moreover, the customization options for titles, font sizes, width, colors, font size, and many others could be managed directly from the control panel.
Features
Using this plugin, you can easily insert shortcodes, Gutenberg blocks, and widgets.
It offers to customize the complete appearance like width, float, title font size, and colors.
The TOC could be viewed in hierarchical or linear order.
It offers decimal and Roman numbers formatting.
Pricing
Free.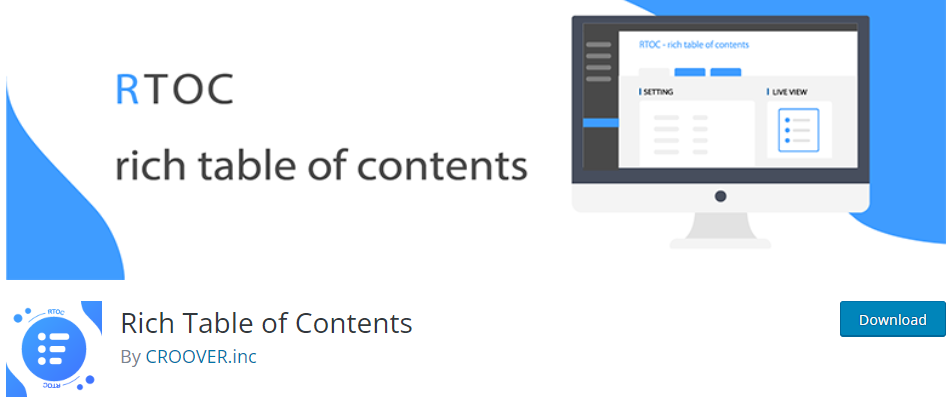 Rich Table of Contents offers an intuitive UI design that creates TOCs with a single click. This user-friendly plugin offers real-time previews for TOCs while focusing on their design.
It offers numerous customization settings, including TOC title assigning, headings selecting, font changing, frame customizing, animation adding, and choosing colors for titles, text, back buttons, and borders.
Moreover, you can also adjust and set the design of the H2 and H3 list and customize their title/text color "back to table of contents" button background. You can also change the button location, excluding post or page ids or choosing pages not to load plugin CSS.
Features
The plugin offers to create a customized title for the table of contents.
You can enable/disable TOC on posts and pages.
You can set which headings to display or hide.
It allows setting the number of headings to display the TOC.
Pricing
Free.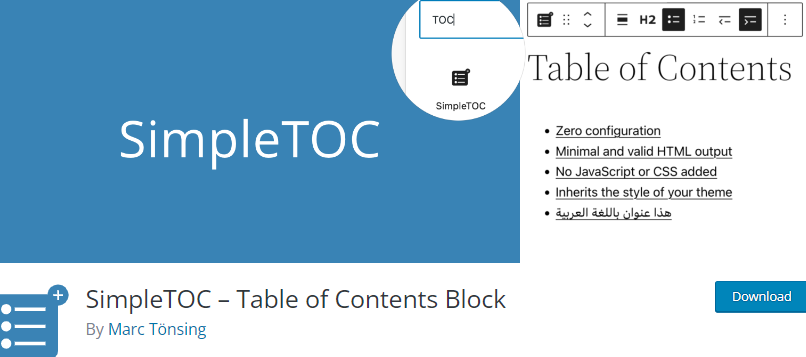 SimpleTOC offer to create a TOC block in posts and pages of your WordPress site. The TOC created using this plugin is a list that includes the embedded links of headings within the content.
It allows you to remove/edit specific headings from TOC simply by adding a 'simple TOC-hidden' CSS class to the block and even remove the TOC headline. You can also set the maximum depth of the TOC in the blocks' sidebar.
Features
It offers to style SimpleTOC with Gutenberg's native styling options.
It lets you set the maximum depth of a heading.
It allows creating reusable styled groups for future posts.
The design of the plugin is compatible with the Gutenberg block.
Pricing
Free.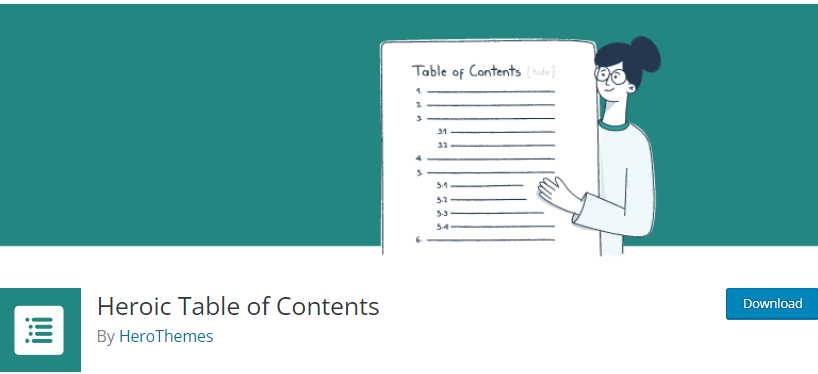 The Heroic Table of Contents plugin offers to create the Table of Contents on any page on your site after scanning your content for headings. It offers four distinct appearances of TOC, which can be displayed in two different ways.
This responsive table of contents WordPress plugin allows you to edit or hide contents you need to remove or arrange accordingly in the TOC. You can add TOC to your article, having a list of headings (h1, h2, h3, etc.).
Features
It allows hiding and relabeling headings without interfering with the original content and its formatting.
The plugin offers to instantly add content sections to web pages that can be expanded and collapsed.
It offers complete customization of TOC by choosing the headings to display.
The plugin offers four different pre-designed TOC templates.
Pricing
Free.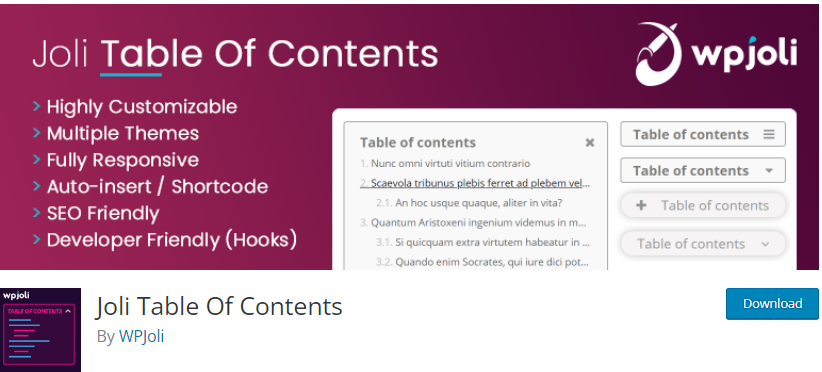 The Joli Table of Contents plugin allows you to integrate an SEO-friendly TOC into your website pages and posts. This plugin offers responsive features to prevent scripts and styles from loading when the TOC is not displayed.
You can insert TOC into specific post types and arrange them anywhere in the content body. It also offers to create TOC manually by using a shortcode. It allows displaying headings at custom depths from h2 up to h14.
Features
It offers additional Themes for customization.
You can enable or disable TOC for each post separately.
It allows the hierarchical or flat arrangement of TOC.
It also offers a floating TOC widget displaying the currently viewed section.
Pricing
Freemium.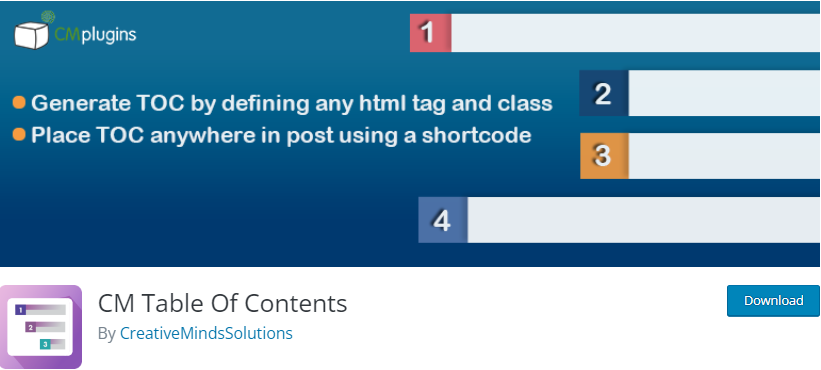 The CM Table Of Contents is an easy-to-use plugin that generates a table of contents for any page or post and facilitates your visitors to navigate easily on your site. It allows you to set the header label, define headers (H1, H2, H3, etc.), and customize them.
You can customize the shortcodes with this plugin and create content-specific indexes in TOC. It allows creating TOC automatically for all pages and adding anywhere using a shortcode. You can customize TOC by adjusting the colors, borders, weight, and styles.
It also allows adding an arrow/ "Back to the Top" button, user guides, and video tutorials for users' assistance.
Features
It defines TOC according to its tags, classes, and ids for each page.
It allows the automatic creation of TOC for all pages on your website.
It supports creating multiple pages in the TOC and styling them.
You can define TOC by using tags and revise their heading.
Pricing
Freemium.
Conclusion: Which WordPress Table of Content Plugin is best for Your Website?
In the article above, you observe that WordPress offers numerous TOC plugins. All these plugins vary distinctively, as some are more jam-packed with essential features and customization options than others.
In the same way, most of them are free, while some will charge you for their services. But which table of contents WordPress plugin will meet the needs of your website? Well, the best plugin for your WordPress site depends on what and how you require your TOC to exhibit. Your website requirements determine which plugin would be best for it.
Frequently Asked Questions
How do I add a table of contents to a WordPress site?
Adding a TOC to your website's pages and posts is a piece of cake using the table of the content plugin. By installing a TOC plugin from the WordPress directory, you can automatically create a table of content for any page or post.
How do I use the table of contents plugin in WordPress?
Most of the table of contents plugins available on WordPress are user-friendly and easy to operate. Anyone can make use of the TOC plugins effortlessly after installing them on their WordPress site. Even novice users can automatically generate TOC for WordPress pages and posts using a plugin.
That's all! We hope you will now get the list of the Best Table of Contents WordPress Plugins, You can also check out the Best WordPress Glossary Plugins in 2023 and Best Drop-Down Menu Plugins for WordPress websites