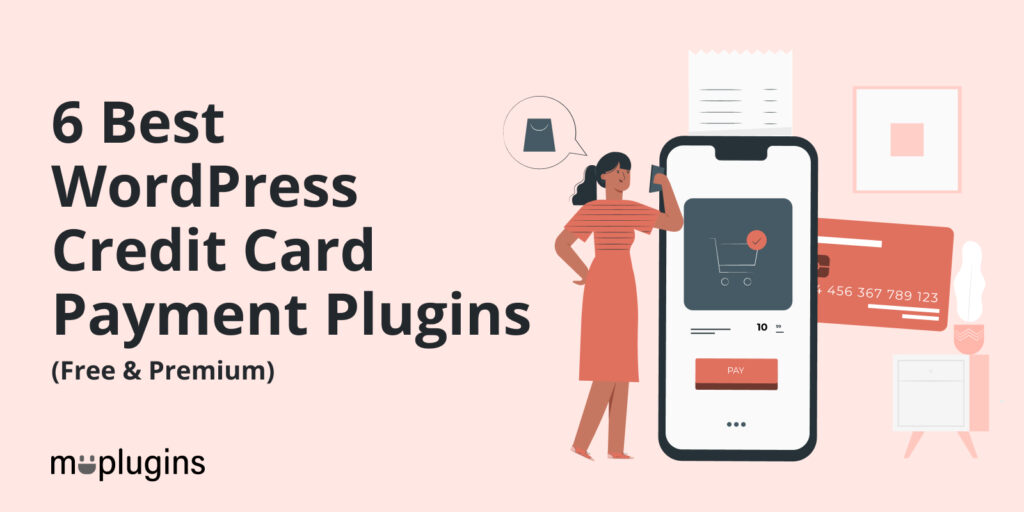 Are you looking for the best WordPress credit card payment plugin for your site?
WordPress credit card payment plugins help you collect payments for your online business. It enables you to generate more revenue. These plugins are steadily growing in popularity in recent years. If you ponder raising your online business, make sure your WordPress credit card payment plugin suits your purpose.
In this article, we will show you a list of the best WordPress credit card payment plugins for your site that will help you collect payments. So, make sure you read this article till the end.
Let's get started!
Table of Content
Why Use a WordPress Credit Card Payment Plugin?
If you are running a business website, you'll surely want to earn revenue by selling your product or services. You might be in want of a secure platform to do so. WordPress has a perfect solution for installing payment plugins on your site.
To generate the payment option, you'll first need the payment gateway. So, the WordPress credit card payment plugins provide you secure online payment gateway for your site. Credit cards are among the most popular modes of payment.
If you're planning to monetize your site without accepting credit card payments, you're leaving money on the table.
What to Look for in WordPress Credit Card Payment Plugins?
WordPress Credit Card Payment Plugins have different features. Before deciding on a WordPress Credit Card Payment Plugin for your website, you should consider a few factors.
Secure Payments: You'll need to enable HTTPS/SSL on your website so that you can securely accept credit card payments."
Multiple Gateways: The plugin should have multiple payment options, including, such as credit card, PayPal, internet banking, or Google Pay. It brings ease for customers to choose their preferred payment.
Payment Tracking: It would be beneficial to you if the Credit Card Payment plugin allows you to manage payments and customer information from your WordPress admin dashboard.
List of the Best WordPress Credit Card Payment Plugins
We have curated a list of the best 6 plugins to help you pick the best option for your business.
Let's examine the best WordPress Stripe payment plugins you can use to begin taking payments on your website.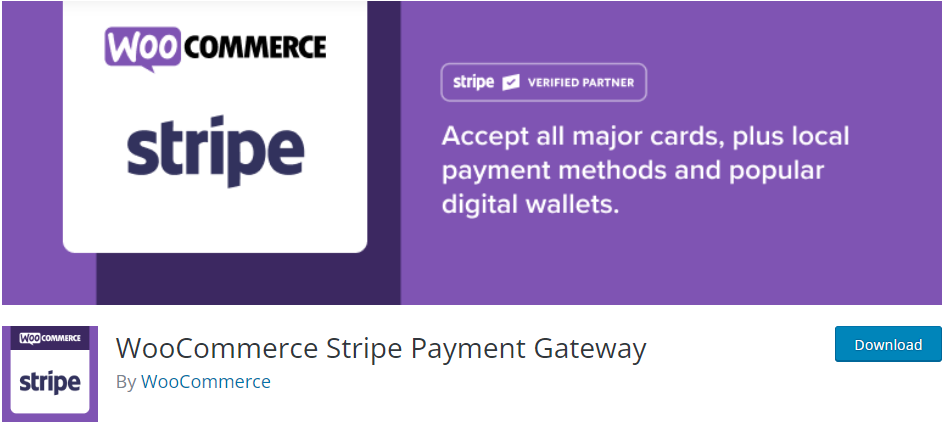 WooCommerce is the world's most popular, quick, flexible, simple, and popular open-source eCommerce solution for WordPress sites. It's a lightweight plugin that ensures secure payments. It helps you to pay while buying products, services, subscriptions, and much more.
WooCommerce Stripe Payment Gateway accepts Visa, MasterCard, American Express, Discover, JCB, Sofort, iDEAL, PayPal, Alipay, and more. The payment takes place directly on your store with the Stripe payment gateway for WooCommerce, such as Apple Pay, Google Pay, and Microsoft Pay for mobile and desktop.
Features:
WooCommerce Stripe plugin helps you easily collect credit card payments directly on your store.
The good thing about Stripe is no setup or monthly fees. You only get charged when you earn money.
The plugin supports Apple Pay.
It supports Web Payments API, which helps your customers pay using payment details associated with their mobile devices.
Pricing:
Free.
Easy Digital Downloads is another good option for WordPress credit card payment plugins. This will help you sell digital files in WordPress using PayPal (among other gateways). This plugin creates a catalog of digital products, each with its page that lets you sell any of your digital goods, like an eBook, digital art, or much more.
This plugin processes payments and tracks orders in no time. You can quickly generate sales reports and keep track of customer histories. Besides PayPal, it also accepts other payment solutions like Apple Pay, Stripe, Google Pay, and more.
Features:
This plugin integrates with Stripe and PayPal for free.
You can easily customize the action button text.
This plugin helps you with detailed reporting, including gaining actionable insights into your business, filtering reports by specific dates and products, tracking refunds, and controlling churn.
It has an order management feature that manages order status, reassigns customer details, and role-based capabilities.
Pricing:
Free.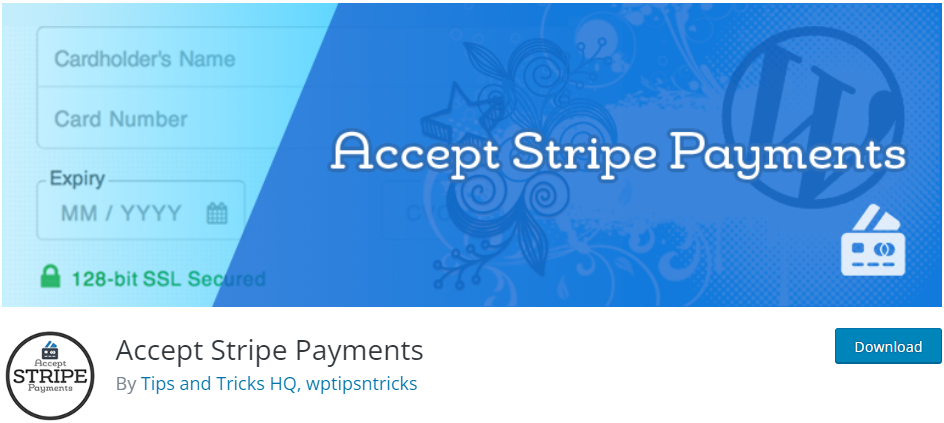 Accept Stripe Payments plugin for WordPress is there to help you accept credit card payments using the Stripe payment gateway on your site. This plugin offers a simple shortcode that lets you add Stripe "Buy Now" buttons anywhere on your site.
This plugin is responsive and compatible with all devices and browsers. The transaction info is also captured in the orders menu of the plugin. You can keep track of all the payments you receive from your WordPress admin dashboard.
Features:
This plugin helps sell files, digital goods, or downloads using your Stripe merchant account.
It allows you to sell music, video, ebooks, PDFs, or other digital media files.
You can easily customize the Stripe buy now button appearance using custom CSS code.
This plugin offers options to collect tax and shipping for your products.
Pricing:
Free.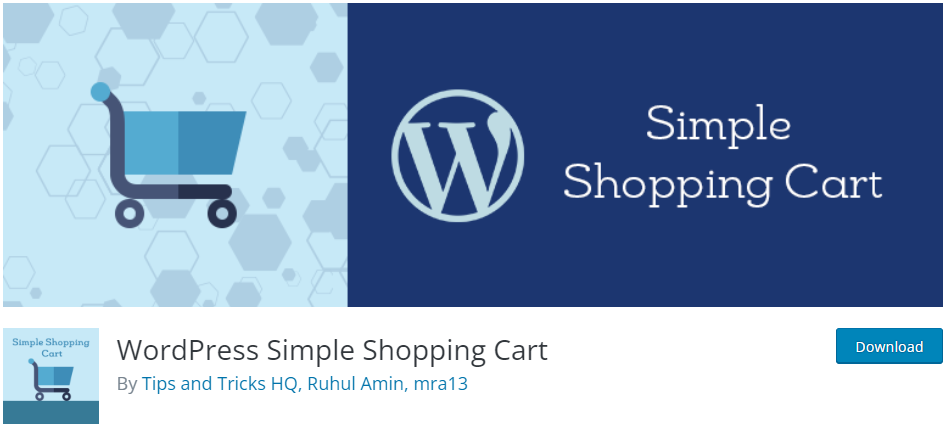 The WordPress Simple PayPal Shopping Cart plugin lets you handle hundreds of products. This plugin enables you to quickly add or display the shopping cart on your site's posts, pages, or sidebar. The shopping cart shows what a user has in their cart. They can even go for changing the quantity or remove the items.
This plugin can quickly sell products/services on your website and accept payments using PayPal. Moreover, it can show a shopping cart with product image thumbnails, use a custom checkout page style, open the checkout page in a new browser tab/window, and use TinyMCE shortcode inserter to add shortcodes to your posts/pages.
Features:
It lets you easily create an Add to Cart button with options, including price, shipping, and options variations (if needed).
You can quickly sell any media file you upload to your WordPress site, including ebooks (PDF), music files (MP3), audio files, videos, etc.
This plugin enables a product display box on the fly using a simple shortcode.
WordPress Simple PayPal allows you to configure an email sent to your buyers after purchasing your product.
Pricing:
Free.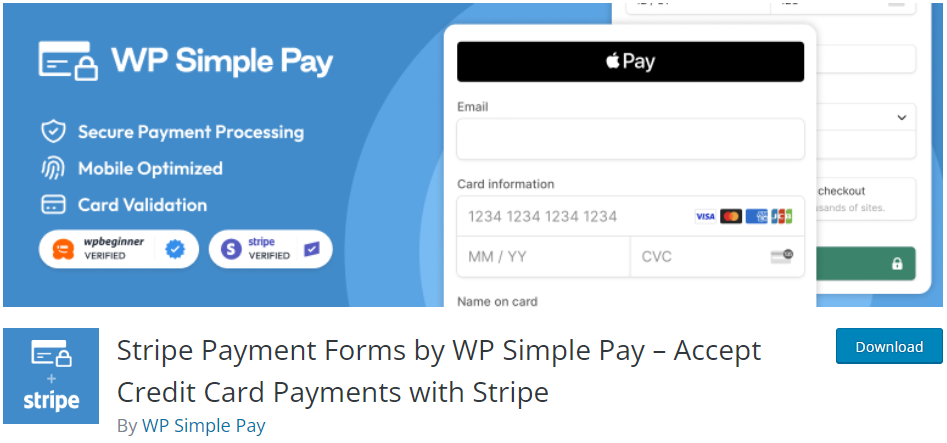 WP Simple Pay is one of the best Stripe payment forms and Stripe payment plugins for your WordPress site. This plugin allows you to accept credit card payments on your WordPress site. You can go for custom branding on Stripe Checkout payment forms.
It's built for desktop, tablet, and mobile devices. It's continuously tested and updated to offer a frictionless credit card payment experience. WP Simple Pay has fraud protection and spam prevention features that ensure security. Furthermore, you can enjoy several built-in payment form templates and even build custom integrations.
Features:
This plugin accepts credit card payments with embeddable payment form buttons.
It offers integration with the AffiliateWP plugin and Stripe Checkout-hosted payment forms.
The plugin collects billing and shipping addresses in Stripe.
WP Simple Pay supports over 30 languages, 45 countries, and 135 currencies in Stripe.
Pricing:
Free.
Simple Payment Donations plugin helps you accept payments and user inputs in WordPress. This plugin has easy-to-use and standard payment forms that let the customers pay in less than a minute without going to another page.
This lightweight WordPress payment and donation plugin best fit your small business, online fundraiser, or membership program. You can create beautiful and customizable forms via a built-in form builder. You can further allow users to pay custom amounts if needed and even collect subscription payments.
Features:
This plugin offers unlimited payment forms.
It enabled you to offer multiple products and plans on a single page.
You can go for email automation via FluentCRM.
The plugin allows you to manage subscribers with WP User Registration.
Pricing:
Free.
Conclusion: Which WordPress Credit Card Payment Plugin is Best for You?
You can find dozens of WordPress credit card payment plugins on the market. But surely, some plugins will match your specific needs.
We hope this article helped you know the best WordPress credit card payment plugin for accepting payments on your site. We recommend you pick a plugin that gives you access to secure payment gateways and a smooth user experience.
That's all! We've discussed the best WordPress credit card payment plugins for your site. You can also check out the 7 Best WordPress Job Board Plugins (Free and Paid) and 7 Best WordPress Image Compression Plugins (Free and Paid).
Frequently Asked Questions
Does WordPress support credit cards?
By default, WordPress doesn't support credit cards. However, you can nicely fill in the gap by enabling HTTPS/SSL on your website or activating and installing a WordPress credit card payment plugin. It will help you quickly sell your products or services on your WordPress website.
What is API used for payment?
A payment API is used for payments on your WordPress site. It operates to integrate a payment solution with existing applications, including connecting a business's checkout function to the payment system.
How does API work in the payment gateway?
A payment API helps to transmit a message or request to the API, which relays it to the payment processing network. As a result, it processes the request and responds to the API and response to the application.