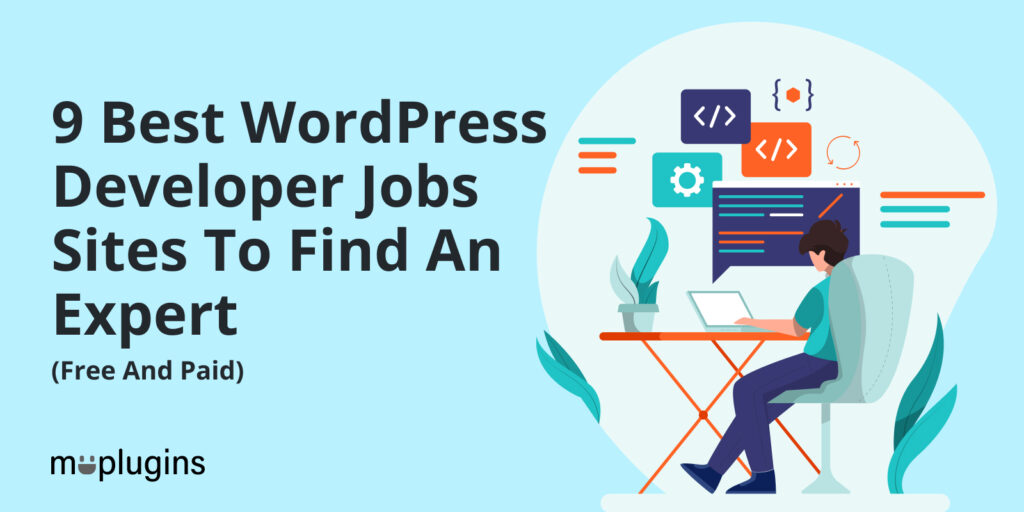 Are you looking for the best WordPress developer jobs sites to hunt developers for you?
You must be in want of hiring a WordPress developer to customize your site's theme, write custom codes, and much more. A WordPress developer job site is the best solution to help you find the best talent in this field. 
This article will show you the best WordPress developer job site. So, make sure you read this article till the end.
Let's get started.
Table of Contents
What is WordPress Developer Job Site?
As your WordPress site grows, you'll surely need the help of a developer. Since a developer helps you customize your WordPress theme, build a multisite, improve SEO, and want to add a feature that isn't available in any WordPress plugin.
A WordPress developer can write custom codes to make everything possible. So, finding the expert can be a real challenge. This is where a WordPress developer job website can help you find the best talent worldwide.
Comparison of WordPress Job Sites
| | | |
| --- | --- | --- |
| Rank | Job Board | Pricing |
| 1 | Upwork | Free |
| 2 | Fiverr | Free |
| 3 | Authentic Jobs | From $149 per month |
| 4 | WordPress Jobs | Free |
| 5 | Indeed | Free and Paid |
| 6 | FlexJobs | Free |
| 7 | Codeable | Free |
| 8 | WPhired | Free and Paid |
| 9 | LaraJobs | From $299 per post |
List of Best WordPress Developer Jobs Sites
You'll find many job sites for developing a WordPress developer. When there are plenty of options available, how would you know this is the one you need for hiring a WordPress developer?
Let's walk through the top WordPress developer job sites that will help you hire a WordPress developer more easily.

Upwork is a popular flexible talent marketplace that helps you find the best individual in the desired field for your growing business. Employers and job seekers can join Upwork for free. Simply create an account and start searching for or creating your projects.
All you need to do is to make an account on Upwork and search for the specific talent you are looking for, i.e., in our case, a WordPress developer. This way, the right talent will come to you either for a long project or a short period. You can pay them hourly or fixed amounts for the project.
Like you can post projects for WordPress site restructure, build a multisite, improve SEO, and much more. Then the WordPress developers can come to your post to submit proposals; you can look at each work to find out who stands out from the crowd and is the best for you.
Upwork has Talent Scout recruiters to help you and your team help you find the best match for your business needs with the right professionals. Meet with your recruiter, receive a shortlist, interview candidates, and choose the best fit for your team.
Note: Your project duration must be at least one month to be eligible for this.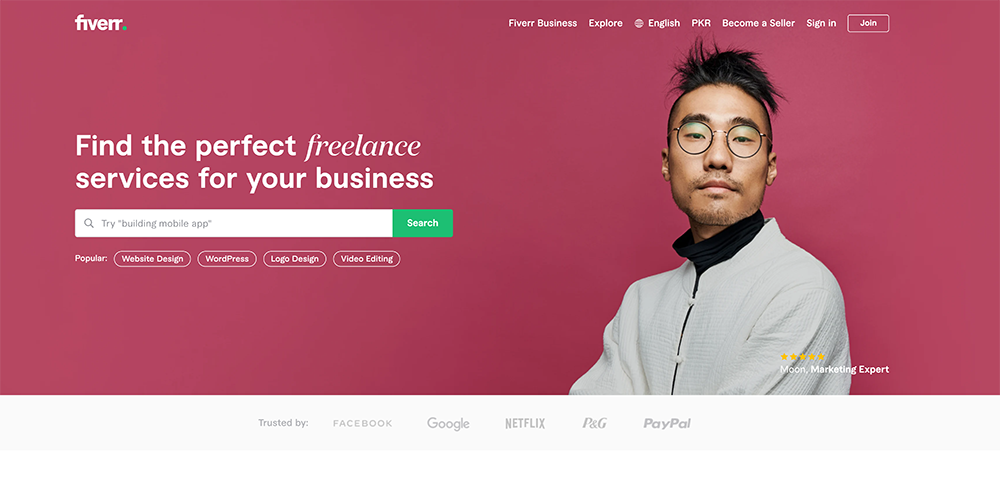 Fiverr is another good option for finding a WordPress developer for your site. It helps buyers (who want to get specific services on Fiverr) to connect with talented sellers (who are selling their services on Fiverr) around the globe.
You can go for keywords and search for the service needed. Since you are aiming to hire a WordPress developer, you can post projects for creating a WordPress site and landing page SEO friendly to generate leads and set up a WordPress site on Bluehost, GoDaddy, Dreamhost, and much more to hire a WordPress developer.
There are various pricing options available since each freelancer on Fiverr sets its prices. So you can enjoy premium services even at the lowest prices. Remember, Fiver holds your payment until the freelancer completes the work.
The website administrators are there to help you support in case of a dispute between a seller and a buyer (i.e., of the services). Moreover, buyers and sellers can join Fiverr for free. Buyers pay the seller for services provided.
Note: If you are a seller on Fiverr, once you start earning on it, it will always take 20% of your earnings. If your gig costs $5, you'll earn $4 for every sale.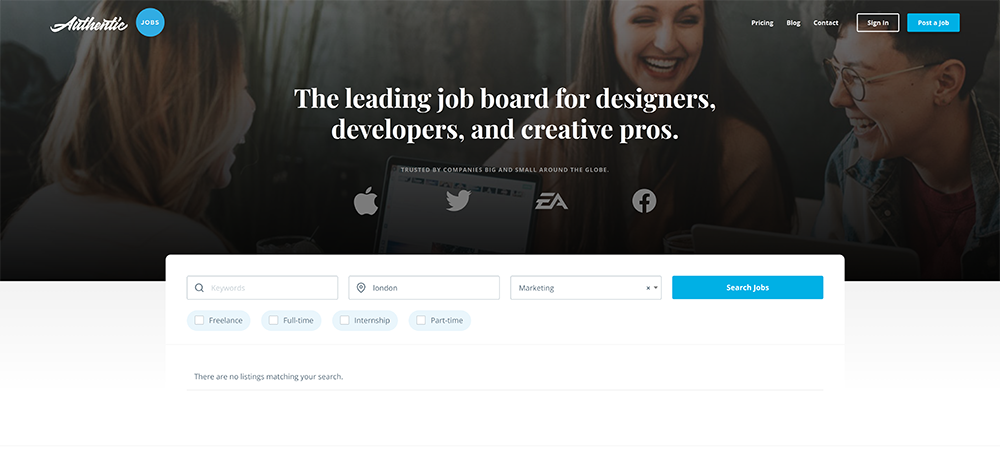 Authentic Jobs is one of the best options for connecting employers with global WordPress IT designers and developers. Their job board features freelance, full-time, contractual, remote, and internship positions and caters to big and small companies' recruitment needs.
This website doesn't offer its services for free. You have to pay $149 per month for a standard job listing or $199 per month for featured job listings. It will charge you extra money, i.e., for posting your job post to other platforms.
It's quite simple to post a job on Authentic Jobs. Simply visit the site, provide the job details, preview your provided details, choose a package for posting a job, and checkout.
You can also use optional extras to uplift the exposure, including working remotely on the job board, dribble job board, UXBooth newsletter, and more. It provides great exposure for your job opening and is trusted by companies, including Apple, Tesla, Twitter, and EA.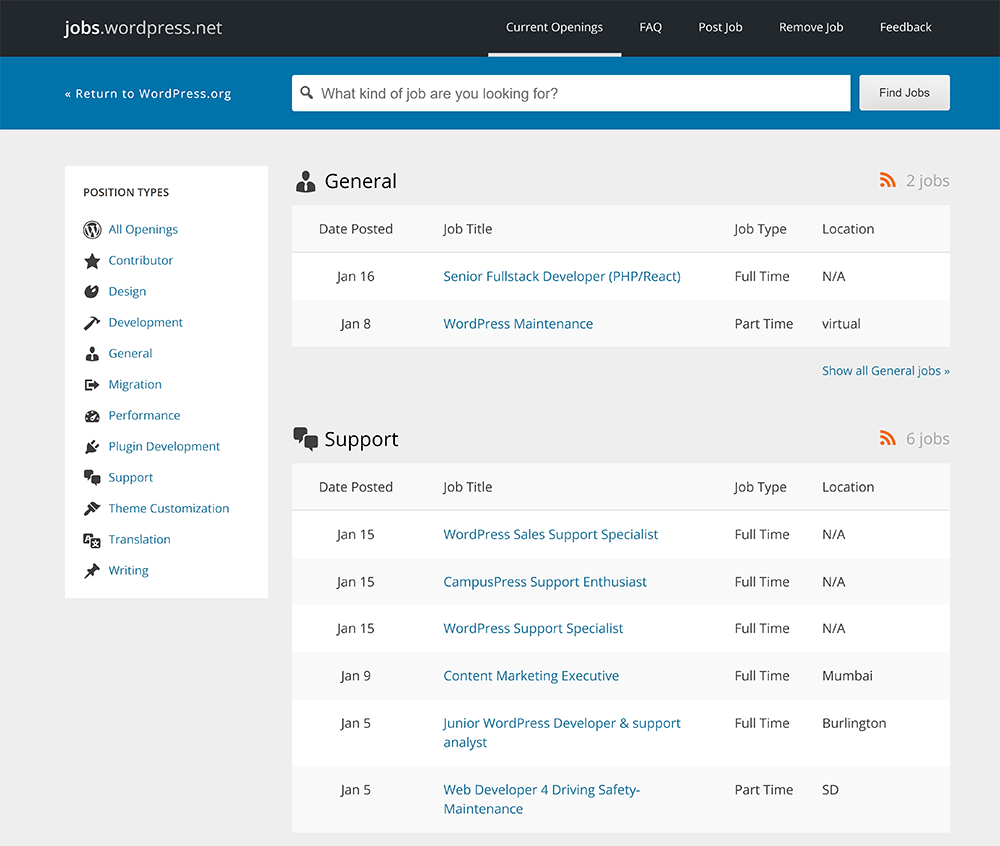 WordPress Jobs is another good site to help you reach a WordPress developer by posting a job. You can easily and quickly find expert WordPress developers, designers, content writers, translators, and more.
This site is affiliated with an open-source WordPress site, so you don't have to pay even a single penny for positions and jobs. It makes it easy for employers and job seekers to use WordPress Jobs to create a website, blog, or app for free.
This is the best site for employers to post vacancies and aims specifically at WordPress-related vacancies or projects. Employers can also remotely recruit WordPress developers full-time or part-time.
Employers directly receive applications via email. Job ads are promoted on the platform's Facebook page. Job seekers can filter jobs by job type to easily connect with suitable employers.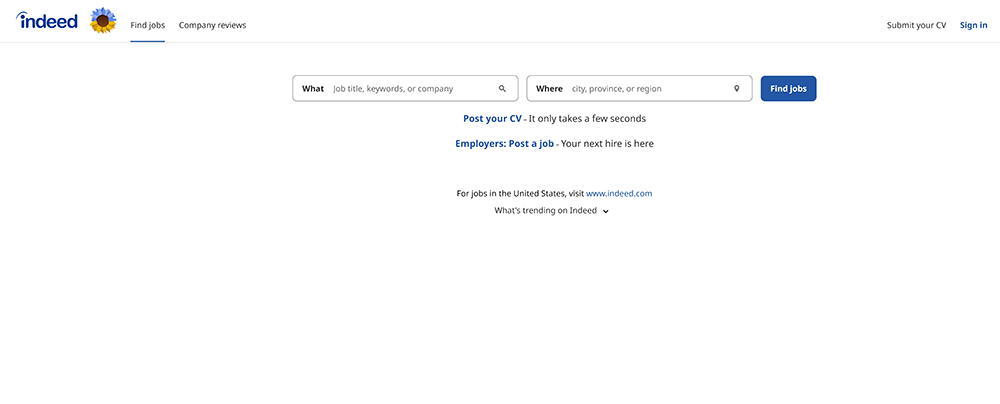 Indeed is the world's largest and most visited job platform that makes your recruitment process even easier. This platform attracts millions of unique visitors monthly and offers built-in skills assessments that employers can add to job posts.
You can post a standard job post for free. But the bad thing about free job posting is that employers' job posts get easily and quickly replaced and lose visibility.
However, the employer must purchase a monthly or yearly subscription for a better experience. It charges you $ 5 per day for a sponsored job, $100.00 per month, or $ 960.00 per year for a standard CV database search, and $250 per month or $2,400 per year for a professional CV database search.
This site offers an employers' dashboard that includes candidate and job management tools.
Indeed lacks an email support feature.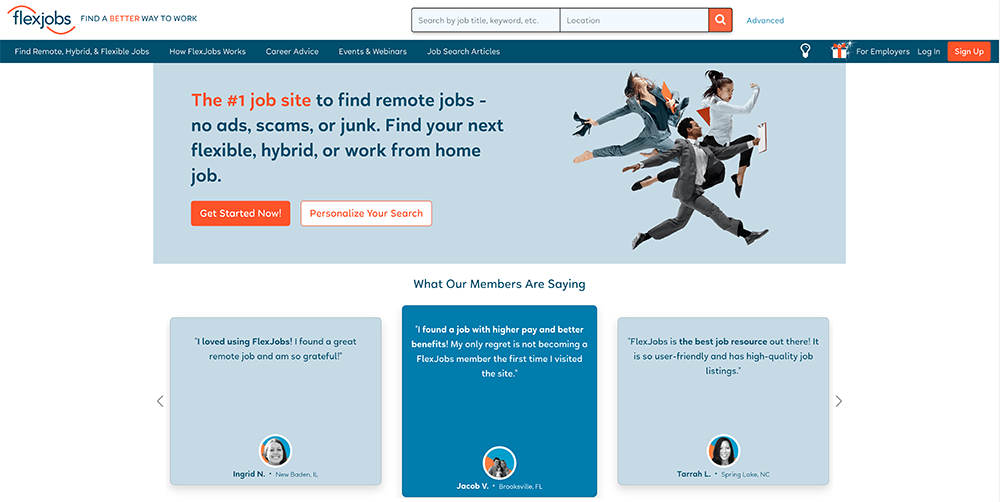 FlexJobs is the next website on our list that can be used to hire WordPress developers. This site ranks among the top job sites to find flexible, hybrid, or work-from-home jobs.
It is best for an employer who wants to post a job for a remote worker and freelancer worldwide. The key feature of FlexJobs is that you can list a job for free. You don't need to be worried about ads, junk, or scams.
Employers can find over 50 career categories, including software development jobs, website design jobs, and much more for different job categories, including remote, part-time, freelance, and flexible jobs.
Moreover, as a developer, you can visit the library, as well, to write resumes, practice interviews, and get hands-on successfully landing remote jobs worldwide.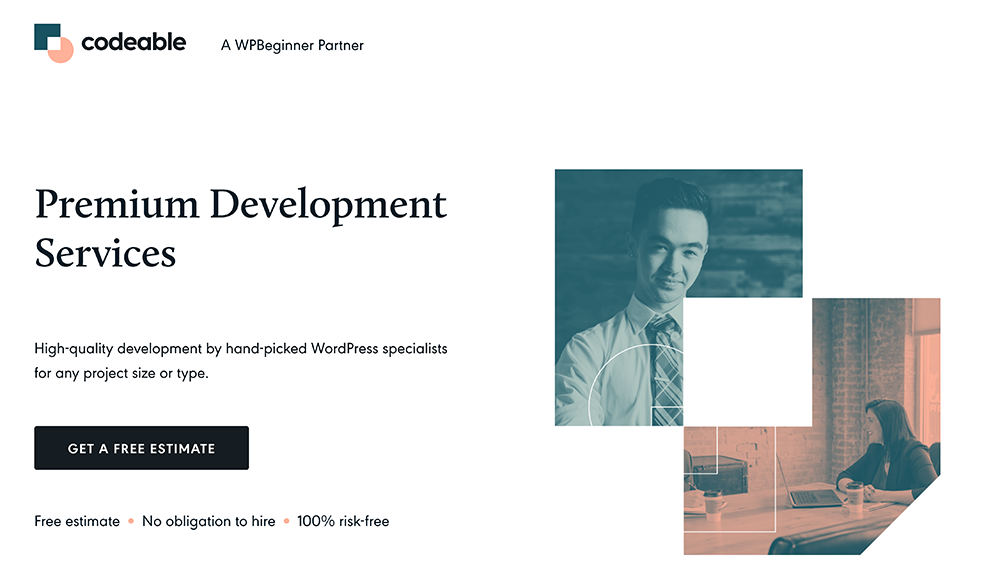 Next, we have Codeable, a WordPress freelance platform that will help employers to post a WordPress developer job. This site connects with the best companies in WordPress design, plugin updates, and more.
Codeable help over 700 freelancers and advertises a variety of small and large WordPress projects and employers to reach experienced and top-notch talent.
This site is the only WordPress freelancer platform. It helps to match employers to the best WordPress developers and helps them solve any WordPress problem.
This site has pre-screened developers that ensure your development work will be delivered by world-class WordPress experts who have passed a strict application and vetting process.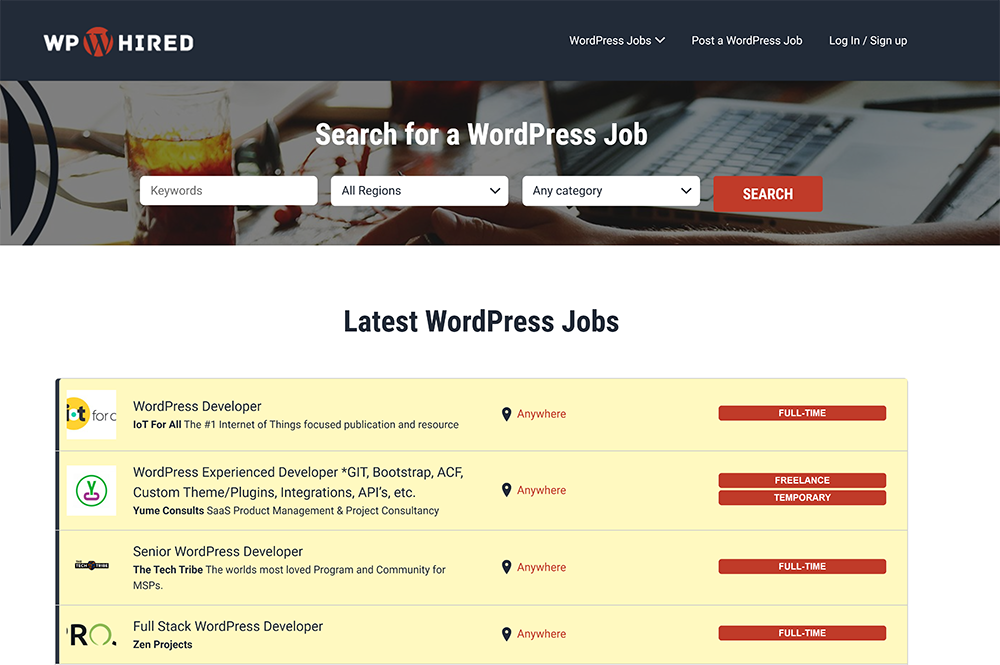 WPhired is another site that will help employers to reach WordPress developers, like design jobs, plugin development, programmers, theme customization, and WordPress SEO at all career levels.
WPhired helps you post a job by type, such as freelance, full-time, part-time, internship, and temporary. Simply create an account and start posting a WordPress job. You can select from over 1000 WordPress experts and recruit them for your WordPress site.
The site offers both free and paid job posting packages. Employers can post unlimited jobs free for 30 days. The paid job posting options are valid for 60 days. Then they can go at $39 for the featured job (3 credits) or $69 for the featured job (5 credits) for 60 days.
The "Featured Job" packages highlight listings on the job board and automatically share them on the site's Facebook and Twitter pages for increased exposure.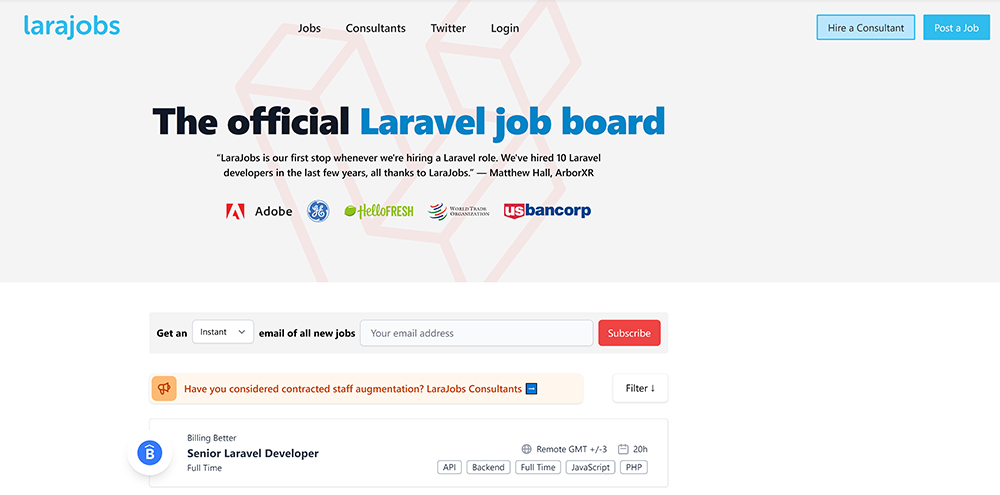 LaraJobs is our list's last WordPress developer job site. It is a global job posting site that can help an employer to reach the best professionals that work with Laravel. Employers can post jobs including full-stack engineer, senior developer, technical lead, and more.
This site highlights job posts in a different color or is boosted on the top of the job board's page for maximum exposure. Many popular companies, including Adobe, HelloFresh, and the World Trade Organization, use and trust LaraJobs.
This site shares post on Laravel News' website and newsletter. And the striking point about LaraJobs is that job posts are shared on the site's Twitter and Facebook accounts.
As compared to other WordPress developer job sites, LaraJobs is the most expensive. But what makes the difference is that it offers employers access to a specialized group of professionals.
Conclusion
Finding and recruiting a WordPress developer is a challenging task. However, with proper guidance and effort, you can easily hire an expert WordPress developer to complete your WordPress problems or projects.
We have discussed a list of 9 different paid and free WordPress developer job sites that will help you hunt an expert WordPress developer. You can post your WordPress developer jobs anywhere to get a talent hired.
That's all we have discussed about the WordPress developer job sites. See how much it helps you. You can also check our detailed articles on 7 Best WordPress Survey Plugins (Free & Paid) and 7 Best WordPress Job Board Plugins (Free and Paid).
Frequently Asked Questions
Is WordPress high in demand?
Yes, WordPress is in high demand. 
What does a WordPress developer do?
A developer writes custom codes to customize themes, plugins, features, and functions of your WordPress site; as per their client's needs.
Is there a demand for WordPress developers?
Yes, there is demand for WordPress developers on a large scale. They are essential for WordPress, i.e., to add a functionality that isn't available otherwise.
Are WordPress developers in demand?
Since WordPress is a popular platform for building websites, there is undoubtedly a demand for WordPress developers.