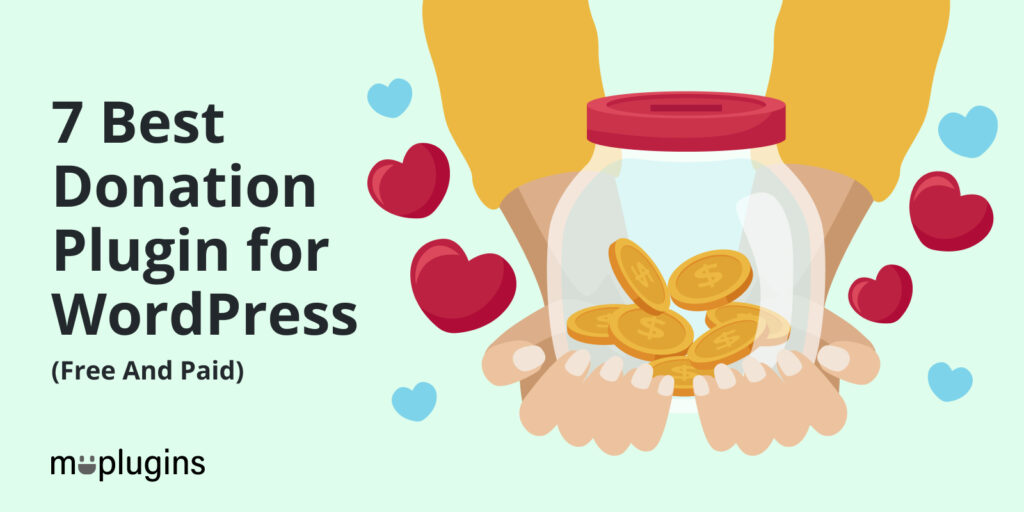 Are you looking for the best WordPress donation plugin that helps you build a charitable site?
Online fundraising is still an effective and feasible way to get online support for your charitable cause. It has been steadily growing in popularity in recent years. So, if you ponder raising funds for any reason, a WordPress plugin must suit your purpose.
This article will show you the best WordPress donation plugins for your site that will help you turn your WordPress site into a fundraising platform. So, make sure you read this article till the end.
Let's get started.
Table of Contents
What is a Donation Plugin?
A WordPress donation plugin is there to help you collect donations from the users on your WordPress site. The plugin allows you to collect or accept donations right on your WordPress site instead of using any third-party site.
You can easily and quickly raise funds for your projects, nonprofit organizations, NGOs, and more. Make sure that your donation collection pages or forms have to be easy to use for you and your users/donors; they should be customizable and secure.
A donation plugin supports popular payment gateways, delivers receipts to donors, and enables recurring payments from donors. Moreover, these plugins are responsive, either you are using it on a desktop or a mobile device, they will adapt to your website design.
List of Best WordPress Donation Plugins for WordPress
You'll find so many donation plugins in the WordPress plugin repository. With so many available options, how do you pick the best WordPress landing page plugin?
Let's walk through the best WordPress donation plugins to find out what they are offering and if they have what you want in a donation plugin.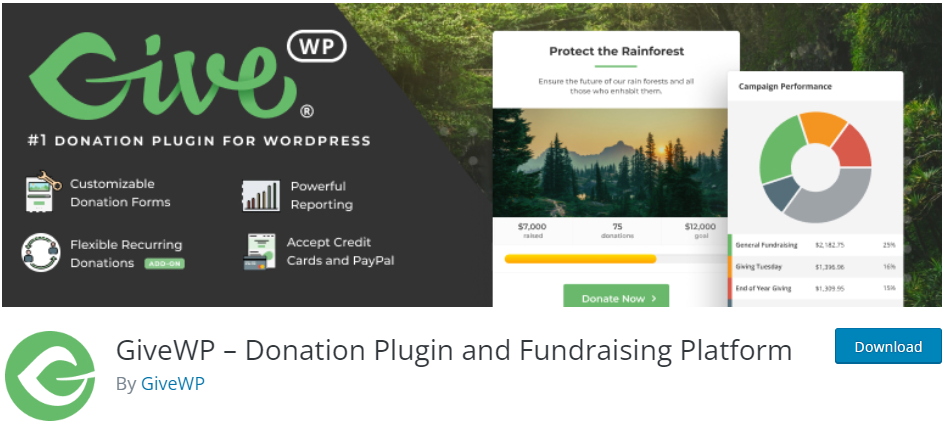 GiveWP is the most popular WordPress donation plugin, with over 100,000 active installations. This plugin is available for free and offers a full-featured premium version as well. It has amazing features to manage online donations, including testimonials for donated funds, campaign donation goals, multi-level donations, currency-switching options, and much more.
You can upgrade to the premium version at any time to enjoy many other features, i.e., creating a compelling donation form with no coding required. This plugin provides you with customizable forms, including the Classic Template, Multi-Step Template, and Legacy template.
Features:
It has fundraising reports and donor management tools feature.
You can easily get payments using PayPal and Venmo.
It also allows offline donations using an offline gateway with guided instructions.
GiveWP has a donor dashboard that helps your donor base easily manage their accounts or access their donation history.
Pricing:
Free. You can upgrade to the premium version at $149 per year.
You might have seen websites with PayPal donation buttons. This is because PayPal supports donations and lets users create their buttons to collect donations. This plugin is beginner-friendly. It can easily be configured through the WordPress dashboard. Furthermore, it is compatible with any WordPress theme.
You can use this plugin to place the PayPal Donation button anywhere on your site to collect donations from customers. The customers only need to use their PayPal accounts to donate money to your WordPress site.
Features:
Accept Donations with PayPal lets you view donations made in your WordPress admin.
This plugin has a built-in feature that supports 25 currencies.
It has 7 different PayPal donation buttons, each with its own language and currency, button image, and its own PayPal account.
You can set up a dummy PayPal buyer/seller account (with fake money) to test everything before getting started.
Pricing:
Free.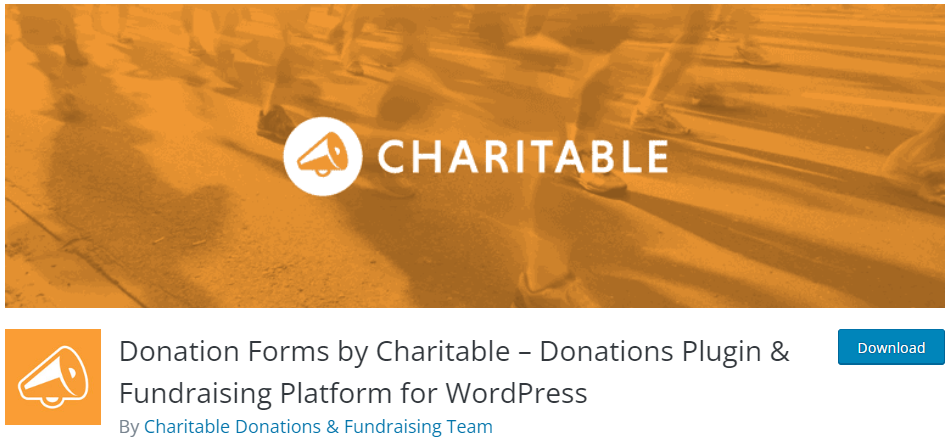 Charitable is among the best WordPress donation plugins that help you easily and quickly collect online donations. This plugin makes it easy to create and publish high-converting donation forms and fundraising campaigns on your WordPress site.
This plugin helps you add a fixed donation amount, add a custom amount, or you can even opt for both ways. Additionally, you can add a donation form on your pages, posts, sidebars, etc. You can also collect donations through cheques, bank transfers, or other offline methods. Once they make it, you can send a unique offline donation receipt to donors.
Features:
This plugin is fully GDPR compliant.
This plugin helps you run unlimited fundraising campaigns.
It lets you get payments via PayPal. Simply add your PayPal address and get started with collecting donations.
It brings you ease in donation management, including resending donation emails, sorting and searching donations in the dashboard, and exporting a CSV report.
Pricing:
Free.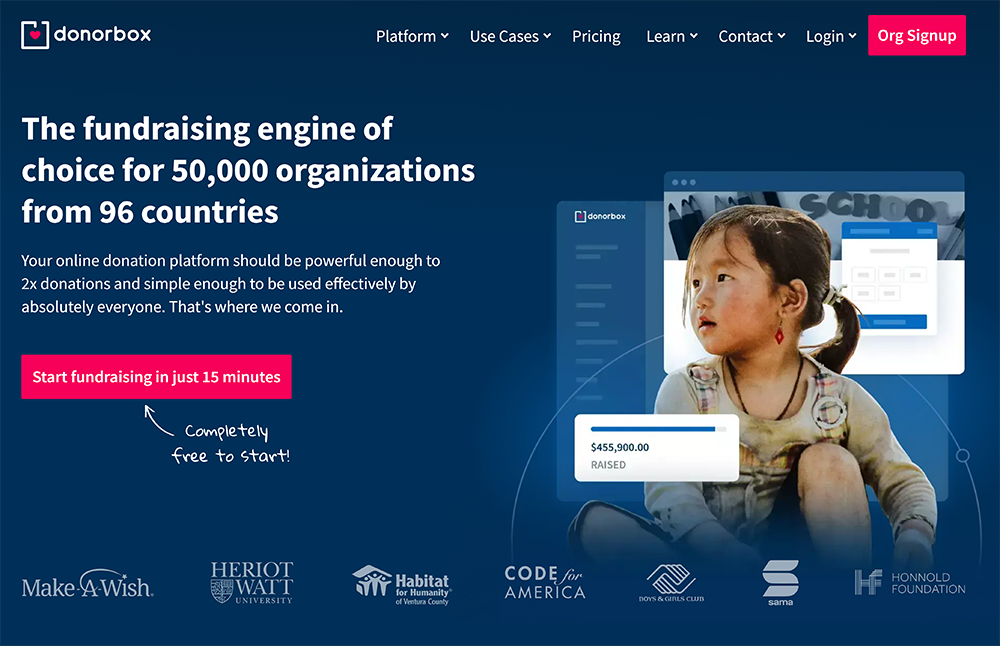 Donorbox is another good option for a WordPress donation plugin for your site. This is the only WordPress donation plugin that offers a fast feature-filled solution to raise funds. It helps you boost your donor conversion rates and recurring donations.
This plugin helps you create forms that can be ready to deploy in 15 minutes and are even faster to fill in. You can accept multiple currencies via Stripe, PayPal, Apple Pay, Venmo, and Google Pay. Just add the Donorbox donation forms or a donate button in your web pages and emails to deploy them as pop-ups.
Features:
This plugin helps you use the form as a pop-up donation form to accept donations.
You can easily customize your fundraising campaign page with a custom color scheme, styling, and logo.
Donorbox lets you create custom input fields to make your forms quick to complete.
This plugin makes it easy to add a custom donation amount for donors or allow them to specify their own amount.
Pricing:
Free. You can buy the premium version for $25.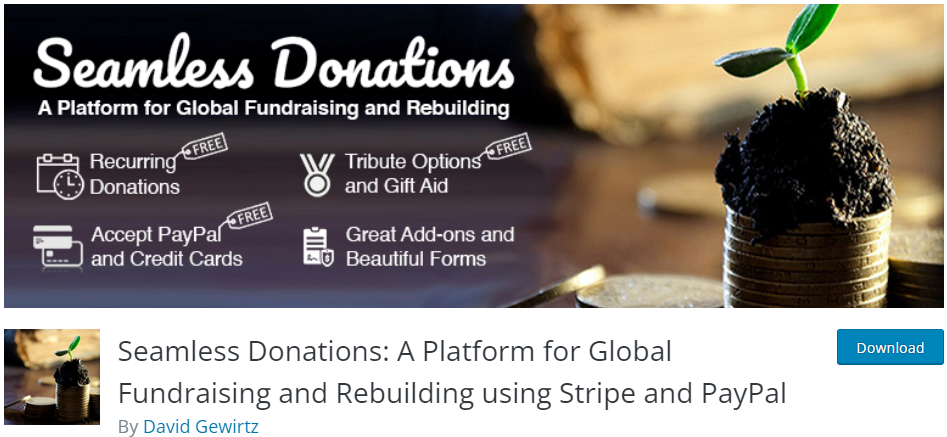 Seamless Donations is a free WordPress donation plugin. You will surely like this plugin as it does not charge you any commission or percentage fee. It lets you set up a donation form that provides different options to the users, including what made them donate and how much they want to donate.
Seamless Donations can easily be installed and configured. You can easily create donation forms, redesign them, and quickly create responsive default forms. In addition to this, a library of 35 additional form designs is available for purchase.
Features:
This plugin sets up a PayPal donation form for your WordPress site.
It allows you to set up multiple funds or causes and allows users to choose which one(s) to donate to.
You can even go for configuring pre-set donation levels.
Choose what information users need to fill out to donate.
Pricing:
Free.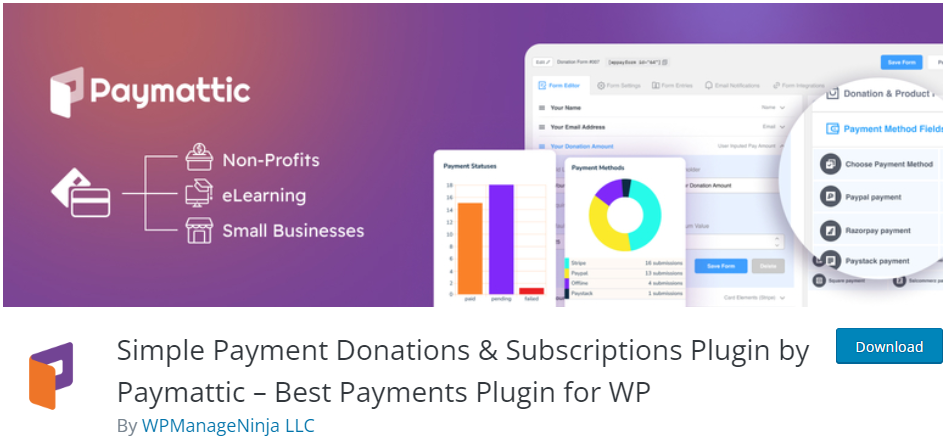 The Simple Payment Donations & Subscriptions Plugin by Paymattic is the perfect fit for your small business, online fundraiser, or membership program. It has easy-to-use and standard payment forms that let the customers pay in less than a minute without going to another page.
This plugin has built-in form builder functionality that enables you to create beautiful and customizable forms. You can further allow users to pay custom amounts if needed and even collect subscription payments.
Features:
It lets you create multiple donation forms.
The simple Payment plugin offers multiple products and plans on a single page.
It supports 14 languages, 30+ countries, and 135+ currencies.
It lets you view detailed reports on revenue, customers, form performance, and more.
Pricing:
Free.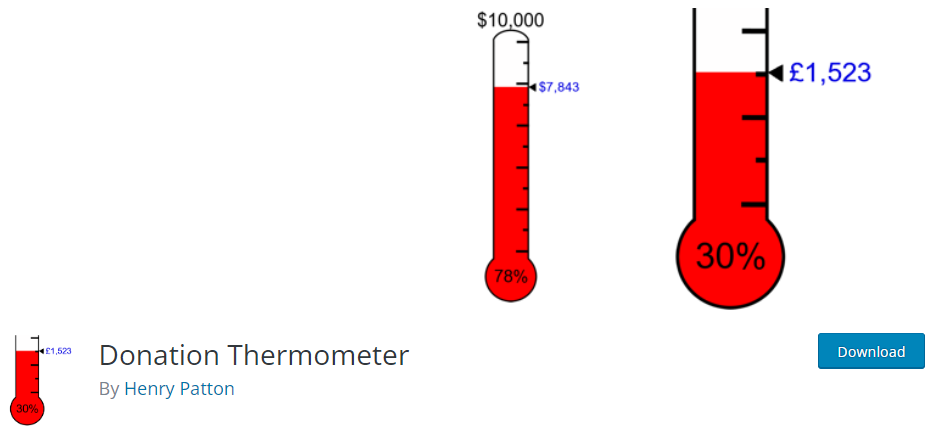 Donation Thermometer is one of the best classic WordPress donation plugins that let you create numerous thermometers. Simply add the following shortcode [thermometer raised=?? target=??] to add a classic-style tracking thermometer on posts, pages, or sidebars.
You can use optional shortcode parameters to fully control thermometer size, orientation, tick alignment, currency symbol and position, the thousands separator, fill colors, a shadow effect, plus more. This plugin does not help you accept donations, but you can use it with any other WordPress donation plugin.
Features:
The donation Thermometer uses vector-based images.
It helps you keep track of updates.
You can easily customize thermometers for colors, text, currency, meter size, and more.
It lets you add CSS code for further customization.
Pricing:
Free.
Conclusion: Which WordPress Donation Plugin is Best for You?
We hope you now understand the best WordPress donation plugins to help. It is easier than ever to raise funds for your nonprofit organizations without writing a single line of code.
Many WordPress donation plugins are available; many are designed to help collect online donations for your WordPress site. Each plugin has unique features, so you might get confused about which to select from many options.
Like, you can choose to Give WP for the best value, PayPal Donation for the simplest setup, Charitable for geolocation and video support, and more. Make sure you fully evaluate your options before deciding.
That's all we have discussed the best WordPress membership plugins. You can also check our detailed articles on 7 Best WordPress Survey Plugins (Free & Paid) and 7 Best WordPress Job Board Plugins (Free and Paid).
Frequently Asked Questions
How do I collect donations on WordPress?
WordPress donation plugins are the easiest way to accept donations. Install and activate a plugin on your WordPress and create a donation form using a pre-built donation form template. 
What do you look for in a WordPress donation plugin?
Make sure your WordPress donation plugin helps you with donor management, i.e., enables you to accept donations, lets you generate donation receipt, offers a customization option for donation forms, and support online payments.