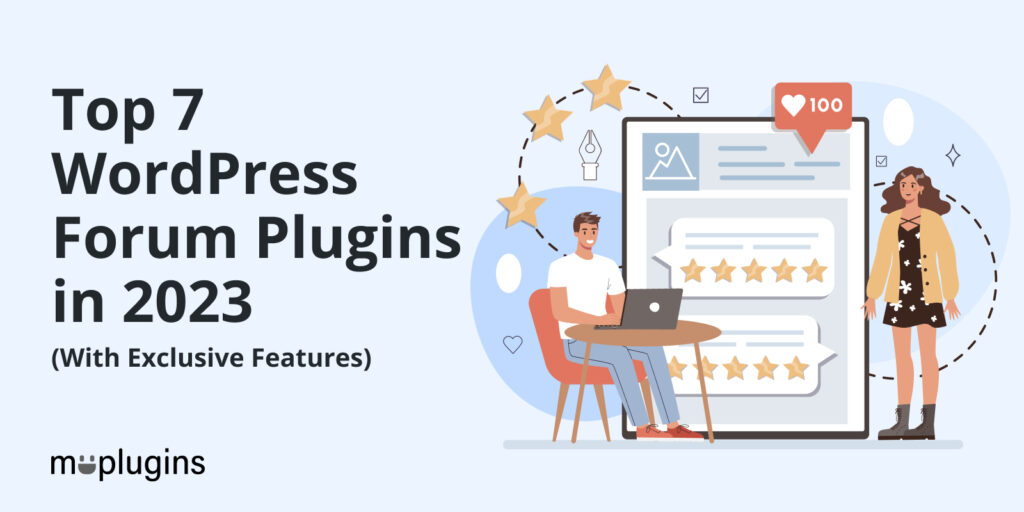 Are you looking for the best WordPress forum plugin for your site?
A WordPress forum plugin creates a forum and discussion board where users can ask questions, share their experiences, etc., on your site. These plugins are an excellent way to create social connections and build a community around your site.
In this article, we'll show you a list of the best WordPress forum plugins for your site. So, make sure you read this article till the end.
Let's get started!
Table of Contents
What is Forum Plugin?
Online forums offer handy incorporating tools, such as ranking systems, polls, and ways to moderate users more efficiently and prevent spam. Moreover, these forums are a good way of indexable content that helps you rank in search results.
If you run a WordPress site, the WordPress forum plugin is the easiest way to add a forum in no time.
A WordPress forum plugin bolts onto a website and can add an entire forum infrastructure for your users. They can provide the forum, function, and tools necessary to organize and manage your forum.
What to Look for in a WordPress Forum Plugin?
WordPress forum plugins have different features. Before deciding on a forum plugin for your website, you should consider a few factors. So, here we've curated the list of things to consider before picking the best option for your business.
Community Features: Ensure the forum plugin offers options like private messages, follow/unfollow options, like, comment, join groups, etc.
Frontend Submission: See if the forum plugin allows users to submit posts and blogs from the front end.
Search Option: Your selected plugin must have a search option. This will be very helpful for your users to filter the other members by keyword, category, age, and interest.
Google Maps Integration: Your forum plugin should be integrated with Google Maps. It will help your website users add their location and find other users based on their location.
Monetization Options: Lastly, ensure that the selected button offers monetization options.
List of the Best WordPress Forum Plugins
Now that you know what to look for in a WordPress forum plugin. Let's have a look and examine the best 7 plugins to help you pick the best option for your business.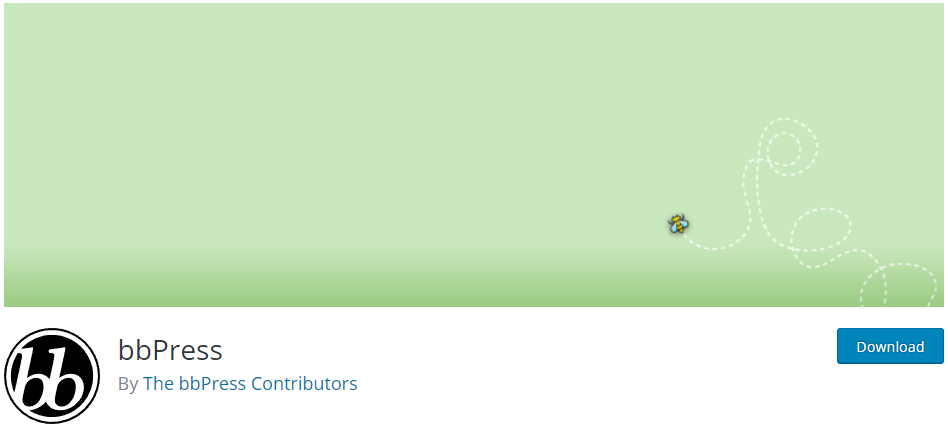 bbPress is among the best WordPress forum plugin for your WordPress site. It's a lightweight yet powerful plugin designed to create a support forum on your website. With its seamless codes offering fast UX, it doesn't slow down your site, unlike other forum platforms.
It offers complete customization options without interfering with smooth UX. Moreover, the plugin is entirely compatible with all the WordPress available themes. bbPress offers numerous extensions that let you add additional features to your forum.
Features:
bbPress enables you to sort comments and replies in a post or a blog.
Your site users can flag and report inappropriate content on the website.
This plugin lets you easily create groups and assign roles for the users.
You can quickly create sitewide and group forums on your websites.
Pricing:
Free.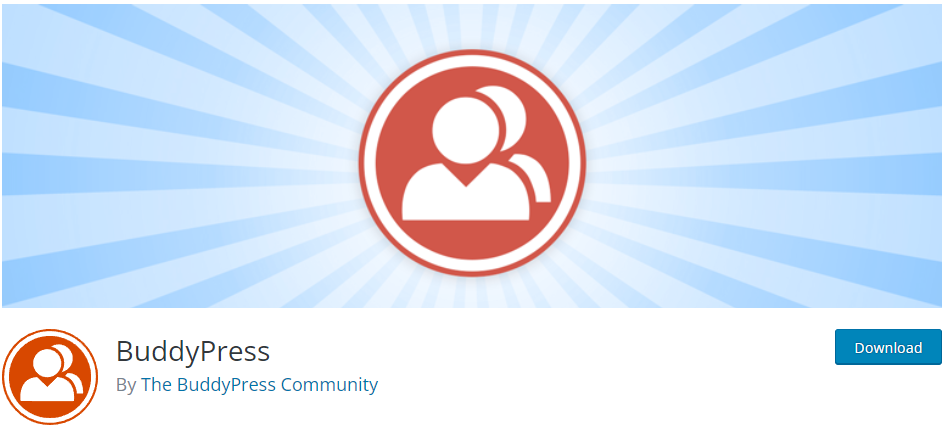 BuddyPress is another WordPress forum plugin option that helps you build your social network. This plugin enables you to convert your WordPress site to a social networking platform. You can easily create unique social networks, communities, and forums using its extensions and features.
This plugin has a robust theme compatibility API that allows you to make every BuddyPress content page look exactly according to any WordPress theme. All you need to do is to adjust some styling.
Features
Users can create friends lists and add/remove friends.
This plugin helps you build a home for your company, sports team, or other niche community.
You can answer questions in the forum or create forum threads.
It allows users to sign up for email notifications.
Pricing:
Free.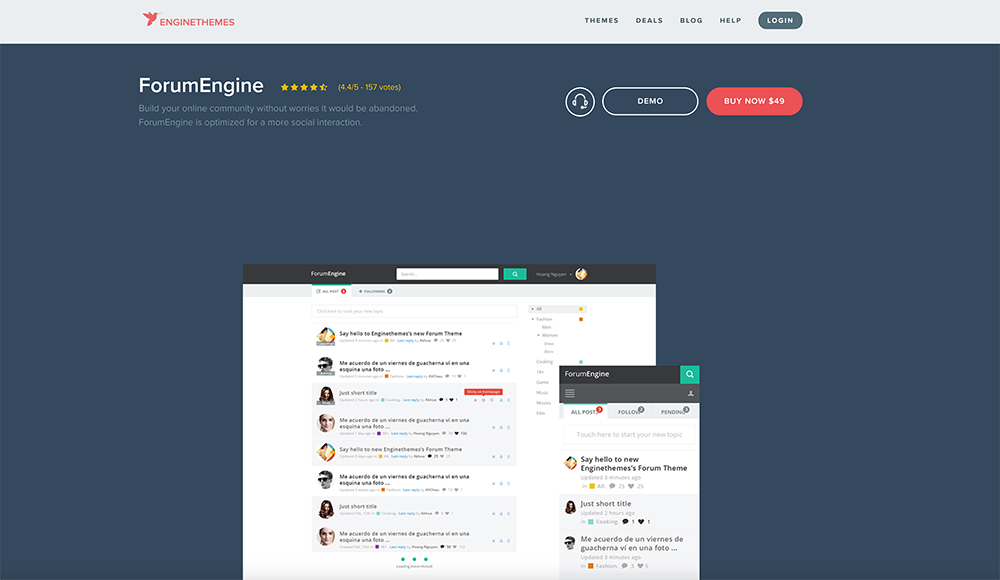 ForumEngine is a forum theme optimized for more social interaction, made by EngineThemes. If you want to start your community on WordPress, you can use this one. On top of that, this theme is loaded with modern settings, language choices, an effective front-end, and an easy-to-configure back-end.
ForumEngine is one of the easiest yet most dynamic online forums on WordPress. It provides a significant amount of strength to build a professional community site for WordPress or any niche with the creation of engaging topics on different aspects.
Features:
With that, you can create your WordPress forums seamlessly without coding skills.
Site visitors can now filter the contents on your site quickly by using ForumEngine's search functionality.
This plugin allows users to reply or click to like/dislike a topic.
This plugin gives you different position options to display the advertisements, which helps you get your revenue.
Pricing:
This plugin is available for $49 per month.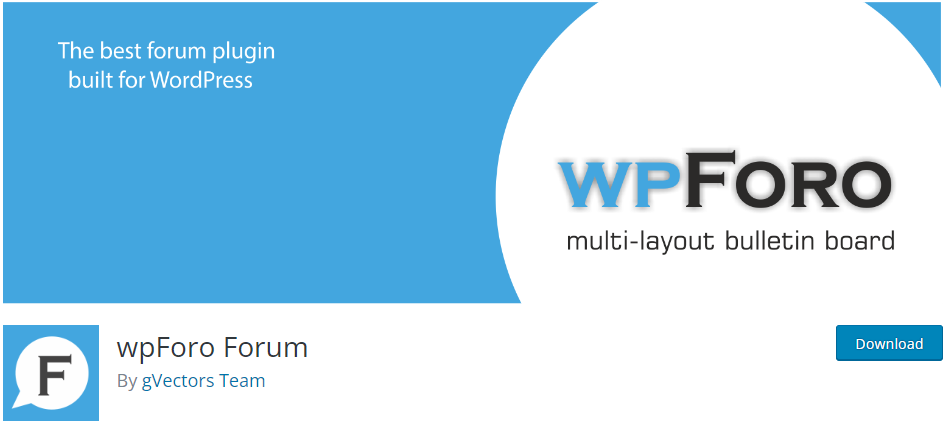 Next, we have wpForo Forums, the best WordPress forum plugin. This is a fully developed yet easy and light forum solution for your WordPress site. It offers modern and responsive forum layouts and styles for your forums.
This plugin offers a powerful and beautiful forum with unique features, including a drag-and-drop forum management system, topic and post-front-end moderation, topic tags, tag widgets, and much more.
Features:
wpForo Forum offers forum topics and posts Read/Unread logging.
It offers a forum phrase system for quick translation.
You can easily migrate from other forums using the Go2wpForo tool.
The plugin builds very responsive forums on all kinds of devices.
Pricing:
Free.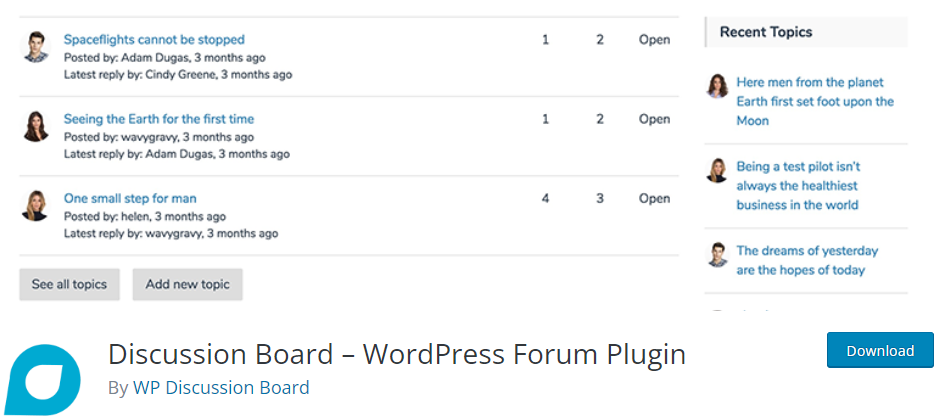 Discussion Board is among the good WordPress forums plugin options for your site. This plugin offers a one-click installation and has every feature that makes it the leading WordPress forum plugin. It creates the three pages you need to get your WordPress forum, including a log-in page, a page with a form for users to post new topics, and a page to view existing topics.
This plugin enables users to register and log in via a front-end form and post new forum topics through a simple form. Each forum topic is displayed on a particular page where users can reply. The striking feature of this plugin is the ability to fully control who can view your forum and who can post to it.
Features:
Discussion Board allows you to customize the style of your form to make it work with any WordPress theme.
This plugin has several shortcodes that enable you to use forums around your site.
You can easily and quickly create any type of forum, including community forums, school or other education sites, training websites, support forums, and discussion forums, to name a few examples.
The Discussion Board premium version allows you to add biographical details for the user, including the date of joining, the number of replies posted, etc., on a dedicated page.
Pricing:
The core plugin is Free. You can get the premium version at $49 per year (until canceled).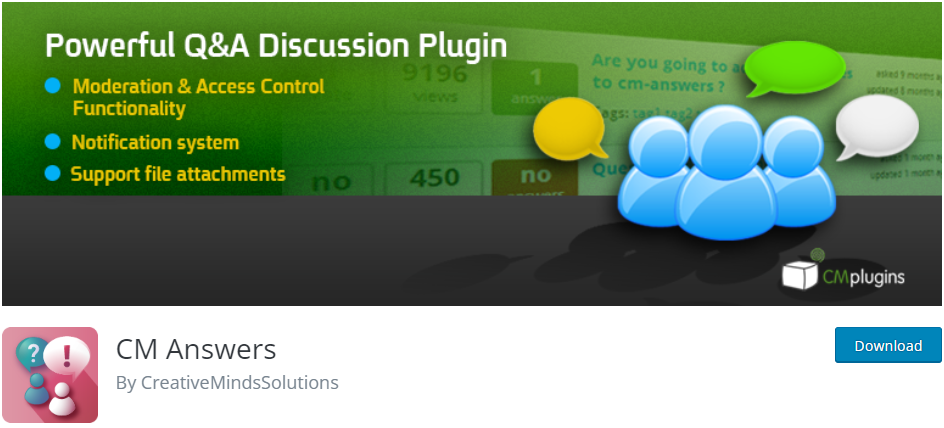 CM Answers lets your user post questions and answers (Q&A) in a stack overflow style, such as voting, moderation, notifications, access control, and more. It allows users full moderation access to questions and answers, restricts user capabilities, and creates multiple forum categories.
This plugin enables the admins to customize the questions and answers, filter content, add answers, and easily keep track of user's actions in the forum. Moreover, the plugin has many other features, like voting for questions and answers.
Features:
CM Answer offers a views count, and answers count.
It comes with administrators who can moderate questions and answers and receive email notifications.
This plugin lets your users receive notifications when answering a question pending follow-up.
It provides you with sorting options in the question and answer pages.
Pricing:
The core plugin is Free. You can get the premium version at $39 (for 1 site).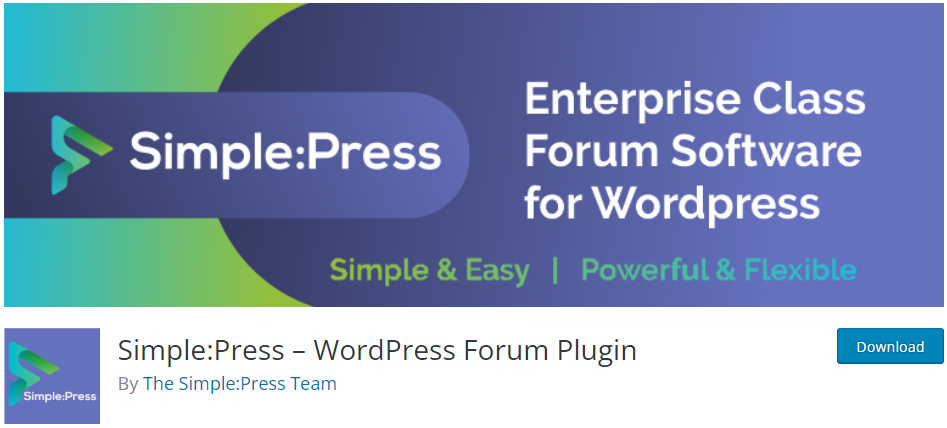 Simple:Press, the WordPress forum plugin makes adding a forum to your WordPress site easy.
It offers the core plugin for free, but you can upgrade to the premium version to choose a preferred option for your forums.
This plugin allows you to create unlimited forums, forum groups, sub-forums to any level, private and public forums, and much more. Not only this, you can customize the forum slug, use featured forum images used by the Open Graph meta tag, and add multiple options for the browser display and title.
Features:
Simple:Press plugin lets you pin forums and use always-on forum messages and breadcrumbs.
This plugin has a robust user group and permission system that helps you restrict user access to wp-admin.
It has a powerful topic/thread feature that helps you add unlimited topics in a forum, lock, pin, and edit topics and titles.
You can go for unlimited posts on any topic and format posts with basic HTML.
Pricing:
The core plugin is Free. You can get the premium version at $199 per year (for 1 site).
Conclusion: Which WordPress Forum Plugin is best for You?
Whether you are looking for a way to answer questions about your product and promote general discussion on your WordPress site, you'll find many plugins in the WordPress plugins repository to add a forum in WordPress.
You don't have to install every plugin mentioned in the list above to choose the best one. As you can see, each plugin discussed above has a unique set of features. Make sure you thoroughly evaluate your options before making a final decision. Choose the one that best suits your need.
You can also check out the 7 Best WordPress Job Board Plugins (Free and Paid) and 7 Best WordPress Image Compression Plugins (Free and Paid).
Frequently Asked Questions
What is the best forum plugin for Elementor?
Elementor is a fully free page builder plugin for your WordPress site. It lets you build unlimited pages or even create a full website. BuddyPress is the best option that you can use for Elementor to convert your WordPress site into any kind of online community. 
Can you make a form with WordPress?
By default, WordPress does not have a built-in contact form. But there is an easy way to fill in the gap nicely, a plugin or manually doing it with coding.
How do I create a discussion form in WordPress?
You can easily create a discussion form in WordPress with a plugin. Go to the left sidebar of the WordPress admin dashboard > Plugins > Add New. Next, search for 'Discussion Board' in the search field; when it appears on the screen, click Install and then Activate Discussion Board from the Plugins page. All done!