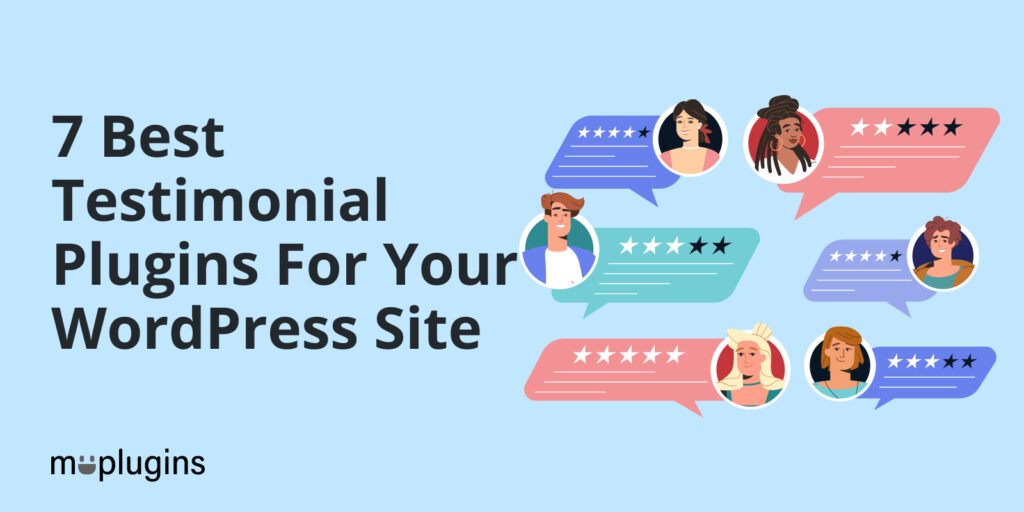 Are you looking for the best WordPress testimonial plugins for your site?
Testimonial plugins are a quick and easy way to add your customers' and clients' testimonials, feedback, or reviews to your WordPress site. This helps you add social proof and help build trust among your users.
This article will show you the best WordPress testimonial plugins for your site. So, without much ado, let's get started.
Table of Content
What Is a Testimonial Plugin?
A testimonials plugin enables you to add testimonials, feedback, comments, or reviews from users, clients, and others in your industry. It creates a positive impression of your product and business.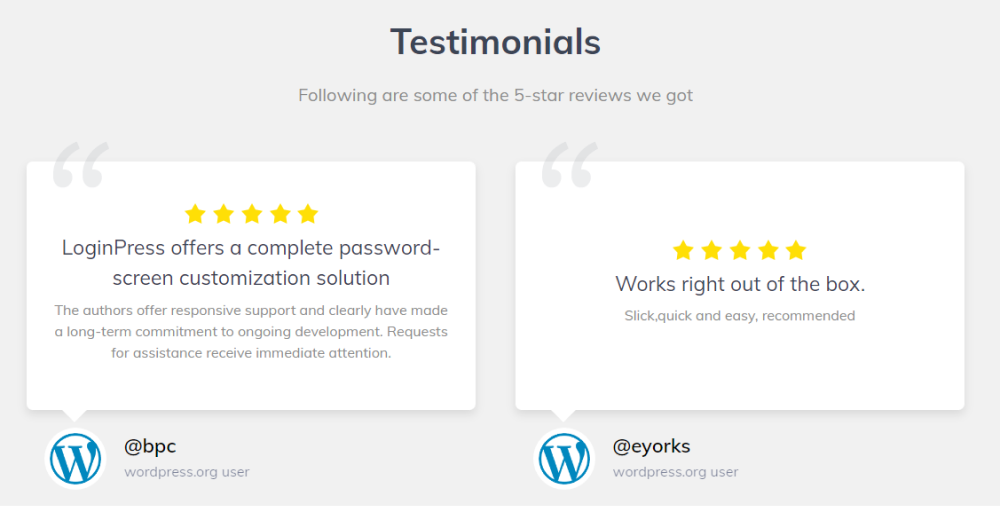 Why should you use Testimonial Plugins for WordPress?
Testimonial plugins for WordPress are essential for your business as they can be proven to be a deciding factor.
There are plenty of reasons to add testimonials to your site, including
Social Proof: It adds social proof to your site. You should add as much information as possible, like name, company, photo, etc. Note: However, you should always only use real testimonials and not fake or generic seeming ones.
People Check Reviews Before Buying: Whenever someone buys a product online, they check online reviews before purchasing it.
Best WordPress Testimonial Plugins for Your Site
There are several WordPress Testimonial plugins, but we've listed 7 that are the best for providing testimonials to your WordPress website.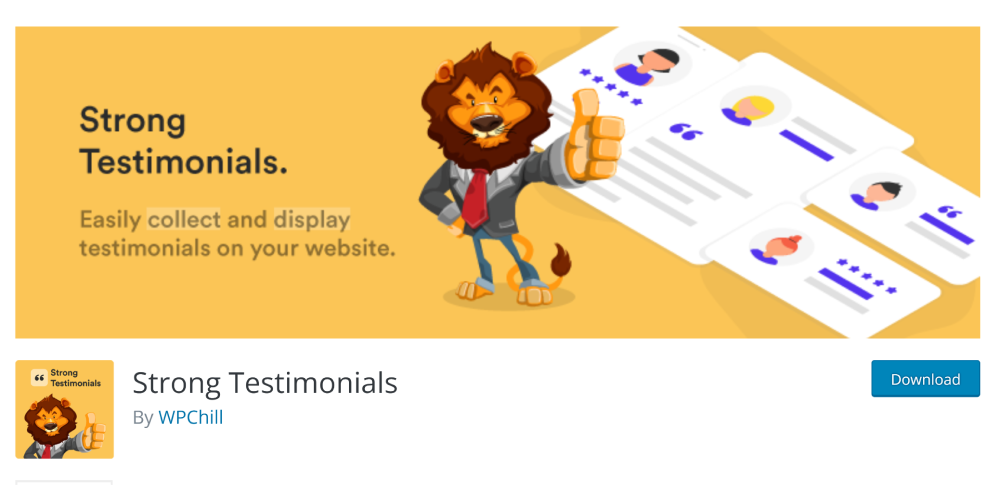 The Strong Testimonials is one of the best WordPress plugins. Although it's a freemium plugin, you can create testimonials from forms without paying for a premium license. The testimonials can be collected from Google, Facebook, Twitter, Instagram, WooCommerce, and more.
This plugin uses shortcodes and widgets to display testimonials. You can create multiple "views" to control which testimonials are displayed and how they are displayed for a particular shortcode. Advanced views can include filters (so only specific testimonials are shown), reordered testimonials, and slideshows.
Features:
This plugin lets you generate testimonials from forms and multiple platforms.
It creates multiple shortcodes with different filters, orders, and display options.
It offers predesigned templates and four layouts.
You can enjoy custom fields and spam protection for forms.
Pricing:
This is a freemium plugin. You can get the basic premium version for 1 site at $29 a year.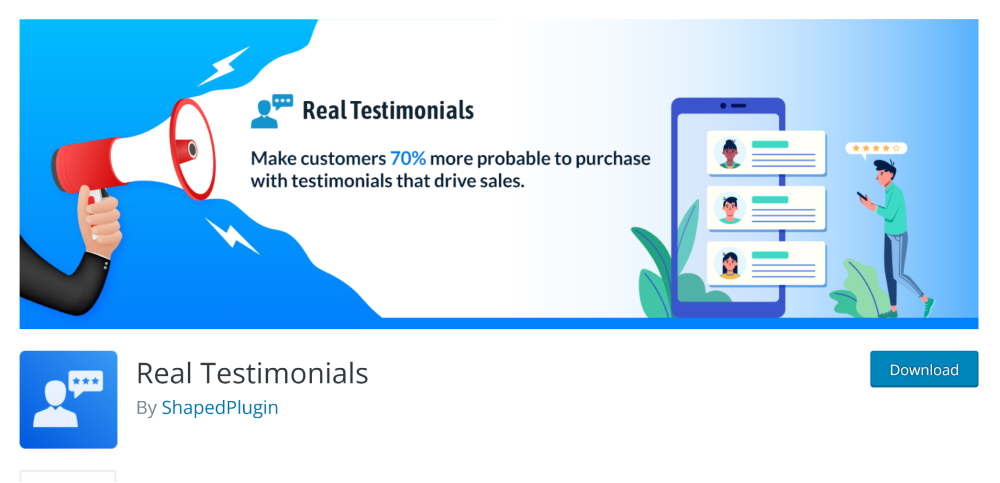 Next, we have the Real Testimonial plugin on our list. This plugin helps you create testimonials, customer reviews, or quotes in multiple ways on any post, page, widget, and more with shortcodes.
The Real Testimonials Pro has more features like videos, company names, and dates for testimonials. You can enjoy template layouts, including lists, grids, and masonry grids. It also offers professionally-designed themes for your display.
Features:
These testimonials include images, review content, titles, names, and star ratings.
This plugin is mobile and SEO friendly.
Real Testimonial premium is fully developer friendly. WordPress interface can be extended with plenty of hooks to modify the testimonial templates.
Real Testimonials premium version is built for speed and optimized for performance.
Pricing:
This is a freemium plugin. You can get the basic premium at $39 per year.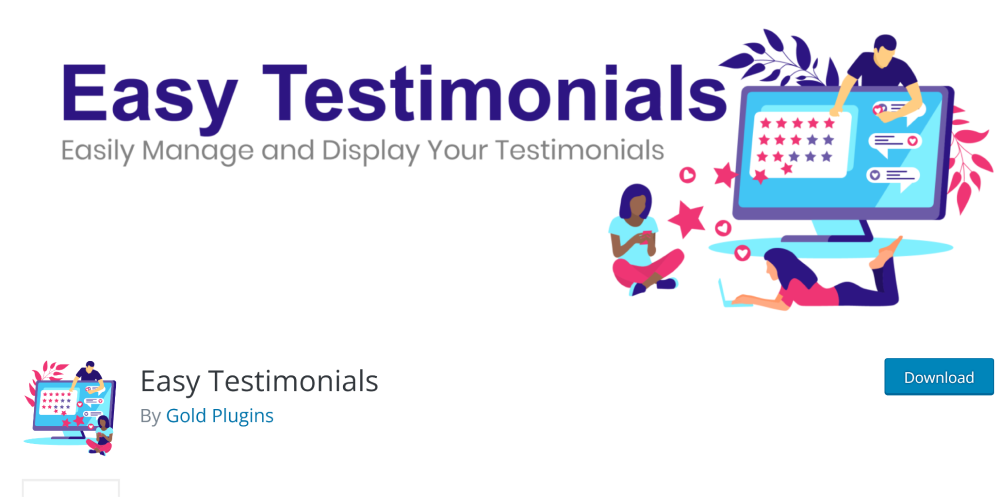 The Easy Testimonials is a simple yet effective WordPress testimonial plugin. It allows you to add testimonials in the sidebar, as a widget, or embedded in a page or post. You can do this by drag-and-drop into the corresponding block.
The Easy Testimonials premium version has more features like font options, template styles, Google reCAPTCHA integration, and forms to collect testimonials. If you are using the free version, you'll need to collect new testimonials manually, but the premium version automatically does this.
Features:
It has a drag-and-drop form builder.
The premium version offers custom typography and styling that lets you control each Testimonial element's font, color, and style.
It provides so many professionally designed themes.
You can easily import your Testimonials in moments from over 200 file types.
Pricing:
This is a freemium plugin. You can get the basic premium starting at $99 per year.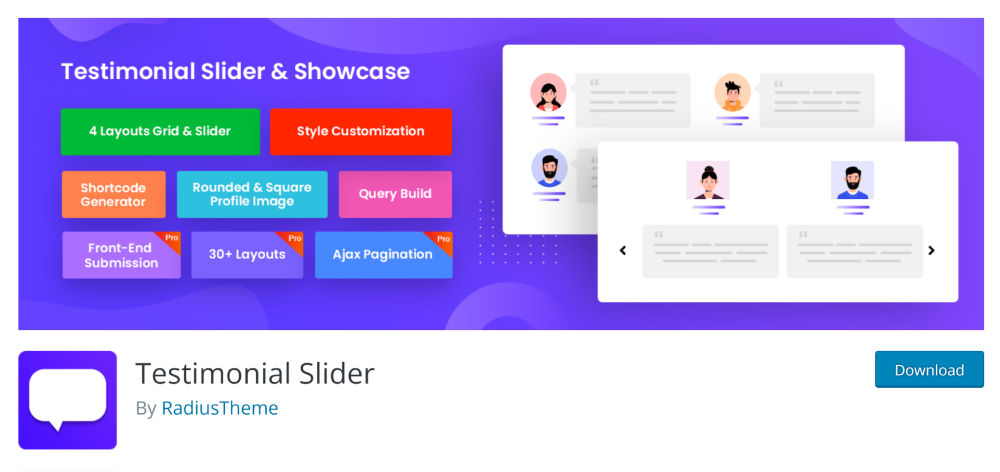 The Testimonial Slider is dedicated to the slider format. This testimonial WordPress plugin allows users to place sliders anywhere on their page. They can also make testimonial grids. There are two layouts for sliders and two for grids available in the free version.
You can enjoy more functionality with the premium version, including 9 grid layouts and 11 slider layouts. You can also use a masonry grid option, Ajax support, previews before publishing, and more. It lets you easily control margins and padding between sections.
Features:
It offers grid and slider layouts.
It has a shortcode generator that lets you generate unlimited shortcodes.
Testimonial Slider lets you control the image size.
It offers an ordering feature that lets you display your testimonials in proper order, such as date, title, or id.
Pricing:
This is a freemium plugin. The premium version starts at $14.70 per year.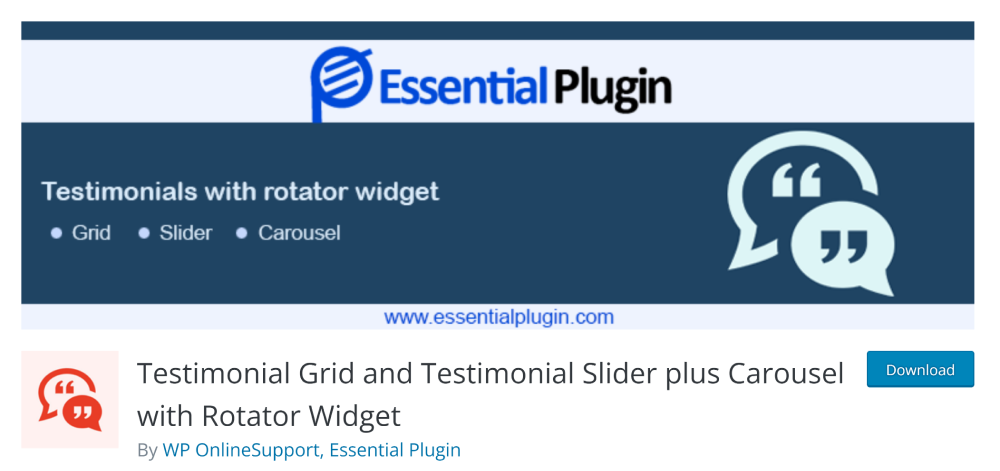 The WP Testimonials with Rotator Widget is a best WordPress testimonial plugin that allows you to add and display multiple testimonials on your website and post the author info, images, pictures, jobs, URL, position, etc.
It has over 20 sliders and over 20 grid designs, and you can override the plugin's default styles with custom CSS. Unfortunately, the entire plugin is designed to be used with shortcodes, which isn't user-friendly for the average blogger.
Features:
It collects testimonials with frontend forms.
It is compatible with Multisite and E-commerce.
It lets you categorize testimonials and hide/show specific categories.
The premium version seamlessly integrates all major page builders, including Gutenberg, Siteorigin, Elementor, VC Composer, WPbakery, and Beaver.
Pricing:
This is a freemium plugin. You can get the premium version at $149 per year.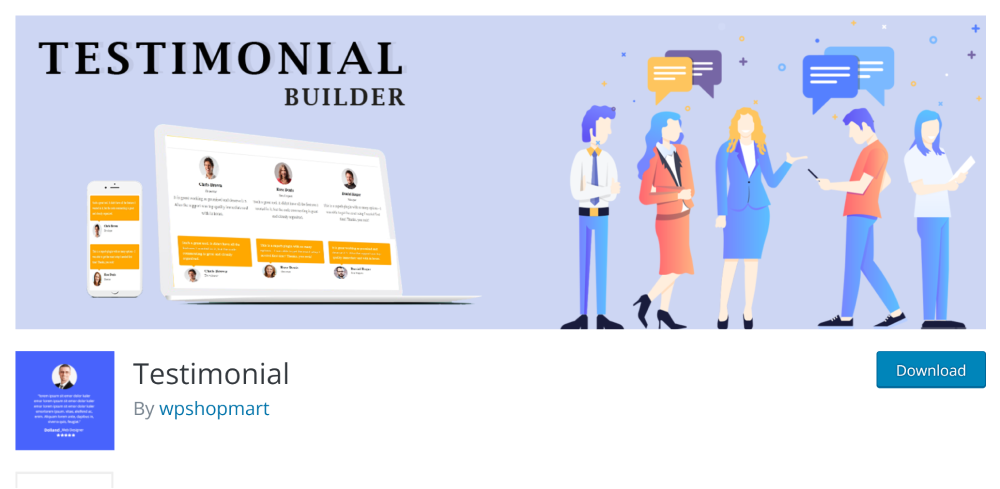 Next, we have the Testimonial Builder WordPress plugin. This plugin lets you add an unlimited number of testimonials to your site. You can easily place them on any page or post via shortcodes. The extensive customization options include font style and family, color, and image layout.
The Testimonial Builder premium version of the plugin adds over 100 slider templates, 55 grid templates, a rating feature, and plenty of other features.
Features:
It lets you add unlimited testimonials.
It has slider and grid templates.
The premium version offers a rating feature.
It offers customization options for fonts, colors, and layouts.
Pricing:
This is a freemium plugin. You can get the single theme package that ranges between $49 – $55 a year.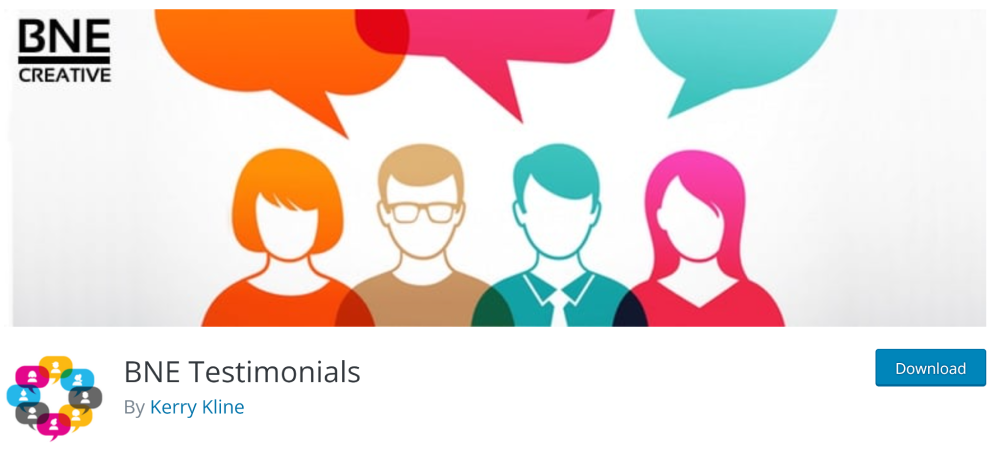 BNE Testimonials is the last WordPress testimonial plugin on our list. It makes it easy and quick to add Testimonials and Reviews to any Page of your WordPress site using a shortcode or in a sidebar. Each testimonial includes a title, image, tagline, website URL, and message.
BNE Testimonial also offers a Pro version. This version lets you display reviews from a single source on multiple websites and get reviews from Facebook, Yelp, Google Places, and more.
Features:
It offers additional layouts, including Masonry Grid and Thumbnail Slider.
You can enjoy additional themes, such as Bubble and Cards.
It has Aggregated Review Badges for Yelp, Google, Facebook, and Custom branding.
It automatically calculates your rating and total testimonials published.
Pricing:
This is a freemium plugin. You can get the premium version at $25.
Conclusion: Which WordPress Testimonial Plugin is best for You?
We have shared a list of the 7 best WordPress Testimonial plugins that will help you easily and quickly showcase your testimonials on the front end of your WordPress site.
The testimonials can help foster trust between your visitors and brand and effectively promote your products or services. Every plugin is unique in a certain way since every plugin has unique features. The best plugin in this list would be the one that suits your purpose.
Let us know your preferred testimonial plugin in the comments section below.
Frequently Asked Questions
How do I get testimonials on WordPress?
You can easily get a testimonial on WordPress using a WordPress Testimonial plugin.
Do testimonials help SEO?
Yes! Testimonials are good for building trust in your business and boosting your SEO. 
Yes! Testimonials are good for building trust in your business and boosting your SEO.
That's all! We hope you will now get the list of the best WordPress testimonials plugins, and You can also check out Best WordPress Caching Plugins and Top WordPress Instagram Plugins.