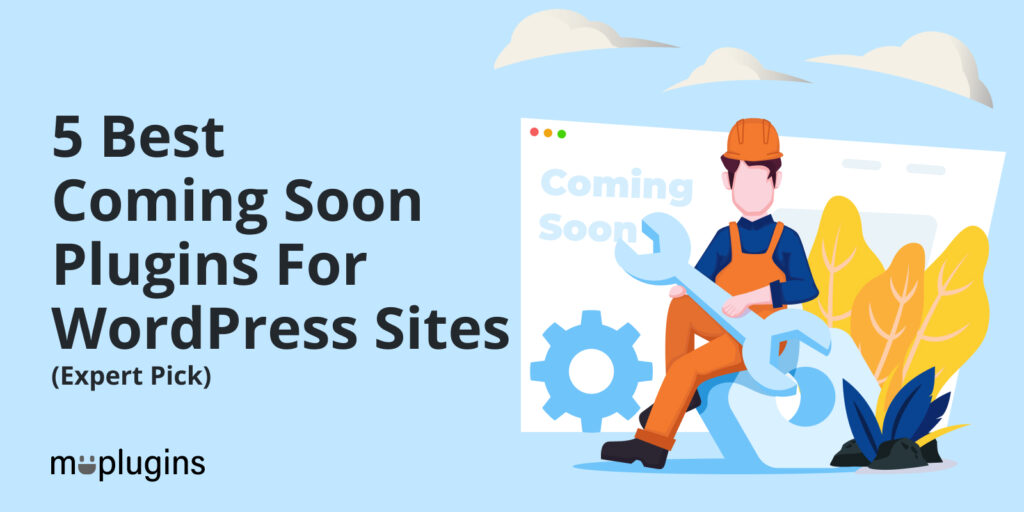 Do you want to create a coming soon page for your site yet to be launched so that you may start generating leads in advance?
A coming soon page is quite helpful in keeping your visitors up to date about your launch. A Coming Soon plugin lets you build social interaction with your future audience in advance by email subscription or social media links.
In this article, we'll discuss 5 of the best Coming Soon Plugins for your WordPress Sites.
Let's get started!
Table of Contents
What is a Coming Soon Plugin?
Sometimes your website isn't operational or ready to go live due to system maintenance or time required before launch. Whatever the situation or reason, you don't want to stay behind back doors during the tenure.
That's where Coming Soon plugins make their way on WordPress sites. A coming soon plugin lets you create an alternative page for users when your site is under development or maintenance.
5 Best Coming Soon Plugins for WordPress Sites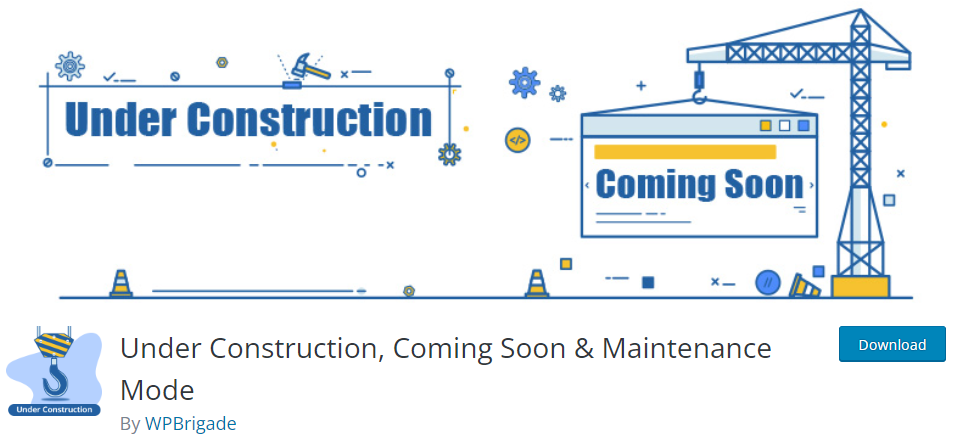 The Under Construction, Coming Soon & Maintenance Mode plugin offers you to create a landing page when the site isn't available for users. Either your site is under development mode, or you require time to fix some issues; you can get help from the UCMM plugin.
You can create either a temporary under-construction, coming soon, or a maintenance page to redirect users under such scenarios. Also, it's a free-of-cost plugin that doesn't require you to switch to a premium version for more features.
UCMM plugin is undoubtedly the best coming soon plugin for WordPress sites offering several customization options. It offers customization settings for each element required on your coming soon or under construction page.
In this way, you can personalize a whole array of items, including icons, background, text, social accounts, and much more; you just have to choose your preferred settings.
Therefore, when you require time to deal with your site's development and maintenance issues, the UCMM plugin will surely be a great helping hand.
Features
It's free and easy to use.
The plugin is available in 2 languages Dutch and English.
The Live Preview option is available.
You can easily Enable/Disable users based on roles.
It offers a Customized Logo, i.e, complete resizing of the logo.
It allows Background Changing and Text customization
It integrates Social Buttons for lead generation.
You can also use the Custom CSS feature of UCMM plugin.
It has a Start and End Schedule Timer to keep visitors updated.
Pricing:
Free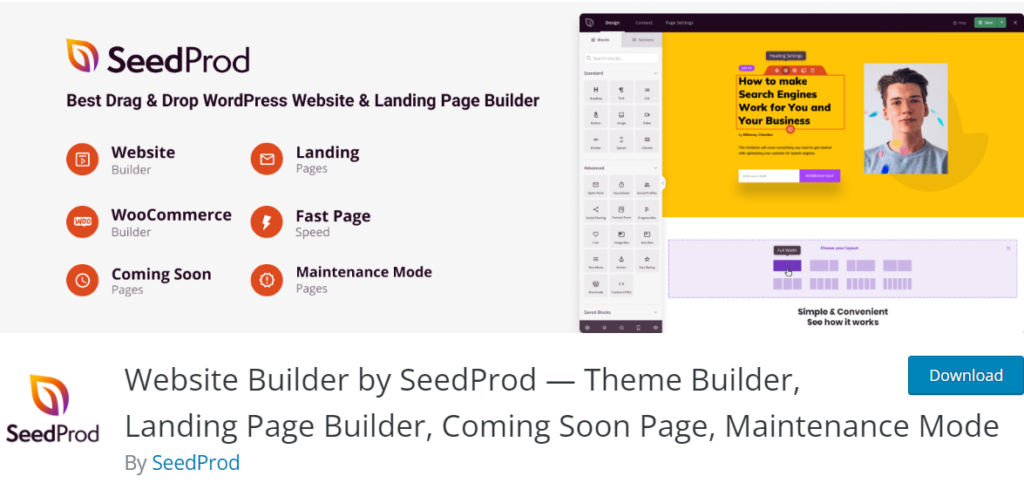 Undoubtedly, SeedProd is one of the market's most notable landing pages and coming soon, page builders. While your site is in under construction and you need an alternative landing page, it offers great options.
SeedProd offers real-time page building, that allows you to preview the changes being made at the spot. With its codeless drag-and-drop method to add items on landing pages, you can add custom text, font, color, images, videos, layouts, and opt-in forms.
Thus, the SeedProd assists you to create custom landing pages without any coding skills with its drag-and-drop builder in a few minutes. It has more than a hundred ready-to-use templates and 20+ blocks to add to your landing page.
Features
It offers a countdown timer to display the audience time left to go live.
It is General Data Protection Regulation (GDPR) compliant.
It is integrated with email marketing services and a built-in email autoresponder.
It offers several Pre-built templates, color schemes, fonts, block templates, and pre-loaded Google Fonts.
Pricing:
Seedprod it's a freemium plugin. In order to get benefitted from its services, you have to buy a premium plan as per your needs. The SeedProd premium plan starts from $39.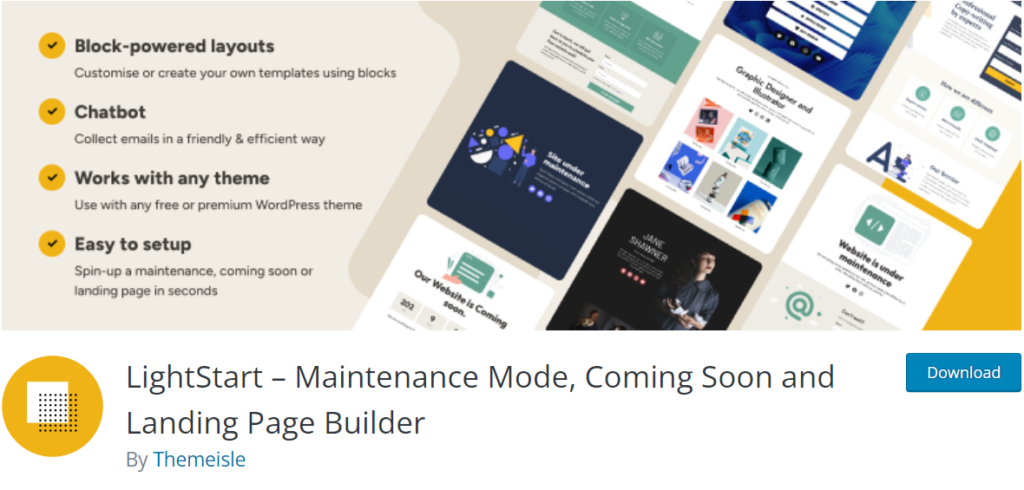 Unlike the above-mentioned SeedProd plugin, it doesn't require you to buy a paid plan.
However, being free will cost you in some other way, like continuously occupying pages to display advertisements. Also, this plugin is compatible with all WordPress themes.
LightStart could be used to create any temporary landing page, including coming soon, maintenance mode, or under development page. In this way, when your site is underway development, you can build your audience in advance.
Features:
The plugin is GDPR-ready for WordPress multisite installs
It has a Countdown timer to keep the audience updated.
It offers coming soon, social media icons, and contact form subscriptions.
It provides several Customization tools to change the color, text, and, background
Pricing:
Free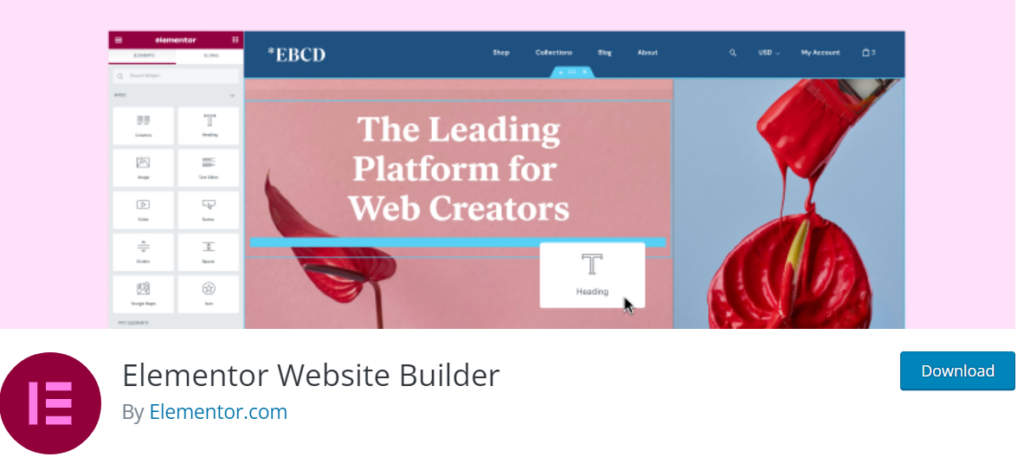 Elementor maintenance Mode is also a prominent name in the 5 best coming soon plugins list. It offers 4 different pricing plans for you to choose from according to your business requirements.
Elementor is a drag-and-drop plugin and offers almost every feature you require for your login page. By just installing this plugin, you can work on your site maintenance and development while hosting visitors with a coming soon page.
Features:
It offers 25+ pre-build landing page builders for WordPress sites.
It provides a pop-up page builder to create strong WordPress pop-ups.
This plugin is fully compatible with WooCommerce and other eCommerce plugins.
It offers several design modules, page templates, and widgets
Pricing:
Pricing starts at $49 per year.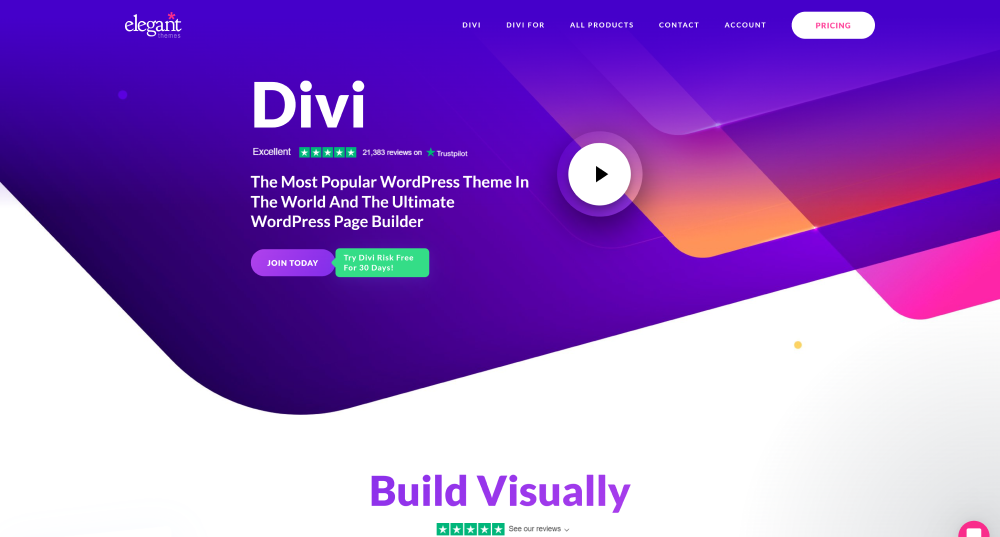 Divi is a multi-purpose plugin that is integrated as a coming soon page builder as well as a notable WordPress theme. With its drag-and-drop page builder, customized WordPress coming soon or maintenance mode pages could be created conveniently.
Divi offers more than 40 amazing site elements for the coming soon page that, includes a CTA button, forms and countdown timer, and many more. By customizing all these elements and enabling/disabling them, you can personalize a great landing page.
Furthermore, it has numerous ready-to-use page templates that can save you time customizing elements. So if you want to save time, you can use readymade coming soon layouts.
Features:
The Pre-made templates offered by the plugin saves you time.
It offers 40+ modules to customize and beautify, coming soon in a better way.
It allows users to Bulk edit for more time-saving options.
It has a Drag and drop builder that comes with a real-time visual editor.
Pricing:
It's a premium plugin that costs you $89 yearly or $249 for a lifetime.
Conclusion: Which is the Best Coming Soon Plugin?
So, these are the best coming soon plugins for WordPress on our list, but you have to choose one to go with. After a comparison among all 5 plugins it is concluded that almost all the plugins are premium except Under Construction, Coming Soon & Maintenance Mode plugins.
This free tool offered by WPBrigade is no less than other premium tools. Instead, it offers a handful of customization settings to add necessary elements on the coming soon page. By creating a landing page UCCM plugin, you can create either an under-construction, coming soon, or maintenance mode page.
Frequently Asked Questions
Why do I need to create the Coming Soon Page?
While your website is under construction or maintenance mode, you can't let your audience slip away and increase your bounce rate. So, in order to attract the audience, you have to customize a coming soon that will let them know you'll go live in a short while and they'll visit till then.
Is it necessary to create a Coming Soon Page?
Yes, it's essential to build a coming soon or maintenance mode page while you are working on going live or fixing some error. It also lets you connect with your upcoming audience through social buttons and email subscriptions before even launching.
How can I put my WordPress site in maintenance mode?
Using one of the best Coming Soon plugins you can easily update your website in maintenance mode. Just install and activate the plugin and your site will be set off in maintenance mode.
That's all! We hope you will now get the list of the best WordPress coming soon plugins, You can also check out Best WordPress Mega Menu Plugins For 2023 and Top 5 Live Chat Plugins for WordPress For Better Support