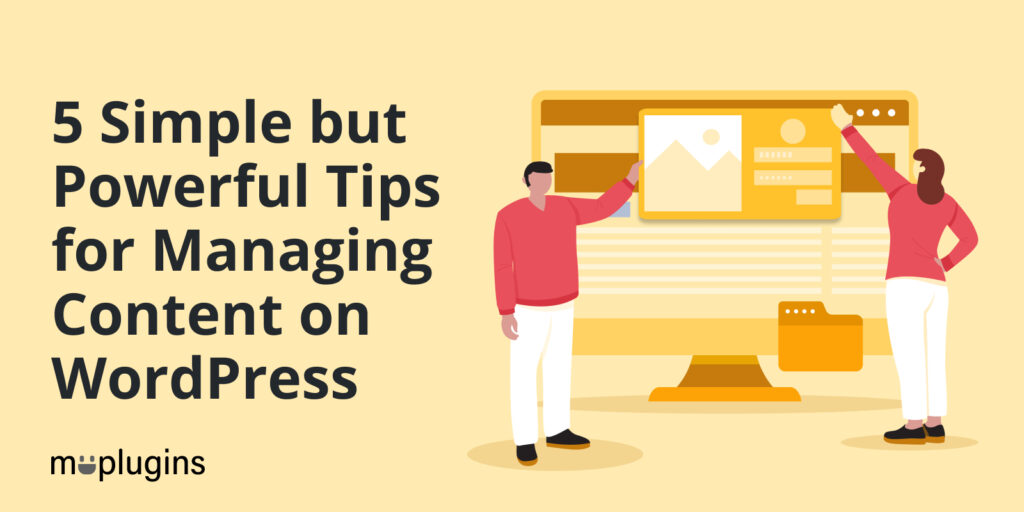 Having your own website or blog for your business is a must to remain relevant in the market. As the internet starts to get oversaturated with content, you need to implement effective content management best practices to stand out from your competitors.
Popular platforms like WordPress offer built-in features that can help you streamline content production and management. In fact, it has some of the best plugins to help turn your content into sales. Hence, most businesses use WordPress for their content marketing strategy.
Table of Contents
Effective Content Management Tips
Here are some tips on how you can effectively manage your content through WordPress CMS platform.
1. Take advantage of SEO tools
Competing for brand exposure online can be tough. You must first understand and master the intricacies of search engine optimization (SEO) to attract your audience's attention. This will make sure that your content will pop up in their searches on the internet.
WordPress content management system offers built-in SEO tools for your content. It can help you choose the best keywords, titles, meta descriptions, and tags to boost your web pages' ranking in search engines. Moreover, you can install additional plugins to enhance your SEO capacity. Just like with most projects, ensuring you have a good foundation is key. For SEO hosting a WordPress website is the foundation. We recommend Rapid SEO Host for your hosting needs. This will give you advanced tools that go beyond the ones currently offered by the platform.
2. Integrate with marketing automation software
With the rise of artificial intelligence (AI) and machine learning (ML), you can now allocate more sophisticated tasks to your marketing automation software. This includes email campaigns, lead management, and content marketing. Hence, integrating your marketing automation software into your WordPress website can enhance your content management workflows.
For example, you can use the software to automatically send emails to your leads containing links to your latest blog posts. You can also use your blog to redirect your readers to your landing page and to your Call-to-Action (CTA). From there, your software can start managing and organizing your leads without further human interference.
In doing so, you can provide a more seamless and immersive conversion experience for your leads. This also streamlines your process from turning content into sales. You can check out this CompareCamp overview on content marketing software to learn more about the benefits of such integration.
3. Automate your editorial calendar
Focusing on quality alone won't be enough. A huge chunk of content management is knowing when, where, and how to post your content for maximum reach. In fact, timing is just as important as quality.
Nonetheless, it would be inefficient and time-consuming to constantly log in and out of your website just to post your content. You should consider scheduling your posts so that they will automatically go up to your webpage as soon as the allotted time comes. You can use plugins like Editorial Calendar that will allow you to set a definite schedule for when all your content will be posted. This ensures that you are always churning out new content for your audience on a schedule that works for you.
4. Connect with social media
Social media plays a critical role in content marketing. In fact, a study by Datareportal shows a 12% increase in social media users in the past year. So if you really want to expand your content's reach, you should enable your WordPress site for social sharing.
There are different plugins you can use for social sharing in WordPress. This makes it easier for you and your readers to share your valuable content on their respective social media pages. Likewise, it makes it easier to manage them from multiple channels. In turn, this will help you garner more traffic from platforms like Facebook, LinkedIn, Twitter, and Instagram.
5. Leverage data and analytics
There is a wealth of data to be found in your WordPress site—from your audience's behaviors, competitors' marketing strategies, and latest market trends. By leveraging all this information, you can make informed decisions on how to create a content strategy that will lead to business growth.
This requires you to continuously monitor your content's performance and evaluate its impact on your sales. Doing so will allow you to adjust your current strategy for better results.
A popular tool that can help you with data gathering is Google Analytics. It is a free tool you can use for your WordPress site to measure its performance in terms of user traffic, retention, and clicks. There are other alternatives as well if you want more in-depth analytics and reporting functions for your WordPress site. Just make sure that you choose one that can meet your demands and needs.
Check out Analytify, a WordPress plugin that enables you to track your Google Analytics. It has a one-click setup so you can immediately start accessing user-friendly data and gorgeous charts.
Better content management
In this digital age of content, businesses are all scrambling for their audience's attention. Without the right content management strategy and tools, your content can get lost in the void of the internet.
To avoid such fate, explore what WordPress has to offer to enhance your content marketing strategy. There are countless plugins you can choose to streamline your content management processes. So go ahead and check them out now.
Frequently Asked Questions
Why is WordPress the best content management system?
WordPress is the best CMS (Content Management System) for several reasons, such as providing ease of customization, mobile-responsive, security features, and a well-designed backend.
What are the core features of WordPress CMS?
Upon activating a WordPress site, you'll find an admin dashboard consisting of Posts, Pages, Plugins, Themes, Categories, Tags, and The Media Library.
What are the top 5 plugins for WordPress?