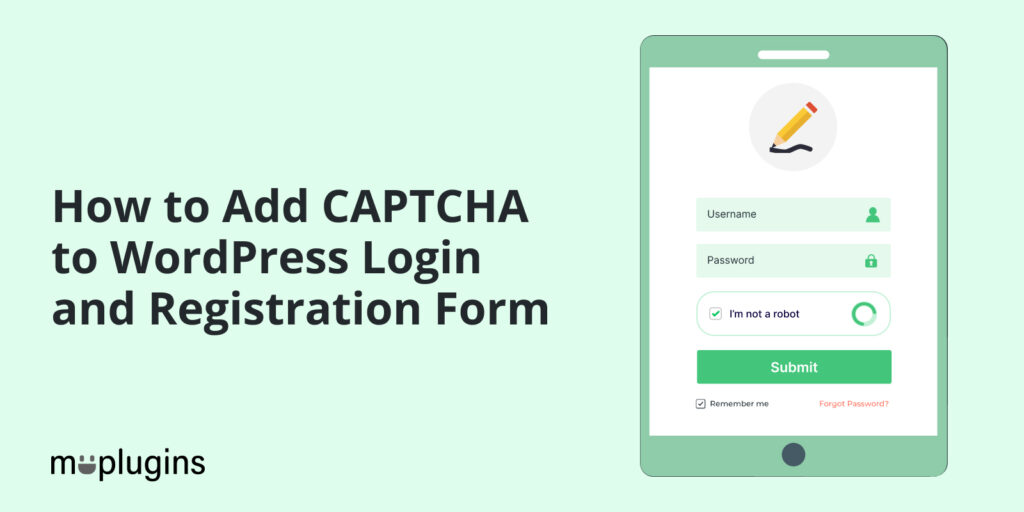 Are you looking for a way to add CAPTCHA in WordPress login and registration forms? If so, you've come to the right place!
WordPress, a widely used content management system (CMS), can be vulnerable to brute-force attacks. However, you can implement effective security measures to safeguard your site.
One effective measure to defend your WordPress site is by integrating CAPTCHA challenges into your WordPress login and registration forms. This will help reduce the risk of brute-force attacks, spam registrations, and other unauthorized access to your site.
In this article, we will show you how to add CAPTCHA in WordPress login and registration forms with the help of LoginPress Pro — a reliable solution for achieving this security enhancement.
Let's get started!
Table of Contents
An Overview of CAPTCHA
CAPTCHA stands for Completely Automated Public Turing Test to tell Computers and Humans Apart. It is a security measure used on any online platform, i.e., WordPress site, to determine whether the user is a human or a bot (computer program).
The typical CAPTCHA challenges users to log in/register to a site. This challenge is easy for humans to solve but quite difficult for bots to pass. This challenge can be in the form of distorted text, numbers, or images.
The variations in fonts, distortion, and background noise make it challenging for automated bots to interpret the characters accurately.
Over time, CAPTCHA methods have evolved to include various types of challenges, such as:
The text-based CAPTCHA uses words or phrases or random combinations of digits and letters.
See the image below:

Image-based CAPTCHAs replaced text-based ones. This CAPTCHA uses recognizable graphical elements, including photos of traffic lights, animals, shapes, and a lot more.
See what it looks like on the login form:
Audio-Based CAPTCHA: Users listen to distorted or garbled audio clips and must type the spoken words or numbers.
What is Google reCAPTCHA?
Google offers a free service, reCAPTCHA, a CAPTCHA-like system that helps you protect your site against unauthorized access, i.e., brute-force attacks.
Google reCAPTCHA presents users with a single challenge that involves recognizing objects, identifying words, or solving puzzles. It aims to distinguish humans from bots based on their interaction patterns.
There are mainly 4 types of Google reCAPTCHA, including:
reCAPTCHA V3: reCAPTCHA V3 automatically verifies the legitimate interaction. It doesn't require user interaction.
reCAPTCHA V2 – I'm not a robot Checkbox: This type of reCAPTCHA requires users to click on the I'm not a robot checkbox.

reCAPTCHA v2 (Invisible reCAPTCHA badge): Just like reCAPTCHA V3, the invisible reCAPTCHA badge works without the user's interaction, i.e., clicking on a checkbox. It invokes directly when the user clicks the Log In/Register button.
reCAPTCHA v2 (Android): The reCAPTCHA V2 (Android) library integrates directly into an Android app. It's the best way to get the user through a challenge to validate if they are human or bot.
Why Use Google reCAPTCHA for WordPress Login and Registration Form?
By default, WordPress doesn't offer reCAPTCHA for login or registration. So you might fall victim to any security attack.
However, you can fill the gap using a plugin that offers reCAPTCHA. It will add an essential layer of security while maintaining a user-friendly experience.
Here are key points why you should add reCAPTCHA to your WordPress login/register form:
Security Against Bots: reCAPTCHA protects you against automated bots, such as brute force attacks or spamming.
User Authentication: reCAPTCHA ensures that users attempting to log in or register on your WordPress site are genuine human users.
Reduced Spam and Fraud: reCAPTCHA helps reduce spam registrations, comments, and messages. This way, it enhances the quality of user-generated content and maintains a trustworthy online environment.
Add CAPTCHA in WordPress Login and Registration Forms with LoginPress Pro
You can easily add reCAPTCHA to your WordPress login and registration form using a WordPress reCAPTCHA plugin.
However, we'll use LoginPress Pro to add reCAPTCHA to WordPress login and registration forms.
Simply follow these steps:
Step 1: Install and Activate LoginPress Pro
Note: LoginPress Pro cannot work without LoginPress free version. So, make sure to install and activate LoginPress Free on your WordPress site first. If you need help, see our detailed guide on How to Install And Activate LoginPress (Free).
To add reCAPTCHA using LoginPress on your WordPress site, you are required to add LoginPress Pro. For more details, see our step-by-step guide on How To Install And Activate LoginPress PRO Version?
Step 2: Enable reCAPTCHA and Select reCAPTCHA Type
Next, go to the left sidebar of the WordPress admin dashboard, navigate to LoginPress, and select the Settings option.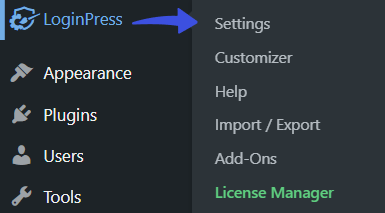 On the next screen, you'll require Toggle on the Enable LoginPress option.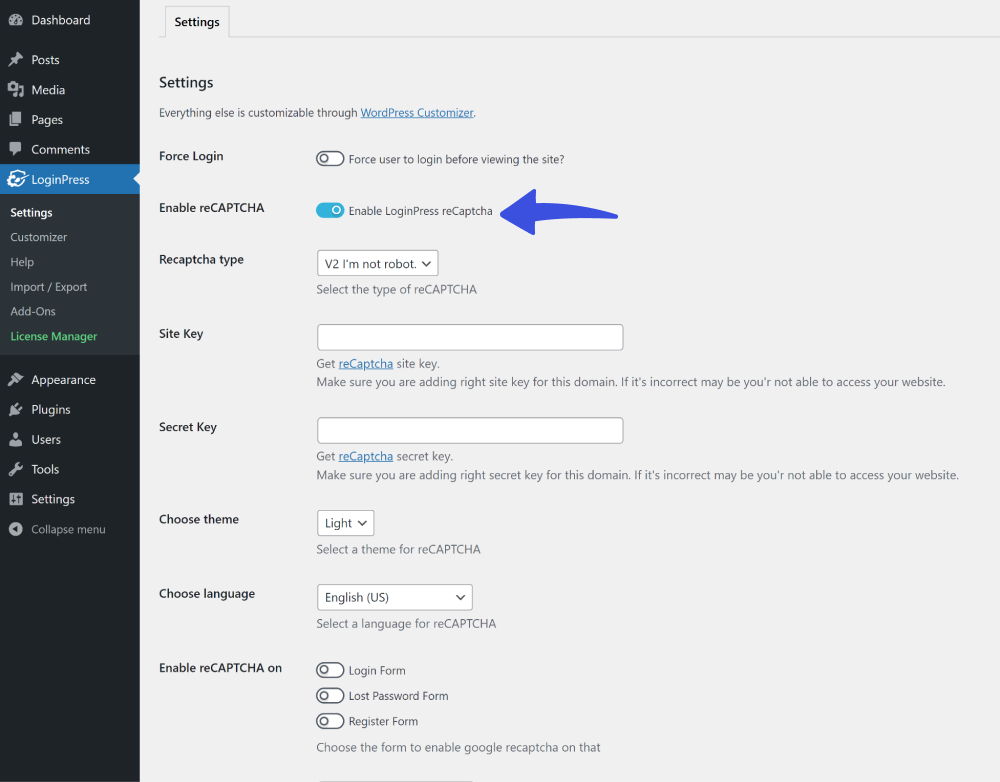 Now you'll have to select reCAPTCHA type. There are 3 options available:
V2 I'm not a robot: It is the type of reCAPTCHA where users are required to check the 'V2 I am not robot' checkbox for login/register.
V2 invisible: A reCAPTCHA type that works without user interaction.
V3: It also works without user interaction.
Note: Here, we are selecting the V2 I'm not a robot type.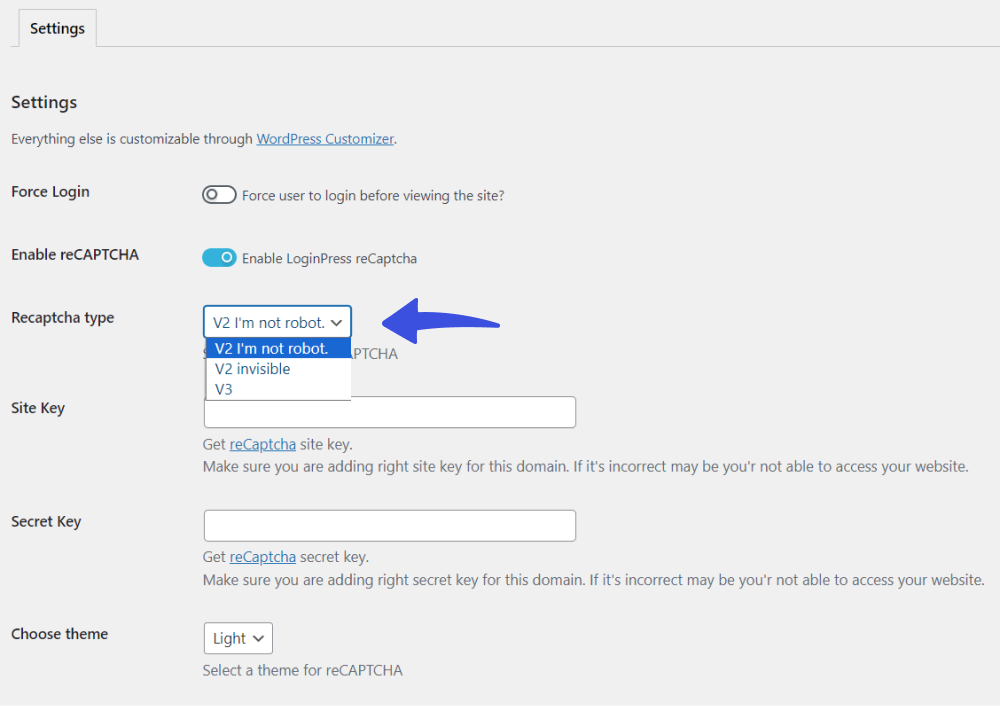 Step 3: Create Your Google reCAPTCHA
Next, you are required to enter Site Key and Secret Key for Google reCAPTCHA.
To get these keys, you need to visit Google reCAPTCHA.
On the Google reCAPTCHA screen, you'll have to provide the following:
Label: Use a label to identify your site.
reCAPTCHA type: Select the type of reCaptcha same as that you have selected in LoginPress reCAPTCHA Settings.
Domains: Provide your domain without "https://www', i.e., example.com.
When done, click the Submit to get your Site Key and Secret Key.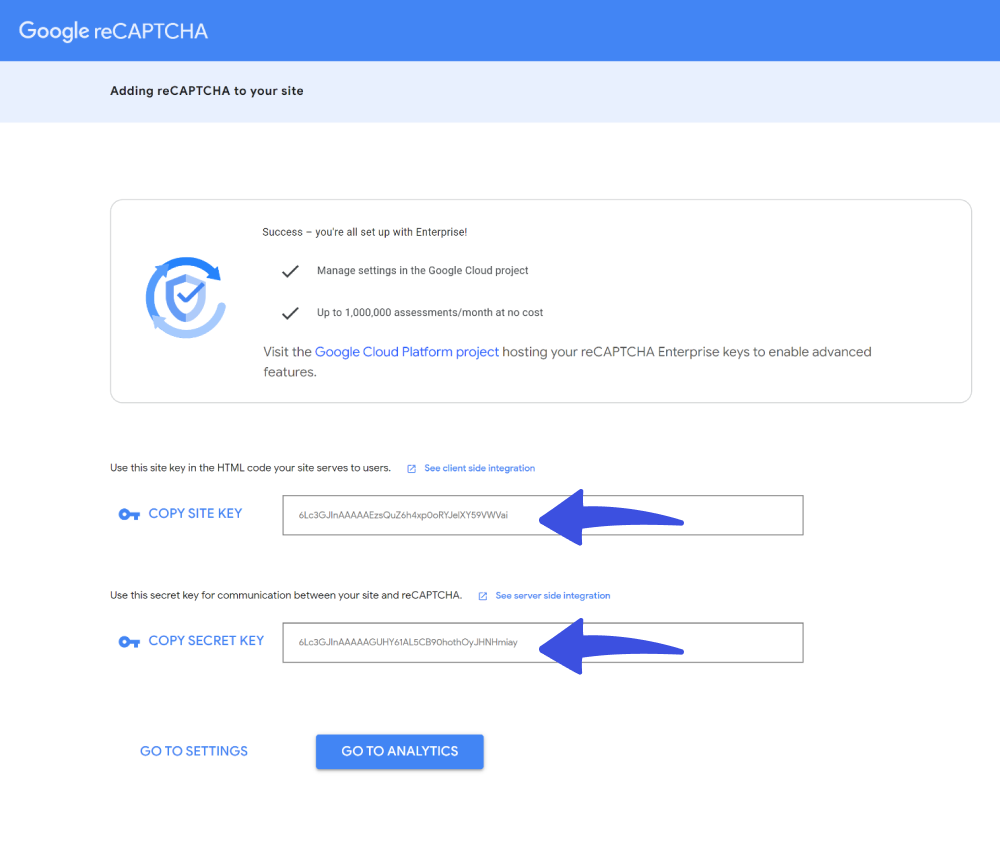 Step 4: Add reCAPTCHA to Your Site
Copy the Site Key & Secret Key from the Google reCAPTCHA screen and paste them into LoginPress reCaptcha Settings.
See the Gif below:
Step 5: Enable reCAPTCHA on the Login and Registration Form
You are almost done! Now Toggle On Login Form and Registration Form button against the "Enable reCAPTCHA on" option.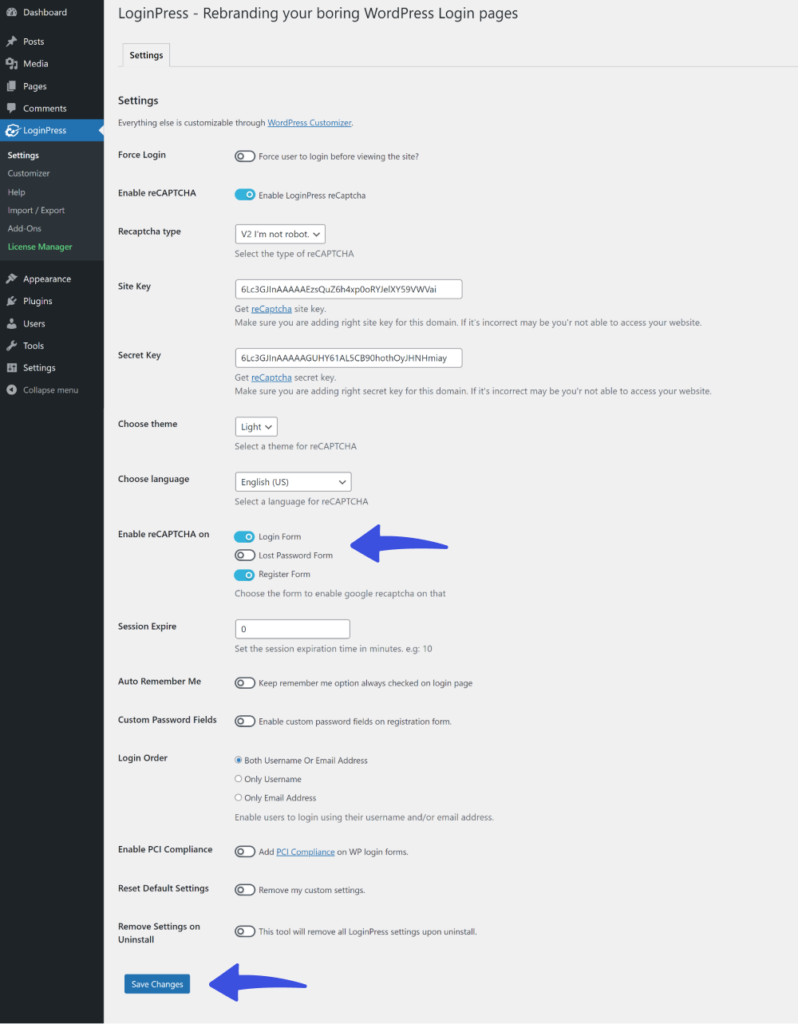 On clicking the Save Changes button, you can see reCAPTCHA on your WordPress login and registration form.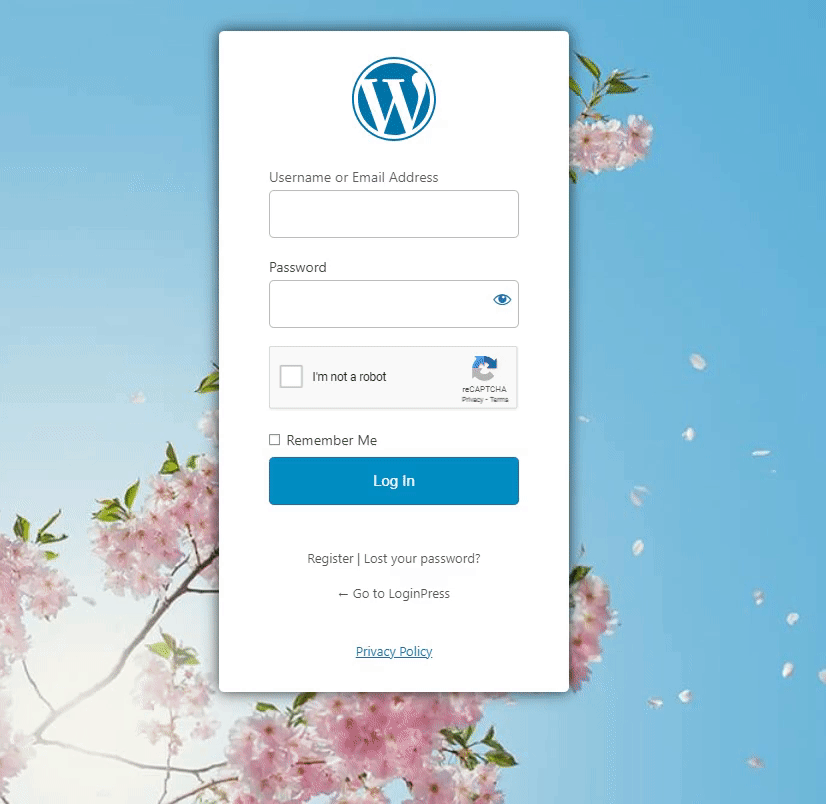 Final Thoughts
Now that you know, incorporating CAPTCHA protection into your WordPress login and registration forms is not just a security measure; it's a strategic step towards fortifying your online presence.
LoginPress Pro is the best way to let you add reCAPTCHA. This seamless integration and its user-friendly challenges contribute to safeguarding your platform from spam, fraud, and unauthorized access attempts.
Embrace this powerful shield of defense, and empower your WordPress site with LoginPress Pro reCAPTCHA's seamless user engagement.
You can also check our detailed articles on 7 Best WordPress Survey Plugins (Free & Paid) and 7 Best WordPress Job Board Plugins (Free and Paid).
Frequently Asked Questions (FAQs)
Is CAPTCHA safe to use?
CAPTCHAs are generally safe. They best protect you against unauthorized access to your site. But sometimes, CAPTCHAs can be hacked.
Do I need to have the technical knowledge to add CAPTCHA?
No, you don't need any technical knowledge to add CAPTCHA to your WordPress site. Simply install and activate a CAPTCHA plugin, i.e., LoginPress Pro. It offers a useful feature, reCAPTCHA, that lets you easily add reCAPTCHA to your WordPress site.
How does reCAPTCHA work?
reCAPTCHA uses an advanced risk analysis algorithm. It differentiates human and automated bots based on their interaction on the site. Users need to solve a simple puzzle or checkbox the test. This is simple for a human but far more difficult for bots.
What triggers Google CAPTCHA?
Certain websites use CAPTCHAs to stop bots before they can harm them. Sometimes, a test might be triggered if someone's actions on the website look like a bot's actions. For example, if someone loads pages or clicks on links much faster than usual.