Are you running a business where you provide your recurring services? I bet it's not less than a headache to manage everything manually. What if you have a complete functional system to manage your clients and their payments? Yes, I am talking about the Membership website. It is just a matter of minutes to set up a fully functional website using the Paid Membership Pro WordPress plugin.
Table of Contents
You may find many plugins to set up the membership website but you won't find any simple and feature-rich plugin. The best thing about Paid Membership Pro is that it has a free version with a lot of features that are enough to set up a basic membership website.
I am going to discuss every bit of PMPro to make the story more transparent for you. I'll cover every feature and will compare it with other popular membership plugins.
What is Paid Membership PRO? and How Powerful is it?
It is basically a WordPress plugin that helps to power your membership websites. You can create any kind of membership website such as course selling, software selling, pet services, consultation services and much more.
You can create your first membership website in just a minute. It is super user-friendly and easy to setup. All you need to install this plugin, create your membership plan, and set up necessary pages (don't worry you can set up with just one click) and at the end add your payment gateway, your membership website is ready to fly.
Paid Membership Pro offers some great features in the free version. However, if you are interested in having premium support and exploring more advanced features you can check the PMPro Plus.
Enough telling? Let's jump into further to see how simple is to create a membership website with Paid Membership Pro.
Setting Up The Paid Membership Pro
Let's see how we can set up our very first membership website in three simple steps.
Setting up the membership levels
Setting up the pages, such as Account page, Membership Level page, Checkout page
Enabling The Payment Gateways
You can set up the basic membership website by applying this step. However, if you want to take your website next level you can work on your design to make it suitable for your website's theme.
There is a total of 76 addons including free and paid, You can use them according to your requirements. The best thing about Paid Membership Pro is that they have made their addons for almost every popular plugin such as Woocommerce, Buddy Press, and Contact Forms.
Setting Up The Membership Levels
Well, I assume you are not that lazy as I am, and you have already installed and activated the Plugin. The very next step would be to set up the different membership levels, In most cases, I make three plans e.g, Trial period, Silver and Gold. You can set up the limit of the trial period according to your choice there are no hard and fast rules.
While creating the new level you will have to enter some details such as your subscription level's name, price and period.
Name of Membership Level– In this section, you can enter any name that best suits you.
Description– Here you can explain your membership plan in detail to let your members know about your plans.
Initial Payment– Enter the amount that you want to charge the first time.
Recurring Subscription- You can select the time period of your recurring subscriptions.
Billing Amount- Here you can set the price for the recurring subscription. that amount will be charged after a specific time period.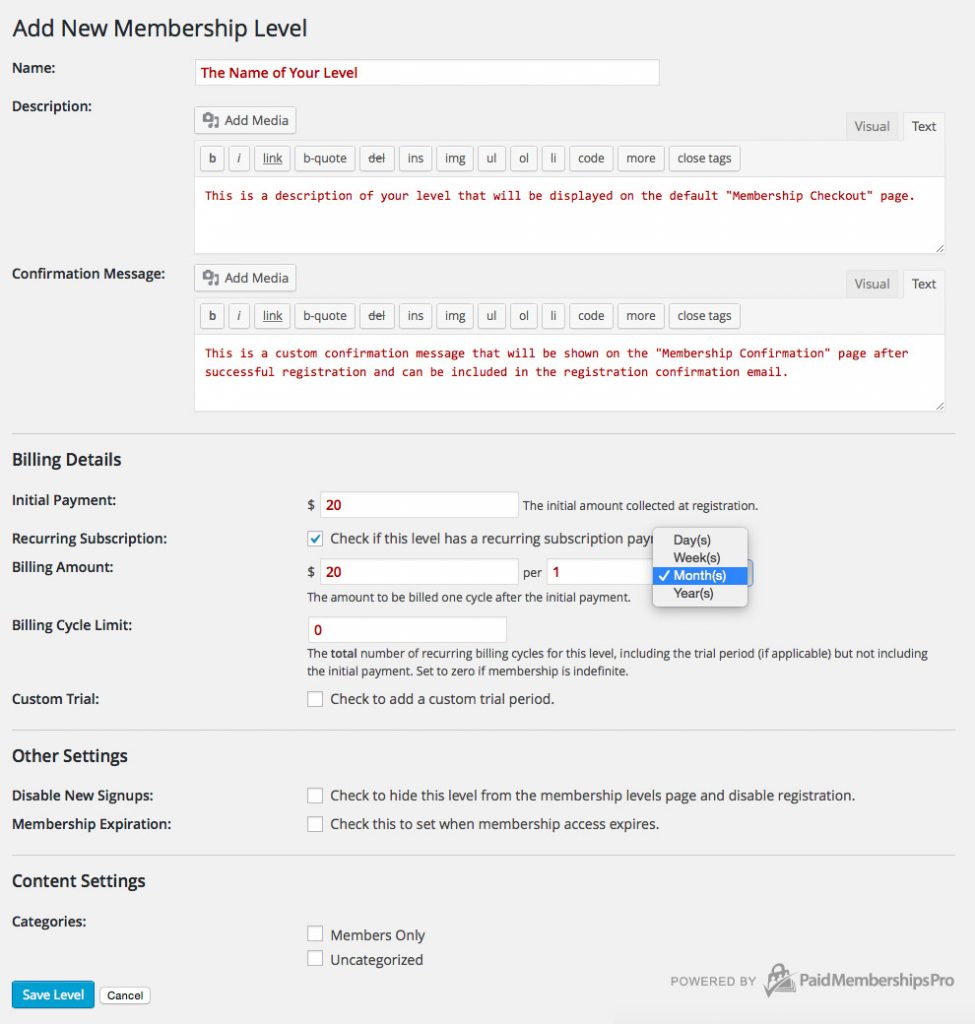 Once your first membership level is added the next step would be to add the pages.
Setting Up the Pages.
You can set up all the pages manually such as the checkout page and account page by using shortcodes provided by Paid Membership Pro. But as promised everything will be super easy so you don't need to set up these pages manually, just click the button and plugin will automatically generate all the essential pages.
You can change the names of the pages later if you want.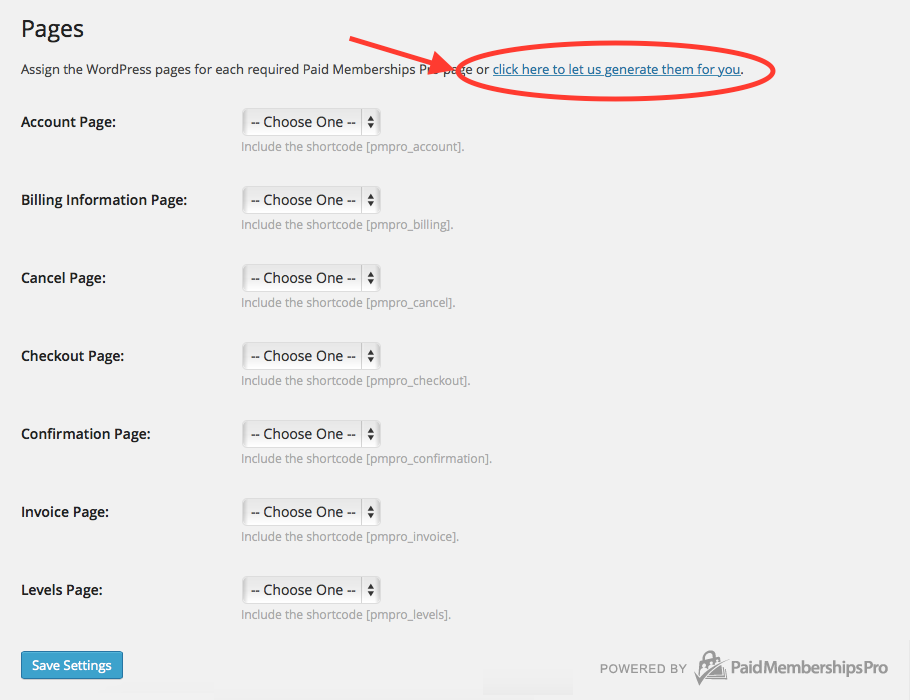 Setting up the Payment Gateways.
Once you have set up the pages and membership levels the next step is to enable the payments to make your subscription website fully functional. There are a total of 10 payment gateways you can choose your desired payment gateway to enable on your website If you are in development mood you can select the Test Payment Gateway.
It supports all the popular payment gateways Stripe, Paypal Expert, 2Checkout, Braintree and many more.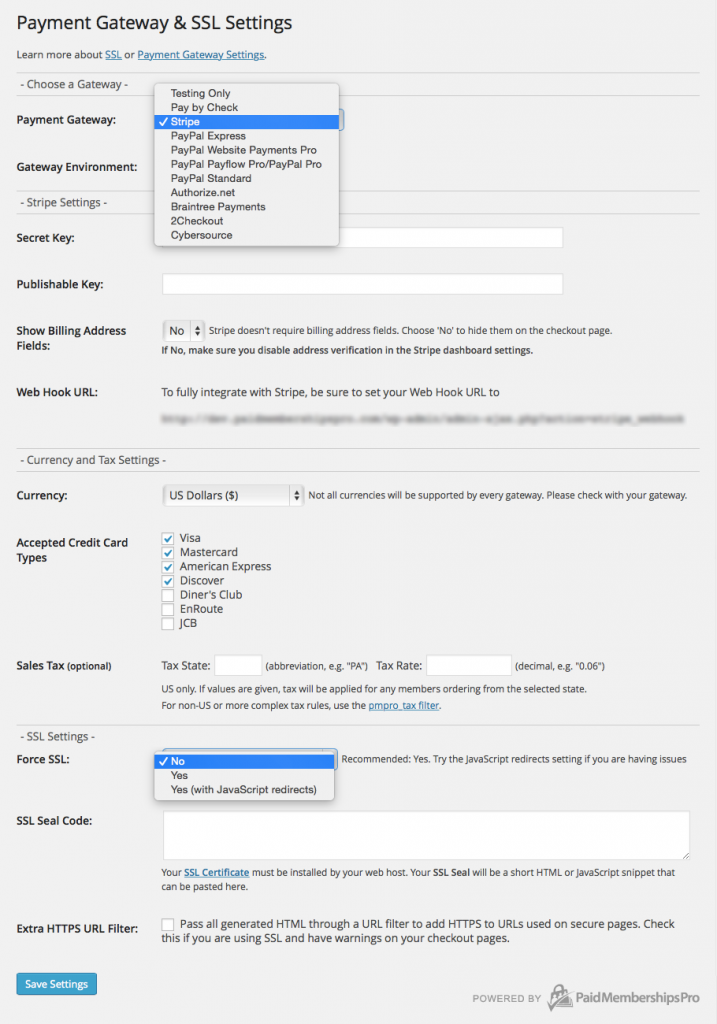 Content Restriction.
You can restrict a specific post page or some part of your content for special members types according to their membership types. The restricted content will be unlocked once the specific membership level has been purchased.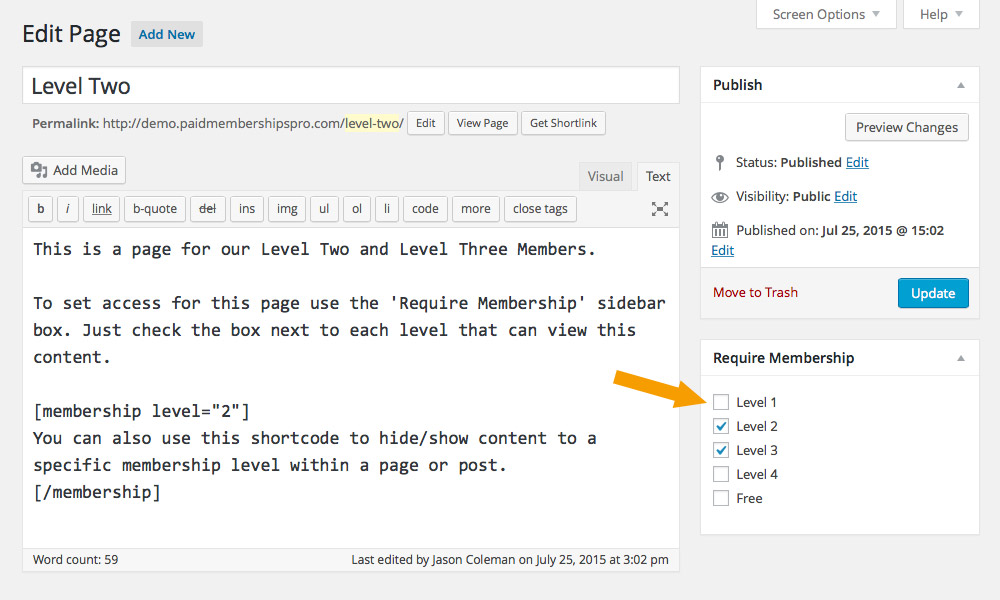 Paid Membership PRO Integration With Third-Party Apps
Paid Membership Pro supports the integration with more than 20 different apps and plugins including Wocommerce, Aweber and BuddyPress.
Aweber- Integration with Aweber an email marketing service, This addon is available at WordPress.org
BuddyPress- Integration with BuddyPress to manage access in the community for different users. This addon is available for free at WordPress.org
MailChimp- Integration with MailChimp to increase the email list. This addon is available at WordPress.org
Slack- Integration with Slack to get notified upon the purchase of new membership in slack's channel. This addon is PMPro Plus.
GetResponse– Integration with GetResponse adds users to the email list. This addon is PMPro Plus.
WooCommerce Integration With Paid Membership PRO
This is the most advanced and demanding feature in PMPro. You can sell your Woccommerce products as a subscription and can set the prices different for different membership levels. When you will integrate Paid Membership Pro with Wocommerce the payment gateways used from Wocommerce and also the orders and reports will be displayed in Woocommerce's dashboard.
The process to integrate with Wocommerce is pretty easy, you will have to install the Wocommerce and PMPro Wocommerce integration addon. After the activation of the addon, you will some extra options in your Woocommerce.
The membership will be not be activated untill the order is marked as completed from Wocommerce dashboard. You can turn on the auto order complete for instant membership activation
Paid Membership PRO Addons
This plugin has tons of free and premium add-ons to enhance the functionalities. These add-ons include the Payment Gateways, Email Marketing Services, CRMs and much more. Some of the popular addons are.
Add PayPal Express Option at Checkout- Enables the payment for your subscriptions (It supports the recurring payments too.)
Affiliates: Lightweight Affiliate Tracking– Enables to integrate the referral commission system for your memberships.
Member Badges- Assign different eye-catching badges to different users according to their membership levels.
VAT Tax- Enables to calculate tax while during the checkout process.
Multisite Membership- Restrict your secondary website for premium members, if you are running a multisite network.
Community and Resources
Paid Membership Pro team is proactive in solving their customer's issues, They have well-crafted documentation where every step is written in the best way. If the documentation failed to solve your problem you can reach their support team they will fix your problem with no time.
Paid Membership Hooks For Developers
This plugin is developer-friendly. therefore they have tons of hooks available to customize the existing settings of the plugin. Every hook has detailed information and the working example you can access all the hooks here.
Pricing
There are three versions Free, Plus and Unlimited. You can get the basic features in the Free version however if you are interested in unlocking more features and want to take your membership website next level, there is no shame to upgrade to other Plus or Unlimited plans.
Free- In Free will you will have access to Core Plugin, Documentation, 6 Payment Gateways, Memberlite theme, and 19 other Addons
Plus- In Plus plan you will have access to all 76 addons Unlimited support tickets, support, and update for up to 5 websites. One-click activation for all addons. The pricing for the Plus plan starts at $297
Unlimited- In Unlimited plan you will have access to all 76 addons Unlimited support tickets, support, and update for unlimited websites. One-click activation for all addons. The pricing for the Plus plan starts at $597
All the plans Include 100% Money-Back Guarantee, So If you don't like it, or plugin is not useful for you can cancel your plan and get a full refund. What's better than this.
Are You Still Confuse ? or Stuck?
What else you need to start your first membership or subscription website? I think by using this plugin and all available addons you can make a fully-fledged membership website. If you are concerned about layout and style, Paid Membership Pro has a solution for this, You can use the Memberlite free theme by PMPro.
Frequently Asked Questions
Is Paid Membership Pro free?
Yes! Paid Membership Pro is a free plugin. You can buy the premium version anytime to unlock amazing other features with their add-ons. 
How do I integrate paid membership Pro with WooCommerce?
You can easily integrate Paid Membership Pro with WooCommerce. All you need to do is install and activate the plugin,  then install and activate Paid Memberships Pro – WooCommerce Add-On from within the Membership Add-Ons. Once done, you are ready to sell memberships as products on your WooCommerce store.
Do membership websites make money?
A membership site can help you make money only when people join. You can implement different ways to market your membership site, including knowing your ideal customers and taking measures to motivate them to join you.