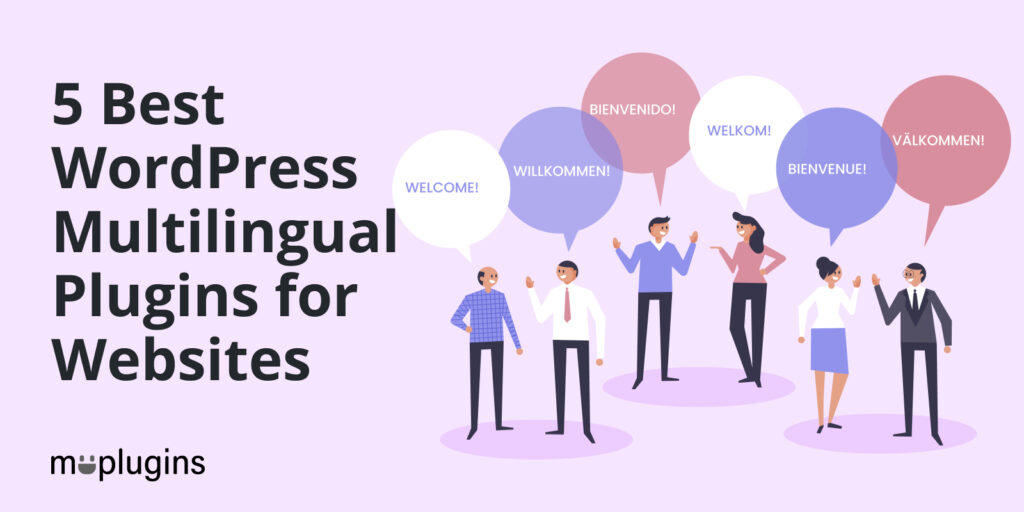 Do you know on this earth 1.6 billion people understand English, that is 20% of the whole population, The rest of the 80% speaks other languages. If your website is only in English you are missing the rest of the 80% audience. The good news is that you can make the non-English speakers to land on your website by making it a multilingual website. If your website is built with WordPress you can use the WordPress translation plugins.
Table of Contents
There are plenty of translation plugins available in the market some of them do the translation manually and some of them do the automated translation.
What is the Difference Between Manual Translation and Automated Translation?
In automated translation, we use some plugins and they make our pages translated in other languages by using Google translation or other services. while on the other hand in manual translation, we do all the translation with hands. We translate each and every word manually. For manual translation, you can hire a professional translator to translate your web on your behalf.
I would definitely prefer the manual translation in the first place, however, if your budget is low and you are out of time you can go with automated translation. Automated translation is easy and fast to do.
Multilingual Websites and Search Engine Ranking
Usually, the manual translation does not hurt your search ranking, But the automated translation sometimes makes your content less meaningful. We can't compare the human translation with robots, Google marks the robotic translation as spam and you may lose your search ranking. So it is always better to not allow your automated translated pages for indexing. However, it is good to go with manual pages Google will love that.
List of Top WordPress Translation Plugins
I was not just emphasizing the importance of multilingual websites, I will also show you different ways to translate your websites. In this article, I'll share some cool WordPress translation plugins.

Polylang is one of the easiest and powerful WordPress translation plugins. It translates your web pages manually and works perfectly well with widgets, posts, pages, and custom post types. However, in the free version, you won't get the options to translate your themes and plugins.
This plugin is super user-friendly and allows you to translate pages without having any technical knowledge. It adds a search engine friendly URL in translated pages. Furthermore, there are several language switchers you can add on the front page to enable your users to change the language.
If you were using WPML before switching to Polylang then don't worry, Polylang has its extension that helps to import all the settings from WPML to Polylang.

GTranslate is a free and automated translation plugin. It uses Google Translator to translate your pages. There are 103 available languages to translate.
It is very simple and easy to set up, all you need to install, and in the setting tab, you need to enable the languages that you want to translate. There are different styles available for language switches such as drop-down flags, radio button flags, and language slugs.
Since the free version uses Google Translator for translating your pages, you can't totally rely on it. I would suggest you not to enable search engine indexing for translated pages with GTranslate. However, the pro version provides human translation and it is SEO friendly too.

There are many reasons to love TranslatePress, but the thing I like most about it is Front end translation. Yes, you heard right it allows you to edit every single thing from the front end the same way as we do in Elementor or Divi page builder. You can translate everything whether it's the menu, page content, or plugins.
It helps to add the language symbol at the end of the URL eg. www.example.com/fr. All the translation is manual so you can enable the search engine indexing without any hesitation.
If you are planning to hire a translator you can add a new role as Translator and you can restrict access to other areas.

WPML is one of the oldest and popular WordPress translation plugin. This Plugin is, little tricky and complex for non-technical users. However, you can make your website fully fledge multilingual by using WPML.
There are a lot of customization options such as you can allow the specific page to show on the base of the user's browser's language. For example, your website has a page in three different languages, English, Spanish, and French and someone from France browses your website he will land on the French page automatically.
The developer community is so strong they keep themselves busy in making new updates. Moreover, you can hire a translator by talking with WPML support.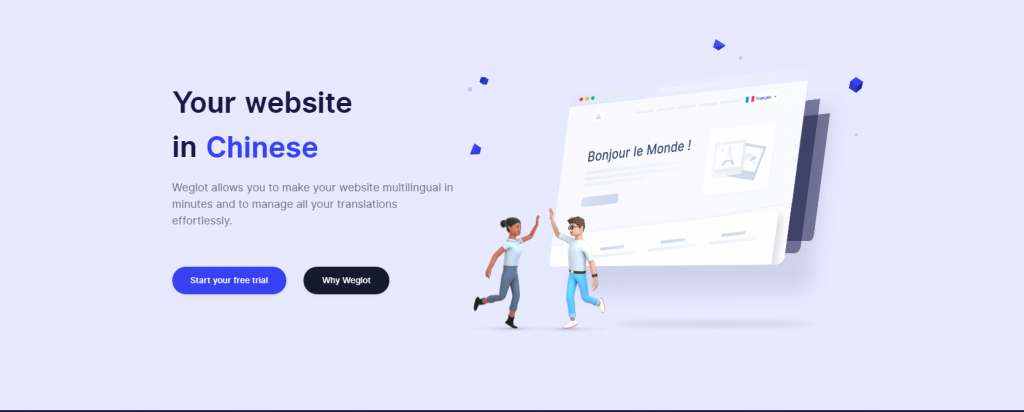 Weglot is not only a WordPress translating plugin but also works with Shopify, and other custom CMS and frameworks. It is a powerful plugin to convert your website into a bilingual website.
It works a little different than other WordPress translation plugins, It does not provide you with a feature to translate pages through the WordPress Dashboard. It asks to connect the APIs and then you need to make any change on Weglot's website. Once you are done with editing you can push all the changes to your live site. It is secure and fast and won't let your website down.
Authors Thoughts
I always prefer manual translation in the first place because it builds trust and doesn't affect the search engine ranking. But if you want a quick and easy solution you can use an auto-translation plugin like GTranslate. Otherwise, I prefer TranslatePress because of its front end editing.
don't forget to mention more translation plugins in a comment if you know any I would look at them too and will write in upcoming articles.
Frequently Asked Questions
How do I use Google Translate API in WordPress?
You need to enable Google Translate API to use it. Suppose you have a new translation project selected; simply go to the hamburger menu to the left and visit API & Services. Next, enable Google Translate API using your dashboard + button Enable APIs and Services button.
How can I translate my WordPress site for free?
By default, WordPress cannot translate your WordPress site. However, you can add this functionality to your WordPress site using translation plugins. 
Which is the best translation plugin for WordPress?
Weglot, Lokalise, Polylang, WPML, and Lingotek Translation are among the best WordPress plugins for creating a multilingual site.