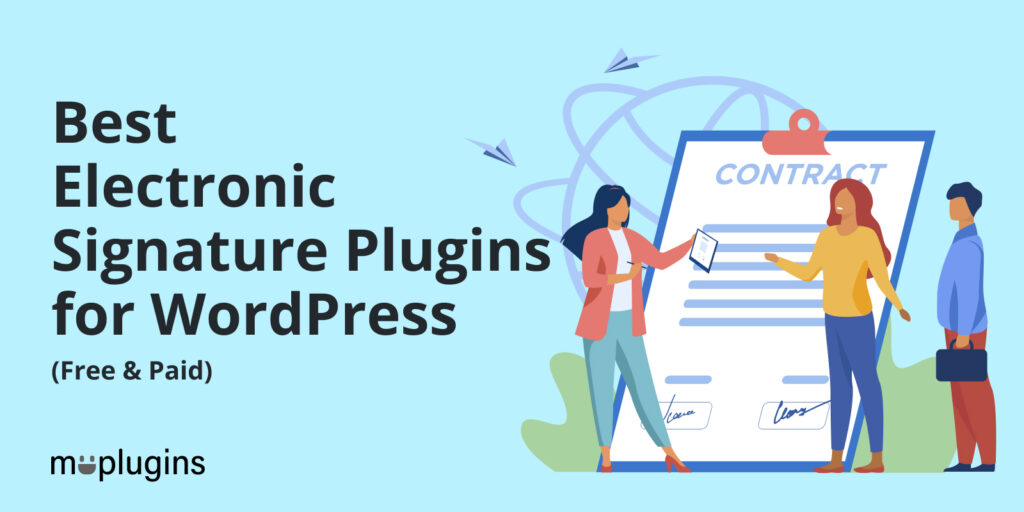 Are you looking for the best electronic signature plugin for WordPress?
Electronic signature plugins come forth to help you collect online signatures on your online contract, invoice, purchase, and more. These are just like you'd on a hard copy and are equally important as a handwritten signature. So, what can be the best way to collect them through your website?
This article will show you the best electronic signature plugins for WordPress. So, make sure you read this article till the end.
Let's get started.
Table of Contents
What Is Electronic Signature Plugin for WordPress?
The electronic signature plugin for WordPress lets developers add electronic signature functionality to their sites. This is useful for WordPress sites looking to add signatures for finalizing purchases and contracts.
Electronic signature plugins fully eliminate the need for paper contract forms. There is no more need to print, scan, or fax documents to get a signature. It helps you and the user save precious time, reduce paperwork, and provide an impressive user experience.
Top Electronic Signature Plugin for WordPress
With so many available options in the WordPress repository, how do you pick the best electronic signature plugin for WordPress?
Let's walk through the best WordPress electronic signature plugins to find out where they can be used to put a signature on online documents.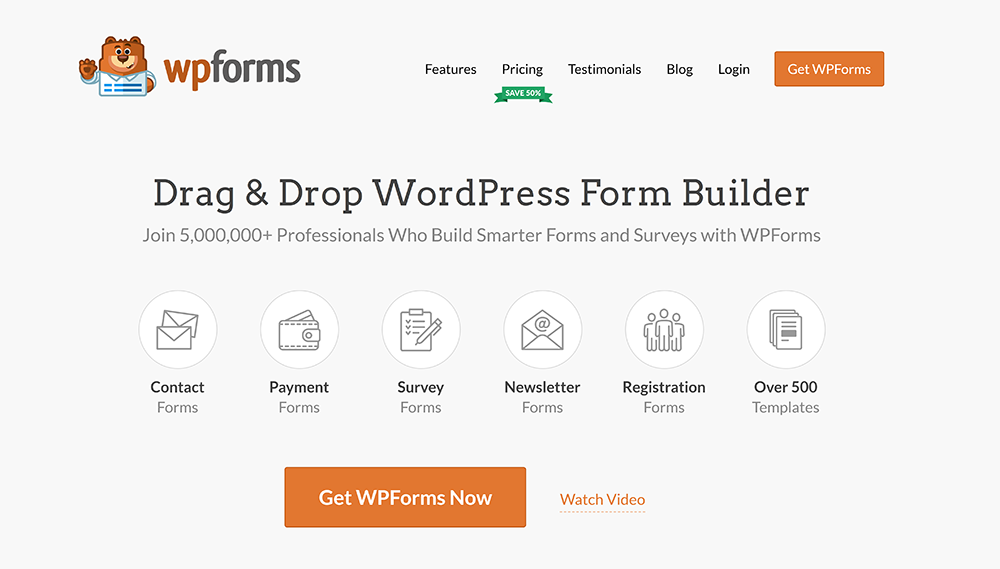 WPForms is a popular WordPress form builder plugin with a beautiful drag-and-drop feature that helps you create attractive forms within a few clicks. It is used by over 5,000,000 Professionals for building beautiful forms and surveys.
WPForms Signature addon helps you to collect your visitors' signatures out forms just by drawing with their mouse or touchscreen. You can easily control the size of the signature field, like small, medium, or large. When the users submit the form, their signature is saved as a PNG image and attached to their form entry.
Features:
WPForms has a wonderful drag-and-drop feature that lets you quickly create a fantastic form without writing any code.
It lets your electronic signature with the help of the user's mouse or touch screen.
The users don't need to fill the form out all over again if the signature goes wrong. There is an "X" available in the signature field to erase users' signatures.
You can easily add signatures on the contracts, service agreements, terms of service, non-disclosure agreements, and petitions.

Pricing:
Premium. WPForms Signature addon is available for $199.50 per year.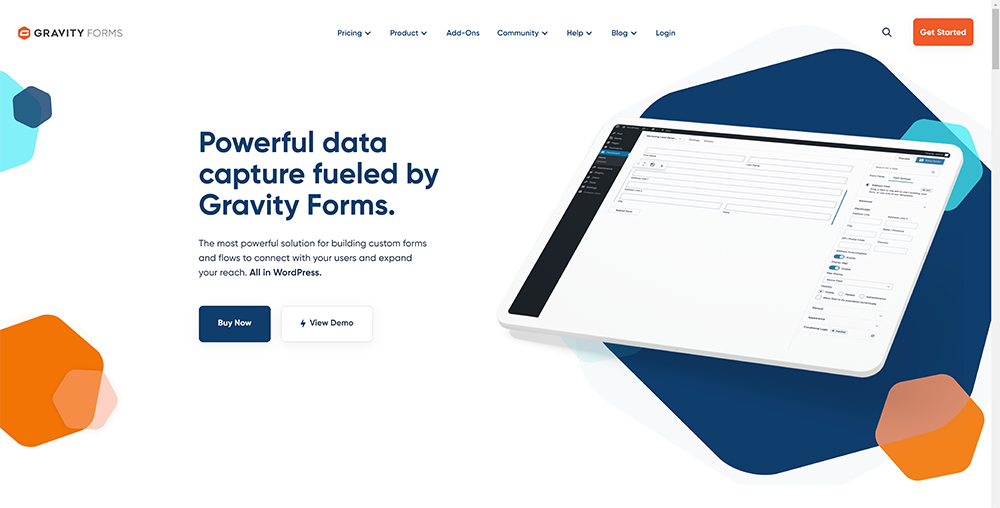 Gravity Forms helps you to create custom forms. It offers Signature Add-on that helps users quickly add signatures to your forms. They can use touchscreen devices, touch pads, or mouse. You can create professional forms in no time to capture signatures and fulfill your business needs.
When the user puts the signature on the form, a signature is captured, and the data is sent to your server. The server converts this data into a PNG image file and stores it. So, you can easily view signatures can from within the Entry Details of a Form Entry.
Features:
You don't need an additional browser plugin as it works well with desktop and mobile browsers, like Chrome, Firefox, Opera, and more.
It creates a signature field and adds an online signature pad to your form.
Signature Add-on helps you capture signatures on any new or existing form.
It stores every signature for you in the Entry Details.
Pricing:
Premium. The Signature add-on is available at $259 per year.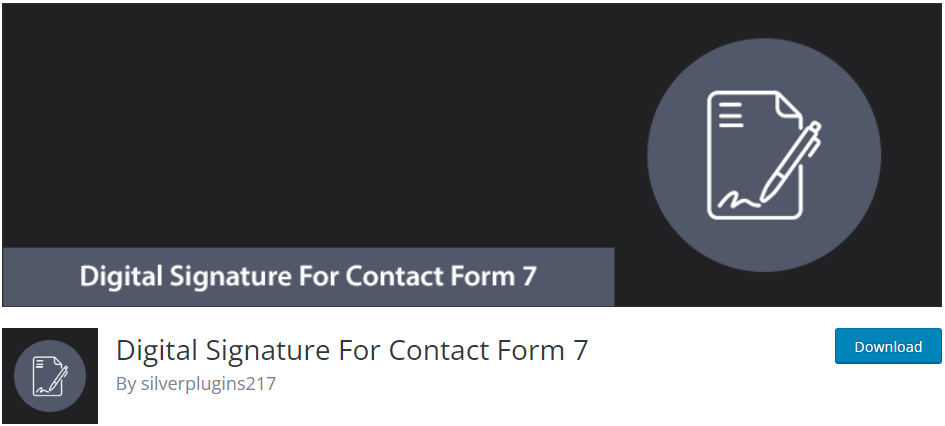 Digital signature For Contact Form 7 is another plugin for adding an electronic signature to your WordPress site. It is pretty simple and easy to use. It lets your users quickly and easily draw your signature and clear the signature pad simultaneously.
Digital signature For Contact Form 7 allows you to make several changes, including changing the signature pad background color and pen color. You can also go for customizing signature pad width and height. Moreover, this plugin has been translated into multiple languages, including Chinese, Dutch, Spanish, and many more, to provide a more localized experience.
Features:
You can easily add multiple signature pads to your contact form 7.
It fully supports WPML.
It allows you to add a custom class and id in the signature pad.
Digital Signature For Contact Form 7 enables you to add a signature field name in File attachments and send the signature attachment in the email.
Pricing:
Free. The premium version is available for $25 per year.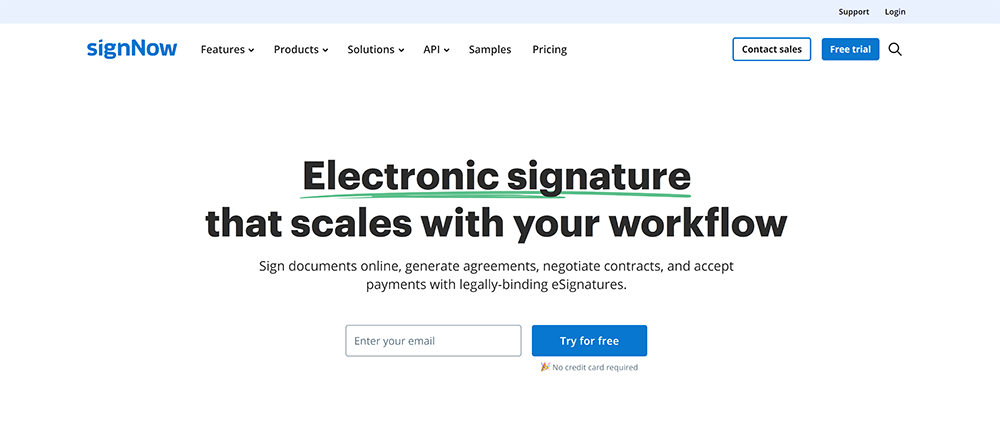 Next, we have the signNow plugin, among the best electronic signature plugins for WordPress. It allows users to quickly and easily sign online documents, generate agreements, negotiate contracts, and accept payments with legally-binding eSignatures.
signNow helps you to create a customized signing invitation to send your document for signing. This plugin allows a recipient to forward your document to other recipients for signing. The recipient can customize the message and subject in your signing and template invites.
Features:
It has a drag-and-drop feature for adding signature, drop-down, initial, and text fields.
It offers a fill form feature that helps you add data to a document and send it for signing.
This plugin lets you add multiple signers for a single document
Users can add signatures on mobile apps for iOS/Android or the web app.
Pricing:
Premium. You can buy its most popular package at $15 per year.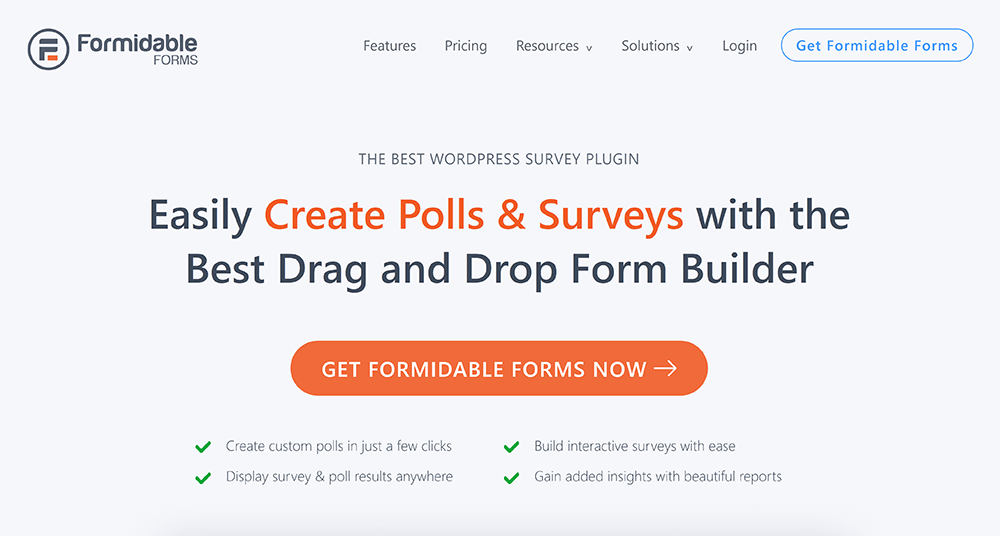 Formidable Forms is among the top trustworthy WordPress survey plugins. The striking thing about this plugin is that it enables you to add an electronic signature field to your WordPress forms. So the users can easily sign forms and contracts online.
This plugin offers a simple drag-and-drop feature that helps you quickly add online signature fields to your form. It lets your user draw the signature with a touch screen, trackpad, or mouse. When the user submits the signature form, it creates an image file and gets saved in the Formidable uploads folder.
Features:
This plugin helps you add an electronic signature box to your WordPress form.
Formidable Forms Signature helps you sign unlimited documents.
You can get IP addresses along with signatures.
This plugin enables users to sign contracts responsively from any device.
Pricing:
Premium. You can buy it for $199.50 per year.
Conclusion: Which is the Best Electronic Signature Plugin for WordPress?
We have curated a list of the 5 best electronic signature plugins for WordPress that will help almost everyone. These plugins will help your business to make everything legal by adding signatures for your contracts, petitions, terms of service, and much more.
We hope this article helps you find WordPress's best electronic signature plugin. Try it out and find how much it helps you.
You can also check our detailed articles on the 9 Best WordPress Developer Jobs Sites To Find An Expert and the 7 Best WordPress Membership Plugins (Free and Paid).
Frequently Asked Questions
Is there any tool for generating electronic signatures?
There are many online tools available to help you generate electronic signatures. You can also use tools to convert your handwritten signature to image format. These signatures can be downloaded and used for signing online documents, including PDF and email signatures.
What is the best tool app for creating a digital signature?
DocuSign is a popular app that helps you create an electronic signature. It's the best app consisting of every essential feature needed in an eSignature app, including revision and editing, creating signs, making copies for signs, and initiating contracts.