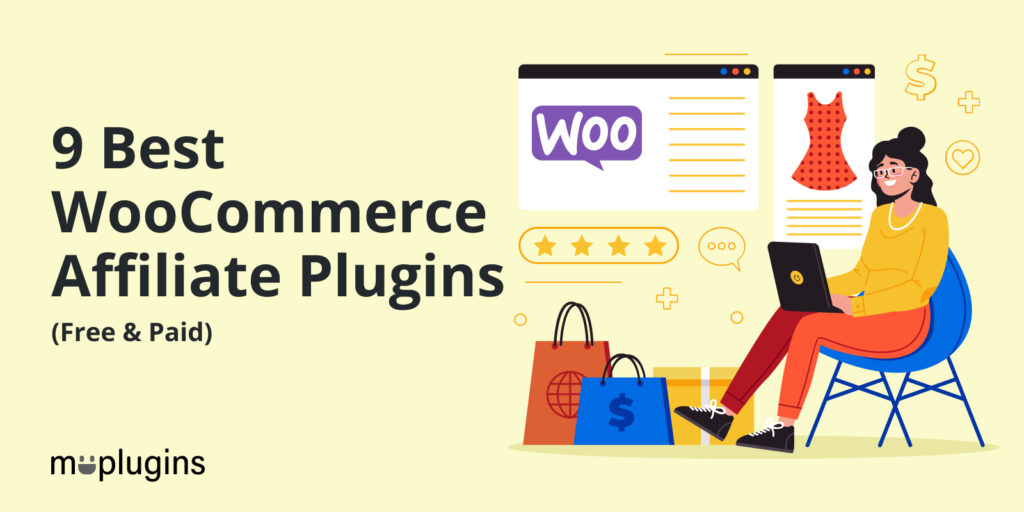 Are you looking for the best WooCommerce affiliate plugin?
Affiliate programs are worth adding to your WooCommerce as they let you display your brand and products to other people's audiences. This is helpful for your site as it gets more traffic, increases your social media following, generates endless leads and sales, and builds social proof and brand recognition.
This article will show you the best WooCommerce affiliate plugins. Including a free WooCommerce affiliate plugin and to paid WooCommerce affiliate plugin that offers comprehensive features. So, make sure you read this article till the end.
Let's get started!
Table of Contents
What Is Woocommerce Affiliate Plugin?
WooCommerce affiliate plugins help with the affiliate program setup process for everyone, no matter how difficult the procedure seems. Such plugins help uplift your WooCommerce site's traffic and conversions within a few clicks.
These plugins take care of affiliate recruiting and an affiliate commission payment. An appropriate WooCommerce affiliate plugin can help you establish your affiliate networks even if you aren't a professional.
Why Does Your WooCommerce Store Need an Affiliate Plugin?
You might be wondering why your WooCommerce store needs an affiliate plugin in the first place. An affiliate plugin monitors and reports affiliate information, so you don't need to do anything on your own.
In particular, WordPress affiliate plugins help you with
Affiliate Link Management: An affiliate link adds links to specific keywords and anchor texts.
Creating Sharable Links: These plugins help you create sharable links to promote your products.
Tracking Affiliate Links: WooCommerce Affiliate links plugin track all of your affiliate links. So you can easily monitor the performance of your affiliate marketing partners.
Redirect Affiliate Links: These plugins help to redirect affiliate links to ensure that all affiliate marketing efforts don't end up in 404 errors.
Monitoring the Performance of Affiliate Links: Such plugins bring ease to monitor the performance of your affiliate links right from your WordPress Dashboard.
List of Best Woocommerce Affiliate Plugins
Some WooCommerce affiliate plugins are free, while others offer their services at yearly or monthly prices. Every plugin is designed for a specific purpose, i.e., managing your affiliates from a single dashboard by registering affiliates, organizing payouts, and much more.
Let's look at some of WordPress's best free and paid WooCommerce affiliate plugins to see what they offer.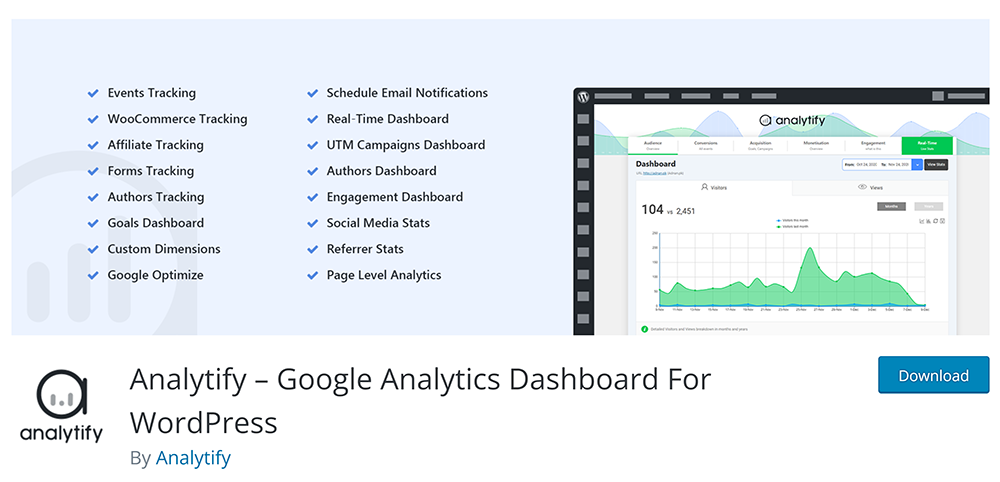 Analytify is a feature-packed plugin that helps you manage your affiliates. It helps you have a full track of Google Analytics and displays it right into your WordPress dashboard. You can quickly analyze or export the affiliate link click data as a CSV file.
Moreover, it has a dedicated Events Tracking dashboard where you can see each affiliate link's clicks. You can fully track where the traffic coming in from the affiliate links. This gives you an accurate idea of the performance of your affiliates. You don't have to leave your website to get a quick overview of the affiliate partners' performance.
Features:
You get a dedicated link-click information dashboard to see link-wise data.
Analytify brings information from Google Analytics that you can use to analyze affiliate link click data.
The real-time reporting tab helps you get a quick overview of what's happening on your website.
This plugin supports all popular WordPress eCommerce platforms to enable in-depth eCommerce reporting.
Pricing:
The basic plan starts at $59 per year.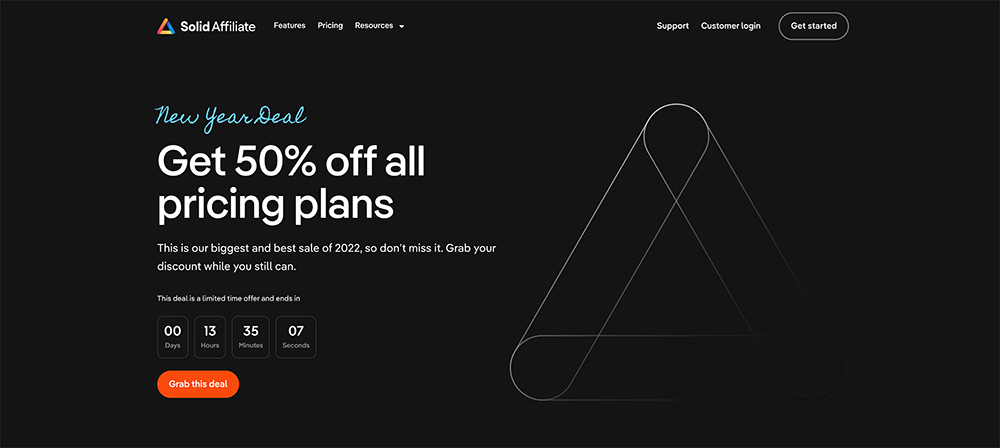 Next, we have a Solid Affiliate WordPress feature that helps you launch your affiliate partner program. This plugin mainly focuses WooCommerce affiliate management and has all the essential features required for eCommerce affiliate partner management.
This plugin offers a Setup Wizard that simplifies program kickoff and ensures every essential affiliate management feature is in place. You also get the option to disburse commission within a click.
Features:
This plugin offers unlimited affiliates for your site.
You can enjoy unlimited conversions and creatives.
This plugin helps you manage, track and pay your affiliates from your WordPress dashboard.
It automatically connects to WooCommerce and the WooCommerce Subscriptions add-on.
Pricing:
This is a premium version available at $99 per year.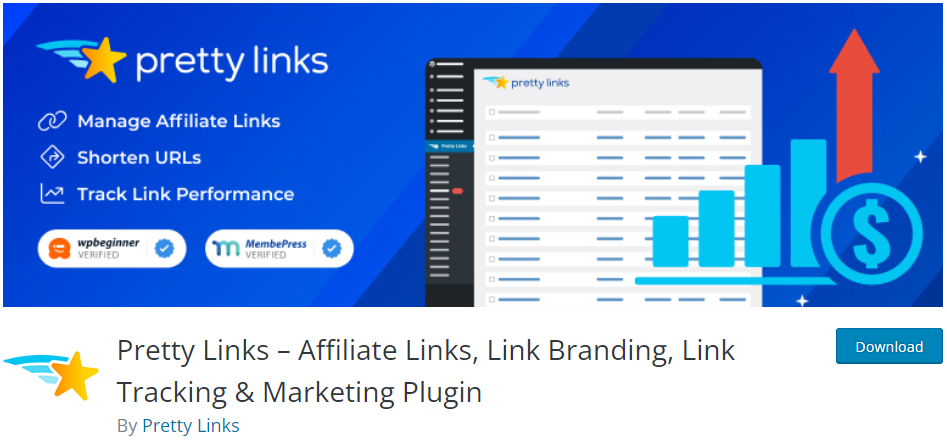 Pretty Links is another good option for WooCommerce affiliate plugins. Since your site has multiple pages and posts, Pretty Links will help you identify and place affiliate links. This greatly reduces the time and effort required to go through every page and post and find the best place for these links.
This plugin helps you use your domain name to shorten links. Moreover, you have full command over creating clean links, and the plugin will keep track of each hit on your URL and provide a detailed report of the clicks.
Features:
Pretty Links help you copy and manage your links in one centralized area.
This plugin lets you fully control your pretty links' performance. You can easily view the number of total clicks.
It creates customizable reports where you can see a configurable chart of clicks per day.
It generates a CSV file containing information about each click on your affiliate link.
Pricing:
The core plugin is free. You can upgrade to the premium version at $99.50 per year.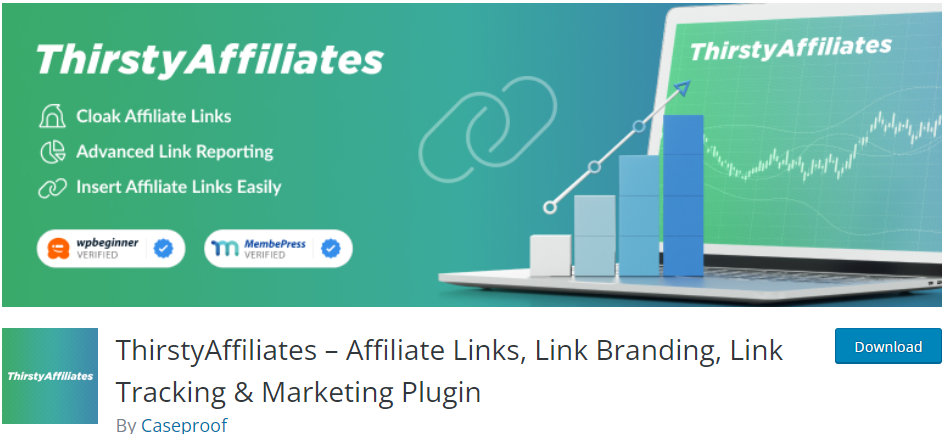 ThirstyAffiliates is another affiliate link management plugin that lets you easily manage, shrink and track your affiliate links in WordPress. It has all the features best suit both beginner and seasoned affiliate marketers. This plugin offers a front-end link-fixing script that ensures your affiliate links are always up to date.
This plugin has many useful features, including providing the keywords to create affiliate links, valuable statistics, and admin email reports. You can easily manage your affiliate links with CSV import/export and site updates. Furthermore, this plugin has an automatic 404 message checker that keeps on checking affiliate links to avoid sudden embarrassing 404 errors.
Features:
This plugin has a built-in affiliate link shortener/link cloacker.
ThirstyAffiliates allows you to manage your affiliate links into hierarchical categories, i.e., placing all software links in a "Software" category.
This plugin adds images and banners to your affiliate links.
You can even add click tracking to your links to track every click.
Pricing:
The core plugin is free. You can upgrade to the premium version at $79.50 per year.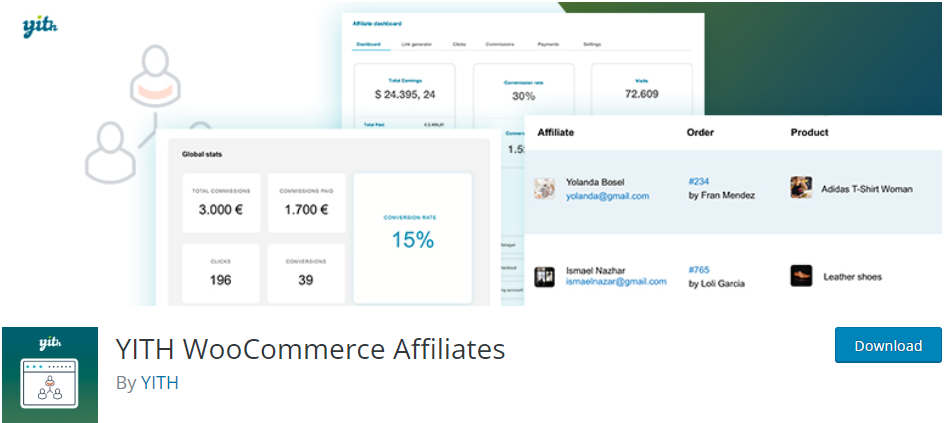 YITH WooCommerce Affiliates is an excellent WooCommerce affiliate plugin that helps you get quality leads, traffic, and sales, and your affiliates will earn a commission on the generated sales. Upon activation, you'll notice a dashboard where you can see all related information about affiliates, conversions, and commission payouts.
This plugin helps you quickly and easily build partnerships with customers, bloggers, influencers, etc. This partnership can be beneficial for driving traffic to your shop through articles in their blog, posts in their social channels, and so on.
Features:
This plugin helps you display the Terms and Conditions checkbox.
The affiliate partners can check their profiles, relevant reports, and referral links.
This plugin brings ease to pay commissions manually with direct bank/wire transfers.
It lets you create a custom affiliate dashboard page using the shortcode.
Pricing:
Free.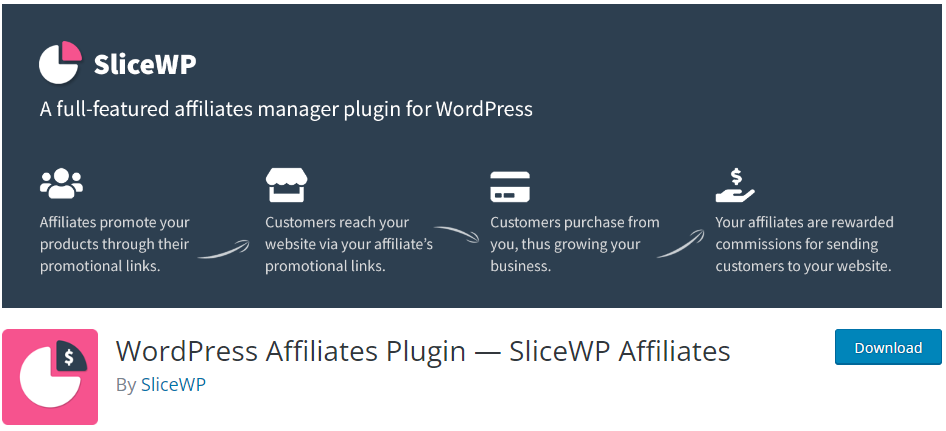 SliceWP is a feature-packed affiliates manager plugin for WordPress. It helps your affiliates get a dedicated area to see their report on link performance and commission calculations. Its dedicated affiliate area tracks affiliate links, edits their account details, and more upon logging in.
SliceWP provides an intuitive way to connect to your existing eCommerce WordPress plugin, onboard affiliates, and learn from real-time reports. It easily manages your affiliate program directly from your WordPress dashboard. It has essential features such as a rich interface and robust reporting options that help you better manage your affiliate marketing program.
Features:
This plugin helps you manage unlimited affiliates.
It has an auto-approve affiliate feature that helps you automatically register users.
You can fully control if affiliates can make a commission on their purchase.
SliceWP helps you add unlimited banners and text copy to your affiliates for promoting your business.
Pricing:
Free.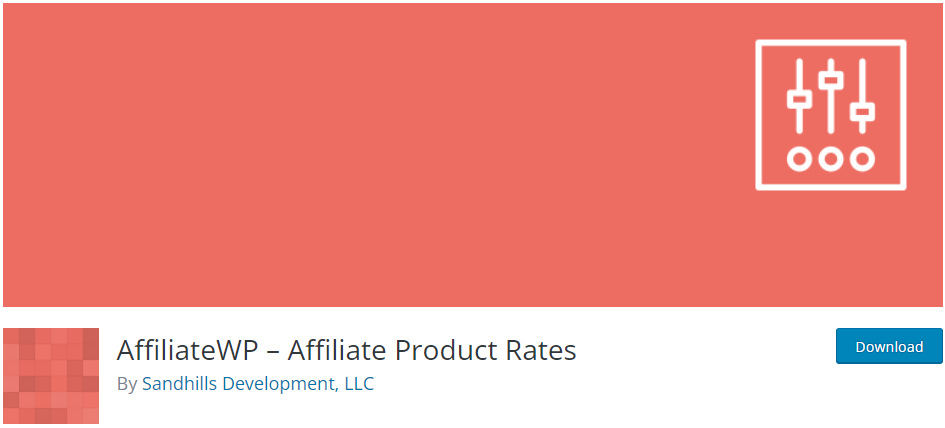 AffiliateWP lets you create a comprehensive affiliate system in WordPress. This plugin has all the essentials for running and expanding your business and profit. You can manage handling affiliates, referrals, payments, and other business essentials from your website.
You can easily set a global referral rate that all affiliates share. This plugin also allows you to set referral rates on a per-affiliate level which will override any per-product referral rate. You can enjoy unlimited affiliates that lead to the effective promotion of your website, product, or service.
Features:
This plugin helps you manually or automatically approve requests to allow simple affiliate registration.
It offers real-time reporting to help you stay on top of your affiliate campaigns.
It generates referral links using the built-in link generator.
AffiliateWP pays your affiliates directly to their bank accounts or debit cards.
Pricing:
Free.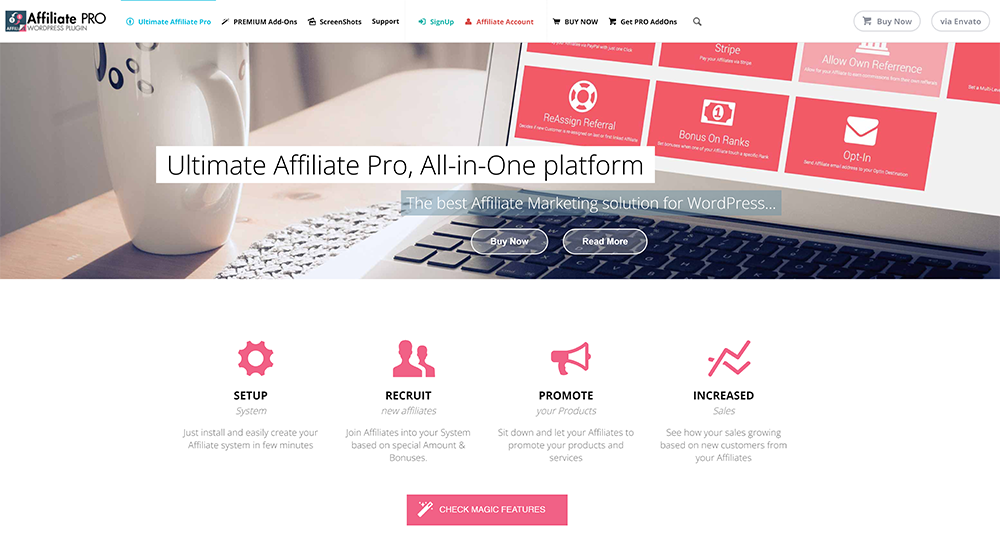 Ultimate Affiliate Pro is a great affiliate plugin for launching your affiliate marketing program. This plugin enables you to categorize your affiliates into different ranks and assign a separate commission level. You can enjoy unlimited affiliates that promote your products and services.
Furthermore, you can set up a wallet for affiliates, where they can use the earned commission to purchase your products. You can also set custom commission rules, including flat rate or percentage-based commission payouts. In addition, you can optionally set Performance Bonuses as incentives for your affiliate partners.
Features:
The affiliate links can also be provided as QR code images by generating and downloading the QR images from the account page.
This plugin provides referral notifications, notifying the affiliates through email whenever they get a new referral.
Affiliates integrated the affiliate account page section directly into the WooCommerce account page as a regular tab.
Ultimate Affiliate Pro generates user-friendly affiliate links that replace the traditional long and ugly links.
Pricing:
This plugin is available at $69 per year.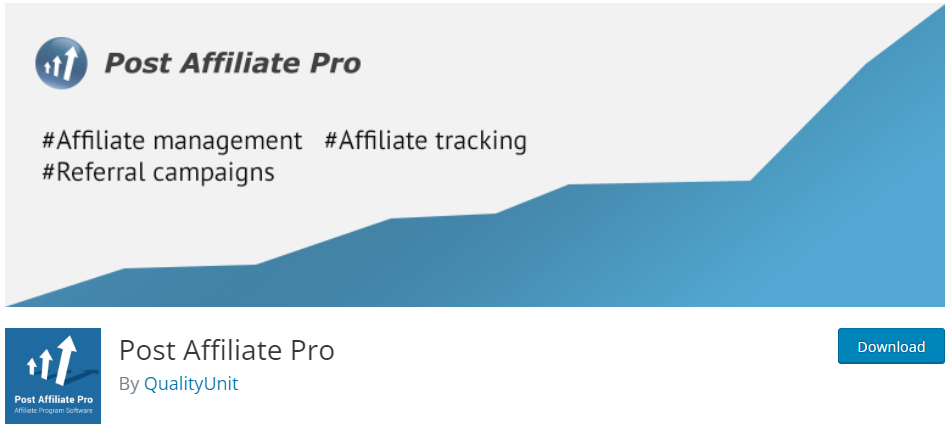 Post Affiliate Pro is an affiliate software with a complete set of affiliate marketing features. This plugin got over 300 reviews on 3 independent software marketplaces and review platforms. You can trust it for a click/sale tracking system.
Post Affiliate Pro is affiliate software that manages every aspect of your affiliate program. This is simple to use, quick to implement, and infinitely extensible and scalable.
Features:
This plugin offers integration with WishList Member, WooCommerce, WooCommerce Autoship, WooCommerce Subscriptions, and many others.
It offers shortcodes for affiliation.
It works fine with S2Member and Stripe Payments plugin.
Post Affiliate Pro has top affiliates widget with basic affiliate statistics.
Pricing:
Free.
Conclusion: What Is the Best WooCommerce Affiliate Plugin for Your Website?
The wooCommerce affiliate plugin helps you effectively scale your WooCommerce site beyond simply by allowing third-party sellers to sell your products in return for a commission. Using a good affiliate plugin ensures that your WooCommerce affiliates are running smoothly and are not taking up much of your time for manually managing affiliate links, payouts, commissions, and much more.
You don't have to install every plugin mentioned in the list above to choose the best one. As you can see, each plugin mentioned above has a unique set of features. Make sure you fully evaluate your options before making a final decision. The final decision is yours!
That's all we have discussed the schema markup plugins for WordPress. You can also check our detailed articles on the 7 Best WordPress Membership Plugins (Free and Paid)
and 7 Best WordPress Job Board Plugins (Free and Paid).
Frequently Asked Questions
What is the highest-paying affiliate website?
The highest-paying affiliate website over the internet is eBay. 
How can I promote affiliate links for free?
You can easily promote your affiliate links for free by inserting them in your product reviews and tutorials, adding them to your resources page, placing them on your website, using them in your newsletters and email sequences, etc. You can also embed affiliate links into your video content or promote affiliate links on social media and forums.
What to look for in affiliate links?
You must look for the factors, including product-audience fit, market demand, competition, product price, commission type, rate, sales cycle length, etc.