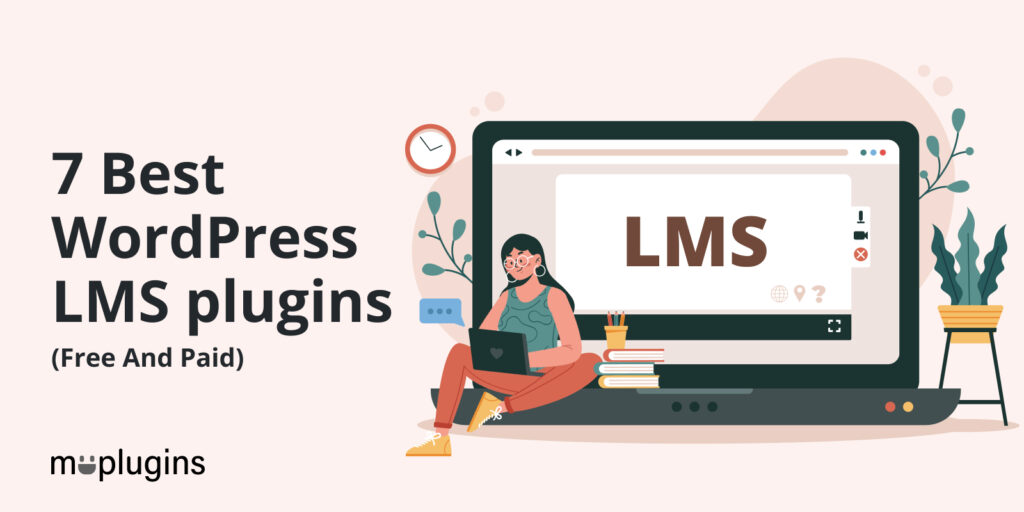 Are you looking for an LMS plugin for your WordPress site?
You must want a Learning Management System (LMS) plugin to create and run online courses. The best WordPress LMS plugin lets you conveniently handle online courses, run, and grade quizzes, accept payments, and more.
This article will show you the best LMS plugins for your WordPress site. So, make sure you read this article till the end.
Let's get started.
Table of Contents
What is LMS?
An LMS plugin has all the features that let you create and manage online classes and training programs. These plugins allow instructors, educators, trainers, professors, and coaches to create and deliver content to their audience.
LMS has features to help create and deliver engaging courses to your audience, such as text-based material, interactive quizzes, and videos. So, they are proven best for creating an interactive environment and healthy discussion forums for the students.
Furthermore, learning management system (LMS) plugins help you enroll students, track students' progress reports, and build payment gateway options from the admin dashboard.
The List of Best WordPress LMS plugins
Now that you know what WordPress LMS plugins are and why you need them for your site, let's look at some of the best plugins available.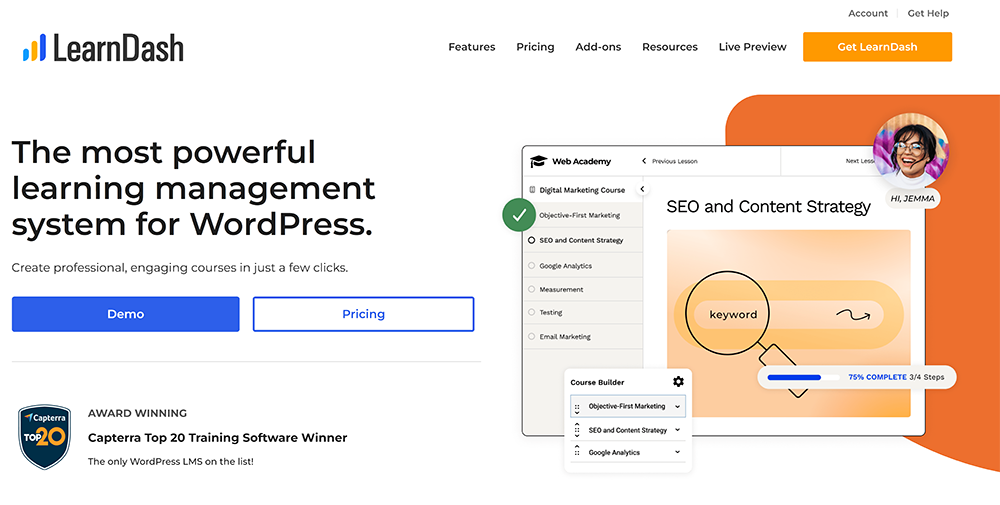 LearnDash is a popular premium WordPress LMS plugin with many powerful features, including a drag-and-drop course builder for lessons, topics, quizzes, and categories. It works fine with any modern theme without the need for custom coding.
LearnDash sets access to courses, lessons, and quizzes based on a set of prerequisites. In addition, it gives you the flexibility to sell your online courses as bundles, licenses, subscriptions, or memberships.
Feature:
It offers automated notifications based on actions learners take (or don't take) in a course.
LearnDash has a point awarding feature that awards the learners with points as they complete lessons, enabling them to unlock new content.
The plugin has an assignment feature that requires learners to submit assignments before continuing to the next lessons.
It has a course-specific discussion forum that helps to build conversation among learners.
Pricing:
Premium. You can buy this for $199 per year (only for 1 site).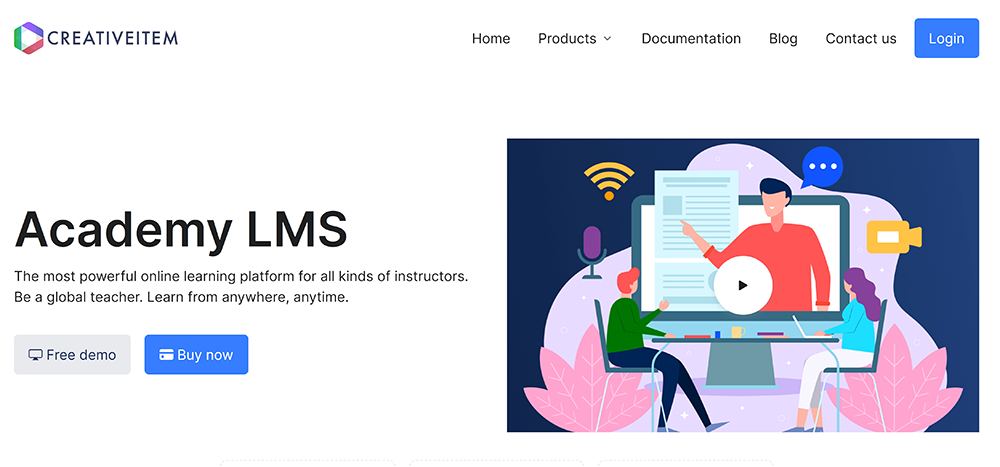 Academy LMS is another good option for a WordPress LMS plugin. It's a premium plugin built for professional courses, i.e., running a school, delivering lectures, and more. It has advanced features for admins, students, and instructors, such as students can track their progress and filter courses based on specific criteria, to name a few examples.
It also provides an admin dashboard to the instructors where they can manage courses and check the payment status. There is also a course dashboard for the administrators to see the list of enrolled students, organize course categories, and more.
Feature:
It has multiple lesson-type files, including videos, images, PDFs, and DOC files.
This plugin offers an interactive messaging system for communication between students and instructors.
Academy LMS has a built-in shopping cart functionality. It adds multiple courses and purchases them at the same time.
It also has portal setup settings for setting commission rates, configuring privacy policies, and enabling multilingual translation.
Pricing:
Premium.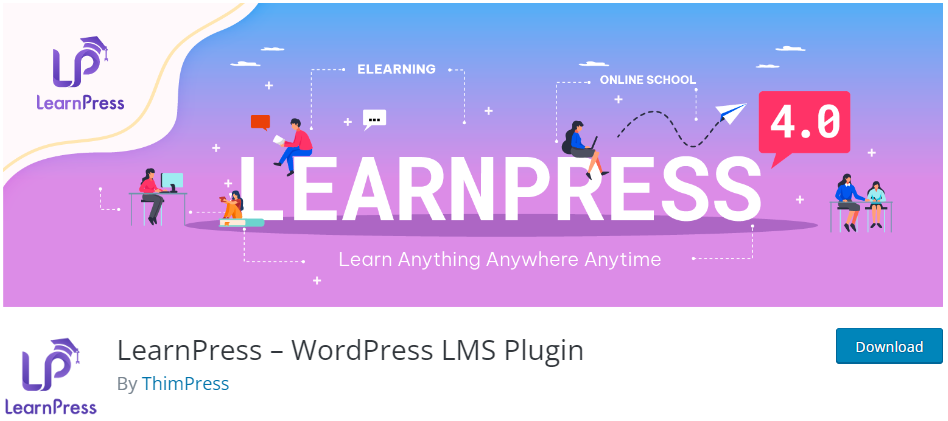 LearnPress is a free WordPress LMS Plugin for your site that helps you easily and quickly create and sell courses online. It lets instructors, educators, trainers, professors, and coaches create a course curriculum consisting of lessons and quizzes, i.e., education, online school, and online-course websites, without knowing a single line of code.
The striking fact about LearnPress is that it lets you publish some of your lessons as a free preview to attract others to buy the full course. This plugin is free with amazing features, but you can upgrade to the premium add-ons to enjoy more advanced features, i.e., connecting WooCommerce to your LMS.
Feature:
You can easily create WordPress-based LMS as a multisite.
You can manage courses in terms of the number of students, trends, etc.
This plugin allows you to sell your courses through PayPal, WooCommerce, and Stripe, with many other billing methods supported.
It lets you manage and make a complete curriculum layout.
Pricing:
Free.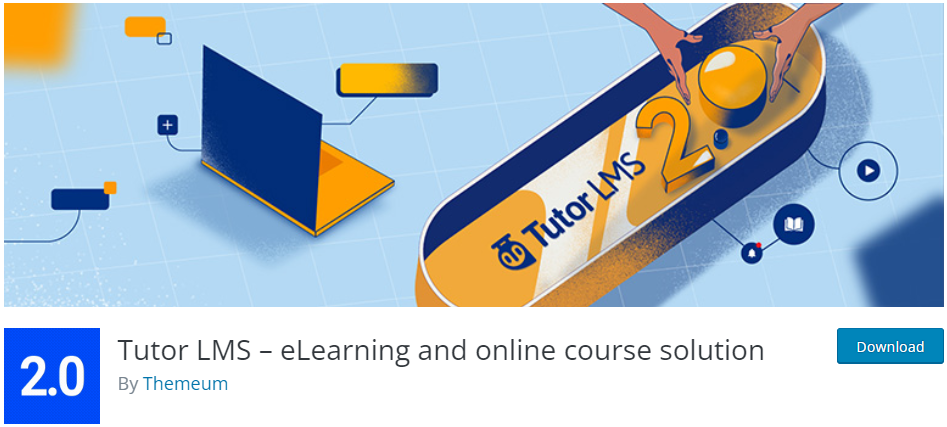 Tutor LMS is another feature-packed WordPress LMS plugin that helps you easily and quickly create and sell courses online. This plugin allows you to build quizzes, lessons, and reports. You can easily manage, administer, or monetize your online courses without writing a single line of code.
Since the core Tutor LMS is free, you can jump to the premium version for $149 (for a single-site license) anytime. The premium version brings advanced add-ons like Certificates, Course Previews, Multi-Instructor, Frontend Course Builder, Content Drip, and more.
Feature:
It comes with a drag-and-drop certificate builder.
It lets you track course progress.
You can easily integrate with Google Classroom, Zoom, and Elementor (for customized course-building).
It has a personalized dashboard for each role, including admins, instructors, and students.
Pricing:
Free. You can buy the premium version anytime for $399 per year (for 10 site licenses).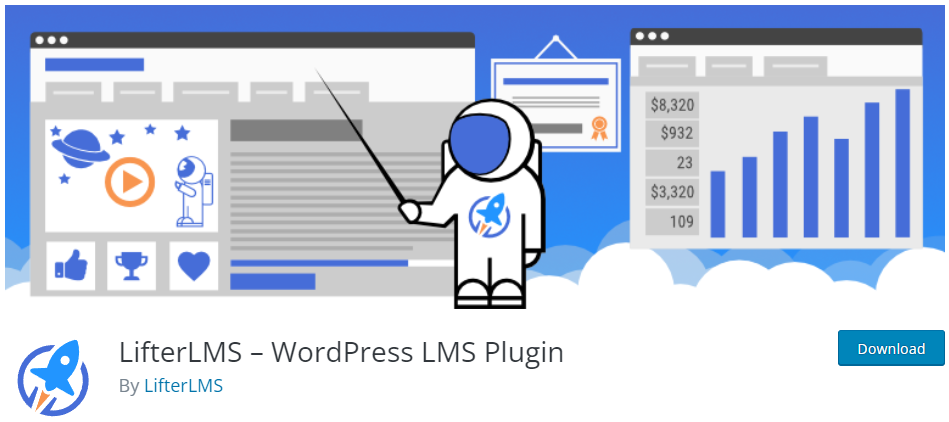 Lifter LMS is one of the best choices for WordPress LMS plugins. It lets you create, sell, and protect high-valued online courses and membership sites. This plugin works well with WordPress themes, blocks, and page builders, including Elementor, Beaver Builder, Divi, Gutenberg, etc.
This plugin is best for those looking forward to creating outstanding online courses, coaching, or training-based membership sites with a WordPress LMS. The key feature is that it is available in over 27 different languages to help you make it useful to people across the globe. You can switch to the premium version to enjoy several other features.
Feature:
The drag-and-drop course-building tools.
The Lifter LMS course builder offers options for all types of multimedia, a beautiful course builder, drip content, and quizzes.
It offers over 10 question types in the quiz builder for creating interactive quizzes.
It provides an admin and instructor dashboard to help you keep track of earnings, LMS analytics, course details, and more.
Pricing:
Free. You can buy its most popular premium package at $360 per year (for 5 sites).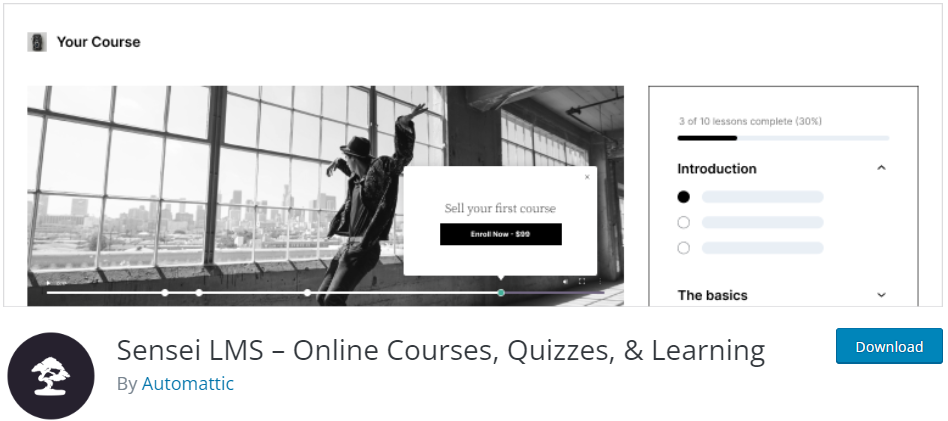 Sensei LMS is developed by Automattic and lets you power all of Automattic's employee training and courses. It enables you to add different content to your courses, such as slideshows, images, image galleries, and videos to help reinforce learning.
It offers seamless integration with WooCommerce, which helps you sell your courses and accept payments. All you need to do is to create a WooCommerce product and connect it to your Sensei course.
Feature:
It lets you track a student's progress and performance with detailed reports.
You can easily create engaging lessons.
This plugin lets you embed videos from YouTube, Vimeo, and VideoPress for video-based courses.
It enables you to add the Course List block to any page/post to display available courses.
Pricing:
Free. You can buy the premium version at $49 per year (for 1 site only)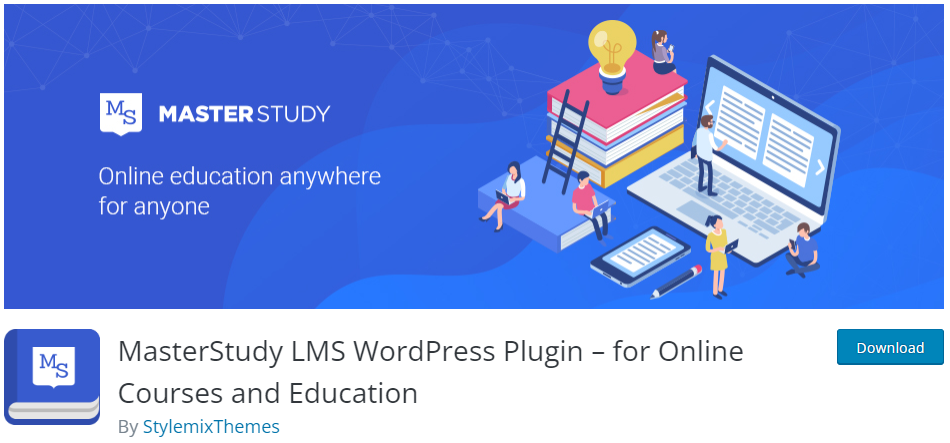 MasterStudy LMS is all-in-one for any e-Learning business. This plugin lets you add an option for creating trial courses. It allows you to manage and conduct online lectures. It integrates with payment gateways, including WooCommerce, PayPal, and Stripe.
You can make it go with Elementor page builder, which offers multiple design customizations. You can even present your content in a grid or carousel style. You can easily display featured teachers, the latest courses, and course categories. You can upgrade to the premium version of this plugin depending on what features you want to implement on your site.
Feature:
It has an advanced quiz builder and timer feature.
It offers front-end and back-end, form builders.
You can easily manage lessons.
You can easily add quizzes in your courses in different question formats, such as single choice, keywords, and more.
Pricing:
Free. You can buy the popular premium package at $149 per year (for 5 sites).
Conclusion: Which WordPress LMS Plugin is best for You?
We have shared a list of the 7 best LMS plugins for your WordPress site to help you easily and quickly create an online eLearning to handle online courses, run and grade quizzes, accept payments, and more. Every plugin is unique in a certain way, so it's more about aiming at the features you want to see in your online classroom. However, you need to choose wisely; after all, it will help you make up the monthly fees.
That's all we have discussed the best WordPress LMS plugins! You can also check out the 5 Best WordPress Email List Building & Marketing Plugins and Top Security Plugins.
Frequently Asked Questions
Which is a better plugin, LearnDash or LifterLMS?
Lifter LMS is a good option if you need minimal add-ons. However, if you want multiple add-ons, then LearnDash is the best option.
Can LMS track your activity?
LMS can keep track of your every activity on the site, i.e., the number of learners completing an e-Learning course.
What you'd like to see in the WordPress LMS Plugins?
It's better to check if a WordPress LMS plugin offers course building, quizzes and tests, gamification and certificates, homework options, and automated emails. This will help you successfully run an eLearning website.