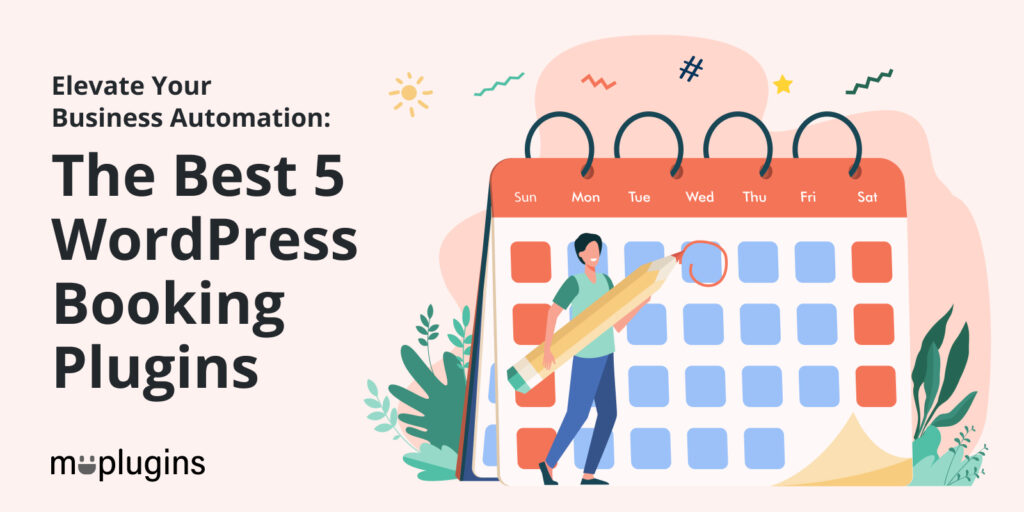 If you own a small business or just planning to start one, there must be something in your mind to make it automated. I'm sure that you don't want to lose your customers. Making a website and adding your contact information won't work to make your business automated. It will only allow your customers to reach you manually which is not a good business practice.
Table of Content
WordPress Booking Plugins
If you own a WordPress website then you can easily make your appointments automated by using WordPress booking plugins. Furthermore, you can personalize with your customers and you can use their contact details for future promotions. I'm going to explain some great WordPress Booking plugins to use on your WordPress website.
Pinpoint Booking System

Pinpoint is another amazing free WordPress booking and reservation plugin. You can simply integrate it with your WordPress website to enable the booking features. The best thing about the Pinpoint Booking System is that you can keep your users on a single page throughout the process because it uses AJAX.
There are many other WordPress booking plugins but in this plugin, you can enable the Google map feature to facilitate your users. You can simply synchronize it with Google Calendar, iCalender, and Airbnb.
Pros
Book days and hours
Totally Mobile Responsive
Optimized 
User Friendly lite weight 
Bookly

If you are really interested in online booking, Bookly should be your first choice. It is the best WordPress Booking Plugin to make an online reservation system on your WordPress website. You can simply install this plugin and can convert your website into a booking website. This plugin comes up with some built-in booking forms such as salon booking, car wash, hotel booking, and many others.
You are just a few clicks away from getting reservation requests on your website. It is so simple to set up, you don't need to have any technical background or coding knowledge. It gives you so much power to play with its appearance even in the free version. If you are interested to take it to the next level, you have power to do that because it allows all the customization options.
Pros
Fully Automated 
Totally Mobile Responsive
User Friendly 
Customization Power 
Hotel Booking Lite

This plugin is specially designed for hotel booking. It provides all the necessary features which hotel booking website should possess. Furthermore, you can use this booking plugin for your rental and property websites. This plugin can be used to make small property reservations or to make the complex property listing websites.
It has a user-friendly dashboard where you can add your listings easily. There are enough meta options to list maximum information. It provides a complete solution for property listing, searching, and booking. You can integrate different payment methods to make it fully functional. It comes with different free integrations such as Elementor integration and Divi Integration.
Pros
Real Time Search  
Totally Mobile Responsive
Options to add Discounts and Codes
Short Codes Available 
Booking Ultra Pro

If you are a large organization educational institute or a hospital then this plugin can work for you like a charm. It is a very user-friendly and feature-rich plugin, it allows your customers to book everything by staying on the same page. You can use this plugin in your WordPress website by using Short Codes.
The process is quite easy there are four steps to book anything in the first step it asks what exactly you want to book, in second it will show the availability and will allow you to pick a time, at third you need to give your contact information and payment and boom you are done.
Pros
Very simply and friendly interface
Useful for all business 
Short Codes Available 
Supports multiple payment options .
Salon Booking System





The salon booking system is one of the best WordPress appointment booking plugin for all salon owners. If you are a salon owner or you are making a website for a salon this plugin can help you a lot. Its eye-catching look can force your customer to book your services. You can use it with any theme it will work without any problem.
There are different styles for front end users and the back end dashboard is just so classy. It saves your customer records. You can use those details to send them promotional messages. You must be wondering that it is only limited to salons but in reality, there are a lot of customization options that can help you to use it for different services such as beauty parlors, therapists, car shops, etc.
Pros
Elegant design 
Allow customers to leave feedback
light weight
Supports multiple payment options .
Final Thoughts
These are the different WordPress booking plugins. You can read about them and can choose any of them to use for your website. Every plugin is different from each other and they will surely meet your requirements. Let us know if you have any other free Booking or Appointment WordPress plugins in your mind that can replace them, we will list them too.
Frequently Asked Questions
Does WordPress have a booking system?
By default, WordPress doesn't have a booking system. However, you can quickly fill the gap using a booking plugin for your WordPress site.
How do I set up a booking system for my website?
You need to install and activate a booking plugin like Booking Calendar to add a professional online booking system to your WordPress site. 
Does WooCommerce have a booking system?
The core WooCommerce doesn't offer a booking system. However, you can buy the WooCommerce Bookings plugin, which will cost you $249 per year.