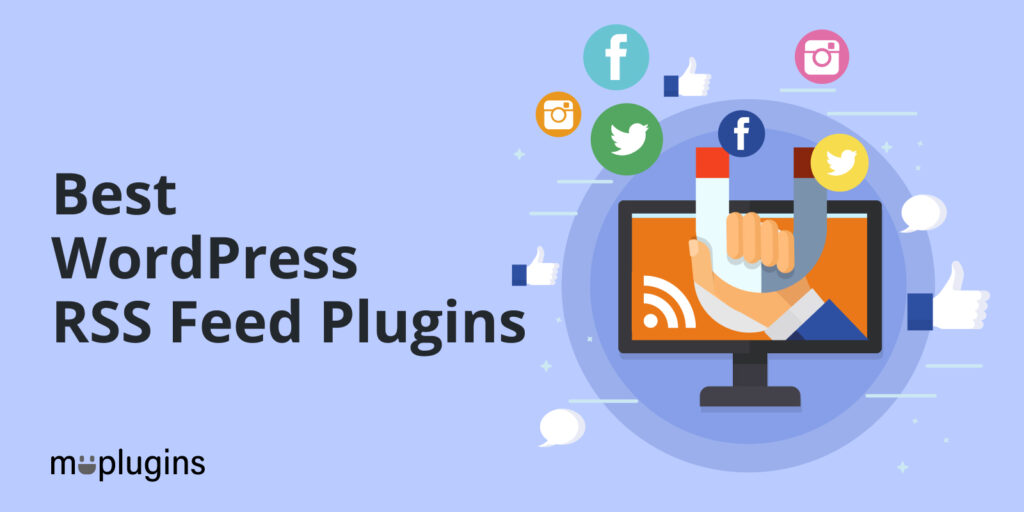 So you are trying to integrate the RSS feed into your WordPress site but have no idea how to integrate it. A WordPress RSS Feed plugin can help you in this regard. It is an additional code source installed to curate the RSS feed on WordPress sites.
Now again, the question arises, which plugin to install and which RSS feed plugin is worth subscribing to the premium plan? We have compiled this article on the Best WordPress RSS feed Plugins to assist you further. You can learn their features, pricing plans offered, and much more here to decide which plugin would be better for your site.
This article will guide you on the best WordPress RSS Feed plugins in 2022.
Table of Content
Why Use a WordPress RSS Feed Plugin?
An RSS Feed plugin lets you fetch content from other platforms, and this helps display updated content. When visitors interact with updated content on your site, they'll consider it a credible source of information having original sources linked as well. An RSS feed doesn't only include blog posts or articles it may include news, social media posts, product listings, weather, stock prices, and affiliate links.
Best 8 WordPress RSS Feed Plugins (Free and Paid)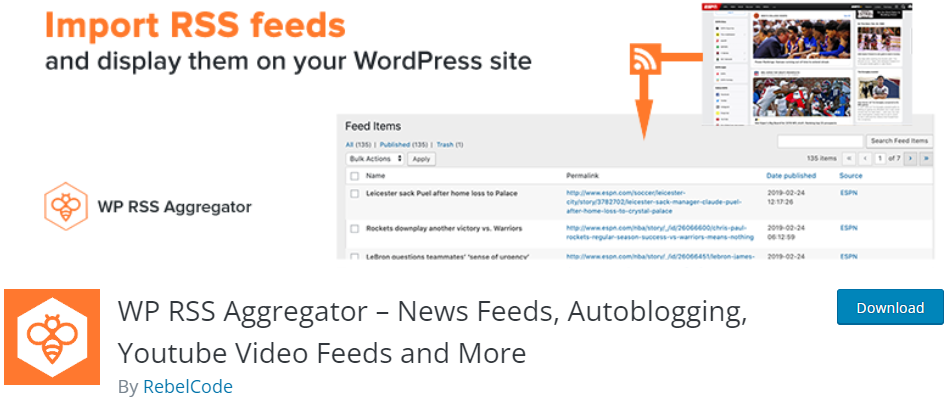 The WP RSS Aggregator is the best plugin if you want to make your website into a content aggregator to display RSS feeds. This popular plugin lets you import, integrate, and display RSS feeds on your site.
It offers frequent updates and key features for your website feed and is highly user-friendly. Using WP RSS Aggregator, you can curate content from any website, which could be integrated into your blog posts and your CMS database.
Furthermore, you can aggregate several feeds, including job listings, news articles, real-estate posts, and third-party blogs. This plugin helps improve your SEO rankings, user experience, and website reputation by curating authentic platforms content.
WP RSS Aggregator could also be implied for auto-blogging and customizing the display templates with its built-in Gutenberg block. You can avoid the slow performance of your WordPress site by customizing the limit of integrated RSS feeds.
Features
It's a highly responsive plugin that is WPML-supported.
The plugin offers several Add-Ons to enhance its functionality.
It offers the show/hide option for the date and source of feeds.
It supports Vimeo and YouTube videos additionally.
Pricing
The Basic plan for WP RSS Aggregator is offered for $79 per year.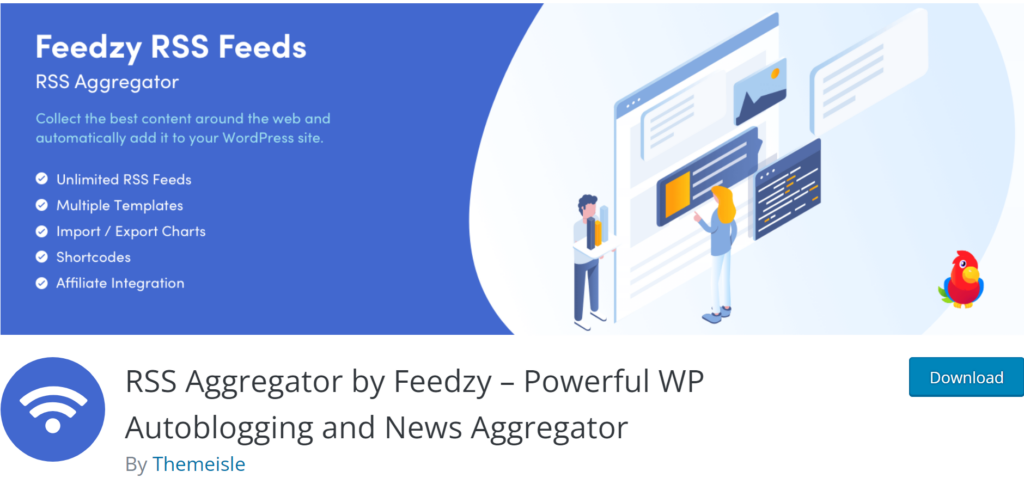 The Feedzy RSS Feeds is a powerful RSS feed plugin for WordPress with shortcodes and widgets for WordPress. Using this plugin, you can integrate RSS feeds to display them on your site. With its shortcode-friendly resources, you can customize unlimited RSS feeds.
Feedzy RSS Feeds also offers the "Title Character Limit" option to alter the theme of long feed articles so that your feed doesn't come under copyright violation. It offers numerous built-in templates to customize the appearance of your feeds.
Furthermore, to make RSS feeds more appealing, it offers adding relevant images to the feed. It's highly adaptable to all screen sizes, i.e., mobile responsive, and helps to enhance page loading speed.
Features
The plugin offers unlimited feed integration and customization options.
It's a mobile-friendly plugin that offers automatic caching
It offers shortcode and Title Character limit.
It has different feed templates to customize the appearance.
Pricing
The Personal offered by Feedyz RSS Feeds in just $99 per year.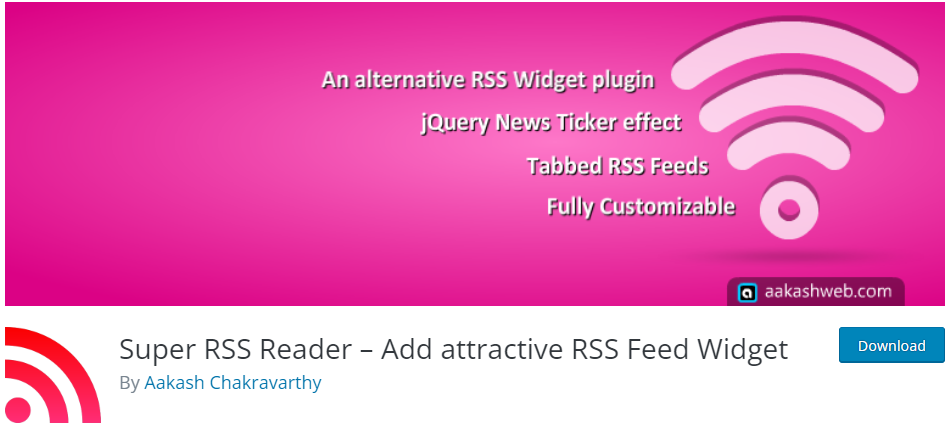 Super RSS Reader is another famous name in the best WordPress RSS feed plugins list. It allows you to integrate unlimited RSS feeds in your website sidebar. Offering a user-friendly widget, you can display multiple RSS feeds in separate tabs or a single widget.
Using this plugin, you can integrate breaking news from news platforms into your website by displaying post titles as news tickers. Super RSS Reader's customization options are endless, offering several modern color themes, images support, styling options, and color variants.
This plugin is mobile-friendly and compatible with all screen types, i.e., it adapts to the screen being used. It offers options to show/hide feed elements, including title, description, date, time, etc. Moreover, it lets you add custom HTML tags to customize the feed content layout.
Features
It offers the news ticker integration as the feed.
You can also have custom styling with this plugin.
It is compatible with all mobile screens.
Shortcodes could easily be included in it.
Pricing
The Personal plan for 1 site for just $25 by Super RSS Reader plugin.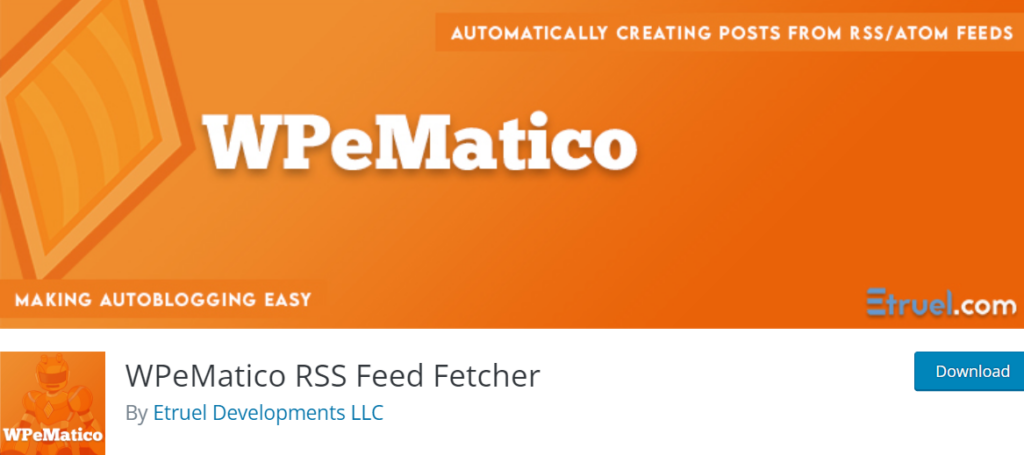 WPeMatico RSS Feed Fetcher is an auto-blogging plugin designed to create blog posts via the RSS/Atom format automatically to create blog posts via the RSS/Atom format automatically. This plugin allows you to integrate RSS feeds as actual posts or custom posts.
It offers numerous features like multiple feeds, speed optimization, tags, and categories. Moreover, it allows fetching feeds from different profile feeds, Youtube playlists, channels/forums, and even XML custom feeds.
It uses the WordPress SimplePie library, while the external library is also included in WPeMatico for RSS feed fetching. You can integrate shortcodes on your site's posts/pages and an RSS widget in the sidebar.
Features
Using this plugin you can add RSS feeds to posts.
It also offers to fetch Facebook feeds.
It offers a key option of Keyword Filteration and is multilingual.
It also offers the option to insert links on words.
Pricing
You can enjoy the premium plans of this plugin for a website for just $82.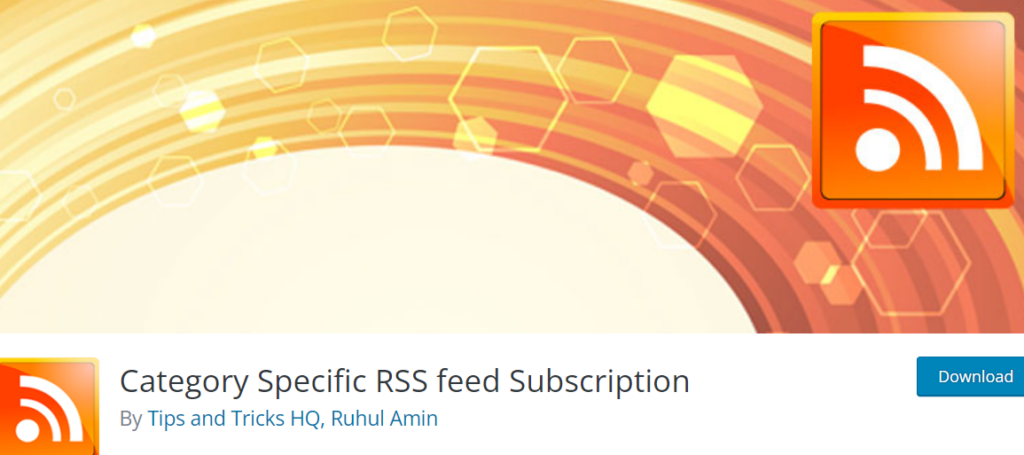 As the name implies, Category Specific RSS feed Subscription is an RSS feed plugin for WordPress that lets you categorize and add specific RSS feeds to your site. This plugin, in this way, is entirely distinct from other RSS feed plugins that curate feeds without classifying them.
From the user end, it's still beneficial as they won't have to go through all types of feeds. Instead, they can subscribe to their topic of interest and receive only relevant feeds. Neither uninteresting topics nor unnecessary notifications will pop up to users, and they will have custom RSS feeds.
It offers 8 categories to subscribe to, and users can opt for any category. Furthermore, you can integrate shortcodes on posts/pages, tags for better search, and widgets on the sidebar.
Features
The plugin offers to add a widget to your sidebar.
You can add shortcodes to your posts/pages.
It offers to add a tag-specific RSS feed menu.
You can add a tag cloud with an RSS feed of each tag using the plugin
Pricing
Category Specific RSS feed Subscription is a free-to-use plugin that doesn't offer a subscription pricing plan.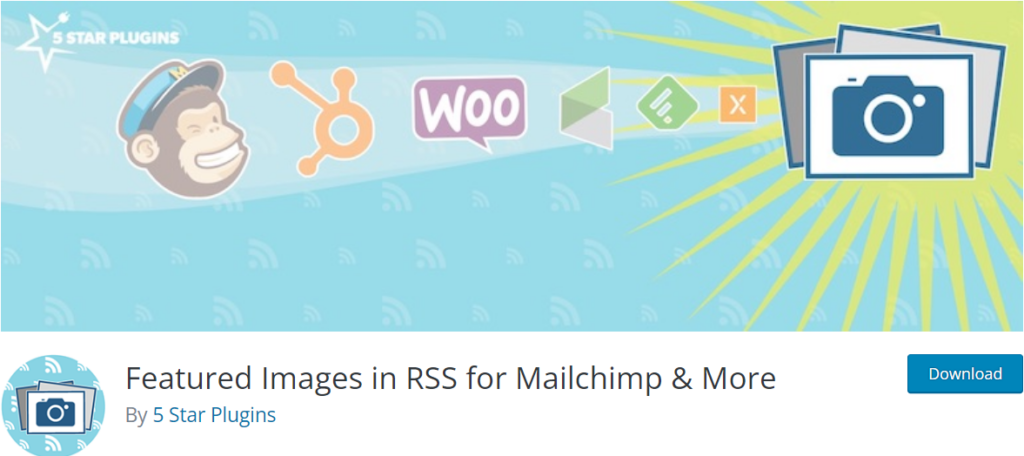 Another user-friendly and super customizable RSS plugin on our list is Featured images for RSS Feeds, designed specifically for content marketers. This plugin allows you to add featured images within your RSS feeds without editing any code.
It offers multiple customization options for post thumbnail styles, and image display sizes for RSS feeds. To exclude unnecessary and non-relative categories, this plugin allows you to exclude unwanted categories.
This plugin uses standard formatting options for featured images that allow news aggregators to identify and display them prominently automatically. The Featured Images for RSS Feeds operate well with top email marketing providers and WooCommerce product images.
Features
You can activate this plugin with a single click.
It offers the option to publish later.
Using this plugin, you can insert ads/backlinks in RSS.
It allows custom image size and feeds content.
Pricing
The premium version offered with extra features starts from $59.88 / a year.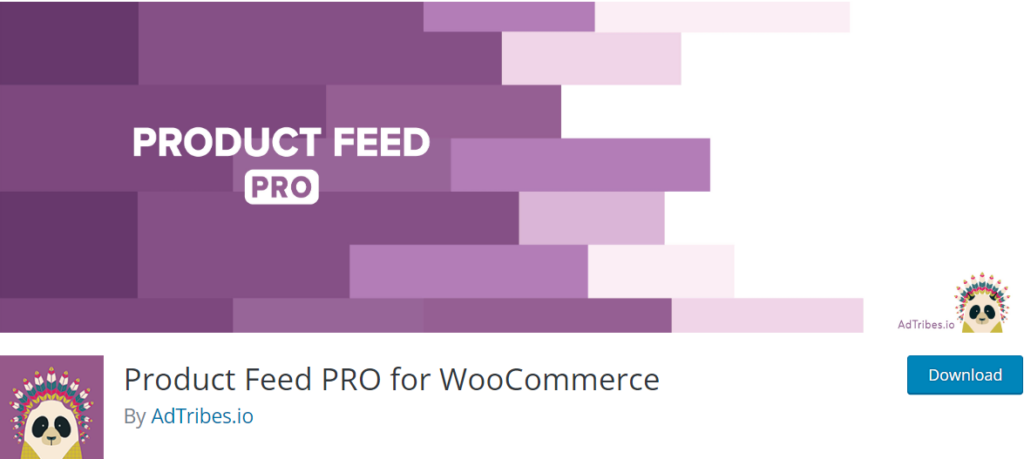 Another feed plugin on our list is Product Feed PRO for WooCommerce, which fetches WooCommerce feed. It lets you create a product feed for any marketing channel, including Google Merchant Center, Facebook Marketing, Bing Ads, and many more.
This plugin is handy for all site owners and online marketers, offering 100+ built-in templates to generate feeds effortlessly. It also offers advanced features, including the filtration of products, categories, field mapping, variable product support, etc.
Furthermore, for perfect pixel alignment of imported feeds with your site's feed, it also integrates Facebook pixel and Google Dynamic Marketing pixel. Furthermore, it has no limit on the number of goods, or product feeds integrated as feed using this plugin.
Features
It offers product feeds for all marketing channels.
You can integrate unlimited product feeds with this plugin.
It allows seamless field and attributes mapping.
The plugin is Google Analytics, Product tags, and is Multilingual supported.
Pricing
The pro version of this plugin is available free of cost.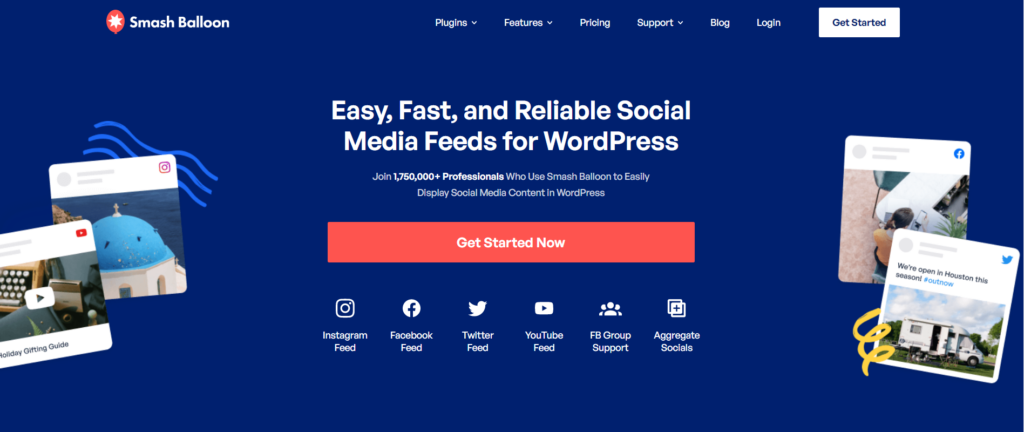 Smash Balloon constitutes 4 social media feed plugins to fetch and display custom social media feeds on your site. Using this plugin, you can integrate feeds from all major social media platforms i.e. Facebook, Twitter, Instagram, and YouTube.
This user-friendly plugin makes it convenient to enhance user engagement and boost sales by displaying social media feeds on your WordPress site. It lets you integrate your corporate social media accounts into your marketing pages without interfering with your page loading speed.
Other than the 4 individual social media plugins, it offers a 5th plugin, the Social Wall, that constitutes and connects the other 4 plugins to display them as one feed. Smash Ballon also offers professional support for a seamless user experience.
Features
This plugin is quite user-friendly, mobile-friendly, and easy to set up.
It offers full customization options for a better experience.
It also makes sure to offer page speed and image optimization.
You can boost sales and engagement using this plugin.
Pricing
The pricing plan for a single Social Media plugin starts from $49/year.
Which is the Best WordPress RSS Feed Plugin For You?
All the above-listed plugins are best for creating an RSS feed on your site. However, if you need to state a plugin as the best, that wouldn't be justice. Each plugin has its own features and specific options to offer. The best plugin in this list would be regarded as the one that suits your needs. The plugin that offers all the features you require on your website to curate RSS feeds would be the best RSS feed plugin for you.
Conclusion
Thus, we explained and briefly mentioned the features of the best RSS feed plugins for WordPress. Now you have the idea of which plugin would better suit your site's requirement for integrating RSS feed. All these plugins are robust and competent to assist you in generating customized RSS feed on your website. This would help you generate more leads and traffic while also accrediting the source website.
Frequently Asked Questions
What is the benefit of using the WordPress RSS Feed Plugin?
Using an RSS Feed plugin is very beneficial for your WordPress site. You can boost your website traffic and integrate videos and podcast feed from other platforms. Moreover, such a plugin allows adding different content in a single feed from any site.
Do we need an RSS Feed plugin?
Installing an RSS Feed plugin depends on how a site owner requires its content to appear in front of the user. RSS feeds are undoubtedly pretty beneficial, especially for increased user engagement and following. Using an RSS Feed plugin, you can integrate the top web content and display it on your site for enhanced user engagement.
That's all! You can also check out 5 Best WordPress Email List Building & Marketing Plugins and Top Security Plugins