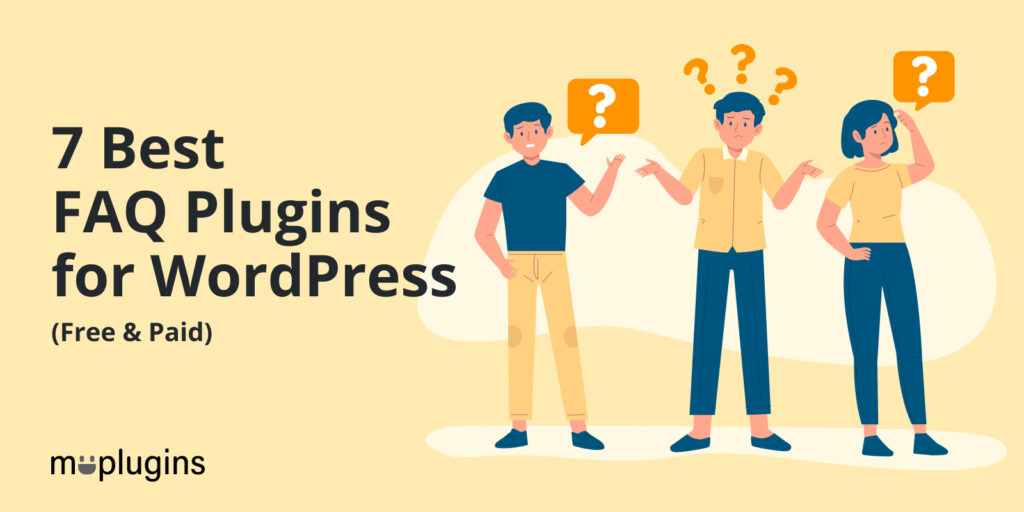 Are you looking for the best FAQs plugin for WordPress?
FAQ (Frequently Asked Questions) section of your site is an excellent way to deal with all the queries and problems of the customers. So the customers easily and quickly find the information they're looking for without the need to contact you.
This article will show you the best FAQs plugins for WordPress. Including free WordPress FAQ plugins to paid WordPress FAQs plugins that offer comprehensive features. So, make sure you read this article till the end.
Let's get started!
Table of Contents
What is FAQ Plugin?
Customers always look for a quick response from a site's service providers. It seems impossible to attend to all your customers simultaneously, no matter how swiftly you respond. However, not responding to users is also not a choice you have. If you ignore queries, then you may lose your clients.
The FAQ section comes forth to deal with this situation. It adds value in several different ways., like providing answers to customers' similar questions over time. Most obviously, it preempts customer concerns, allowing potential buyers.
The WordPress FAQ plugin can help you quickly handle frequently asked questions on a WordPress site.
List of Best FAQ Plugins for WordPress
Some WordPress FAQ plugins are free, while others offer paid services at yearly or monthly prices. Every plugin is developed with a specific purpose, i.e., styling FAQs, displaying FAQs anywhere on your site with shortcodes, and much more.
Let's look at some of WordPress's best free and paid FAQs plugins to see what they offer.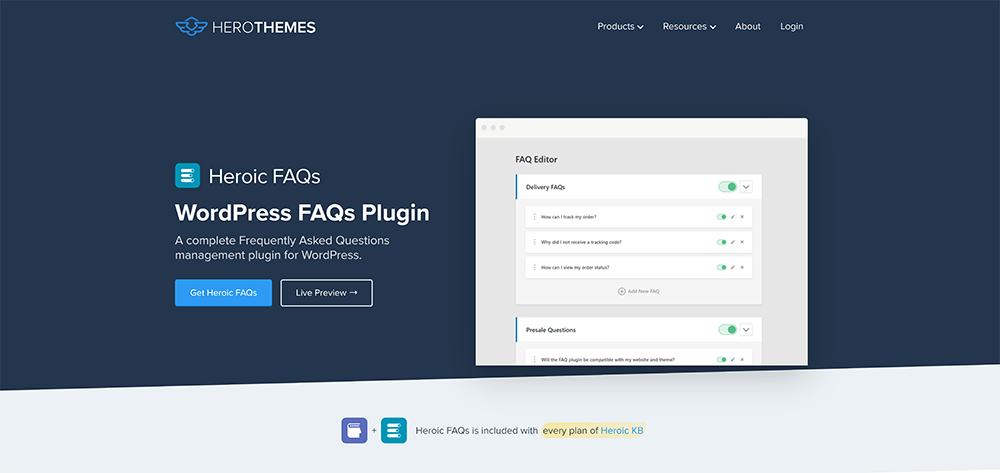 Heroic FAQs is a feature-packed WordPress FAQs plugin. It lets you create a complete Frequently Asked Questions management plugin for WordPress. The best part about this plugin is that you can easily and quickly personalize FAQs to match your WordPress theme without writing any single line of code.
Heroic faq is a responsive plugin that works fine on desktops, laptops, tablets, and phones. This plugin is optimized for mobile and touch devices. Moreover, you can enjoy features like 15 FAQ icon choices, accordion or toggle FAQ types, custom FAQ orderings, and improved SEO with schema.org.
Features:
It has a drag-and-drop that lets you easily create group FAQs.
This plugin offers a FAQ builder that lets you edit all your FAQs on one screen.
You can easily add images, blockquotes, lists, and videos to your FAQ content.
This plugin has 5 pre-defined styles for FAQs.
Pricing:
This premium plugin is available at $199 per year.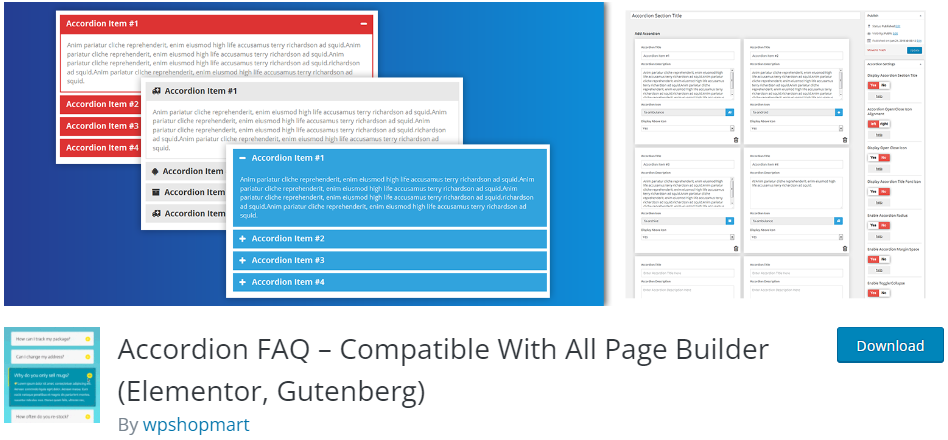 Accordion FAQ is another good option for the FAQs plugin for a WordPress site with over 50,000 active installations. This plugin comes with multiple advanced custom fields. The striking feature of this plugin is that it is compatible with all browsers.

This plugin offers many more amazing features, including unlimited color options for FAQs, icon support, hiding all accordions on page load or display, and more. You can have gulp for instant workflow, slick frontend, and backend UI, and add and remove the accordion items.
Features:
This plugin offers responsive design for mobile devices
You can easily add unlimited accordions anywhere in the theme.
It has a drag-and-drop API integrated.
You can add an input field for accordion content.
Pricing:
Free.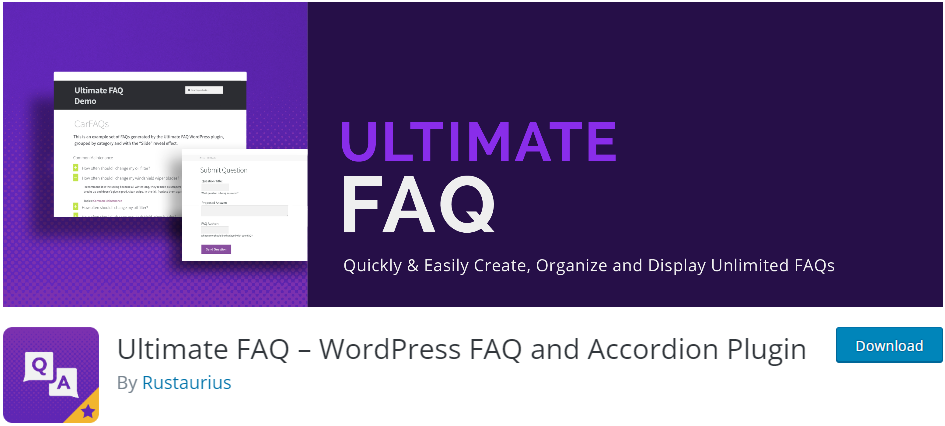 Ultimate FAQ is an amazing FAQs plugin for a WordPress site that allows you to create FAQs and adds them to any page of your site. This plugin's responsive accordion display fits into any site and provides an excellent FAQ user experience on any device.
The plugin offers FAQ schema structured data markup in LD and JSON format. It enables Google to recognize FAQs easily and display them in search results when your page is indexed, Google will know it's an FAQ page and can list it accordingly in search results.
Features:
This plugin allows you to create complete FAQs.
You can easily and quickly create unlimited FAQ categories and tags.
It offers Gutenberg blocks to display your FAQs anywhere on your site.
Ultimate FAQs come with FAQ shortcodes.
Pricing:
The core plugin is free. However, you can buy the premium version at $67 (lifetime).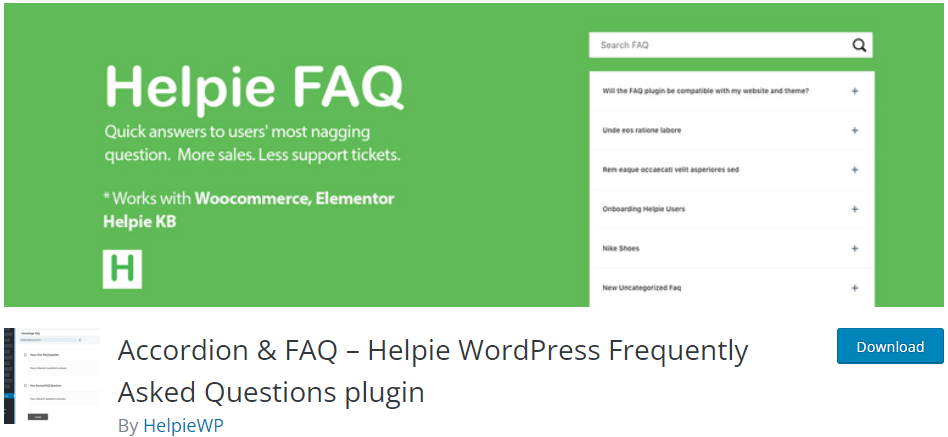 Helpie FAQ is another good option for a FAQ plugin for your WordPress site. It allows you to go for FAQ-WooCommerce Integration, FAQ-Accordion tab on the WooCommerce product page, and add FAQs in bulk using Groups.
This plugin offers a drag-and-drop sorting of FAQs in groups and an inline FAQ search bar. You have full control over the FAQs section; you can enable or disable the FAQ search bar, add the FAQ theme widget, display Popular and Recently added or updated FAQs, and sort and filter FAQs. You can even limit the number of FAQs displayed and add URL attributes to FAQs.
Features:
This plugin lets you have a fully responsive accordion or toggle.
It offers a FAQ-Accordion block for Gutenberg.
Accordion & FAQ automatically add FAQ Schema.
This plugin offers a primary FAQ Shortcode builder for all pages and posts of your site.
Pricing:
Free.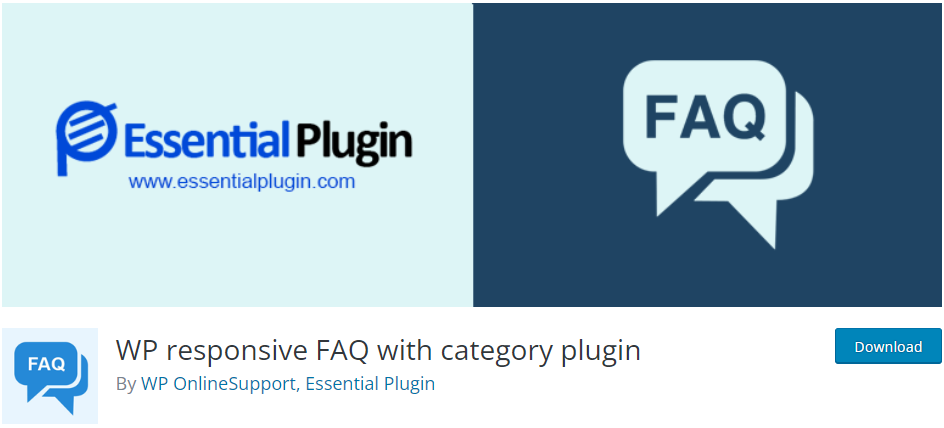 WP responsive FAQ with the category is a WordPress FAQs plugin enabling you to easily add, edit, manage, or display essential FAQs. You can easily create a customized, responsive, versatile FAQ section to answer your customer's queries.
This plugin offers many other valuable features, including search engine friendly URLs, allows for translation, and supports a thumbnail image for your FAQs. Developers can use CSS and JS to customize it exactly how they want it. Furthermore, you can easily add a custom animation speed set in the shortcode parameters and fully control the number of questions and answers displayed.
Features:
You can easily add a thumb image for FAQ.
It works with the Gutenberg shortcode block.
This plugin brings ease to integrating the FAQ plugin into any theme smoothly.
It provides native support for Elementor, SiteOrigin, and Beaver Page Builder.
Pricing:
The core plugin is available for Free. You can upgrade to the premium version at $199.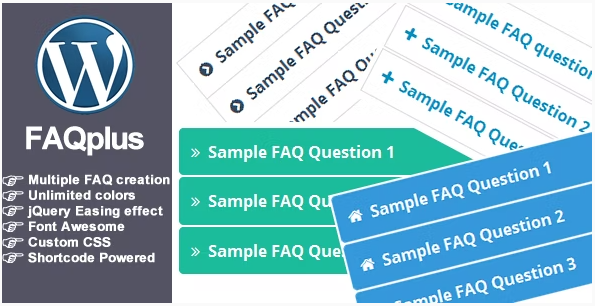 FAQPlus is another option for adding FAQ to your WordPress site. FAQPlus is an advanced WordPress FAQ plugin with numerous features, including unlimited FAQs, unlimited colors, over 25 animation effects, animation speed, shortcode powered, and more.
This plugin has a fantastic drag-and-drop feature that helps you reorder your FAQ Items. You can easily and quickly add FAQs to any WordPress post, page, or widget. This plugin is fully compatible with cross-browser and also supports visual composer.
Features:
You can easily create multiple FAQ creations.
FAQplus allows you to add unlimited colors to your FAQs.
This plugin supports images and videos.
It offers a custom CSS feature that lets you add desired functionality to your FAQs.
Pricing:
This is a premium plugin. You can get it for $25.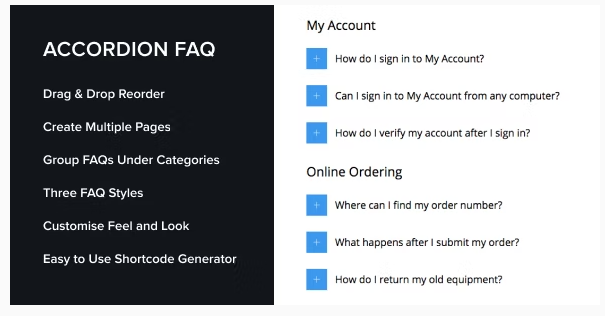 Accordion FAQ is an affordable WordPress FAQ plugin that covers all the basics, i.e., unlimited FAQ pages, shortcode support, and a list-style FAQ option, for your site. It provides an accordion layout for your FAQs, which means all answers are hidden and show the answer only when the user/visitor clicks an icon available with the question.
This plugin offers an easy drag-and-drop feature to reorder FAQ posts and categories. You can customize styling color, icons, border radius, and font sizes. Besides, this plugin brings ease by providing translation-ready products using the Poedit tool. It comes with the instructions in bundled documentation.
Features:
You can easily create multiple FAQ pages.
It provides a block accordion style.
This plugin enables an accordion-style FAQ.
You can also go for list style FAQ.
Pricing:
This is a premium plugin. You can get it for $17.
Conclusion
FAQs play a vital role in gaining the customer's trust and uplifting your WordPress site's SEO.
This page is really important for adding a section to your site to provide a pre-defined solution for all the common queries of your customers. So, the right FAQ plugin will be a great help.
You don't have to install every plugin mentioned in the list above to choose the best one. As you can see, each plugin mentioned above has a unique set of features. Make sure you fully evaluate your options before making a final decision. The final decision is yours!
That's all we have discussed the schema markup plugins for WordPress. You can also check our detailed articles on the 7 Best WordPress Membership Plugins (Free and Paid)
and 7 Best WordPress Job Board Plugins (Free and Paid).
Frequently Asked Questions
Does FAQ improve SEO?
Yes! FAQs can help you improve the SEO of your WordPress site if they are aimed at optimizing relevant keywords, are designed for optimal UX, and are correctly marked up with structured data.
How can I add FAQ on my website?
You can easily add an FAQ section on your WordPress site with a WordPress FAQs plugin. There are many free FAQs plugins in the WordPress plugins repository. You can get started with any of your choice, free of cost.
What should an FAQ contain?
Frequently Asked Questions (FAQ) pages should list commonly asked questions and the answers on your WordPress site. For example, if you are running a WooCommerce site, you can add FAQs about hours, shipping and handling, product information, and return policies.