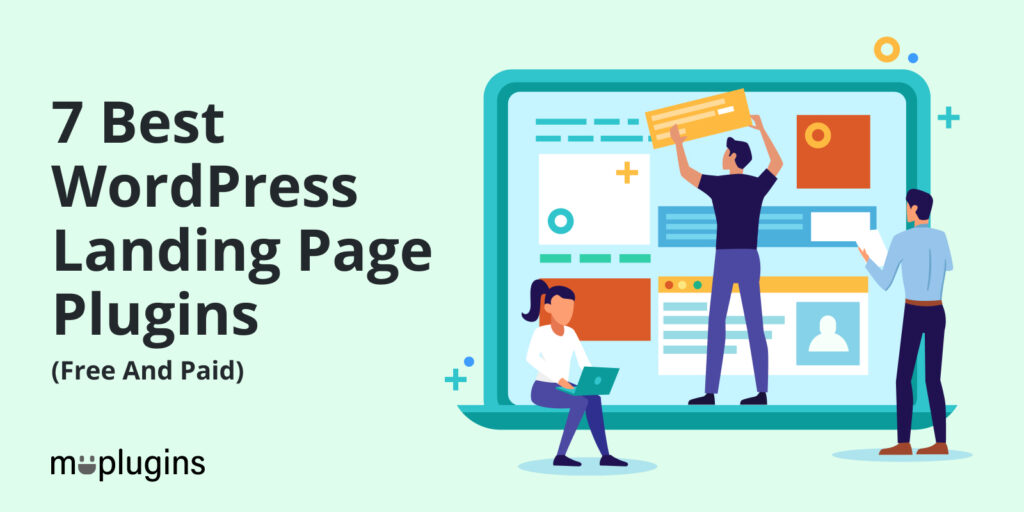 Are you looking for the best WordPress landing page plugins that help you build a landing page for your site?
Most of the time, WordPress themes come up with their page builders. But you'll need to download a plugin if you don't find any built-in page or post builder in your theme.
This article will show you the best WordPress landing page plugins for your site that will help convert visitors into customers. So, make sure you read this article till the end.
Let's get started.
Table of Contents
What is Landing Page?
A landing page is the web page of your WordPress site that the visitors are guided to when they search for your business site via search engines or paid ad campaigns.
The WordPress landing page welcomes your visitors and helps them to navigate your site, like Features, Support, Pricing, Contact, etc.
This is what a WordPress landing page might look like: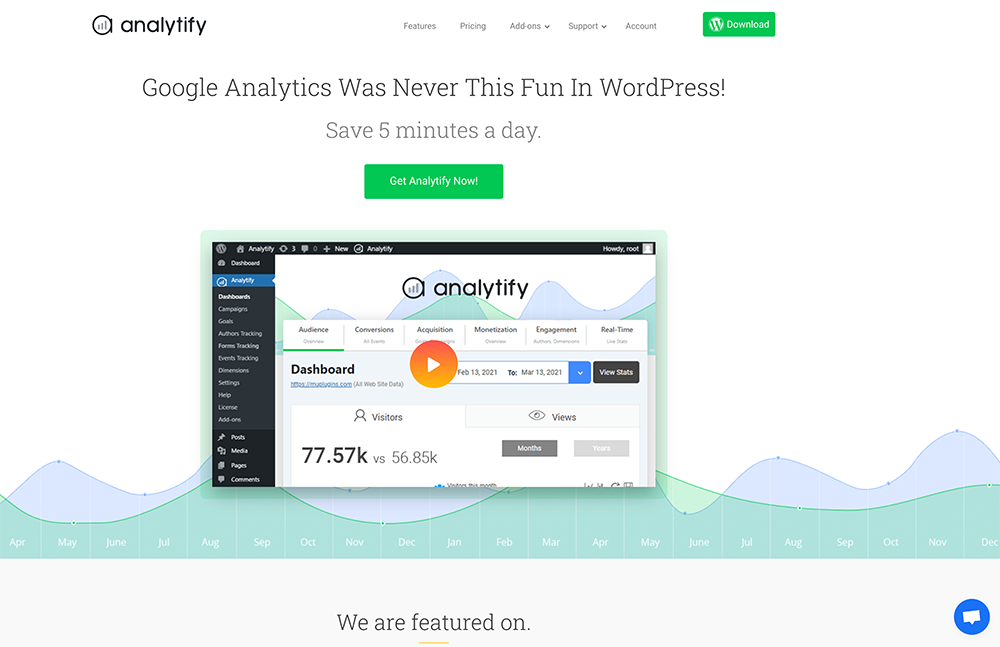 If you build a WordPress site for selling your services and products, you'll surely require one or more landing pages. These pages help you increase conversion rates and bring sales to your business.
List of Best WordPress Landing Page Plugins
Many landing page plugins are available in the WordPress repository to help convert your visitors into customers.
With so many available options, how do you pick the best WordPress landing page plugins? Let's walk through the best WordPress landing page to find out.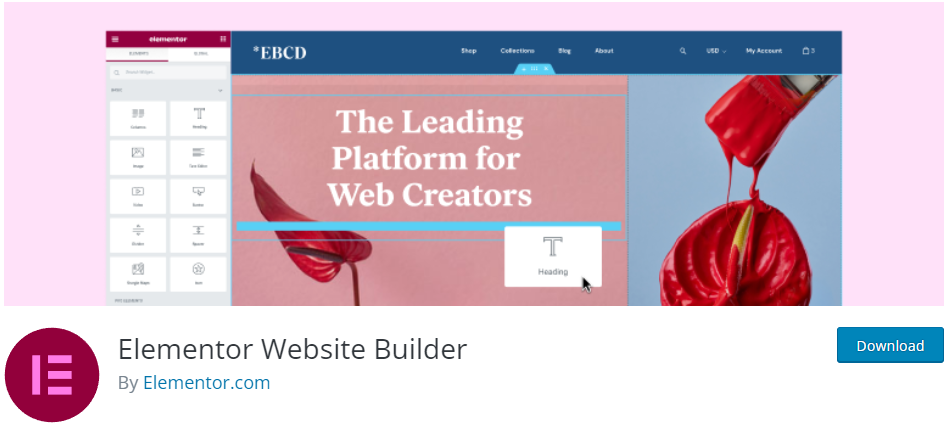 Elementor is one of the best WordPress website-building plugins for your site. Elementor offers a simple drag-and-drop feature that lets you easily and quickly customizes your page without touching a single line of code. You can choose designs from built-in templates.
This plugin lets you fix every element's spacing, positioning, padding, and margins exactly how you want them. You can upraise your WordPress site's design with over 40 widgets and features like Box Shadow, Background Overlays, and much more.
The free Elementor might be useful for many of you, but you can upgrade to the premium version to take the plugin's functionality to the next level. It offers super cool features, including pro kits and templates, advanced motion effects, industry landing theme builder, WooCommerce landing page builder, professional form builder, and popup builder. Moreover, it offers marketing automation and CRM integrations.
Feature:
Elementor lets you create hover effects, headline effects, gradient backgrounds, CSS, coming soon mode, and much more.
This plugin lets you adjust your WordPress site to look perfect on every screen and design for up to 7 devices, including desktop, mobile, tablet, and more.
It covers over 40 widgets and helps you present stats and numbers.
This plugin is available in above 59 languages, including RTL support.
Pricing:
Freemium. The premium version starts at $99 per month.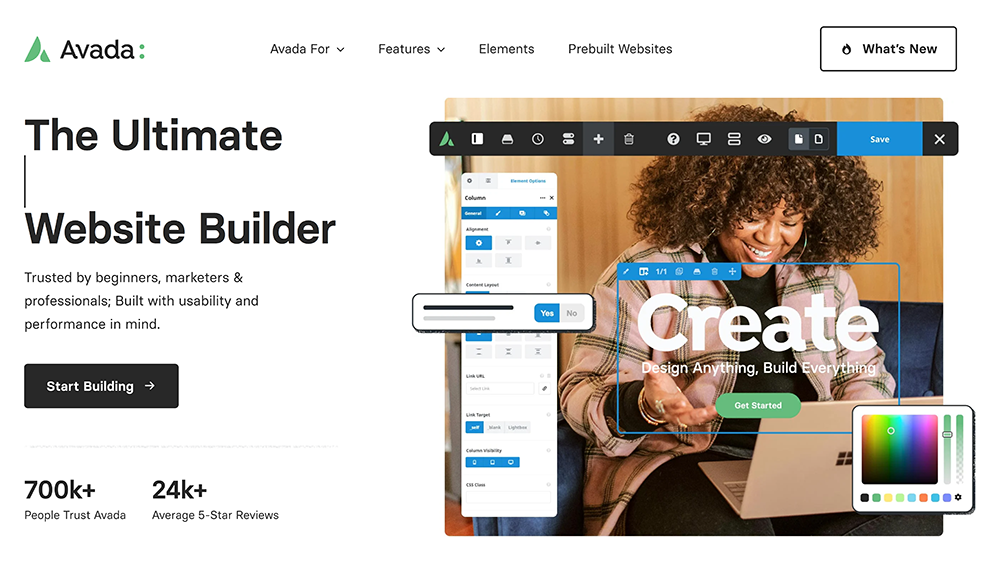 Avada is a reliable and mobile-friendly plugin that has a wide variety of features and tools. This plugin is trusted by over 700,000 beginners, marketers, and professionals. Its highly flexible plugin has a drag-and-drop design interface that enables you to create any design of your choice within no time.
You can quickly create an outstanding website as Avada offers 91 built-in website designs, documentation, video tutorials, and world-class support, including corporate, shop/WooCommerce, health, beauty, travel, sports, etc.
This plugin brings ease to let you customize your 404 error pages. It's best to showcase users a greeted message when you have an under-construction or no longer exists page. It encourages the users to continue browsing your site rather than abandoning it.
Feature:
This plugin offers a live visual builder.
It comes with a setup wizard that makes it easy to generate websites, i.e., choosing the content, layouts, color palette, and typography.
Avada has a layout feature that lets you build headers, title bars, and footers.
It has an off-canvas builder feature that helps you create popups and slideouts.
Pricing:
Premium. You can buy Avada for $69 per year.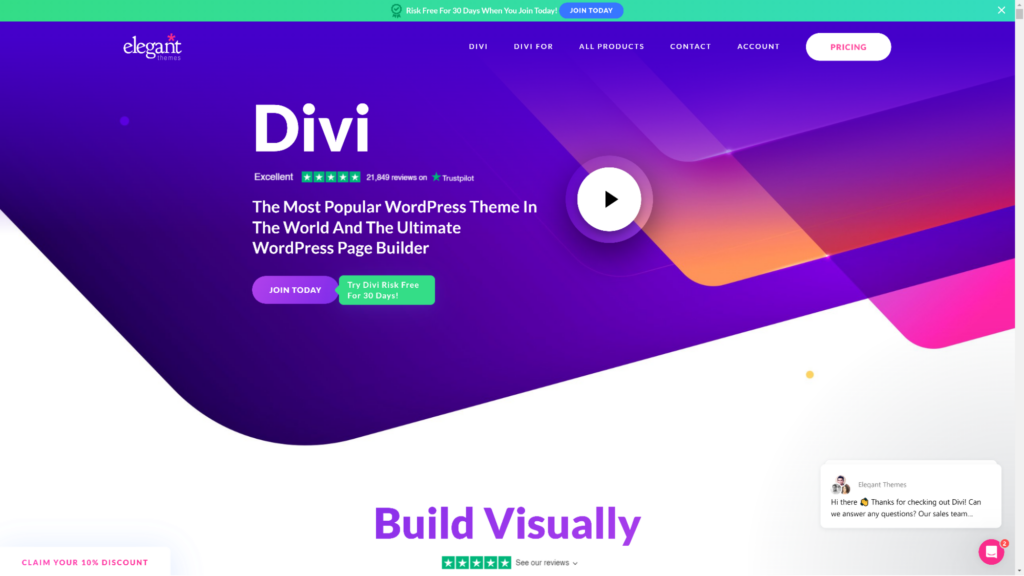 Divi is another good choice for a WordPress page builder plugin. It lets you design your page in real time and see the results side by side. You can easily and quickly create and customize your pages using intuitive visual controls.
There's a lot to like about the Divi, such as a drag-and-drop building that lets you add, delete, and much more without writing a single line of code. It further offers responsive editing and custom CSS controls.
Divi includes 20 built-in landing page designs and over 45 different modules you can move around on a visual editor to customize your landing page how you want it.
Feature:
It offers in-line text editing.
This plugin lets you undo, redo, and revise.
It has pre-made website packs.
Dive is a developers-friendly plugin that lets them customize Divi's visual design with their custom CSS.
Pricing:
Premium. You can access Divi only at $89 per year.
Beaver Builder is another best option for a WordPress page builder plugin. It is trusted by over 1 million sites and the biggest names in WordPress, including GoDaddy and WPEngine. It lets you a page builder plugin that lets you go for live and front-end editing. It works in real-time on the front end of your page.
This plugin has several Add-ons that take its functionality even further. It allows you to create layouts for archive pages, template an entire post type, and more. You can easily create search pages, headers, and footers.
Beaver Builder offers Assistant Pro that stores and organizes page builder templates, media files, prebuilt rows, starter content, color codes, etc.
Feature:
This plugin offers a translation feature.
It is SEO-friendly.
It has built-in designs that let you customize
Beaver Builder has a drag-and-drop builder consisting of several pre-built templates.
Pricing:
Premium. You can access Divi only at $199 per year.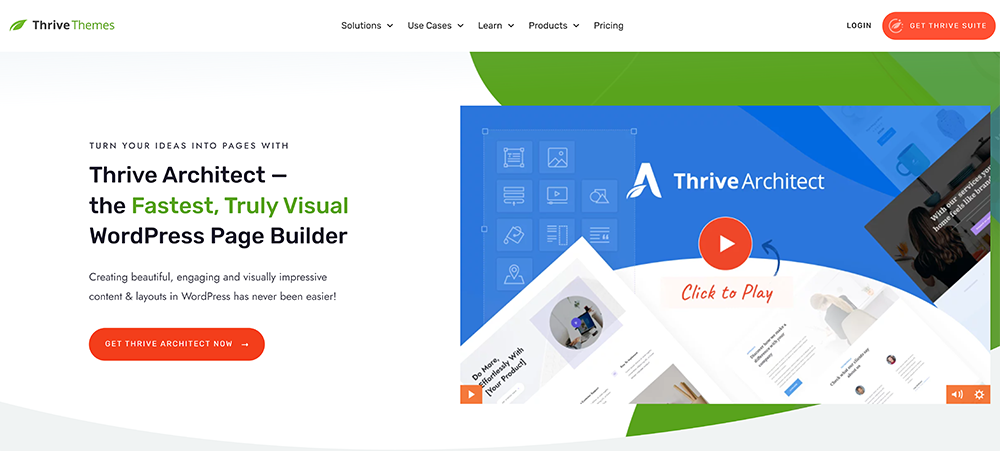 Thrive Architect is among the best WordPress landing page plugins. It has over 250 templates that allow you to create beautiful landing pages without the need to write codes. It has a drag-and-drop builder with a "click to edit" function that customizes pages to your liking in no time.
Several page layouts can be selected, including sales pages, opt-in pages, webinars, and more. This plugin also offers essential conversion elements that help your landing page generate leads, such as content boxes, CTA buttons, countdown timers, etc.
This plugin offers smart color technology to go for one-click color customization. It enables you to customize the color scheme of your entire landing page.
Feature:
This plugin offers landing page templates to help you create wonderful landing pages without writing a single line of code.
It has prebuilt conversion elements, including buttons, testimonials, countdown timers, and lead generation forms.
It is Google Maps responsive.
It offers global site opinions that let you manage all your essential data and links, including contact information, social links, and logos.
Pricing:
Premium. You can buy it for $299 per year.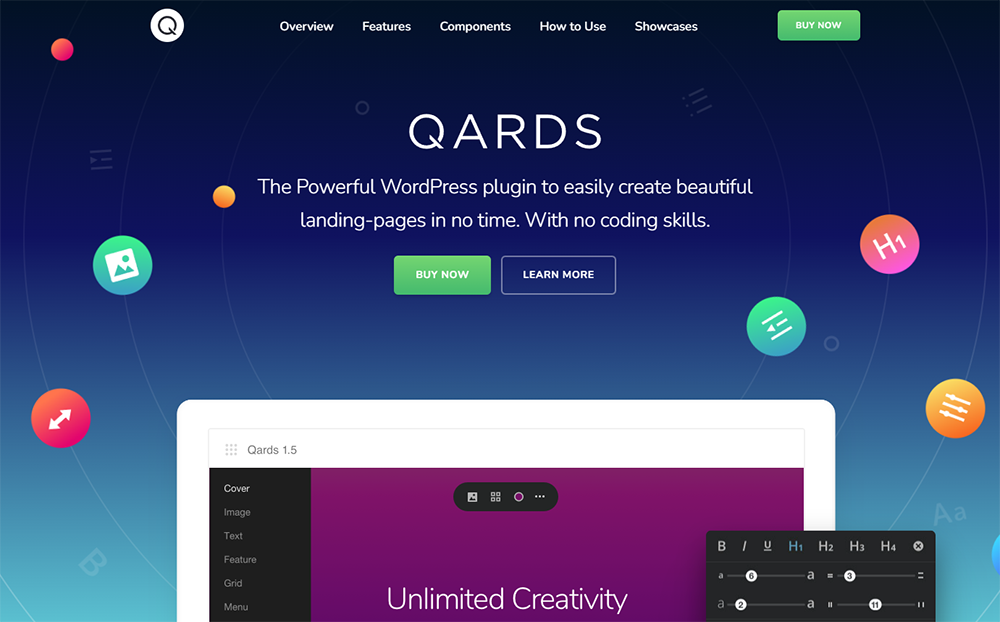 Qards is an amazing WordPress landing page plugin to help create beautiful landing pages. It has built-in design options that are helpful in your site development.
This plugin offers helpful features, including Google Fonts, covers, images, grids, footers, and subscriptions. Every feature has its own settings option for customization.
It offers a Mailchimp subscription feature that helps newsletter sign-ups and builds your mailing list straight from your website. Users' information is sent to the MailChimp account when they fill out forms on your site.
Feature:
This plugin offers a custom CSS option.
It conducts automated email marketing campaigns triggered by submissions on your landing pages.
It has a powerful text editor that lets you customize the text, i.e., text size.
Qards have Google fonts and Typekit to improve your site's typography.
Pricing:
Premium. You can buy it for $99 per year.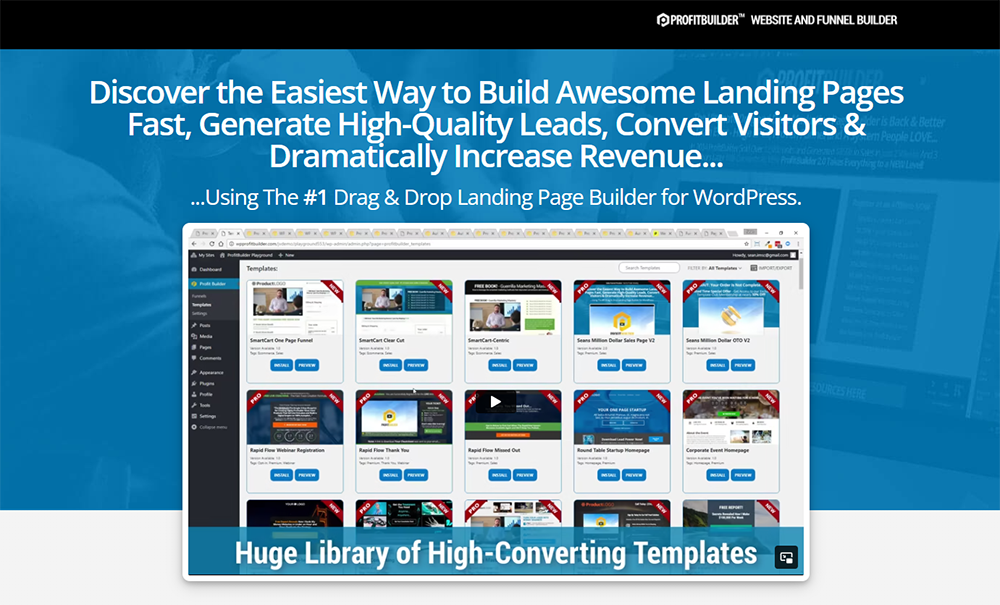 WP ProfitBuilder plugin is an excellent option for WordPress land page builders. You can choose from over 60 pre-designed lead, sales, and marketing layouts.
This plugin lets you create any WordPress site using a simple drag-and-drop feature, including Homepage, Testimonial Page, Coming Soon Bonus page, and more, without coding.
This plugin is compatible with different email and marketing platforms. It helps fit your web pages with your active marketing campaigns. Moreover, it has a live editor feature that helps you track whatever change you make to your site.
Feature:
It has a simple drag-and-drop builder lets you customize your landing page without writing a single line of code.
It is fully mobile responsive.
You can get started with over 130 mobile-optimized templates and customize them to make them your own.
This plugin has a funnel builder feature that helps you create opt-in funnels, sales, webinars, and membership funnels to track your success.
Pricing:
Premium. You can buy it for $47 per year.
Conclusion: Which WordPress Landing Page Plugin is best for You?
We hope you'll now get the list of the best WordPress landing page plugins. It is easier than ever without writing a single line of code.
Many best WordPress landing page plugins are available; all are designed to cater to your needs to design a landing page that helps you stand out from the competition. Each plugin has unique features, so you might get confused about which to select from many options. However, you need to choose wisely. We hope this article must help you with this. Make sure you fully evaluate your options before making a final decision.
That's all we have discussed the best WordPress membership plugins. 7 Best WordPress Survey Plugins (Free & Paid) and 7 Best WordPress Job Board Plugins (Free and Paid).
Frequently Asked Questions
Do you need SEO for WordPress landing pages?
SEO helps your WordPress landing pages to rank higher in search engine results. Moreover, it helps to reach your target audience. SEO is beneficial for landing pages as it will help you attract people interested in your topic, product, or service with the right SEO.
Can I build a free landing page?
Yes, you can build a landing page for free with HubSpot's free landing page builder. It lets you easily build professional landing pages that attract more visitors and convert them into qualified business leads.