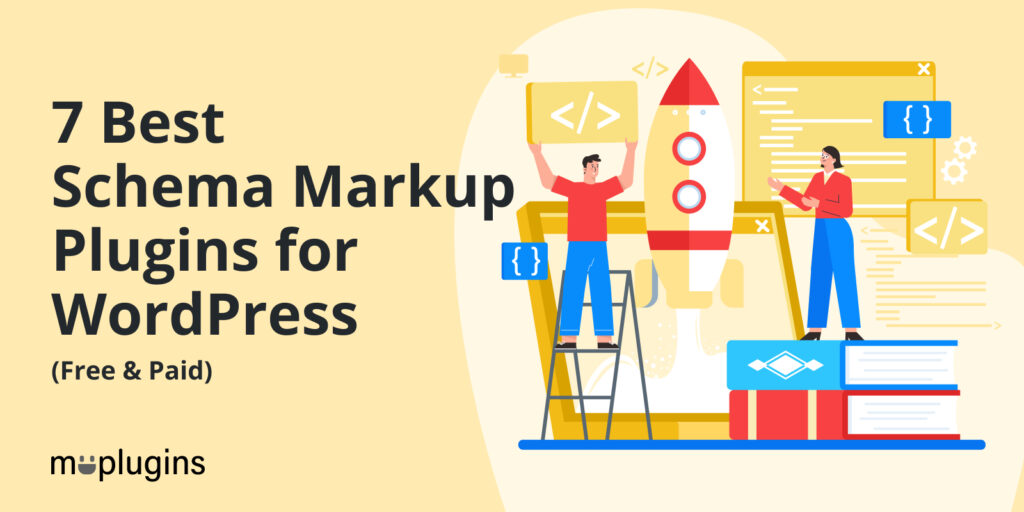 Are you looking for the best schema markup plugin for WordPress?
Schema markup plugins are essential to help you optimize your content for search engines. These plugins not only help you uplift your rank but make you stand out from the competition. However, the main focus of schema markup plugins is to help search engines, i.e., Google, better understand your content.
This article will show you the best schema markup plugins for WordPress. So, make sure you read this article till the end.
Let's get started!
Table of Contents
What Are Schema Markup Plugins?
Schema markups are added to a webpage for the webpage's information, including ratings, reviews, snippets, time, and more. It structures your WordPress site's content to be easily recognized and understood by search engines, including Google, Bingo, Yahoo, etc.
Look at how schema markup looks in the Google search results:

These snippets present some extra information about your pages and posts at a glance. If you get a rich snippet on a search engine like Google, your content will stand out from the competition in no time. This improves your CTR (click-through rate) and boosts traffic to your WordPress site.
Best Schema Markup Plugins for WordPress
As soon as you look for a schema markup plugin in the WordPress repository, you'll notice numerous options available. But how do you pick the best schema markup plugin for WordPress?
Let's walk through the best schema markup plugins to find out where they can be used to put a signature on online documents.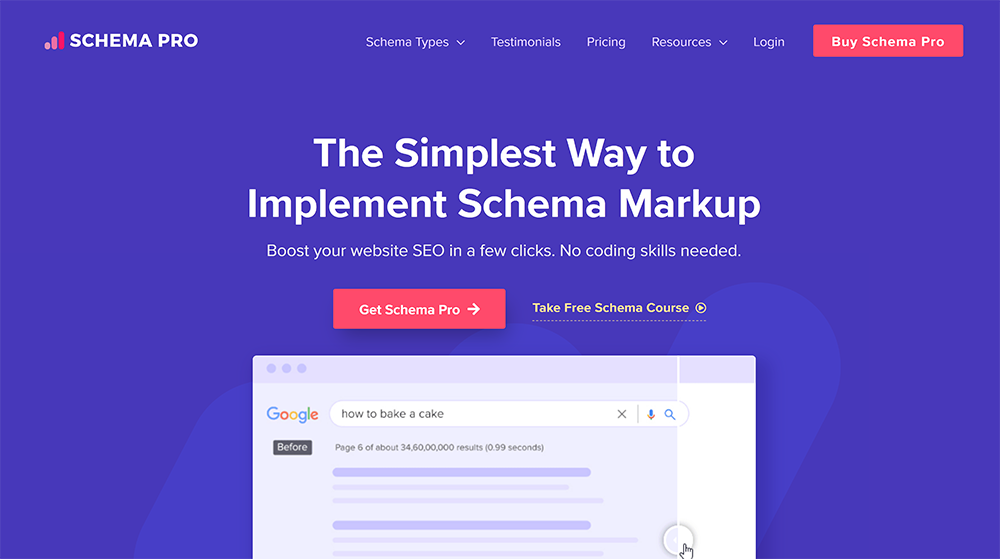 Schema Pro is among the best schema markup plugins for WordPress. The plugin has more than 20 schema types, including local business, article, event software, and job posting, to name a few examples.
You can use schema markup for unlimited websites. All you need to do is select any schema types from the dropdown menu, including course schema, FAQ for Gutenberg, etc., and tell the plugin where you want to add it. It will be added right there without writing a single line of code.
Schema Pro provides detailed explanations for your videos, blog posts, news articles, online courses, and service pages. The schema markup makes you look better than your competitors in search results and increase the click-through rate.
Features:
You can use schema markup for unlimited websites.
This plugin offers a review schema that helps you add structured information, including real user reviews, ratings, and more, so search engines can display that in rich snippets.
This plugin supports JSON-LD and custom fields.
Schema Pro offers the FAQ Schema Block that adds FAQs on Gutenberg pages and posts and automatically adds FAQ schema markup.
Pricing:
Premium. You can buy Schema Pro for $67 per year.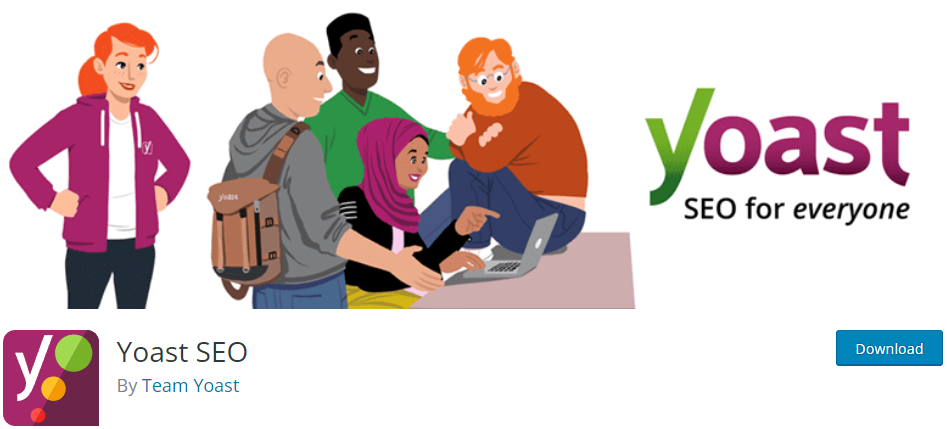 Next, we have Yoast SEO in our schema markup plugins for WordPress with over 5 million active installations. This plugin automatically integrates Schema.org markup on your pages. This plugin has unique features that tie Schema bits into an interconnected structured data graph.
Yoast SEO presents the code in such a structured way that search engines, i.e., Google, can easily and quickly understand your pages. Consequently, your content displays as a rich result and even your site appear in Google's Knowledge Panel.
Yoast SEO shows rich results on your smartphones for items, including local restaurants, recipes, movies, how-tos, and courses. Moreover, this plugin presents your content in the Knowledge Graph on the right-hand side of Google. This helps the users to evaluate if your content is what they are looking for.
Features
This plugin automatically helps you improve technical SEO, including canonical URLs and MT.
It offers advanced XML sitemaps feature for making Google better understand your site structure.
It integrates with in-depth Schema.org to help search engines understand your content.
It shows rich snippets that display ratings and reviews, currency and price, availability, snippet, and product description.
Pricing:
The core Yoast SEO is available for free.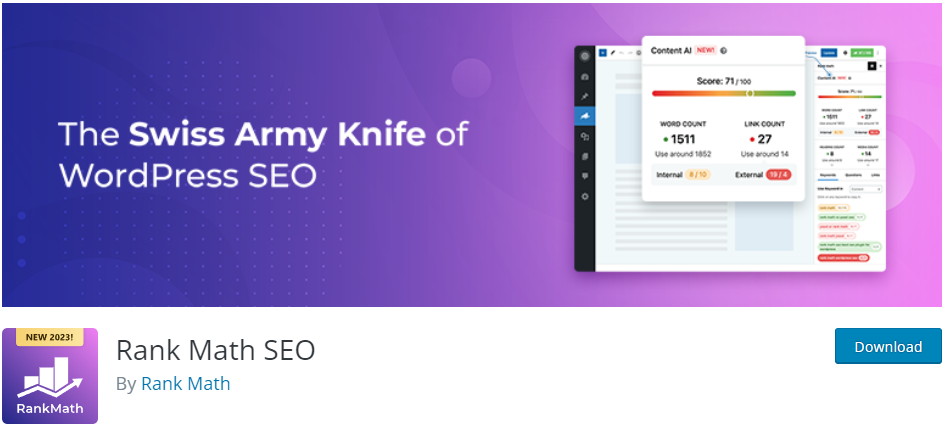 Rank Math is the most popular option to opt for as it is the most powerful WordPress SEO plugin for your WordPress site that help you rank on search engines, i.e., Google. It offers so many amazing features in the free version. It lets you optimize your content using built-in suggestions to make it stand out.
Rank Math supports Google schema markups without the use of any external plugins. You can have an article, product, recipe, events, and many other schemas. It helps you boost the click-through rates of your posts and pages.
Rank Math Pro offers Custom Schema Generator for creating custom Schema, filling it in, and adding it to a page. You can also create a blank Schema structure and save it as a template on multiple pages. Furthermore, you can also use ItemList Schema for your categories, tags, product archives, and any taxonomy pages by using Rank Math's Schema Generator.
Features:
Rank Math offers a Content AI feature.
It has a built-in advanced SEO analytics module.
This plugin can automatically generate search engine-compatible XML Sitemaps for your website.
This plugin allows you to preview rich snippets and that how your post appears in the SERPs and when shared on social media.
Pricing:
The core plugin is available for free. However, you can upgrade to the premium version at $59 per year.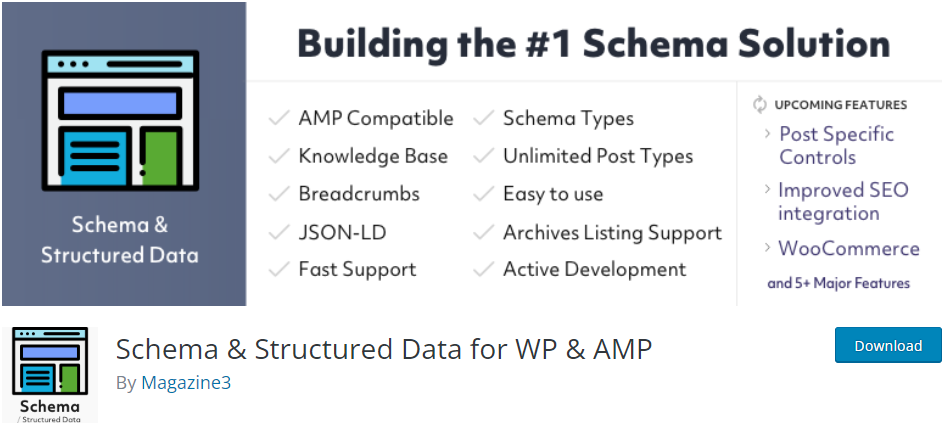 Schema and Structured Data for WP & AMP are among the valuable schema markup plugin for WordPress. It allows you to add Google Rich Snippets markup according to Schema.org guidelines to structure your site for SEO.
Currently, this plugin has over 35 schema types, including Blog Posting, News articles, Local Business, Web pages, Articles, Recipes, Products, and Video Object views. Furthermore, this plugin aims to add all the schema types in the future.
You can use several useful extensions to extend the plugin's features, like Woocommerce Compatibility For Schema, Cooked Compatibility For Schema, etc. It supports WordPress.org forums and is ready to help you if any bug is spotted.
Features:
This plugin offers advanced settings that let you deal with the output of schema markup using options, including Defragment, Add in Footer, Pretty Print, MicroData CleanUp, etc.
It has a migration feature that allows you to Import the data from other schema plugins such as SEO Pressor, WP SEO Schema, and Schema Plugin.
It is fully compatible with kk Star Ratings, WP-PostRatings, and bbPress.
It enables you to present your business's Google reviews and schema markup on your WordPress site.
Pricing:
Free.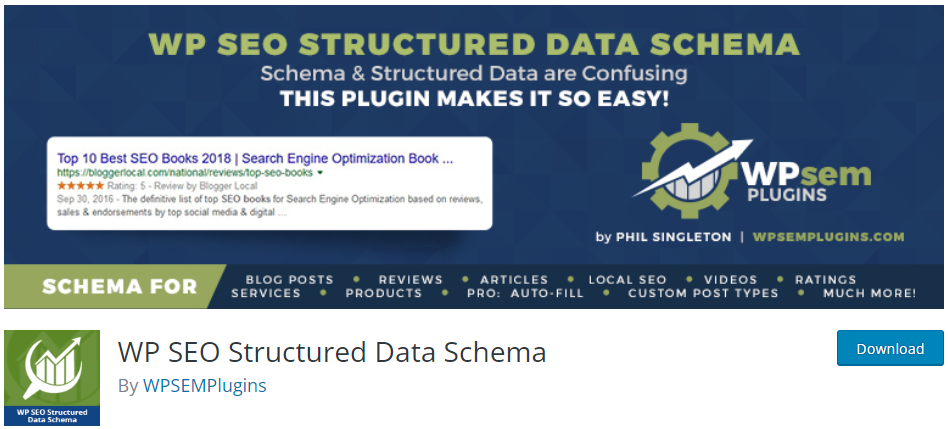 WP SEO Structured Data Schema plugin is designed to cater to the need to provide searchers a well-structured data for your organizations, local businesses, news articles, blog postings, and events in the search results.
This plugin has rich snippets features that help you add extra information, including star ratings, events and event times, embedded site search box, videos, and breadcrumbs, that you often see right in the search results.
You can upgrade to the premium version at any time to boost the functionality of this plugin. The pro version supports custom post types and automatically populates fields from the page, post, custom post type data, etc.
Features:
You can add schema for many other options, including products, audio and videos, contact, services and reviews, aggregate ratings, restaurants, and Special Announcements.
It automatically populates publisher data fill from settings.
It lets you know what schema types are active on a page or post.
This plugin has an "Auto-Fill" button for automatically populating common fields, such as title, URL, featured image, excerpt, content, create and published data, etc.
Pricing:
The core plugin is available for free. However, you can upgrade to the premium version at $49 per year.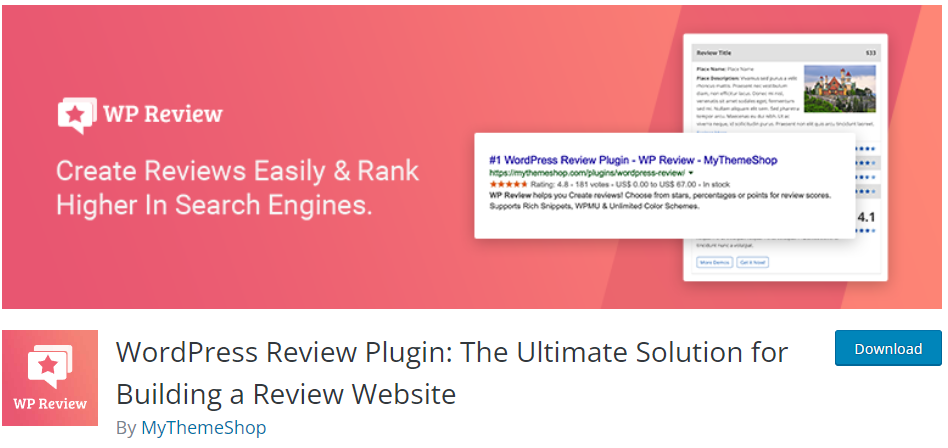 You must try the WP Review WordPress plugin to write professional reviews for blogs. This plugin lets you showcase your readers' opinions about the products you review. It enables users to rate features, comment on reviews, and more.
You can write reviews for products, books, movies, games, or anything else. It supports almost 19 types of snippets. You need to select your preferred snippet with a few clicks.
WP Review is compatible with every WordPress theme. You need to install this plugin with any theme and review any product.
This plugin adds 19 schema types, including articles, books, games, movies, and music, to name a few examples. It enables you to display reviews in a structured box with star, point, and percentage ratings. You can also improve the layout by adding user comments and affiliate buttons.
Feature:
It has a review snippet.
It has an advanced options panel that automatically lists all the settings.
This plugin offers a mobile-friendly display.
It runs fast and smoothly on any website.
Pricing:
The core plugin is available for free. You can go for membership for only $19 per month.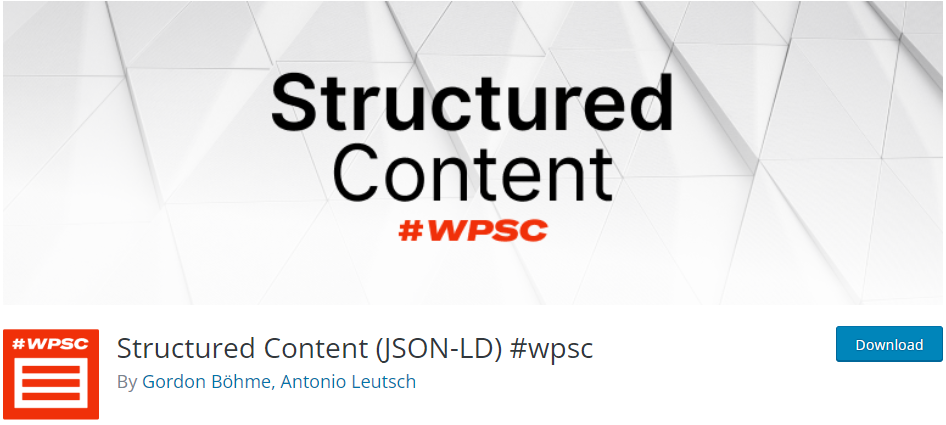 Structured Content schema markup plugin helps you to add structured data or content to any page or post of your WordPress site and renders it JSON-LD. This plugin currently offers 6 schema types FAQPage, JobPosting, LocalBusiness, Person, Event, and Course.
The JobPosting schema helps your job listings appear in Google's job search experience.
Google will show your job listings, logo, and company reviews or ratings. This makes your job listings more exciting and helps you get more applicants.
You can add simple dialogs, such as FAQ can be inserted. Because the plugin renders the given information as JSON-LD according to schema.org, the bots of search engines, like Google, recognize this schema.
Features:
It inserts structured data elements multiple times in your site's posts or pages.
It presents the given information as JSON-LD.
Structured Content comes with its blocks to add your content.
The plugin is optimized for the Gutenberg editor.
Pricing:
Free.
Conclusion: Which Schema Plugin Is Good for Your Website?
A schema markup plugin for WordPress helps you improve recognition by search engines, including Google. In the long run, it ultimately improves the SEO and CTR of your site. However, using the best WordPress schema markup plugin, you can easily create a well-ranked site.
You don't have to install every plugin mentioned in the list above to choose the best one. Each plugin has specific features described vividly so you can choose which best suits your website. However, you need to choose wisely; it will help you impact your site, so make sure you fully evaluate your options before making a final decision.
That's all we have discussed the schema markup plugins for WordPress. You can also check our detailed articles on 7 Best WordPress Survey Plugins (Free & Paid) and 7 Best WordPress Job Board Plugins (Free and Paid).
Frequently Asked Questions
Does WordPress use schema?
By default, WordPress doesn't offer schema markup. However, you can nicely fill in the gap using a relevant plugin.
How do I add schema markup to my WordPress site?
Using a schema markup plugin for WordPress, you can easily add schema markup to your WordPress site. It helps you to categorize your site's content automatically.
Is schema good for SEO?
Schema Markup Plugin for WordPress is perfect for SEO as it helps search engines, i.e., Google, to recognize your content. It helps you structure your data to improve ranking while keeping other best SEO practices in mind.
Can you add schema to WordPress without a plugin?
Yes, you can add schema markup in WordPress without using a plugin. To do this, you must have a full command over coding since it can be done through custom schema code.