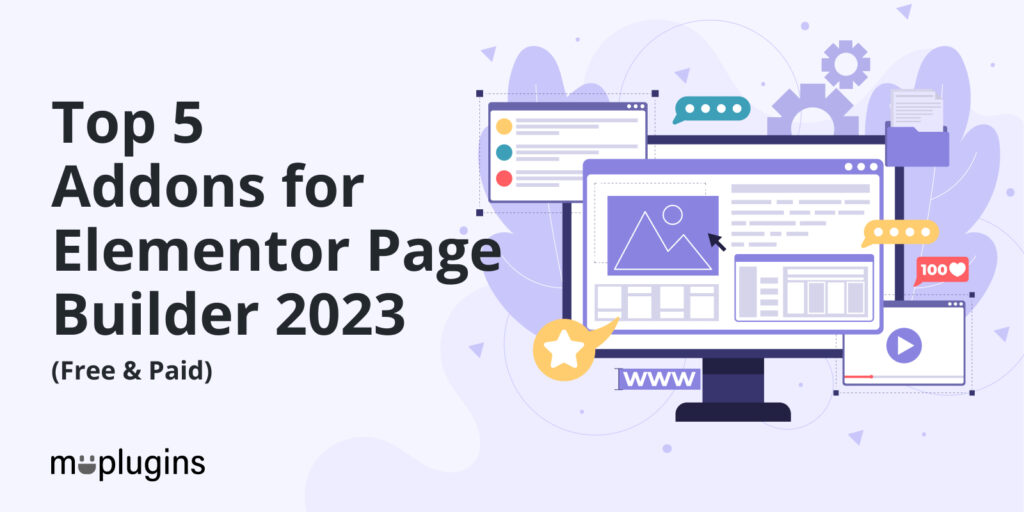 There is no doubt that Elementor itself is a powerful page builder, both free and paid versions have a lot of prebuilt modules and widgets. But in some cases these modules are not enough to power up your website or make it more customizable, in such cases, Addons for Elementor Page Builder come in handy.
By using these addons along with Elementor either you can enhance the functionality or you can add brand new functionality to your website. In this post, I'll share some top Elementor addons both paid and free.
Table of Contents
How To Choose A Best Elementor Addon?
There are hundreds of addons available already, you can't use all of them otherwise they might hurt your website performance. While choosing an addon you need to keep the four things in your mind, the number of downloads, rating, number of widgets or number of modules available, and finally the impact on your website's speed and performance. If you find all of these things perfect then you can go with that plugin.
Top Addons for Elementor Page Builder
without wasting further time lets move on to the top addons for Elementor page builder.
Ultimate Addons For Elementor
Ultimate Addon is a plugin from Brainstorm Force, the company behind the Astra WordPress Theme. Right now Ultimate Addons has 36 total modules for different purposes, and many more are in pipeline.
By using EA you can customize the contact forms such as Contact Form 7, WP From, and Gravity Forms. Furthermore, you can customize the Wocommerce add to cart, Wocommerce products, and categories.
Key Widgets
Woo Cart, Woo Products, Woo Category
Timeline
HotSpots
Particle Background
WpForm Styler
Before After Slider
Pricing
The pricing starts from $69 per year. However, if you are interested in the agency plan you will be provided with Astra Pro and all other plugins by Brainstorm Force.
PowerPack Addons For Elementor
PowerPack is another powerful Elementor addons with 69 ready to use widgets. Most of the widgets available in PowerPack are unique you will rarely find them in other Elementor addons. PowerPack addons are developed by the IdeaBox team they also have the addons available for Beaver Builder.
As I already mentioned there are 69 ready to use widgets, You can find the widgets related to Woocommerce products, category, and cart. Furthermore, it allows the customizing of popular contact forms, such as Contact Form 7, WpFroms, Gravity Forms, and many more.
How to schema markup and faqs schema widgets are one of my favorite widgets, they add the structured data while showing the visual form on the front end. it definitely helps to increase the CTR(Click Through Rate) of your post.
Key Widgets
Faqs Scheme, How To Schema
Coupon Widget
Recipe and Price Menu
Wocommerce widgets
Showcase Widgets
Magazine Slider
Anywhere Elementor Plugin
Anywhere Elementor is a perfect choice if you are not using Elementor PRO, you can customize the Archive Pages, Single Post pages, Wocommerce Checkout Pages, Single Product Page, Products Archive Pages. However, if you are using both Elementor and Elementor Pro still Anywhere Elementor comes in handy for different purposes.
It has Free and Pro versions, The features are limited in the free version. If you want to customize the archive and Wocommerce pages you need to buy the Pro version.
Key Features And Widgets
Single Post Layouts, Taxonomy archive, Post Types Archives
Post/ Archive Title
Custom Fields
Post Blocks
Price
Pricing starts from $25 for a single site but if you want to buy for unlimited websites you can get in $99.
The Plus Addons For Elementor
The Plus Addons has a great collection of Elementor Widgets and Modules. There are 10+ ready-made templates, 80+ Elementor widgets, and 300+ blocks . It also allows us to power up the custom post types with the listing builder feature.
This plugin is quite useful for Web Designers(Better UI, Fast Loading, Creative Designs), Web Developers (Elementor Pro Compatible, ACF and Toolset Compatible ), and Web Masters (SEO Friendly, AB Tested Designs, Special Marketing Landing Pages ).
You can give a whole new experience to your web development skills by using this simple plugin. it contains every widget that is required to build a successful website, such as Mega Menu, Sliders, Backgrounds, Contact Forms, and a lot more.
Key Widgets
Login/Signup
Pie Chart
Protected Content
Mega Menus (Verticle and Horizontal )
Audio Player
Key Widgets For Listing Builder
Blog Posts Carousel
Blog Posts Grid
Dynamic Categories
Woo Product Style
ACF Reapter Fields
If you are lazy enough to make a website using these widgets, there is an option for you to use the pre-built templates to make a full-fledged website. There are 18+ pre-made creative and dynamic templates.
Pricing
The pricing starts at $39 per year for a single site, $79 for three sites. but if you are an agency I would suggest you spend your money on a $99 package for unlimited sites.
Essential Addons For Elementor
Essential Addons For Elementor is another amazing plugin to power up the Elementor experience. It comes with both Free and Paid plans, There are around 35+ widgets in free and 29+ widgets in the paid plan.
You can get a lot of widgets even in the free version that can make an exciting website along with Elementor. The free version has around 400k active installs and 1080 five star reviews that show the popularity of this plugin. Furthermore, there are 30+ ready blocks.
If you go with PRO version you will find many widgets with dynamic content. You can make an amazing website using the Essential Addons PRO.
Key Widgets In Free Version
Post Grid
Post Timeline
Filterable Gallery
Woocommerce Products Grid
Contact Form 7 Customizer
Key Widgets In Pro Version
Post Block
Dynamic Filterable Gallery
Interactive Promo
Smart Post List
Image Hotspots
and many more.
Flexia is one of the most compatible themes, for Essential addons, you can use this free theme along with Elementor and Essential Addons for Elementor to build an amazing website.
Pricing
The pricing starts at $29.97 per year for a single site. $59.97 for unlimited sites for one year and $199.97 for unlimited sites for a lifetime (you will get the BlogVault for three sites in this plan).
Conclusion
These are the top Addons for Elementor to use in 2020. you can choose the one who meets all of your requirements and budget.
Note: These addons work only with Elementor, so make sure you have already installed the Elementor on your website. Read a detailed article about different page builders.
Let me know if I've missed anything. Feel free to leave your comment in the comment box.
Frequently Asked Question
Which is the best Add-on for Elementor?
ElementsKit has got over 2,00,000 happy customers in a short time. It has become the customer's first choice when choosing the best Elementor Addons.
Do web designers use Elementor?
Plugins are popular among non-technical. But the good thing about Elementor is that web Professional web developers also choose to use Elementor for customizing and designing sites. 
What do essential Add-ons for Elementor do?
Essential Addons greatly help you with Elementor as they offer more than 80 widgets for Elementor, including Content Protection, Instagram Feed, or a knowledge base, to name a few examples.